We are starting to do our weekly report for many of the sectors we monitor. This is the first article in the series, so you can view it as a test one in which we expect readers to comment so we can improve the quality of the weekly reports.
The Muni Benchmarks
It is no secret to anyone that the recent sell-off in Muni CEFs was due to the rising Treasury yields. In such an environment, the iShares 20+ Year Treasury Bond ETF (NYSEARCA:TLT) and the iShares National AMT-Free Muni Bond ETF (NYSEARCA:MUB) have a very strong relationship.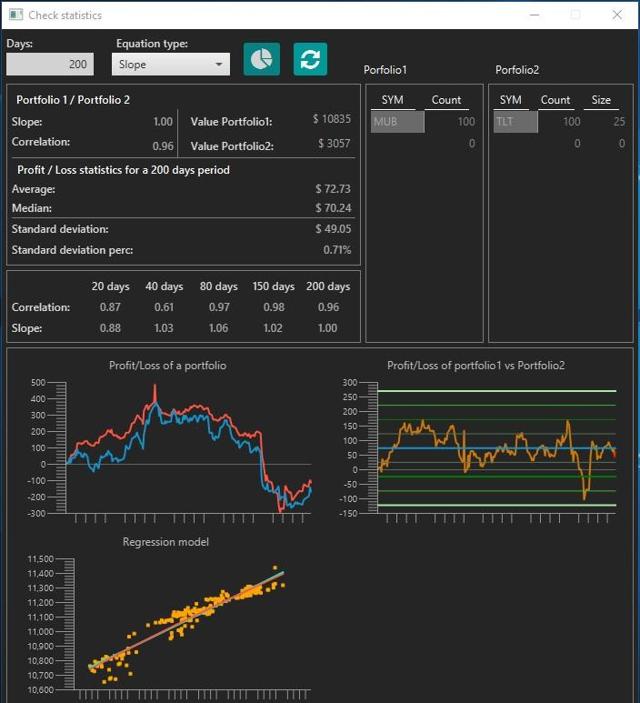 For the last 200 days, it was almost the same if you held 100 shares of MUB or 25 shares of TLT. This is one of the clearest signs that the recent volatility in the municipal market has nothing to do with credit risk. This also comes to show that you cannot expect the muni market to retrace without Treasury yields moving lower again, because there is not much space for them to gain on increased credit strength.
This relationship seen above spreads to almost all of the Municipal closed-end fund assets and affects their net asset value. There are just a few Muni CEFs that bring no interest rate risk, because they are built to mature in the very near future. Five such funds I recall are BlackRock New York Municipal 2018 Term Trust (NYSE:BLH), BlackRock New York Municipal 2018 Term Trust (NYSE:BPK), BlackRock California Municipal 2018 Term Trust (NYSE:BJZ), BlackRock Florida Municipal 2020 Term Trust (NYSE:BFO), and BlackRock Municipal 2020 Term Trust (NYSE:BKK). If you look at their charts you will clearly see that they are a "different animal" and will not be part of our report. So we have a little retracement from the lows for both TLT and MUB (Treasury bonds and municipal bonds) and are interested in the Muni CEF space.
Averages
The average muni CEF fund looks like this: 3.86% discount, correlation to its NAV of 88%, correlation of its NAV to MUB of 95.5%, z-score of 0.06.
Top 10 undervalued/overvalued based on 200 days z-score

Source: Author's Database
As you can see, all of the funds have very high correlation to MUB. More important is the fact that their NAVs have extremely high correlation with MUB, because there are no market forces that can change this fundamental relationship.
Top 10 premium/discount funds

The Nuveen Missouri Premium Income Municipal Fund (NYSE:NOM) is so low volume that my database cannot get the right quotes for it, and it is mistaken in the valuation. That is why it is in yellow in my database. It still belongs in the top 10 overvalued ones, but here are its current metrics. Not surprised to see Pimco funds trading at the highest premiums. The Pimco mystery has been around since I started trading closed-end funds. Bill Gross seems to have known what he was doing there, and the public still buys that.
A possible pair trade
The z-scores at this point are not something significant, and I am used to see these Muni CEFs in the (-3;+3) range quite often in the last year, but here is how a possible pair trade between my 5 favorite longs and shorts looks like: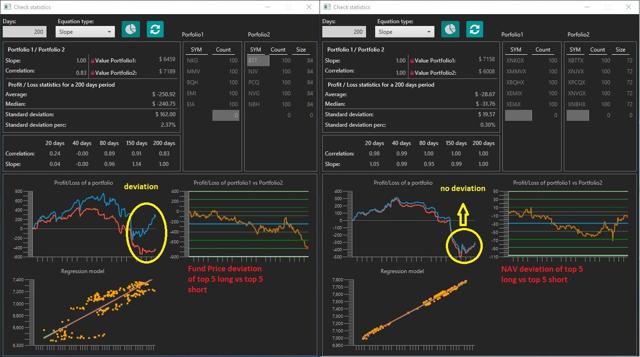 Unexpectedly, the trade looks quite nice in my software, but there are a lot of things to consider here. Many of these funds are low volume, and a lot of trading is involved to get decent prices. On top of that, short availability is always a problem in some of these funds. The idea certainly looks nice on the picture, but in the real life, it may be without make up and you can get scared.
Why the distribution rate is not included nowhere but here
The author is a strong believer that the distribution rate is totally irrelevant in the CEF space when you have 160 closed-end funds which are heavily diversified and have no way of bringing you a significantly different result. Any leveraging or duration effect will be priced into the beta of the fund, and the distribution rate itself will never bring you alpha. If I get 10+ comments to include distribution rate metrics, I will do it anyway.
Dividend cuts in the sector continue
This is the last distribution cut I am aware of, so be careful not to have funds trading at high premiums. These are the ones that are most vulnerable, and we have seen this behavior in the past. A high distribution rate (unjustified) can be the reason for a fund to trade at a premium (the market is insane), and once the juicy distribution is cut, the fund becomes "normal" and a holder ends up losing a lot more than expected, due to the shift from constantly trading at an unreasonable premium to trading at a normal discount.
What I would buy if I were bullish on TLT and MUB?
Eaton Vance Massachusetts Municipal Income Trust (NYSEMKT:MMV) is my personal choice, based on the fact that it is a very small fund and I would expect some mean reversion to exist in the low-volume ones. This is how the fund looks like in my software: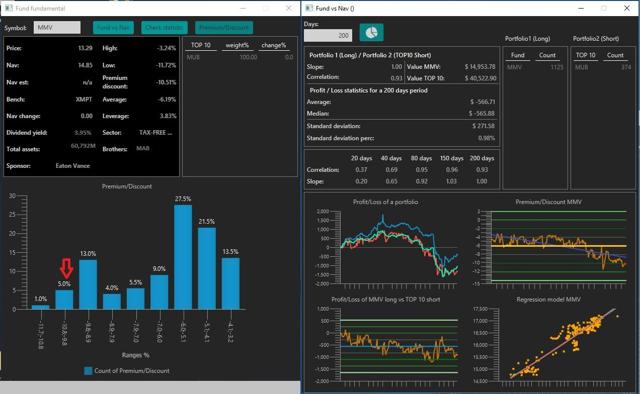 In fact, I was able to profit once from a mean reversion in this fund. This is the article I wrote about it that might be of interest.
Conclusion
Muni CEFs and bond CEFs in general are probably the only closed-end funds that are hard for the retail investor to construct on their own. They are interesting for anyone in the market, starting from the long-term income investor and ending with the trader. We will try to adjust our weekly or monthly reports based on a symbiosis of what is important for us and what is important for readers. Any constructive thoughts are welcome.
Disclosure: I/we have no positions in any stocks mentioned, but may initiate a long position in ANY OF THE CEFS THAT DEVIATE FURTHER over the next 72 hours.
I wrote this article myself, and it expresses my own opinions. I am not receiving compensation for it (other than from Seeking Alpha). I have no business relationship with any company whose stock is mentioned in this article.