The new year started a bang with most of the major asset classes posting gains in 2017's first week of trading, based on a set of ETF proxies. Leading the way higher: foreign real estate investment trusts/real estate.
The Vanguard Global ex-U.S. Real Estate ETF (NASDAQ:VNQI) scored the biggest gain last week among the major asset classes. The fund's 3.0% increase during the shortened 4-day trading week through January 6 marks the third weekly increase for VNQI - the longest bull run for the ETF since last summer.
Emerging market equities were in close pursuit, posting the second-strongest gain last week. The Vanguard FTSE Emerging Markets ETF (NYSEARCA:VWO) climbed 2.7%, the fund's second straight weekly advance.
Last week's big loser: foreign fixed-income securities. The PowerShares International Corporate Bond Portfolio ETF (NYSEARCA:PICB) dipped 0.8% during the first four trading days of the new year, leaving the fund close to its lowest level in a year.
Meantime, last week's generally upbeat results lifted an ETF-based version of the Global Markets Index (GMI.F). This investable, unmanaged benchmark that holds all the major asset classes in market value weights jumped 1.2% for the week.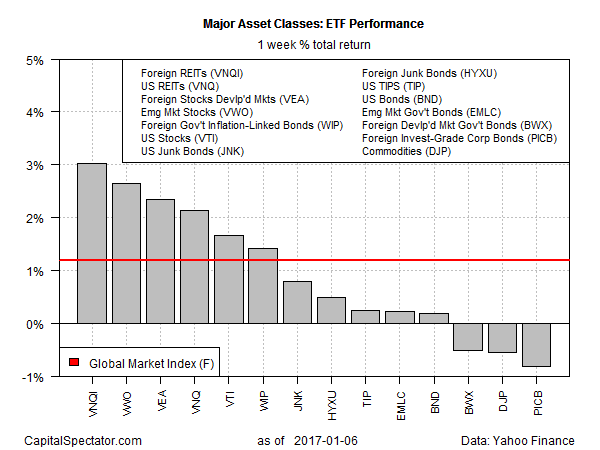 For the one-year column, most of the major asset classes are currently sitting on gains, led by emerging market stocks. VWO is up 24.4% for the trailing 252-trading day period.
Foreign corporate bonds, on the other hand, are posting the biggest one-year loss among the major asset classes at the moment. PICB is off 1.7% for the trailing 252-trading day window through January 6.
The broad trend for markets, however, remains solidly positive via GMI.F, which is currently posting a strong 11.6% total return for the past year.
For some perspective on what to expect from the major asset classes in the long run, take a look at this month's update of risk premia projections.