Investment Thesis
J.M. Smucker (NYSE:SJM) is a large-cap company with a long operating history and strong brands in the consumer staples industry. It has generated anemic organic sales growth in the past, but recent acquisitions and shifts in product mix towards a newer consumer hope to change that. The company is trading around fair value and offers a safe investment with solid upside for long-term investors.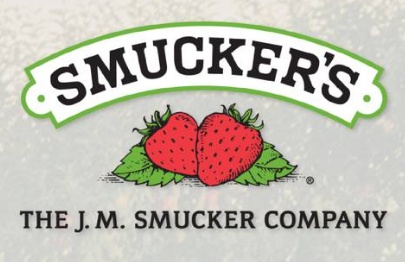 Smucker is a well-known consumer staple company that has a product in 93% of all U.S. households. It is rare in that Smucker has been in business for 119 years, and is only on its 6th CEO. With that, his name is Mark Smucker, and he is the fifth generation of the family to run the company. Insiders still own ~7% of the company, and I would like to believe that the CEO having his name on the building leads to a vested interest in its long-term well-being.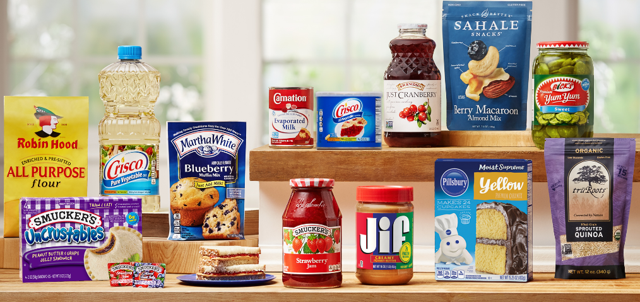 Recent Results
I am writing about Smucker today because it has come off of its highs by about 17%, making it a more interesting candidate for investment than it was earlier this year. The consumer staples industry as a whole was overbought at that time, which was well documented by many authors here on Seeking Alpha. Many of those companies have yielded lackluster returns since then for this very reason, and Smucker is no different.
In its most recent quarter, Smucker reported a net sales decrease of 2-3%, from a combination of lower pricing and a decline in pet food and peanut butter sales. This was excluding the impacts of forex and divestitutures, but management is still confident in projecting flat to down 1% for the full year. This carries with it an expectation for commodity prices to continue moving up.
Folger's was down 10% but was offset by a 4% increase in Dunkin' Donuts brand due to new K-cup offerings and continued momentum in the Cafe Bustelo brand with a 20% sales increase YOY. Another bright spot was the double digit sales growth of the Smucker Uncrustables sandwiches. Continued growth into the single-serve coffee segment is likely, as Smucker puts out new flavors.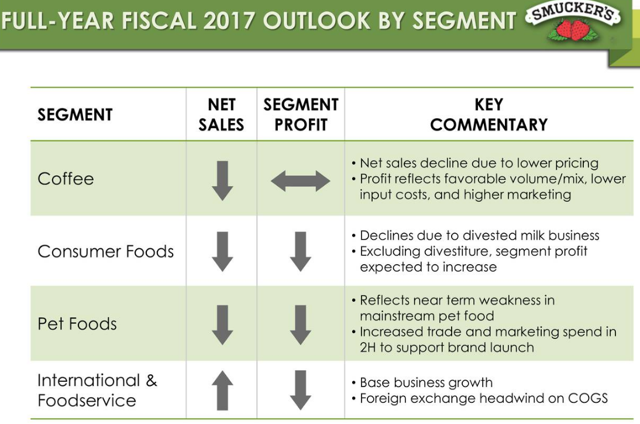 Source: Earnings Call Slides
Can it drive sales growth going forward?
Penetration into the millennial age group is vitally important for consumer staples to ensure a new generation of loyal consumers of their brands. Legacy brands carry a lot of loyalty, but they still need to adapt to survive. These brands have had to shift rudder towards the new consumer with a penchant for natural ingredients, dietary restrictions, and clean labels. This has led to some brands changing the strategy in place, and many companies acquiring their way into a new market.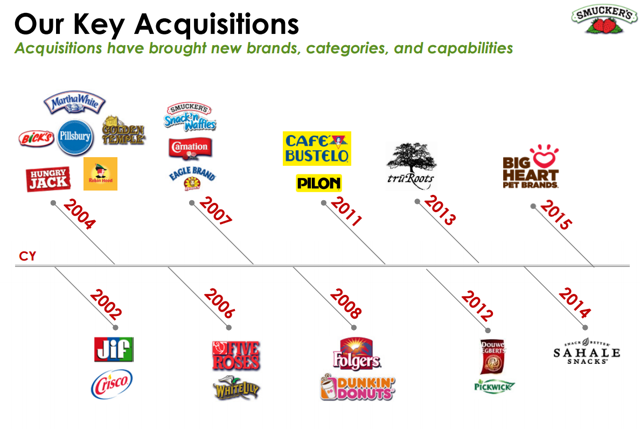 Source: Investor Presentation
Smucker has done some of both. Its Santa Cruz acquisition from as far back as 1994 appeals to today's younger consumers, and its Smucker and Jif Natural product line targets this segment, as well. The Smucker Fruit & Honey fruit spreads feature simple ingredients and are sweetened with honey, and the simple nuts and fruits snacks with no artificial colors or preservatives sold through the Sahale Snacks brand represents a growth opportunity, as well.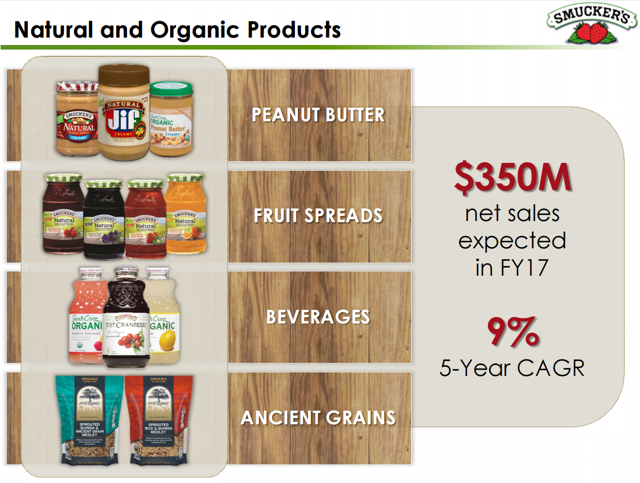 Source: Investor Presentation

The most recent acquisition, Big Heart Pet Brands, is the largest purchase by the company to date. Smucker paid $5.8B in a combination of shares, cash, and newly issued debt, raising total debt from $2.2B in 2014 to $6.2B in 2015. However, debt paydown has been a priority, with the amount repaid down to ~$5.3B today. Due to the relatively stable nature of the business and strong cash generation with free cash flow projected to be $1B this year, this debt load should not be overly burdensome while management continues to pay it down.
This purchase opened the large and expanding pet food market to Smucker with brands like Meow Mix, Milk-Bone, and Kibbles N' Bits. Management has promised to unlock $200M in synergies through this acquisition, and the expectation is to jump-start organic growth with these brands. The company has realized $60M in synergies so far this year, with $40M expected in the back half to total $100M for the year. This would bring the total up to $140M of the expected $200M.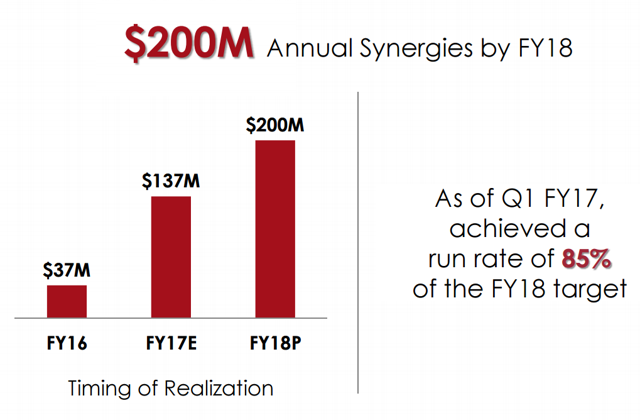 Source: Investor Presentation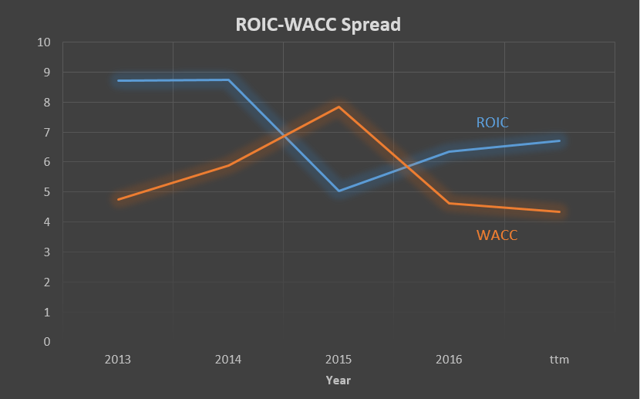 Smucker ROIC has improved over the last couple of years. This shows smarter capital allocation and profit creation with their investments. As debt is paid down and integration/acquisition costs expected to continue through 2018 are factored back in to operating income, ROIC will continue to improve.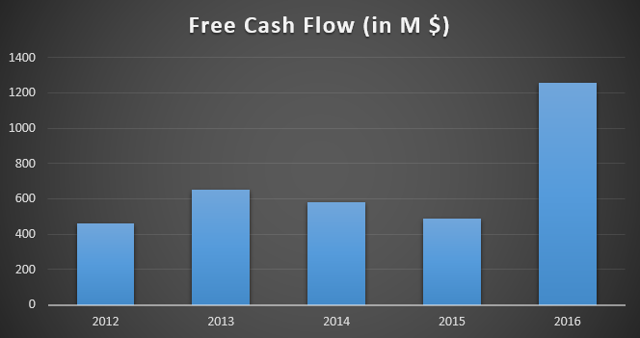 Smucker generated a substantial amount of free cash flow in 2016. The debt paydown was discussed above, and it will likely absorb a good portion of the cash for the near future. However, the dividend is in little danger of ending its 19-year streak of growth. Smucker yields ~2.3% today with a payout ratio of 46%. Their dividend growth has been steady and above-average, but could slow down if earnings growth isn't able to keep up. Analysts predict ~5% growth over the next 5 years. This seems like a low target for this strong company to hit, especially with their recent acquisitions. I believe that Smucker has positioned itself to take advantage of changing consumer trends and drive meaningful growth into the future.

x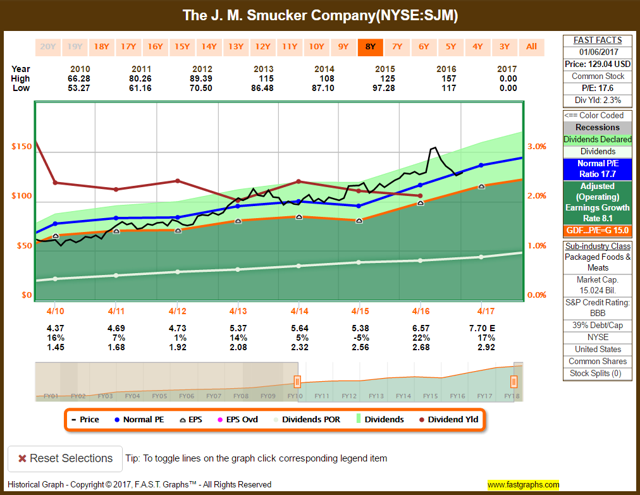 Smucker is trading around fair value today, at a P/E ratio of ~18X. Their long operating history, dividend growth streak, and strong brands in the consumer staples industry represent a safe long-term investment. If the recent acquisition and shifts into newer consumer segments pan out, Smucker could easily outperform analyst targets of 5% earnings growth over the next 5 years. However, anemic organic sales growth is a continued risk going forward.
If you liked this article, and would like to read more like it, please click the "Follow" button next to my picture at the top and select Real-time alerts. Thanks for reading.
Financial statistics were sourced from Morningstar, with the charts and tables created by the author, unless otherwise stated. This article is for informational purposes only and represents the author's own opinions. It is not a formal recommendation to buy or sell any stock. Please do your own due diligence and/or consult a financial professional prior to making investment decisions.
Disclosure: I/we have no positions in any stocks mentioned, and no plans to initiate any positions within the next 72 hours.
I wrote this article myself, and it expresses my own opinions. I am not receiving compensation for it (other than from Seeking Alpha). I have no business relationship with any company whose stock is mentioned in this article.