On the whole, the American economy looks quite strong, and while there have been some tepid economic indicators this month, nothing I've seen yet has me worried. Still, markets are hovering near historical highs, and every time said highs are reached I believe it's essential to consider contrarian views. For some time now I've been worried about China and its debt problems. While the issue is not as pressing as it was in the summer of 2015, it remains a problem. In fact, while the debt issue might not draw as many headlines as it once did, it's possible that the problem itself is actually worse.
This might sound like hyperbole, but the Chinese government has thus far largely refused to curb growing debt loads, especially among corporations. While initial concerns stemmed over municipal government debt, owing to earlier efforts to prop up the economy through the Great Recession, China's corporate debt has now emerged as a far larger concern.
China is the world's second largest economy, and up until recently, the country regularly enjoyed strong growth and economic expansion. Growth has slowed slightly, increasing pressure on many domestic companies. China's consumer markets have been emerging as a major source of demand, and Chinese companies are taking on increasingly prominent roles in the global economy. Yet China's fast growing economy may have encouraged reckless borrowing as companies have compiled huge debt loads based on the assumption of perpetual rapid economic growth.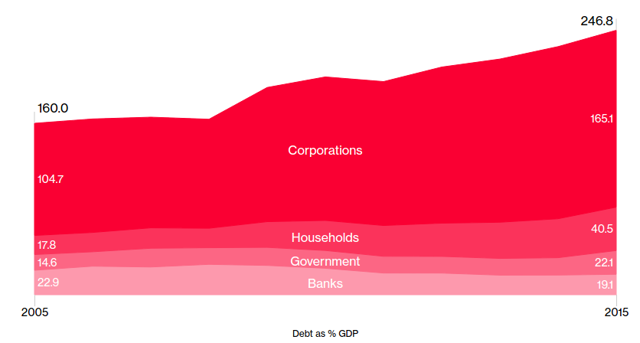 Why should anyone outside of China care? I'll go over that at some length in the final section of this article, but problems in China could spill over into global financial markets. While the United States economy looks quite strong right now, it's far from invincible, and unlike past Asian financial crises, if China were to stumble, I fear it'd spread globally.
China's Debt Risks Are Big & Could Spiral Out of Control
Last fall, the IMF warned that the window to address "the problem" was closing quickly, and that if the Chinese government didn't' act soon, it'd be too late. The Chinese government, for its part, issued guidelines to companies and warned them that it wouldn't be bailing them out. Yet while the government has issued guidelines, it has done little to directly curb appetite for debt among either companies and consumers. Any efforts now may be too late.
Bloomberg Intelligence estimates that in total debt levels in China have risen by some 465% over the past decade. According to more pessimistic projects, debt has reached 276% of the GDP as of September 2016, up from 260% in 2015. These estimates are on the higher end, but most estimates put debt at roughly 250% or more.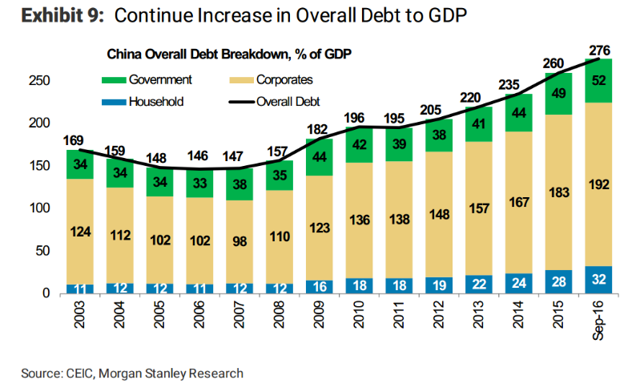 Corporate debt is estimated at 192%, and represents what many analysts believe to be the highest risk single sector of the economy. At the end of 2015, estimates pointed to 15.5% of the corporate debt to be at risk. These numbers are worrisome enough, but when bubbles pop, risks often spiral well outside of projections and controls.
Outside of corporate debt, mortgages continue to skyrocket. Numerous financial and policy experts have expressed concerns over China's potential real estate bubble, yet the Chinese government appears to be doing little to bring the market under control. In September of 2010, household debt stood at less than 20%, but by September 2016 had risen to 32%, with mortgages accounted for much of the increase.
Luckily, international banks won't be too heavily exposed should China's debt bubble really implode. As is the case in nearby Japan, most of the lending has been covered by local deposits, banks, and companies. Still, foreign banks do own over $800 billion in Chinese debt, and weaker banks could suffer immensely if China does suffer a crisis.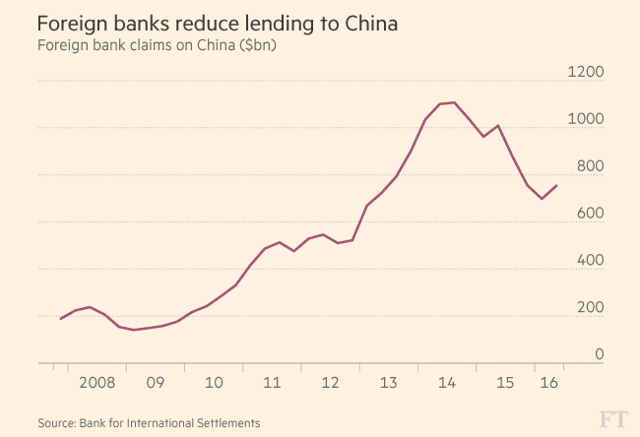 Government Interference Has Crowded Out True Market Competition
One of the biggest reasons debt levels have spiraled out of control is government interference in the market. The Chinese government has been propping up a wide range of government owned and linked companies. Shielded from competition and provided with government funding, these companies have not been subject to market forces. As is often the case, many these companies are horrendously inefficient.
One "solution" to China's debt problem would be consolidation and winding down these under-performing companies. Problem is, doing so would cost an estimated 7.8 million jobs, with roughly 2.8 million coming from inefficient industries, such as steel, and the other 5 million coming from construction. Such job losses could depress China's economy, reducing consumption, and possibly leading to the deflation of property markets and other areas of the economy.
Either way, market driven efficiency reform is going to have to come on the table. As popular as it has been to laud the country's fast growth, extensive interference on the government's part has lead to highly inefficient companies that have had to rely on government support and debt to stay afloat even during the boom times. If China's economy were to suffer a real slowdown, these firms would likely collapse in short order.
Investors Need to Watch China
Why should American investors care? Why should anyone outside of China care? After all, financial crises in Asia and elsewhere have thus far proven to have minimal effect on the United States or even Europe's economy. Even when Japan suffered its extraordinary collapse in the late 80's and early 90's, then being the world's second largest economy, the United States suffered relatively little.
It's possible that the United States could slip past a Chinese financial crisis relatively unscathed. The American economy is the strongest it has been in years. Yet at the same time, I'm not quite ready to call the economy strong in a historical context. Genuine "normal" growth has resumed, and wages are ticking up, but risks persist. If financial markets and/or consumers were to be rattled, this could spell serious trouble. Any major slip up could quickly spiral out of control.
Further, I'm far less confident in Europe. For years now, Europe has been suffering from serious economic illness. The unemployment rate in France remains above 10%. In Italy, the unemployment rate is 12.4%, while in Spain it's a shocking 22.4% In perpetually strong Germany, the overall unemployment rate is only 4.2%, but the youth unemployment rate still sits at 6.9%.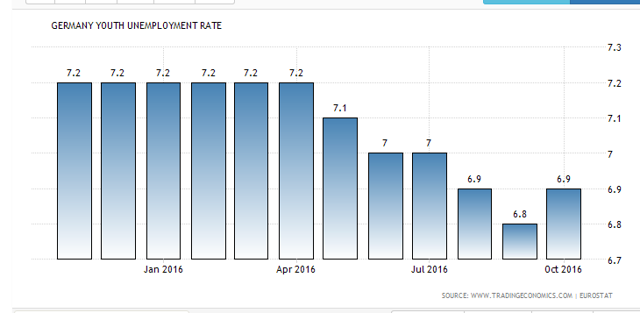 I'm not trying to bore you with the details of Europe's sick economy, but if China were to suffer a financial crisis, I could see it quickly spilling over to Europe. The EU sent over 170 billion euro in goods and over 29 billion euro in services to China in 2015. Meanwhile, Chinese companies have helped propped up Europe's economy through direct investments, which reached $23 billion in 2015. A disruption in China could quickly spread to already sickly Europe, and from there could quickly jump the pond to the United States.
Anyway, with the United States economy looking relatively strong, but with markets hovering near all-time highs, I'll be keeping an increasingly close eye on global markets. Incoming President Trump, global debt levels, cheap oil, automation, and numerous other factors could cause disruptions. China's debt problems aren't the only risk right now, but they are among the biggest concerns, for me. With markets so high, it's tempting to liquidate, but as investors know, what goes up doesn't have to come down, at least not tomorrow, or even next month.
Either way, should U.S. indicators turn south, or China's problems grow worse, I'll have to consider pulling out of markets. I might miss out on some gains, but risks are, in my opinion, mounting.
Disclosure: I/we have no positions in any stocks mentioned, and no plans to initiate any positions within the next 72 hours.
I wrote this article myself, and it expresses my own opinions. I am not receiving compensation for it (other than from Seeking Alpha). I have no business relationship with any company whose stock is mentioned in this article.