Background
In order to assist those of who haven't read any of my previous articles in better understanding the concepts ad logic behind this new series, I'll sum up who I am and what is my current stance regarding the markets in a nutshell:
I am a fund manager who is very minded of risk management. I look at risks before I look at (potential) returns.
At the moment I fear of a possible pullback in equity markets and my two highest convictions for 2017 are rising long-term US Treasury yields (TLT, UST, TBF, PST, TBT) and a stronger USD (UUP, USDU).
Over the past few months, I've preached for hedging over and over again. My A-Team versus H-Team ongoing series is a classic example of a hedged strategy through long-short positions.
Long-Short strategy is one of the most commonly used hedging methods.

There is more than one way to tackle such a strategy. Some long-short players adopt a more neutral stance that may benefit from relative value/valuation between the long position to the short position. Others may take a more adventurous path, trying to capture both sides of the strategy, i.e. playing an absolute view of a "good stock" versus a "bad stock" that, if validates, allow to benefit from both sides of the strategy. Naturally, in most cases, the latter (stance) is more riskier than the former.
In one of my most recent articles I took a more in-depth view of the long-short strategy and how to implement it. I've introduced the "fifty shades of pair trades": A list of fifty possible pair-trades for 2017 that offer dual an alternative to the long-only most popular strategy. Should my cautious view regarding the markets is warranted, this alternative strategy would allow investors to mitigate risk on one hand and to potentially recording gains, even through a possibly rough period as well as potentially shaky markets.
I find it important to re-emphasize that the fifty pair-trades don't represent actual positions I'm holding onto. Any specific name I have a position in (out of all the symbols that are being mentioned within a certain article) is fully disclosed at the end of the article, as usual.
Furthermore, it's important to note that I've tried to capture as many different types of stocks and sectors as possible. The fifty air-trades are, therefore, not the best one can identify but simply diversified enough to (hopefully) demonstrate the advantages and benefits of a long-short strategy over time and through troubled times.
Finally, I already pleaded "guilty" to the accusation that I sometimes intentionally picked names that are more "speculative" and "provocative" in nature. This decision has a dual role: 1. Assisting in capturing more themes/trends, even if they are outside of the main stream (even my own stream...), and 2. Stimulating the discussion and expanding it to names that are less covered and/or more controversial in nature.
The same line of thinking, i.e. stimulating the drill, also led me to place some "bullish in nature" names under the short side and vice versa. You may see the full list of pair-trades here.
Targets
Unlike the A-Team that has clear targets (Minimum total returns of 10% over the first twelve months and 50% along a period of no more than five years), the fifty pair trades do not have a set target or a clear goal. They do, however, serve few "if and when" targets:
Should equity markets (SPY, DIA, QQQ, IWM, IWB, IWV) do go through a correction - I expect the pair-trades to do better during that period (of correction).
Should the S&P500 finishes 2017 with a negative return - something I've assigned at least a 50% probability to - I expect the pair-trades to do better during the year.
Even if the S&P500 would record a dismal positive return, say up to 3% - I still would expect the fifty pair-trades to possibly beat the index.
Most of all, the main target of the fifty pair-trades is to introduce a strategy that many investors are either unaware of and/or afraid of.
Pair-trading is not as difficult as it may look. As I've shown here, even if the universe of stocks that one can choose from is much smaller - I've restricted myself there to the thirty stocks that are part of the DJIA index - it's relatively easy to identify very reasonable pair trades.
Bear in mind then: The main target of this drill is neither positive/absolute return nor to claim that I'm a good stock picker. Instead, it's purely and solely intending in opening readers eyes (to other options) as well as to highlight the risks and rewards of the strategy (as a whole) as well as of its specific pair trades along the way.
While at the end of each quarter I'll look at all fifty trades from an aggregated basis, the weekly articles would focus solely on one of the pair trades that caused most of the noise and interest over the past week.
Although I have no target/expectation whatsoever for/from any of the single pair-trades (on a stand-alone basis), the weekly featuring of a single pair-trade would be an opportunity to highlight those risks and rewards as well as to discuss the one or two stocks that are part of the specific pair-trade.
Long Teva - Short Mylan
At the end of week number 1 I've decided to feature the air-trade involving Teva Pharmaceutical Industries (NYSE:TEVA) and Mylan Inc. (NASDAQ:MYL) due to three reasons:
TEVA updated its annual guidelines and this has tanked the stock last Friday
TEVA has two very important near-term milestones ahead of it that may determine its course for the next few months.
In her most recent article, my dear friend and one of SA most distinguished authors, Lady RoseNose, stated TEVA as one of her recent purchases. Rose indeed knows and since she does - should we.
Let's start with the "noise":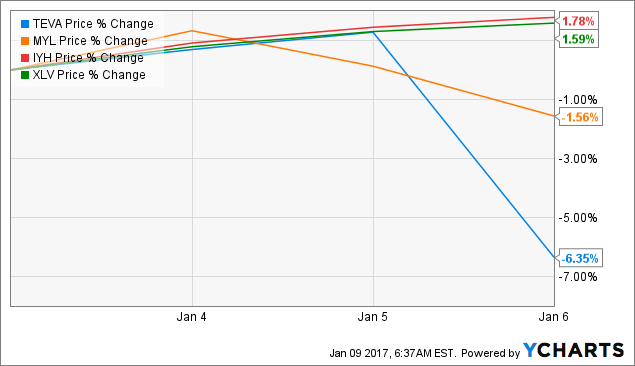 Teva shares fell 6.35% over the past week but on Friday alone the share tanked 7.53%. The reason was a poor guidance for its 2017 results that includes a reduction (to previous guidance of the company itself) in EPS and revenues that fell way short of the market consensus.
Nonetheless, before touching upon TEVA further I find it important to note that MYL has actually softened the damage by shedding 1.56% of its share value on no specific news aside of being downgraded to neutral by Citigroup (NYSE:C).
TEVA obviously underperformed the Healthcare sector's main ETFs (XLV, IYH) but so did MYL. Putting in differently, a good pair trade ultimately suppose to end with a positive spread/gap (between the two stocks involved) but in case your long shot miss its target - the negative spread/gap may narrow if you choose your short wisely.
This week's lesson is therefore: A good pair trade is just like marriage; it should serve an investor at all times - "in sickness and in health, whether rich or poor, in sorrow and in joy."
Is Teva Sick?
First of all, I wish to note that I have no position in TEVA as of today. I'm thinking of it and I may buy the stock soon but not over the next 72 hours (Important for those of you who actually take a look at the disclosure).
Secondly, I have no doubt - and the vast majority of analysts agree- that TEVA is currently undervalued. The stock actually halved from its all-time record high of August 2015: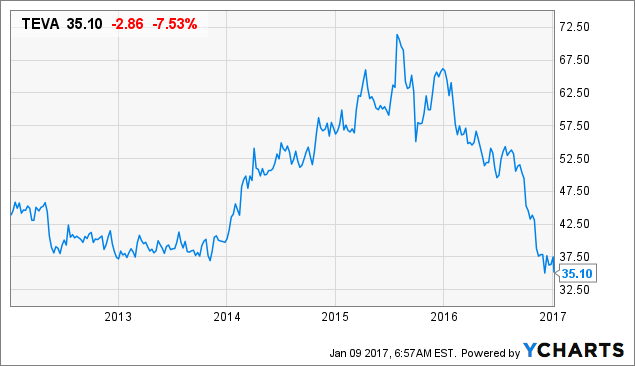 The problem of TEVA is that the company is facing two major milestones/events that may affect its share price in the near future and, therefore, I believe that the share price will find it hard to climb significantly until and only if these milestones/events - that represent possible additional bad news for the company - get cleared.
The first date to pay attention to is January 25th when Novartis (NVS, OTCPK:NVSEF) - the Swiss giant drug-maker - is going to publish its financial results. While Teva is the world's largest company within the generic medicines arena, Novartis has a relatively small generic unit called Sandoz.
The generic medicine segment is suffering from an ongoing pricing erosion in the US which is the largest market of generic medicines. Most, if not all, generic companies try to draw a more optimistic picture than reality shows, as well as their earnings point out into. Teva is no different and the company has forecasted a (only) 5%-7% erosion in its generic medicines prices.
Due to its relatively small size of Sandoz within the Novartis group - the generic business is not as important for Novartis as it is for Teva. As such, while other major generic companies such as Teva are being seen as perhaps "softening" the real scale/effects of the pricing erosion - Sandoz is seen as a more reliable source.
The underlying assumption is that Novartis has no real interest, neither in "softening" Sandoz' results nor in "idealizing" the real effects of the price erosion within the generic medicine segment.
Therefore, when Novartis publishes its earnings on 1/25, the generic-related stocks would very much look at (and going to be affected by) Sandoz results.
Teva's flagship (non-generic) drug, the Copaxone, is being under attack for quite some time. Following the expiry of the Copaxone's 80mg version patent - the company issued a 40mg version and it actually managed to shift the vast majority, i.e. 80%+, of patients from the 80mg to the new 40mg version.
Nevertheless, the 40mg is now also subject to a court ruling regarding the length/validity of its patent that is expected to be given in the very near term; a matter of a few days or weeks. Teva asked the court for protection (of its 40mg patent) but if the court allows competition and, consequently, generic version/s of the Copaxone 40mg enter the market - Teva is going to have a new-huge headache.
Guess who is waiting most anxiously for this court ruling (aside of Teva of course)? You got that right, folks: Sandoz. The same Sandoz that is perceived as the most trusted whistle-blower for all generic drugs makers is the company that is looking to come up with a generic version for Teva's Copaxone 40mg version.
That takes us back to the Novartis results on 1/25. Not only that we will get a better clue regarding the price erosion effects but we will also have a better clue of Sandoz intentions regarding the Copaxone saga.
If Teva loses - it will surely file an appeal and that would put Novartis/Sandoz in danger should they intend to come up with a new generic version for the Copaxone 40mg version, solely based on the initial verdict, and without waiting for the results of such an appeal.
Either way, these near-term milestones/events are surely going to have major effects on Teva and its share price.
Bottom Line
As I wrote above, a good pair trade is just like marriage; it should serve an investor at all times - "in sickness and in health, whether rich or poor, in sorrow and in joy."
Teva seems like a "sick company" and there's no doubt that it suffers from many real or potential "diseases". Similarly, there's no doubt that the TEVA stock is undervalued and represents way more fear than reward.
I try to mitigate risks and in spite of TEVA share currently being priced very attractively, I still don't see a compelling enough case to buy the shares right here, right now. Instead, I rather wait for more clouds to spread and for the Copaxone skies to become clear(er).
Although I may miss an initial-immediate rise in the stock price should the events I've described turn out in favor of Teva, I rather miss the first 5% rise and participate in what may come then after than risk participating in the 10%+ fall should things don't end up as TEVA shareholders so anxiously wish for.
Disclosure: I am/we are long TBT, SPXU.
I wrote this article myself, and it expresses my own opinions. I am not receiving compensation for it (other than from Seeking Alpha). I have no business relationship with any company whose stock is mentioned in this article.
Editor's Note: This article discusses one or more securities that do not trade on a major U.S. exchange. Please be aware of the risks associated with these stocks.