By Rafi Amit, CEO of Camtek (NASDAQ:CAMT)
Our strategic focus ahead is primarily the semiconductor business: we will aim to double semiconductor revenue in 3-4 years (through a combination of both organic growth and M&A). At the same time we intend to maintain our strong position in the PCB market and maximize the value of this business unit. We also aim to complete the development of our FIT technology for solder mask in the coming 12 to 15 months and subsequently find a strategic partner.
For readers who want to know more about Camtek, I would like to spend some time giving you a background to what we do.
About us
Camtek is a NASDAQ and Tel Aviv listed company under the ticker CAMT. Its headquarters are in Israel and Hong Kong with offices and subsidiaries in US, Europe, Singapore, China, Korea, Taiwan and Japan.
We are a microcap technology company, with a market cap of around $110 -120 million and net cash position of about $20 million. We are profitable, having reported a LTM (last twelve months up to and including Q3 2016) non-GAAP net income of $6.7 million on LTM revenue of $106 million.
We have a strong position in one of the fastest growing segments of the semiconductor equipment space and therefore we are growing ahead of the semiconductor industry in general. Based on analysts' expectations of continued growth in the industry in 2017 which will be driven by consumer spending and in particular on mobile devices and smarter cars. As part of our strategy, we plan to further expand our business with our existing customers and penetrate new customers. We expect double-digit growth in our 2017 revenues from the semiconductors division.
We predict our operational leverage is likely to lead to improved margins in 2017 due to the fact that we will increase our revenue in our core business and limit our expense in the Digital printing (NYSE:FIT) project.
In fact, any fairly intelligent electronic device that we may use today- whether it is a mobile device, a laptop, a car or a camera, contains semiconductors and PCB components which are very likely to have been checked, or more accurately, optically inspected by one of our machines during the manufacturing process. These devices are becoming ever more complex and compact, and therefore, the components inside increasingly require inspection before integration. This underlying increase, together with the general growth in consumer sales of smart devices, drives growth in our industry as a whole.
Within our target markets, we are a well known supplier of inspection equipment, directly competing with Rudolph (NASDAQ:RTEC), ATI, Toray and others on the semiconductor side and Orbotech (NASDAQ:ORBK) and small Asian companies on the PCB side. Our customer base includes 22 out of top 25 semiconductor manufacturers, as well as the majority of the world's largest PCB manufacturers. Customers include names such as TI and Sony (NYSE:SNE) as well as major manufacturers such as TSMC (NYSE:TSM) and Samsung, which manufacture the processors that power the majority of today's smartphones. Our customers are diversified with none greater than 10% of full year revenues.
We primarily build and sell automated optical inspection and metrology systems (called AOI for short). Our systems use advanced image processing software as well as advanced electro-optics and precision mechanics in which 25 years of R&D has been invested.
We also invest ($2.5M per year) in a future technology related to applying solder mask digitally on PC boards. We call it FIT (Functional Inject Technology). Actually we develop a dedicated ink, Inkjet Printer and process. Our main target market for this technology is the Automotive industry. This industry is interested in adopting digital technology for solder mask application and the inject technology is the only practical alternative. We believe we can introduce turn-key solution to the market in Q1 2018.
Automated Optical Inspection
End-user customers expect all advanced product to perform perfectly with no room for defects. As a result, all leading companies that sell their devices insist on a "zero defect" criteria. They demand all their suppliers inspect each component and guarantee shipping for only the good parts. Moreover, today's microchips or PCBs are an integration of very many different components and sub systems. One tiny fault in one small part will cause the entire device to fail. Every part needs to be checked individually, accurately and quickly, before assembled into a bigger sub-unit. This ensures the manufacturer has a higher production yield (sellable products out of the total manufactured) and lower costs from rejects.
We target two main markets in the electronic packaging industries and the electronics supply chain: (1) the semiconductor fabrication industry; as well as (2) the PCB industry, and we will take a look at the potential for Camtek in each.
The Semiconductor Business
The semiconductor manufacturing industry produces the microchips which provide the functionality of the many smart devices we use today.
This industry has generally performed well over the past few years. This has been driven by consumers continuing to buy the greatest and latest phones, laptops, tablets, cameras, wearables, LED lighting, IOT devices, TVs and now semi-autonomous smart cars, among others.
Our semiconductor business has been our growth engine over the past several years and is likely to be for the coming few years, driven by ongoing consumer demand for increasingly complex electronic devices.
Our semiconductor inspection business has grown from $45 million in revenues in 2013 to an expected ~$80 million in 2016. The reason for this premium growth rate over the industry is because we serve the fastest growing segments of the semiconductor industry and our innovative technology and leading position has allowed us to penetrate almost all the leading manufacturers, some of which, until recently, we had not penetrated before. Thus, moving into 2017, Camtek's customer base is the broadest it has even been in the semiconductor sector which gives us the ability to grow further by selling more systems into our customer base.
Our semiconductor systems are used by manufacturers for various inspection and metrology applications for inspecting the finished semiconductor wafers for defects such as cracks, foreign materials or damage, to measuring features and sizes on finished dies such as the bumps co-planarity and critical dimension. The Eagle is our flagship system for the semiconductor industry.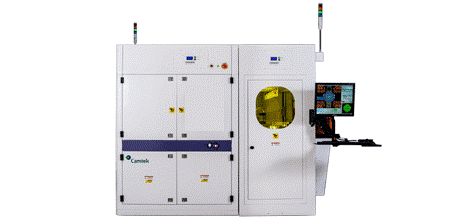 Camtek's latest AOI system for semiconductors
We Focus on the Fastest Growth Segments of our Target Markets and we are well positioned in this segments
For half a century, Moore's law, named after Intel co-founder Gordon Moore, generally held true. Just over fifty years ago, he observed that transistors were shrinking so fast that every two years twice as many could fit onto a chip. In the past few years, there has been a slowing in Moore's law as it is becoming more difficult to shrink logic down in a cost-effective way for production. Therefore the industry has shifted to looking for cleverer ways of improving chip efficiencies in a given existing node size (i.e. given the current chip transistor or gate dimensions.)
Advanced Packaging Segment
Advanced Packaging is now one of the fastest growing segments in the semiconductor. This is a area where we leverage both our semiconductor experience as well as our PCB experience. In the past, tiny wires attached the integrated circuits (ICs) in the microchip (=wire bonding) to the substrate on which the chip sits, which was then mounted on the PCB (printed circuit board). The integrated circuits that are manufactured under an advanced packaging technology, are connected via what is literally a rectangular array of metallic bumps. This is a much more efficient technology, with improved power consumption and speed (a picture below).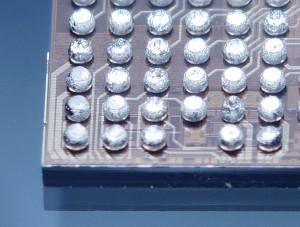 Bumps on an integrated circuit
Camtek's systems detect any missing, misplaced or deformed bumps, and checks that these bumps conform to shape and height specifications. Any slight size, shape or placement deviations may cause damage to the integrated circuit or the substrate during the packaging process, leading to a full device failure. Each wafer potentially has several million bumps that need to be inspected and measured, and inspection is crucial to the manufacturing process. Because of our unique experience and technology, we are seen by our customers as having the most advanced 3D measurement tools for this sector.
While today's most advanced chips are indeed manufactured this way, only about 30% of all wafers produced are currently bumped, which means there is significant room for further growth in this market sector. In fact, analysts expect the advanced packaging penetration to accelerate over the coming few years.
Approximately half of all our semiconductor systems are sold to support this fastest growing segment in the market and we believe that this sector will continue to gain further sales traction in the coming year.
Micro Electro Mechanical Systems
Another fast growing segment where we have focus on is that of micro-electro mechanical systems (NASDAQ:MEMS) which mainly serves the mobile and automotive markets, utilizing materials, manufacturing technologies and facilities from the semiconductor industry to produce miniature mechanisms. These might be inkjet print heads, accelerometers, video projection devices, microphones, medical devices to manipulate cells and other tiny parts. The MEMS manufacturing segment relies very heavily on testing to ensure reliability, and this testing is a significant amount of the overall product cost. For MEMS, inspection is implemented at a number of stages along the manufacturing process to detect damage, as well as to confirm dimensional conformity. For MEMS, inspection strongly increases yield and lowers waste and overall production costs.
We are seeing continued strong interest in this segment and we intend to broaden our sales to our customers in this segment in 2017.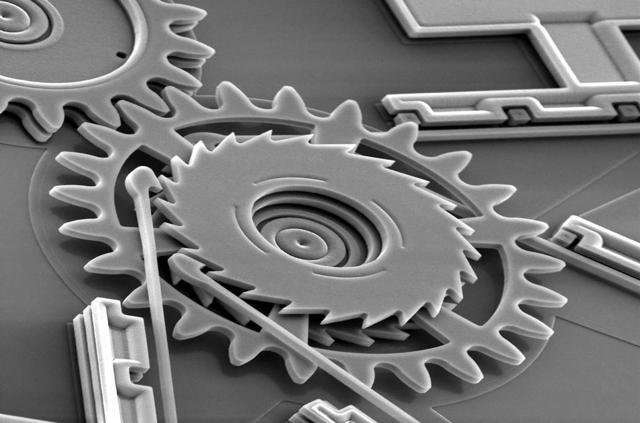 A MEMS gear
CMOS Image Sensors (NYSE:CIS)
Another area in which we have a strong lead, and an area growing well ahead of the semi space in general is the complementary metal oxide semiconductor image sensors (CIS)- or what is better known as the chip which powers a camera, akin to the human retina in the eye. For a number of years now, these chips have been increasingly used in mobile devices, as well as automotive, security products and other computer vision applications.
Comparing the picture quality or resolution from a phone even just one or two generations ago with the quality gained today, it is quite clear how fast the CIS chip technology is improving. This market is continuously increasing the number of pixels per each sensor to improve resolution while reducing the size of each pixel, which requires the manufacturing process to have a high resolution inspection for every sensor.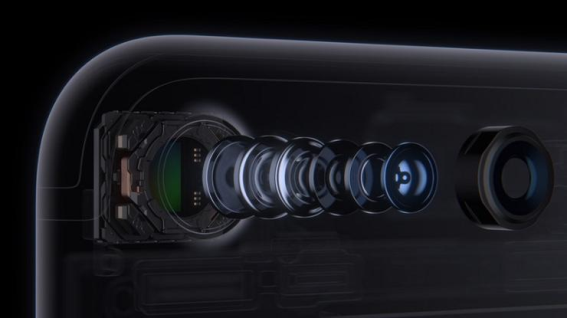 A CMOS Image Sensor in a smart-phone
We built our lead by focusing on specially developed capabilities to address specific pixel requirements, and we intend to further increase our market share in all the main CIS manufacturers globally with our systems.
The PCB Inspection Business
Our PCB inspection business is and has been a solid and cash flow generating business for many years. In this segment, we focus on selling to the high-end PCB manufacturers, and our customers include the majority of the top global manufacturers. This business generates around $30 million per year in revenues.
A PCB or printed circuit board supports and interconnects a broad range of electronic components, and enables them to operate as an electronic system. PCBs consist of traces, or lines, of conductive material laminated on a base, which provide electrical interconnections between the components. The trace integrity and conformance to exact dimensions are essential to the correct functioning of the electronic product.
Smart phones, tablets and the like, are driving the trend towards much more compact, high-performance and highly reliable electronic products. This drives the demand for increased complexity, including multiple-layer PCBs and miniaturization with increasingly thin and dense lines. Today, multi-layer boards consist of several layers of circuitry laminated together to form a single board with both horizontal and vertical electrical interconnections between the boards.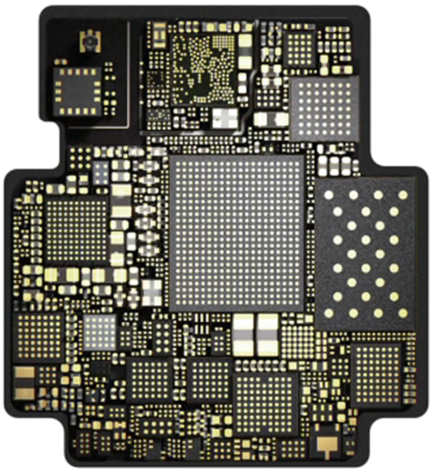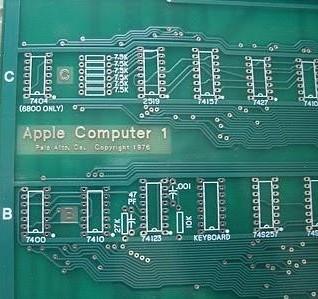 PCB of the Apple Watch (the traces being internal and components attach to the pads on the top) and a simpler (one layer) PCB from earlier times (which were checked by human eyes at that time)
Today, the latest PCBs can use conductive lines and spaces of as little as 10 to 25 µm for high density PC board and 50 to 75 micron for standard PC board. In addition, the number of inner layers in typical multi-layer PCBs usually ranges from 4 to 14, and up to 52 layers. Inspection by AOI looks for defects in the inner layers prior to the lamination process. Once the multi-layer board is laminated, any undetected defect in any specific layer will result in discarding the entire board.
As the manufacture of PCBs becomes ever more complex, we see increased demand drivers for AOI during manufacture which should drive Camtek's PCB segment in the coming years.
Looking Ahead
2016 was a record year for us and based on our guidance for Q4 (expecting between $28.5-$29.5 million in Q4 revenue), Camtek will have shown solid revenue growth in the year (~10%), and even more so in the semiconductor segment (~18%).
While the PCB segment has been, and remains, very stable, the semiconductor industry as a whole continues to show promising growth trends into 2017. Beyond that though, we believe that we can continue to grow ahead of our end markets sector, driven by our focus on growing market segments as well as increasingly penetrating existing manufacturers and selling to new customers.
Moreover, while operating margins have averaged in the 6-7% range in the past few years, Camtek expects this to improve. The expected improvement is as a result of some of the savings from the reorganization of the digital printing activity as well as from the leverage in the business in light of the expected revenue growth. This will enable us to increase our profits in the quarters ahead.
Hence, moving into 2017, Camtek has a lot of wind in its sales, and I look forward to the ongoing and strong growth in semiconductor revenue with the potential for improved profitability.
Disclosure: Camtek pays Seeking Alpha a fee to participate in its Corporate Visibility program. This article was submitted independently by Camtek and selected by Seeking Alpha's editors for publication. No fee was paid for its publication.