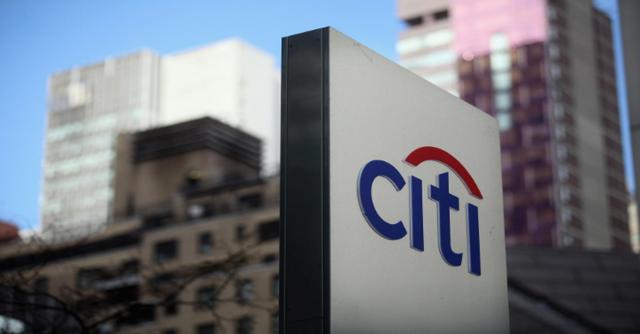 Citigroup (NYSE:C) has been one of my favorite financials for a very long time. The stock has remained cheap - in my view because of stigmas that no longer apply - and for that reason, I've stayed the course. That has been painful for the past couple of years as Citi has continued to languish but heading into Q4 earnings, Citi is rallying. At multi-year highs, the stock is still cheaper than its peers and given all of tailwinds Citi has to grow, I think the Q4 report could very well be a catalyst to get it over the hump of multi-year resistance.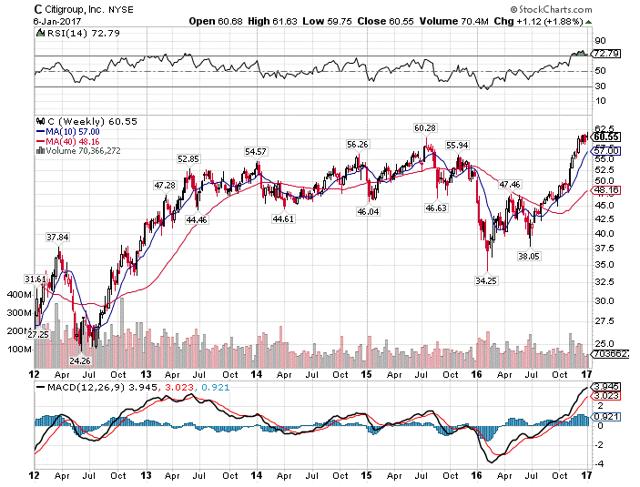 Speaking of that resistance, I've elected to show a five-year weekly chart here because it shows the incredible journey this stock has been on for that time period. For three full years Citi bounced around but basically went nowhere and then at the end of 2015, bank stocks were the poster children for the childish fit markets threw following the Fed's first rate hike in nearly a decade. That seems like ages ago but it has been just one year and what a difference a year makes.
Bank stocks are now everyone's favorite and this highlights exactly how important sentiment is for a stock. Citi has been the ugly duckling among the group for as long as I can remember and that has kept its valuation down against its peers. I've laid out before why Citi is no longer an inferior bank but the stock persists with such a valuation anyway, and that is why I've been so steadfastly bullish. But at $60, Citi is at a level where it has failed before so what will be the difference now? How can the Q4 report help finally break through and see Citi reach its potential?
The first thing I want to see in the Q4 report is progress on Citi Holdings. This is the dumping ground for all of the garbage that Citi doesn't want to own any longer and while it recently became profitable, Citi is still doing a terrific job of getting rid of its holdings. At the end of Q3 Holdings was less than 3% of the balance sheet so I'd like to see that number lower once again until it is zero. We're almost there and Q4 - with prior announced planned sales - should see it closer to the ultimate goal.
That will keep a lid on total revenue growth but as long as it is close to flat ex-Holdings, that will work. Citi's valuation is such that expectations remain very low - for some reason I don't understand if I'm honest - and thus, torrid revenue growth simply isn't needed. I think Citi can grow once Holdings is out of the way and as I said, we're almost there. But for now, analysts are looking for -7% sales Y/Y for this quarter. That should be a fairly easy mark to hit considering the favorable conditions we saw in Q4 and indeed, could be a source of upside surprise; I wasn't kidding when I said expectations were low for Citi.
Citi's credit metrics continue to improve and stay within more than acceptable ranges in terms of allowances - which were under 2% in Q3 - and all I want to see there is for Citi to keep doing what it is already doing. I think Citi's progress on its credit metrics has gone largely unnoticed by the market and that this source of strength is a huge reason to be bullish. This is not the Citi of old that lent money just to try and produce growth; Citi's lending is prudent and to creditworthy borrowers. That fact should not be lost on investors as Citi begins to use its pile of excess deposits as growth will be more profitable than it has been in the past.
Speaking of lending, the final - and perhaps most important - thing I'll be looking for in the Q4 report is Citi's loan and deposit numbers. Other big banks have been unleashing their hoards of deposits and while Citi has to a degree, the magnitudes have been somewhat smaller. Citi has an enormous pile of unused deposits like JPM, BAC and others but unlike those names, it is growing more slowly. Will Citi finally begin to unleash those deposits soon? Citi's ex-Holdings loan growth in Q3 was 7% and I'd like to see that sort of number again. For Citi to reach its full potential, we need to see growth on that order or better and the pieces are in place; we just need management to pull the trigger.
Despite all of the tailwinds for growth, Citi is still going for 11.6 times 2017 earnings after the enormous rally we've seen. That's very high for Citi on a historical basis but the rest of the big banks are all in the 13 to 14 range, meaning that Citi is still getting less respect from the market than just about everyone else. Citi is going to grow at a rate of at least 10% in 2017 given the tailwinds from higher rates as well as its prodigious buyback. The latter will be less effective given that shares are now $60 instead of $40 but with Citi's enormous excess capital and the fact that it is creating more and more each quarter, I expect its buyback authorizations will only continue to get larger. For that reason as well as its fundamentals, I think Citi looks poised to break out to new highs and a favorable Q4 report could be just what is needed to finally get there.
Disclosure: I am/we are long C.
I wrote this article myself, and it expresses my own opinions. I am not receiving compensation for it (other than from Seeking Alpha). I have no business relationship with any company whose stock is mentioned in this article.