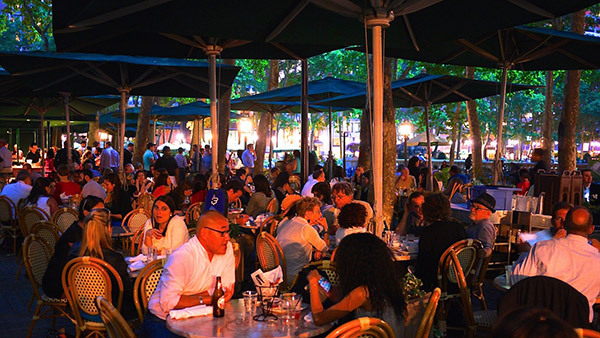 Patrons enjoying an evening outdoors at Bryant Park Grill & Café (Source: Company Website)
Business Summary
Ark Restaurants Corp. (NASDAQ:ARKR) owns and operates 21 restaurant/bars and 19 fast food concepts/catering operations with different trade names except for Gallagher's and Rustic Inn, of which there are pairs of each. Notably, ARKR owns Bryant Park Grill & Café and the Clyde Frazier's Wine and Dine in Manhattan (for basketball fans, yes that is the Walt Clyde Frazier, point-guard-turned-MSG-commentator who helped the Knicks capture the NBA championships in 1970 and 1973 - ARKR has had a partnership with Frazier to run the restaurant since March 2012). The company started in New York City but began expanding its restaurant/bar footprint into other states over the years with an affinity to "destination properties" over the years such as casinos (Foxwoods in Connecticut for example), water-view properties, and even historically relevant buildings such as Faneuil Hall in Boston. In fiscal 2016, the company generated revenues of $150.2 million, up from $145.9 million the previous year and currently trades at an $86 million market cap (roughly $25 per share).
Fiscal 2016 Results - Not As Bad As It Looks
ARKR reported full-year results less than a week ago and held a relatively entertaining conference call to those who decided to tune in at 10 a.m. on New Year's Eve - a timing that management vowed humorously never to do again as part of a new year's resolution.
At first glance, the full-year report appeared a little dismal. Revenues were relatively flat (a 3% gain YOY) and EBIT was notable, decreasing 17% YOY from $8.9 million in 2015 to $7.4 million in 2016 due primarily to several factors: 8% increase in payroll expenses due to minimum wage increases; the closures of V Bar and Center Café in November 2015 and February 2016, respectively; and construction near one of its restaurants in Fort Lauderdale that has been ongoing for the past 7 months which has affected traffic flow to the restaurant.
However, the stock has held up well since the release of 2016 full-year results, and has even traded $2 higher to $25 per share, signaling that the market participants for ARKR are well-honed on the fundamentals of the company, which trades very thinly - roughly 6,000 shares in volume per day over the past month.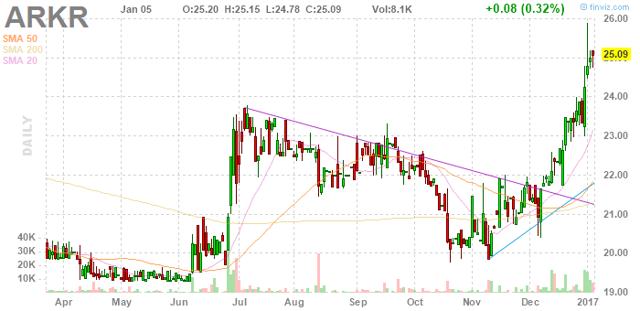 Upon further inspection, shares seem fairly priced even after the run-up at 2x equity and 12x EBIT. Furthermore, the EBIT hit is likely a short-term headwind, and there are in fact a few catalysts available that should re-stabilize and perhaps even grow EBIT.
Catalysts
1. Expect to see revenues increase as construction around the Rustic Inn Crabhouse in Jupiter Fort Lauderdale, Florida, is completed in late-2017. (The bridge on Anglers Ave. - which connects Rustic Inn to the main road - was closed and has been in construction for 7 months, which undoubtedly affected revenue.) That would end an inconvenient 3.5-mile detour that customers currently have to take at the moment to reach the restaurant which sits on a canal.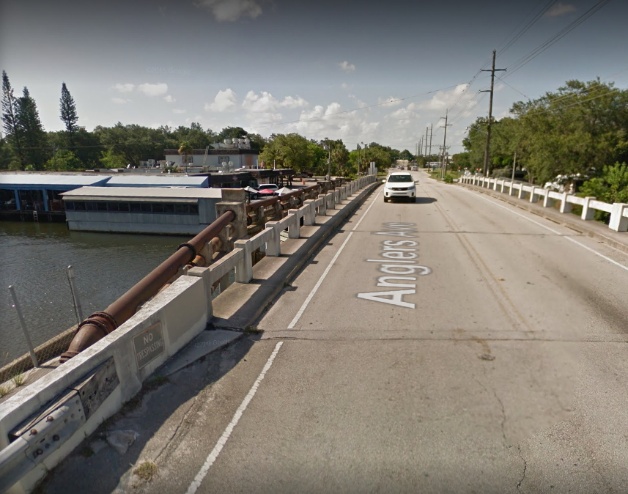 Directly across this bridge lies the entrance to the Rustic Inn restaurant. (Source: Google Map Street View. Note: Picture is from May 2015, prior to construction.)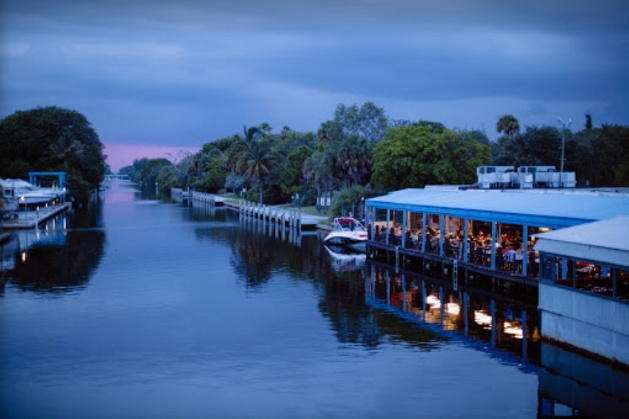 Rustic Inn. See the outdoor shed where the patrons are dining? You can see part of it in the bridge picture above. (Picture Source: Restaurant Owner)
2. Management is looking to sell Canyon Road, a restaurant opened in 1984 that used to be 6-figure-profitable, but due to increases in rent and minimum wage over the years has become cash flow negative. It appears the company is selling the location to the manager chef, according to Weinstein in the conference call, albeit not for a large sum. This should improve the bottom line instantly as the restaurant was unprofitable.
3. The potential approval of the Meadowlands racetrack, according to Weinstein, is not priced into the stock. In my view and probably a lot of other investors' view, this presents a good risk-reward in speculating on that scenario. Simply, if the casino is approved, ARKR shares should climb much higher since it has 11.6% ownership in a member of NMR and 7.4% interest in NMR itself due to an aggregate investment totaling $4.89 million - the bulk of it (86%) which was made years ago in 2013. On the other side of the coin, if the casino is not approved, then shares should remain relatively the same. Furthermore, the company has exclusive rights to operate all food and beverage concessions at the location - if approved - with the exception of one competing restaurant.
4. Sequoia, one of ARKR's older restaurants in D.C. (opened in 1990) that seats roughly 1,100 guests, began renovations a few days ago on January 2nd. Expect to see that variable impact the company's fiscal Q2 results negatively (fiscal year ends on Saturday nearest September 30). However, the restaurant is expected to reopen in April, just in time for spring and summer (400 seats are outdoors). The new renovations could ignite increased traffic and over the long term be beneficial to the company's results.
5. On the subject of minimum wage increases, I believe American diners by now are mostly aware that minimum wage increases should also increase the price of a meal over time. ARKR has been sheepish about increasing prices too fast, which is prudent on its part, but I believe over a number of years, the restaurant industry as a whole will fully pass on the wage increases to customers with minimal backlash, with ARKR following the trend.
Conclusion
In conclusion, I am bullish on ARKR. The stock yields roughly a 4% dividend at $25 per share and the catalysts I mentioned above should help stabilize the company's operating income over the long term (at least 1 year). Furthermore, the Meadowlands racetrack can be a very profitable deal for ARKR, and with the stock trading at 12x EBIT, I would venture to say that the scenario is not priced in at all. The illiquidity of the shares and the fact that ARKR is a micro cap has led to a discrepancy between the stock price and the intrinsic value of the company and its future prospects. Since the shares are so thinly traded I would personally wait for a pullback to pick up some shares, but others might not agree - shares can be bought here and you would not be overpaying over the long term. However, I already do own Flanigan's Enterprises (NYSEMKT:BDL) which is also a micro cap restaurant/bar operator, so I do not feel the need to be as aggressive in accumulating ARKR after the fast move in the stock price after earnings.
Disclosure: I/we have no positions in any stocks mentioned, and no plans to initiate any positions within the next 72 hours.
I wrote this article myself, and it expresses my own opinions. I am not receiving compensation for it (other than from Seeking Alpha). I have no business relationship with any company whose stock is mentioned in this article.
Editor's Note: This article covers one or more stocks trading at less than $1 per share and/or with less than a $100 million market cap. Please be aware of the risks associated with these stocks.