Last week I decided to become a shareholder in Simon Property Group (NYSE:SPG), amid the continuing wave of store closure announcements. I became a stakeholder on January 3rd and shares are up over 6%.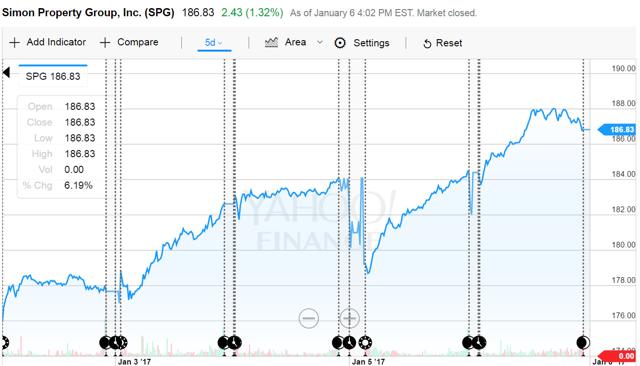 It's clear that the "Amazon (NASDAQ:AMZN) effect" has played a big role in the broader concerns within the retail environment. The evolution continues to shape the best and worst operators and the successful players will be the ones positioned to grow customers within all channels.
Although Amazon has begun to test its new Amazon Go concept, the shopping center sector appears to be the least threatened of those using the brick-and-mortar model (due to its necessity-based platform). Simply put, the basic necessities - food and shelter - are vitally important to the existence of the human race and everyone has to eat.
For that reason, we are overweight in the shopping center REIT sector where we favor the companies that derive a majority of their revenue with grocery tenants. We believe that supermarkets are the least likely threat to e-commerce and that the traffic that the stores generate provides the steadiest form of rental payments.
The Shopping Center REITs
Within our Intelligent REIT Lab, we cover 17 shopping center REITs ranging from the smallest, Wheeler Real Estate (NASDAQ:WHLR) to the largest, Kimco Realty (NYSE:KIM).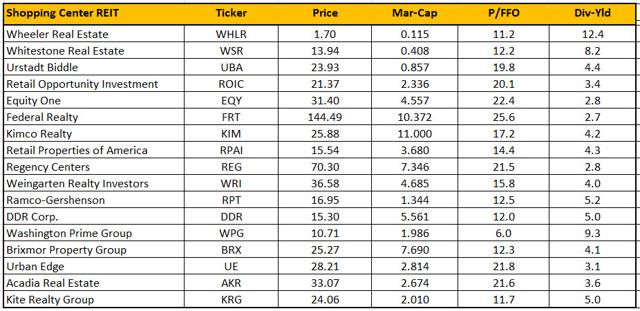 Keep in mind that not all of these REITs are grocery-anchored, some are specialty-oriented (like Whitestone (NYSEMKT:WSR)) and some are power center-focused (like DDR Corp. (NYSE:DDR)). However, most all of these shopping center REITs have some form of necessity-based platform, and we favor the ones with the highest concentration of grocery-based exposure.

Shopping For The Best Grocery-Anchored REITs
Keep in mind that a lot has changed in the evolving grocery sector.
National chain A&P, which once operated more than 15,000 stores, filed for bankruptcy in November 2015, closing all locations and affiliated stores like Pathmark. Also, a growing trend of health-conscious shoppers has pushed chains, such as Sprouts Farmers Market (NASDAQ:SFM), Wegmans and Whole Foods (NASDAQ:WFM) in the ranks. Also, a growing number of regional chains, like Lowes Food, have continued to expand.
We believe that it's important to own shares in the REITs that have the best grocery-anchored portfolios, combined with the best overall risk management practices. We believe that these REITs will perform best and provide investors with the most reliable dividend and earnings growth.
To start, let's examine 2016 FFO performance, specifically growth per share (using Q4 estimates):

I'm not sure why Whitestone has 34% FFO growth reported (by FASTGraph); however, AFFO declines in 2016 - from $1.00 (in 2015) to $1.06. I'll take a closer look at WSR this week. I have highlighted our "top 5" grocery-anchored REITs in blue.
Now let's take a look at forecasted FFO growth for 2017:

As you can see (above), WHLR is forecasted to grow by 19% in 2017 (and AFFO is forecasted to grow from $.15 to $.23). We recently wrote on WHLR here.
We like Regency Centers (NYSE:REG), Kimco, Retail Opportunity Investments Corp. (NASDAQ:ROIC), Weingarten Realty (NYSE:WRI), and Urstadt Biddle (NYSE:UBA) because we believe these 5 REITs provide the safest dividends and the steadiest earnings performance.
Let's examine the dividend yield for these REITs:

Now let's examine the P/FFO multiples for these REITs:

Weingarten Realty is the cheapest - based on the P/FFO metric - of the 5 REITs we recommend. Here's a FASTGraph: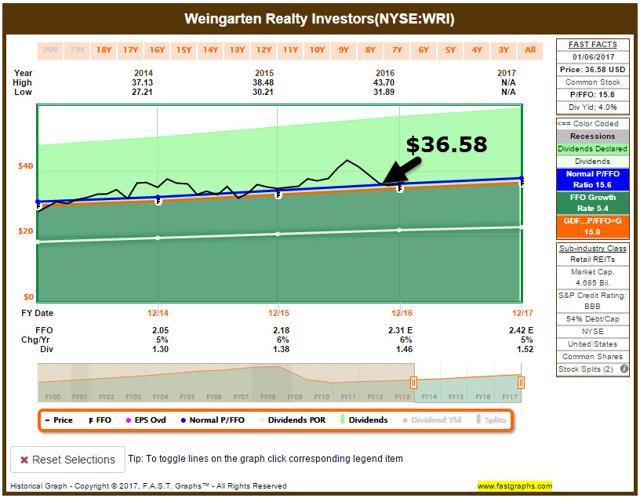 In summary, we are not recommending all 5 of these REITs today, we are suggesting that investors consider owning shares in them "when the price is right."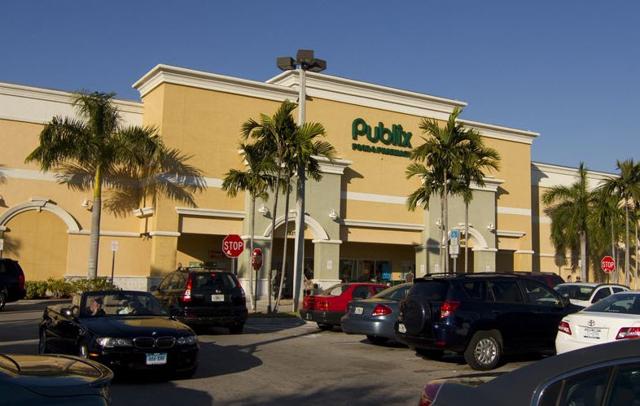 Author's Note: I'm a Wall Street writer and that means that I am not always right with my predictions or recommendations. That also applies to my grammar. Please excuse any typos, and I assure you that I will do my best to correct any errors, if they are overlooked.
Finally, this article is free, and my sole purpose for writing it is to assist with my research (I am the editor of a newsletter, Forbes Real Estate Investor), while also providing a forum for second-level thinking. If you have not followed me, please take five seconds and click my name above (top of the page).
The only guarantee that I will give you is that I will uncover each and every rock I can, in an effort to find satisfactory investments that "upon thorough analysis promises safety of principal and satisfactory return. Operations not meeting these requirements are speculative." (Ben Graham).
REITs mentioned: (NYSE:EQY), (NYSE:FRT), (NYSE:RPAI), (NYSE:RPT), (DDR), (NYSE:WPG), (NYSE:BRX), (NYSE:UE), (NYSE:AKR), and (NYSE:KRG).
Disclosure: I am/we are long O, DLR, VTR, HTA , STAG, GPT, ROIC, HCN, OHI, LXP, KIM, WPC, DOC, EXR, MYCC, TCO, SKT, UBA, STWD, CONE, BRX, CLDT, HST, APTS, FPI, CORR, NHI, CCP, CTRE, WPG, KRG, SNR, LADR, PEB, BXMT, IRM, CIO, LTC, DEA, NSA, HASI, VER, SRG, SPG.
I wrote this article myself, and it expresses my own opinions. I am not receiving compensation for it (other than from Seeking Alpha). I have no business relationship with any company whose stock is mentioned in this article.