Bitterly cold temperatures dominated the nation over the weekend, bringing nearly a foot of snow and record lows to much of the Southeast. Below zero readings were commonplace across the northern Plains from the Dakotas through Minneapolis to the suburbs of Chicago. On Sunday morning, the nationwide population-weighted temperature dropped as low as 21F, an enormous 13F colder than average. 49 out of 50 states had at least some snow cover, with only Florida missing out.
This extensive arctic chill drove natural gas demand to seasonal highs with estimated daily natural gas storage withdrawals exceeding -50 BCF both Saturday and Sunday, more than double the 5-year average. However, by Tuesday and Wednesday of this week, such demand will be but a distant memory as a dramatic pattern shift takes place that will bring temperatures more akin to late November to much of the nation, suppressing natural gas demand and placing additional pressure on natural gas prices. This article discusses the natural gas demand outlook for the upcoming week and its likely impact on prices in the near-to-medium term.
Figure 1 below plots high temperatures and departure from average for Sunday, Jan. 8.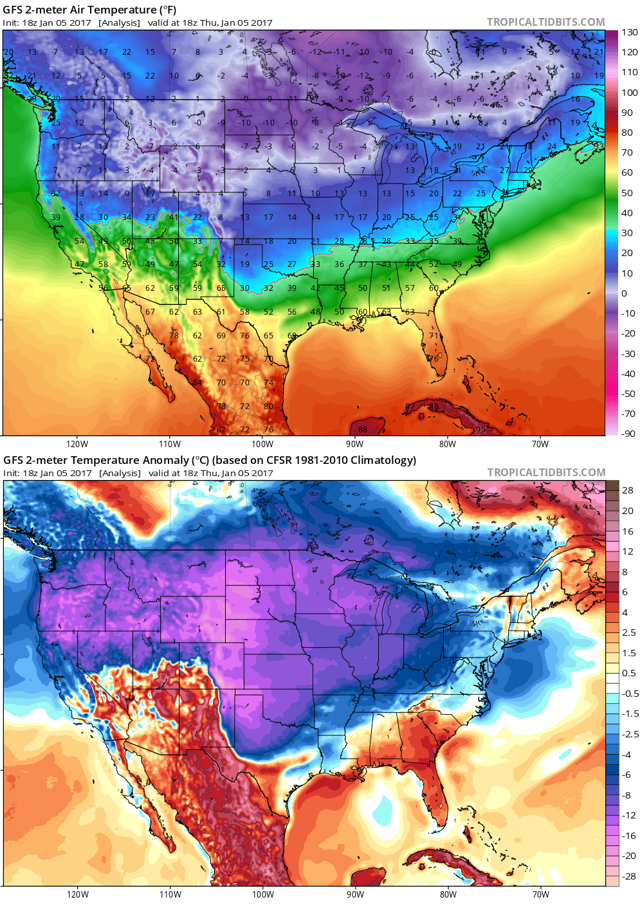 Figure 1: U.S. temperatures and departure-from-average for Saturday, Jan. 7, showing extensive arctic air with -20F anomalies throughout the Plains and Midwest. (Source: Tropical Tidbits)
The Figure shows sub-freezing temperatures all the way to the Gulf Coast and teens or below from the major natural gas demand centers of Chicago through Cleveland, Detroit, Pittsburgh and Albany. Even the Megalopolis saw highs only in the 20s. Such readings were 20F-30F colder than average from the Great Plains through the Midwest and Ohio Valley and more than sufficient to drive a daily withdrawal that approached -60 BCF/day versus the 5-year average of -24 BCF/day.
Over the weekend, however, a potent storm system moved into California funneling moisture and mild air from the central Pacific. This system will bring prodigious rainfall, even to the higher elevations of the Sierras, leading to extensive snowmelt and runoff, raising concerns for California's greatest flooding event in over a decade. The broader impact on the contiguous U.S. and natural gas will be that it will prompt a nationwide pattern change by Tuesday resulting in a surge of mild temperatures east of the Rockies. Contrast Figure 1 above with Figure 2 below, which shows forecast temperatures and the departure from Wednesday, Jan. 11.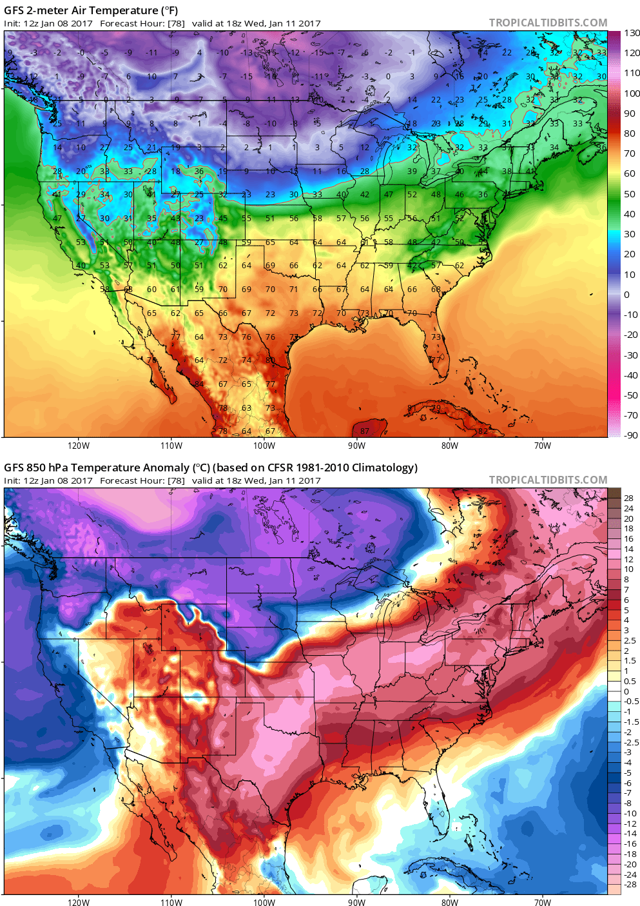 Figure 2: U.S. temperatures and departure-from-average for Wednesday, Jan. 11, showing temperatures 20-40 degrees warmer from the southern Plains to the Northeast. (Source: Tropical Tidbits)
As the maps show, forecast temperatures look to warm nearly 40 degrees across many areas east of the Rockies from 20F colder than normal to 20F warmer than normal in just 3-4 days. Highs across the Southeast will be in the 60s to low 70s with 50s as far north as Kansas City to Indianapolis to Cleveland to all of the major cities of the eastern Seaboard. As a result, daily natural gas storage withdrawals will likely fall into the single digits, with -8 BCF and -7 BCF draws projected for Wednesday and Thursday, respectively, more than 15 BCF less than the 5-year average. Cold air will persist across the northern Plains, but, due to the low population densities across this region, its role in the nationwide natural gas demand picture will be limited.
The resultant storage week will thus feature a remarkable up-and-down pattern for natural gas demand, unusual even for this time of year, the peak of the withdrawal season. As Figure 3 below summarizes, daily withdrawals look to fall for 5 straight days, with demand dropping around 50 BCF during this period.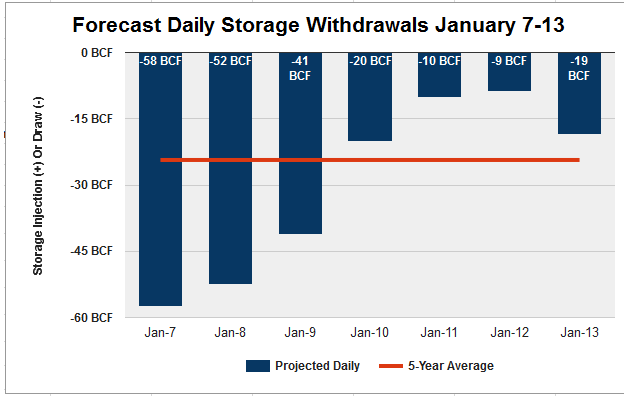 Figure 3: Daily storage projections for Jan. 7-Jan. 3 showing rapid decline in natural gas demand. (Source: Celsius Energy)
Despite the early-week January Thaw, the warm air and its associated demand suppression will not be sufficient to prevent an above-average weekly storage withdrawal thanks to the monstrous weekend daily withdrawals. For the Natural Gas Storage Week of Jan. 7-13, I am projecting a preliminary -214 BCF withdrawal. Such a draw would be 44 BCF greater than the 5-year average -170 BCF draw and 39 BCF greater than last year's withdrawal. It would be the first bullish weekly withdrawal in 3 weeks and, based on the current forecast, likely the last for at least another 2-3 weeks.
Figure 4 below compares the projected withdrawal to the past 5 years as well as the full 23-year period of EIA records.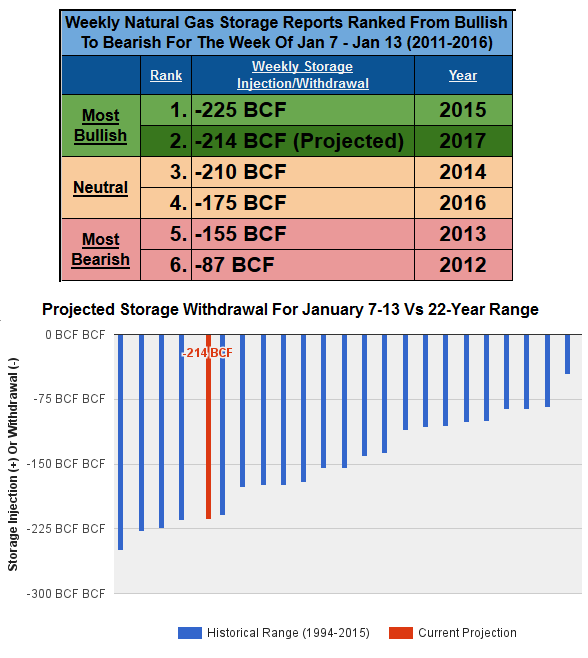 Figure 4: Historical comparison for projected -214 BCF withdrawal for Jan. 7-13. (Source: Celsius Energy)
Over the past 5 years, a -214 BCF draw would be the second largest, behind only a -225 BCF withdrawal in 2015. In contrast, 2012 saw the smallest withdrawal at -87 BCF. Looking at the full period of record since 1994, a -214 BCF withdrawal would be the 6th largest in these 23 years, which have seen draws as large as -250 BCF in 2010 and as small as -46 BCF in 2006.
Should the -214 BCF withdrawal verify, natural gas inventories would fall to 2956 BCF. The storage deficit versus the 5-year average would rise to -40 BCF after likely flipping to a storage surplus during what is likely to be a bearish withdrawal the previous week. The year-over-year storage deficit will likewise grow, building to -394 BCF or -12%.
Overall, I consider this withdrawal to be moderately bullish. Should natural gas demand not drop off as fast as projected this week, this projection may ultimately need to be revised higher.
Despite the overall bullishness of the projected -214 BCF draw, it will be sandwiched by bearish demand. Last week's EIA report of a -49 BCF draw for Dec. 24-30 and my projected -145 BCF draw for Dec. 31-Jan. 7 would be a combined 80 BCF bearish versus the 2-week 5-year average. And with unseasonably mild temperatures forecast to persist across the same areas discussed above into the second half of January, my -269 BCF projected 2-week withdrawal for the January 14-27 stretch would be 73 BCF bearish and would be sufficient to flip what is expected to be a storage deficit versus the 5-year average after this week back to a storage surplus.
Despite the dramatic up-and-down swings in natural gas demand this week, I expect that natural gas volatility will diminish over the next week or two, barring a dramatic change in the forecast. Natural gas volatility has been remarkably elevated over the past two months with weekly moves in excess of 4% each of the past 8 weeks, including a 12% loss last week. I have developed a Fair Price model that estimates a "neutral price" for natural gas each week for the next 8 months based on projected natural gas inventories, which take into account the near-term projected temperature, extended term temperature trend, as well as current supply/demand balance extrapolated long-term assuming average temperatures. This model can be seen in detail here. The 8-month weekly projection strip is shown in Figure 5 below, where red bars indicate an overvaluation and green bars an undervaluation.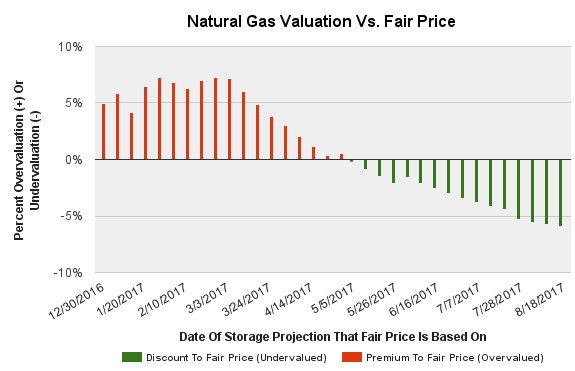 Figure 5: Weekly natural gas departure from Fair Price for the next 8 months showing near-term overvaluation, but long-term near Fair Value. (Source: Celsius Energy)
Based on current projections, I calculate that, as of Sunday evening, natural gas was trading 0.4% overvaluation to its 8-month average Fair Price (Average Fair Price $3.26/MMBTU vs Average Futures Price $3.26/MMBTU). Anytime the 8-Month Average Fair Price is within 3% of the current futures price, as it is now, I consider the commodity to be nearly Fairly Valued. This suggests that investors largely priced in the upcoming warmth after last week's 12% pullback. However, it is worth noting that the Figure above does show that natural gas is overvalued near-term by as much as 6% as the near-term warmth has not been fully accounted for, before becoming undervalued in the longer term period. I would therefore be unsurprised to see some near-term weakness. Such a move lower would likely flip the 8-month overvaluation to an undervaluation, presenting a good buying opportunity for the patient investor.
While I would not recommend getting aggressively long or short at current levels, I am carrying a small legacy long position that I would look to grow should the Fair Price dip to a discount of greater than 5%. This would require either a sharp pullback, a much colder trend in the temperature forecast, or evidence of tightening supply/demand fundamentals, or a combination thereof. As a trader with a long-term focus, my preferred instruments include the United States Natural Gas Fund (NYSEARCA:UNG) that tracks the commodity 1:1 or, for the more risk tolerant investor, a short stake in the Velocity Shares 3x Bear ETF (NYSEARCA:DGAZ) which will benefit from leverage-induced decay. While the Velocity Shares 3x Bull ETF (NYSEARCA:UGAZ) or Proshares Ultra Natural Gas ETF (NYSEARCA:BOIL) are good instruments for day- or swing-traders, their propensity to decay independent of price makes them poor-long-term holds.
In conclusion, after a brutally cold weekend that saw natural gas demand reach seasonal highs, daily withdrawals are forecast to plummet this week to well below-average as a major pattern switch takes place, driving much warmer than normal temperatures from Texas to Maine. For the week of Jan. 7-13, I am projecting a modestly larger than average -214 BCF storage withdrawal thanks to the early-week strength in natural gas demand. The warmth looks likely to persist or even build into the final two weeks of January and natural gas inventories seem poised to finish the month at an overall surplus versus the 5-year average.
Despite the large variations in natural gas demand, the commodity is within 3% of my calculated fair price and I expect volatility to at least temporarily diminish. While the commodity is nearly fairly valued on an 8-month basis, thanks to a near-term overvaluation, I would not be surprised to see some further weakness in the short term. I recommend against any big moves either long or short at current levels, but maintain a long-term bullish bias and will look to slowly accumulate a long position in natural gas should the commodity reach a 5% or larger discount versus its 8-month average fair price.
For more on current and projected natural gas inventories as well as oil and gas investing data, wind, solar, nuclear, and hydroelectric output data, and LNG exports, please see my site Celsius Energy.
Disclosure: I am/we are short DGAZ.
I wrote this article myself, and it expresses my own opinions. I am not receiving compensation for it (other than from Seeking Alpha). I have no business relationship with any company whose stock is mentioned in this article.