The company in this article remembers me about another stock I wrote about last year: Neonode. Short sellers were confident enough to say that the company could not execute its business plan because Neonode's AirBar sensor was just hot air that didn't work at all. Fortunately, we know the truth right now and the AirBar™ is selling well, has good reviews and gives the company a healthy cash flow.
After looking for companies in the smart glasses industry, I found one that seems promising today, because it can finally commercialize (read: execute) in a big way this year.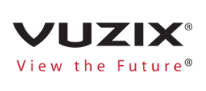 Vuzix (NASDAQ:VUZI) is a technology firm founded in 1997 by Paul Travers. Its headquarters is in Rochester, New York. Vuzix is a manufacturer of wearable display technology, including virtual reality and augmented reality. The company could become an interesting M&A target going forward. Especially the company's intellectual property and this year's product line could attract bidders.
Wearable Technology Market
IDTechEx analysts think that market will grow from $40 billion in 2018 to over $100 billion by 2023.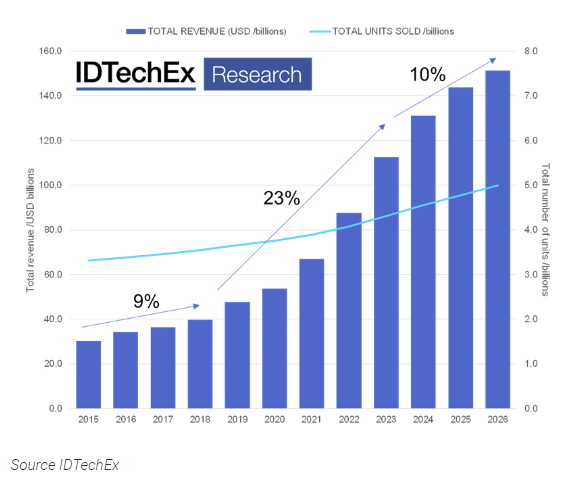 Of course when we are talking about the wearable technology market we talk about smartwatches, smart glasses, fitness trackers and other IoT wearables. Despite that, the Smart Glass market is expected to be worth over $26 billion by 2026 according to analysts of IDTechEx.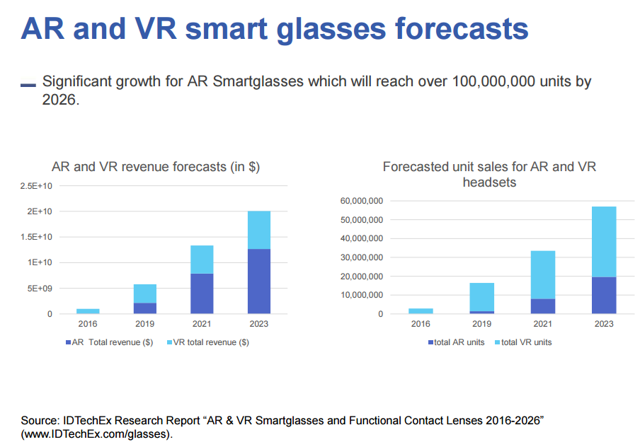 Patents
Vuzix claims that it holds 49 patents and 40 additional patents pending and numerous IP licenses in the Video Eyewear field. Searching in Google Patent's directory, I came across several patents that seem to acknowledge my belief that the company is a dominant player in its industry which could be appealing to potential suitors.
Intel
Last year November Intel (NASDAQ:INTC) decided to halt its collaboration with Vuzix. Intel invested $24.8 million in the company one year ago, by buying almost 5 million of Vuzix's shares. The news was related to the development of Internet-connected headsets.
This news was accepted negatively by the market, despite the fact that Intel added:
that it wanted to work with the Vuzix to undertake an orderly disposition of Intel's stock.
An orderly disposition could mean that a potential suitor could arrange a fair deal with Intel to acquire the shares.
Stock Offering
Vuzix' common stock offering of 2 million shares of $7.25 per share bodes well for ongoing developments. The net proceeds of approximately $13.6 million are going to be partly used for its international rollout of its new M300 and M3000 Smart Glasses.

Vuzix's M300 Smart Glasses will hit the market globally this quarter.
"Vuzix believes the market for the M300 is "at least" 10 times larger than the M100 and the roll-out of the M300 will be much faster than the M100 because of the greater reach of the company's distribution and a more evolved ecosystem of applications."
Chardan Capital Markets' James McIlree analyst estimated the installed base of the M100 Smart Glasses at about 5,000 units. So, when the volume size is ten times bigger for the M300 that would mean about 50,000 units could be shipped this year, equating to more $60 million revenues.
The launch of the M3000 and Blade 3000 will also rake in additional revenues from the consumer segment.
Possible Suitor
A suitor for Vuzix could be Texas Instruments (NYSE:TXN).
Texas Instruments DLP Pico technology has been incorporated into Vuzix's Blade 3000 Smart Sunglasses and are based on verified DLP Cinema technology which is being used in digital movie theater screens worldwide. DLP chips enable low power consumption, high contrast ratio, and superb image quality.
Candidates that are interested in Intel's existing position could knock on the door soon enough, and one of them could be Texas Instruments.
Especially if they see Vuzix is executing its business plan well and money is being made.
Final Note
Smart eyewear has the future and could even replace the smartphone in ten years from now. A host of functionalities will create a new ecosystem that could revolutionize the way we interact.
The wearable technology market is going to experience a rapid growth phase that will be beneficial for many companies. One of these company's that is worthy to look at is a company called Vuzix.
Disclosure: I/we have no positions in any stocks mentioned, and no plans to initiate any positions within the next 72 hours.
I wrote this article myself, and it expresses my own opinions. I am not receiving compensation for it (other than from Seeking Alpha). I have no business relationship with any company whose stock is mentioned in this article.