Thesis
Even if Lennar (NYSE:LEN)(NYSE:LEN.B) can conservatively achieve $700 million in levered free cash flow in 2017, accompanied by persistent 5.5%-6.0% LFCF margins going forward, the company looks cheap by a decent margin. A continued recovery in the housing market and "lower for longer" interest rates should help continued growth in mortgage demand in addition to an increasing level of new orders and backlog.
Overview
Lennar completed its FY2016 as of November 30, 2016 and capped a very positive year for the company. Net earnings came to $912 million (8.3% profit margin); deliveries and new home orders were up 9%, and revenues were up 16%. Revenues benefited most from higher deliveries in Lennar's core residential homebuilding business and an approximate 2.6% year-over-year increase in house prices among those sold (to $358,000 per home from $349,000).
Gross margins came to 23.3% for Q4, or about in line with industry peers. Lennar also made great strides in working to de-leverage over the past year, reducing its debt-to-capital ratio from 42.2% to 33.4% over the past fiscal year. The de-leverage came through a combination of increased operating cash flow and the conversion of $634 million worth of convertible debt to rebalance its capital structure with an additional 22.2 million shares of Class A stock without diluting earnings. It is also appropriately diversified across other tangentially related divisions, with segments related to financial services and multifamily rentals, in addition to its prior spin-off of Rialto Capital Management, which invests throughout the capital structure in commercial real estate. These segments collectively take up about 11% of earnings, with homebuilding remaining the key focus.
Leverage is nonetheless a larger part of Lennar's capital structure with the upcoming WCI Communities acquisition that will consolidate the largest two Florida homebuilders. The deal values WCI (NYSE:WCIC) at $643 million and financing will be comprised of 50% cash and 50% equity. Assuming the cash portion is entirely financed through debt, this will expect to add another $321.5 million in debt to the company's balance sheet. Moreover, Lennar can reduce the amount of Class A common shares used in the deal and increase the cash portion. WCI shareholders will meet later this month to discuss the deal; if approved, the transaction is expected to close very soon thereafter.
WCI is expected to contribute $650-$700 million in revenue and about $65-$70 million in EBITDA to Lennar's operations should the deal close. By assuming WCI's debt along with the debt from the transaction's financing, this comes to another $630 million worth added to Lennar's balance sheet, which would increase the debt to capital ratio to around 36.1%. Add another 1.5% should Lennar decide to finance the transaction entirely with debt, which naturally would be shareholders' preferences to avoid dilution.
Where Homebuilding Goes in 2017
Homebuilding is a bit of a subpar business given its capital intensity, seasonality, cyclicality, and inherent difficulty in generating scale without sufficient capitalization. Having any sort of market power or shred of monopolistic advantage is rare. The capitalization issue gives advantages to larger developers. Given Lennar's position as the second-largest homebuilder in the US (behind D.R. Horton), this gives Lennar some advantages in the market over smaller players.
The main risks to the company include labor and land shortages, higher projected interest rates ahead to decrease demand for mortgages, in addition to its higher-than-normal degree of speculative building. Its lack of geographical concentration will be compounded assuming the WCI deal closes, given that the entirety of WCI's revenue is derived from Florida. Lennar also tends to allocate capital into more asset classes than traditional homebuilders, which has the advantage of diversification, but can generate high rates of cash burn and asset impairments when businesses venture to far outside their core areas of expertise.
Potential tailwinds include higher recent consumer confidence, some semblance of wage growth, and the potential for rates to continue to remain lower for longer if growth and inflation continue to underperform. Moreover, we're currently mid-cycle in the housing recovery and vacancy fill rates are continuing to expand beyond inventory levels.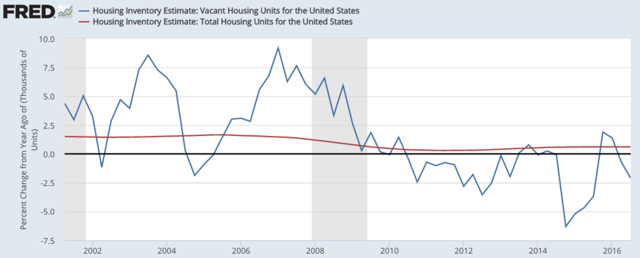 (Source: US Bureau of the Census; modeled by fred.stlouisfed.org)
Housing cycles tend to last about 15-20 years on average based on the data, far longer than the 5-8 years that approximate an average business cycle. Even during recessions, home prices are more likely to flatten or dip only slightly. The main exception, of course, is when the sector itself is directly implicated in the recession as it was in 2008-09. The S&P/Case-Shiller National Home Price Index shows the aggregate trajectory of US home prices since 1975.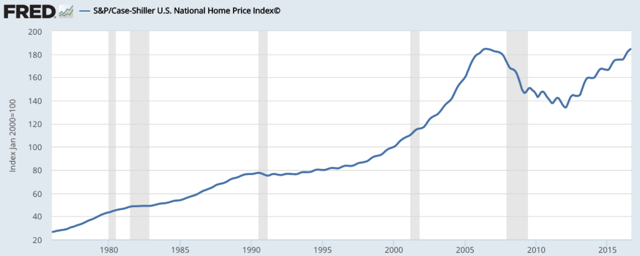 (Source: S&P Dow Jones Indices, LLC; modeled by fred.stlouisfed.org)
Before the large-scale home price correction that occurred from 2007-2012, from 1975-2006, home prices had contracted for just 14 months total between November 1990 and December 1991, displaying a relatively high immunity to adverse economic shocks.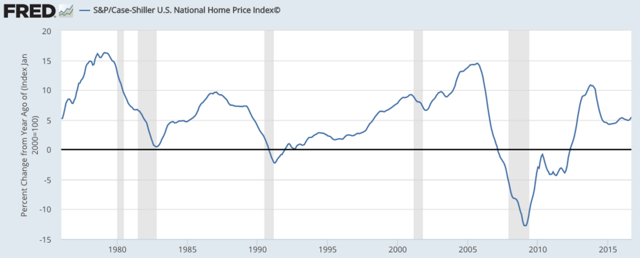 (Source: Board of Governors of the Federal Reserve System (US); modeled by fred.stlouisfed.org)
For 2017, I would expect home price growth to approximate around 3.5%-5.5% on a year-over-year basis. Over the past couple years, growth has coursed along at about a 5% rate. But with some level of monetary tightening and evidence of higher lending restrictions in commercial real estate, in addition to increased Chinese capital controls (especially in higher-demand markets), I believe 2017's growth is more likely to slow relative to what we've seen over the past two years.
Valuation
With the WCI purchase, I have Lennar's top-line coming in around $11.7 billion in 2017. I have the company's EBIT projected $1.28 billion for the year and have fairly conservatively estimated net income (and leveraged free cash flow) just shy of $700 million. If we make fairly standard assumption of 3% year-over-year revenue growth moving ahead, this should generate year-over-year earnings increases of about 2.3%-2.4% moving ahead and leveraged free cash flow margins of 5.5%-6.0%.
With a cost of debt assumed around 5%, a cost of equity of 10%, and a long-term economic growth rate of 1.8%, I project a median value of Lennar's shares to stand at about $55, representing about 25% upside for the Class A. By adjusting the company's total cost of capital by +/- 50 basis points and the long-term growth rate by +/- 20 bps, I obtain a share price range of $48-$64.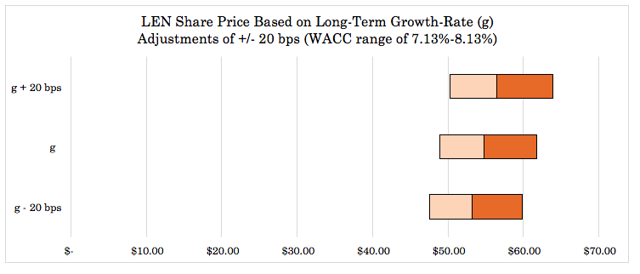 (Source: author)
Lennar has two share classes, A and B. The Class A shares currently trade at a 23.6% premium to the Class B. Why this spread is so large I'm not completely sure. There are liquidity matters to consider, with the Class A shares trading at a 126:1 volume ratio relative to the Class B's. In a volatile market, offloading Class B shares will be more difficult, and there is no conversion process by which Class B shares can become Class A shares. Setting up larger positions in the Class B is more difficult for institutional buyers given the lower share count and lack of liquidity. Given the two track each other relatively closely, the disadvantages of trading the Class B seem to account for the premium, as significant as it might be.
Over time, I have heard some suggest trade ideas regarding shorting LEN shares while going long LEN.B to take advantage of the seemingly unwarranted share price discrepancies while taking advantage of the dividend carry. (Both shares have equal dividend payouts and therefore LEN.B's dividend yield is higher given its lower price.) However, the large spread between the two share classes has been wide for about 8-9 years now and shows no signs of abating. Moreover, the dividend yield discrepancy is only 8-9 basis points. So, for example, a $10,000 position (both long and short) would generate just $80 in dividend carry per year. Given the premium between the two classes varies over time, that nominal amount of carry could be easily wiped out. Over the past five years, LEN.B has returned 15% annually while LEN has returned 14.7% annualized.
From a financial standpoint, I believe that Lennar remains one of the cheaper stocks in an overvalued market. The housing recovery is likely to continue for several more years, and so long as vacancies continue to fill at a higher rate than inventory, Lennar should have little issue hitting the 3% year-over-year revenue growth rate target I used for modeling purposes.
Notably, the idea to go long Lennar is somewhat catalyst-lite outside of further recovery in housing and buoyant consumer sentiment. Much could also depend on how easy or difficult it is to obtain a mortgage after the incoming administration takes office. But in terms of free cash flow, I think generating $700 million in 2017 is very achievable (including deductions for principal and interest payments), with mid-cycle margins of around 5.5%-6.0% annually.
Class B shares - LEN.B - are trading at just 9.3x earnings and a price-to-book value of only 1.23, which provides some level of downside protection. The stock has also recently pulled back 10%-15% from its 2016 highs, providing a better discount. Class A and Class B shares were trading at around $50 and $40 at their 52-week highs, respectively, and now approximate ~$43 and ~$35.
While this may not have much in the way of a firm catalyst, continuing home price appreciation and growth in new orders and backlog could drive earnings performance moving ahead and move Lennar higher.
Disclosure: I am/we are long LEN.B. I wrote this article myself, and it expresses my own opinions. I am not receiving compensation for it (other than from Seeking Alpha). I have no business relationship with any company whose stock is mentioned in this article.