The all-important non-farm payrolls ("NFP") weakened as we expected on Friday. NFP came in at 156,000 versus our expectation of 160,000 but below the Street's 170,000. There is an important downtrend taking place in the jobs reports that is being ignored by the Street. We don't think coming trade or tax policies are going to help soon enough. Ultimately a jobs slowdown is a key economic ingredient that can hit markets (NYSEARCA:SPY).
NFP Slowing And Missed Estimates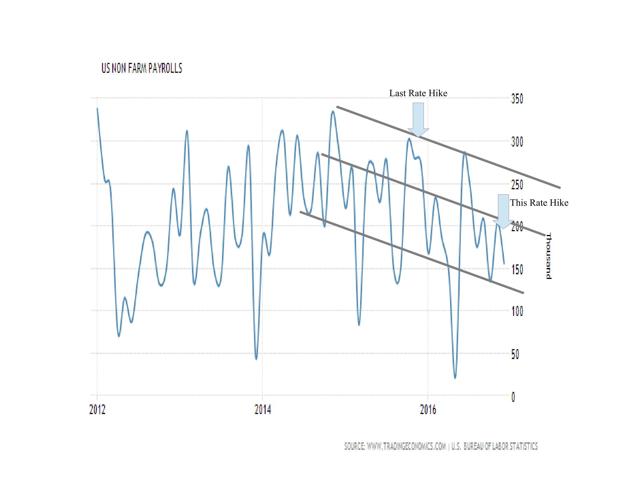 Source: Trading Economics with Elazar Advisors, LLC Highlights
You can see the downtrend in NFP.
We drew two arrows. The first arrow shows the first rate hike in a decade and the second arrow shows the second rate hike in a decade.
What's worrisome is the first rate hike helped NFP spill lower. The second rate hike can cause the same trend. The problem with that is this time we are starting from a much lower base. A drop from this level would be a more meaningful market event.
So far this went unnoticed but a continuation of the jobs trend is a market risk.
Can Trade Save Us?
The coming trade war January 20th is a market risk.
The purpose of a trade war is to bring back manufacturing jobs. The issue with this strategy is that manufacturing jobs are far from the economic driver.
If we look at manufacturing jobs in isolation it looks like a big drop since 2001. President-elect Donald Trump's trade czar Peter Navarro says that manufacturing started to drop since China joined the WTO in 2001.
Let's see.

Source: St Louis Federal Reserve
It definitely looks like manufacturing jobs fell off meaningfully since 2001 as PE Trump's team says.
But looking at it from a broader perspective there are other factors at play.

Source: St Louis Fed
Manufacturing jobs (in blue) already well underperformed the overall jobs market since 1945. Every time there was a recession (grey bars) manufacturing underperformed further.
Ultimately the jobs market hasn't stalled much but manufacturing jobs have. We can't blame China since 1945. Manufacturing clearly lost share of the economic growth.
The main reason for the manufacturing slowdown could just as well be attributed to the shift to technology jobs since 1980.

Source: St Louis Fed
Above you see technology jobs (Professional and Business Services category) taking over lost manufacturing jobs. These jobs are likely higher paying and a response to an advancing economy.
A trade war to win back an industry that has been losing share for half a decade will likely not be the expected panacea.
It may at some point win back jobs but this isn't the key to the economy.
Instead a trade war is likely going to sap supply which will help spike inflation. Once easy-to-get goods and commodities will be more difficult to purchase elevating prices globally. That will further squeeze an already strapped consumer.
A trade war will also slow demand from overseas as China retaliates.
The risk/reward to a trade war, based on the charts above does not look like a good one for markets.
A trade war starts January 20th. PE Trump said a trade war is a "day one" event. We think it is a clear market risk.
What about a tax cut. That should help? But we may have to wait.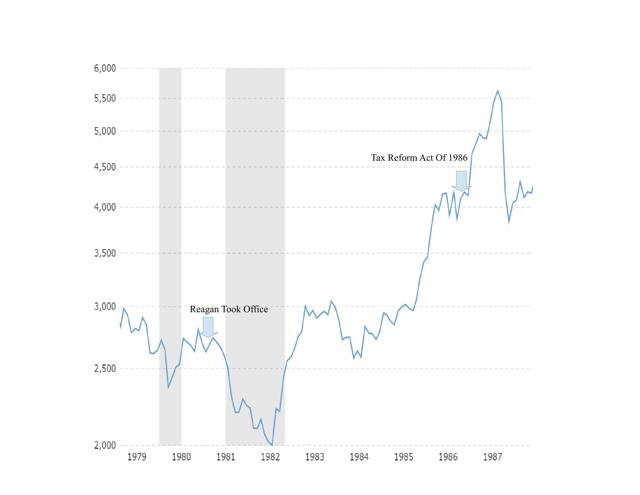 Source: Macro Trends with Elazar Advisors, LLC Highlights
PE Trump's tax plan is called the biggest tax cut since the late President Ronald Reagan's tax cut.
The above chart shows where in the path of the market did the late President Reagan take office versus when did his major tax plan pass. Taxes were dropped along the way while he was in office but the big tax plan wasn't finally agreed on until five years after he took office. Will investors be patient enough?
The market also did lift on the excitement of President Reagan's election and tax plans but it wasn't enough to support markets thereafter. You see the markets soon dropped after he was elected.
Given the backdrop of slowing jobs it may not be enough for markets if actual legislation takes time to pass.
To pass PE Trump's tax reform Republicans will likely need to be in near perfect agreement. If there is any division among Republicans in voting the legislation likely doesn't pass. That would disappoint markets.
Conclusion
The slowing jobs trend is worrisome as we pass the second rate hike in a decade. This rate hike comes from a lower level of jobs. If job growth drops like last time markets are in trouble. Markets are currently inflated expecting trade and tax benefits. Trade benefits may not be a big boost and tax benefits could take a while to pass. Markets have risk.
PRO TRADER
Real time, signals, coaching, direction, analysis on the stock market, gold, oil, bonds, currencies, indexes and more.

If our above report was helpful click here for a free trial of Elazar's Pro Trader service on Seeking Alpha.
If you want Elazar's analysis on Seeking Alpha, scroll to the top of the article and hit "Follow." Elazar also writes real-time pieces as news is reported. If you want to be among the first updated check the box for "Real-time alerts on this author" under "Follow."
Disclaimer:
Portions of this article may have been issued in advance to premium subscribers. All investments have many risks and can lose principal in the short and long term. This article is for information purposes only. By reading this you agree, understand and accept that you take upon yourself all responsibility for all of your investment decisions and to do your own work and hold Elazar Advisors, LLC and their related parties harmless. Any trading strategy can lose money and any investor should understand the risks.
Disclosure: I/we have no positions in any stocks mentioned, and no plans to initiate any positions within the next 72 hours.
I wrote this article myself, and it expresses my own opinions. I am not receiving compensation for it (other than from Seeking Alpha). I have no business relationship with any company whose stock is mentioned in this article.