What you think about Tronox (NYSE:TROX) might depend on whether you trade stocks or bonds for a living. From an equity perspective, the Company looks ready to surf a wave of higher prices as inventory and demand levels at its customers stay tightly in line with what TROX and the competition can supply. From a credit perspective, however, TROX still looks like its drowning in an ocean of debt.
The Company owns and operates two vertically integrated inorganic minerals businesses: Tronox Titanium Dioxide, which mines titanium ore and produces TiO2 pigments, and Tronox Alkali, which mines trona ore and produces natural soda ash. See graph below of the common stock prices of the main North American titanium dioxide producers over the past five years. Excess capacity drove TiO2 prices relentlessly lower from Q3'12 through Q2'16. Not all of the producers were immediately hurt. TROX's shares got crushed in FY'12 even as other producers' share prices went higher that year. The group's equities - save Kronos (NYSE:KRO) - mostly rose in FY'13, but faltered again in FY'14, and continued dropping together throughout FY'15. In response, TROX restructured its TiO2 operations, cut 500 employees and shut down its Hamilton, MS, sodium chlorate plant. Yet FY'16 was largely a story of recovering equity prices for each player.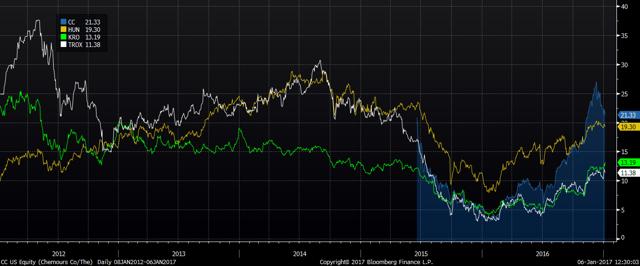 The first question, of course, is whether the improvement in TiO2 pricing and volumes will continue and, if so, how much TROX will gain from that improvement in pricing relative to its peers. Even if you are certain that TiO2 prices will continue to rise in FY'17, that doesn't necessarily mean TROX's common stock price will outpace comparables. Consider this. TROX's equity began FY'16 trading at $4.17 per share and a 14.9x multiple of LTM Adjusted EBITDA. But while the Company ended FY'16 trading at a significantly higher $10.31 per share, its valuation multiple was actually slightly lower, trading at 14.5x estimated FYE'16 Adjusted EBITDA. In other words, the stock saw no multiple expansion in 2016.
Yet investors in TROX can't be said to have been stingy. Consider other, related valuation data points from some of the broader indices. As of year-end, the EBITDA multiple valuation for S&P 500 industrials was 10.7x, and for the specialty chemicals segment, it ran 13.6x. Effectively, TROX was still trading at a premium to the broader group of industrials and its own industrial segment.
If one assumes that multiple expansion is unlikely to occur, and that TROX common stock will merely reflect a fixed 14.5 or 15.0x multiple of LTM Adjusted EBITDA, a second question is whether owning the equity under those circumstances is a better bet than owning any of the debt components within TROX's capital structure. This question is also not as easily resolved as it might first appear. The common stock price (and multiple) may primarily reflect production/demand levels within the TiO2 segment of the specialty chemicals business, but its unsecured bonds and secured bank debt respond to changes in its credit metrics and the general level of interest rates. Increasing cash flow helps both TROX's shareholders and its debt holders, but continuing high leverage and rising interest rates primarily damage the debt.
We can start getting a handle on the first question - whether TROX equity is headed significantly higher on accelerating cash flow and multiple expansion - by taking a closer look at each of the two segments. We will want to know what lies ahead for each business, TiO2 and alkali. Then we can take a look at answering the second question, namely, whether the common stock is a better investment than its bonds or bank debt. Any mismatch between the equity perspective and the credit perspectives implies one group of investors is perhaps missing what the other group sees - and it also presents potential opportunities.
TiO2. The TiO2 business is 62% of LTM revenue and 58% of LTM segment EBITDA. TROX mines and converts titanium-bearing mineral sands into titanium and then into finished titanium dioxide. TiO2 is a key ingredient that adds opacity to paints and coatings, paper and specialty products, as well as plastics.
Tronox is the only fully integrated TiO2 feedstock producer with a 10% share of worldwide capacity. Only Rio Tinto PLC (NYSE:RIO) and Iluka Resources Ltd. (OTC:ILKAF) are larger TiO2 producers, with 38% and 16% shares, respectively. TROX operations include pigment production facilities in Hamilton, Mississippi; Botlek, The Netherlands; and Kwinana, Western Australia, and three mines (of which two, KwaZulu-Natal Sands and Namakwa Sands, are in South Africa, and the third, Cooljarloo, is in Western Australia). In addition, TROX's titanium feedstock business results in multiple by-products (e.g., ilmenite, natural and synthetic rutile, leucoxene, slag). The Company also co-produces zircon (used for ceramics) and high-purity pig iron (used in auto and engineering component castings). TROX's 20% share of zircon production is second only to Iluka's 33%.
TiO2 pigment is what makes everyday consumer products look white and bright, or conversely, dark and opaque. It's the most widely-used pigment and its pricing is driven by demand from the manufacture of coatings, plastics, and paper laminates. However, the ubiquity of its use makes its pricing highly cyclical since 70% of the supply comes from just seven producers controlling 70% of the total 6.5 million tons of annual capacity. Chinese producers hold a 32% share of total capacity. Among the non-Chinese producers, Chemours (NYSE:CC) leads with 17% of capacity, followed by Cristal Pigmentos do Brasil, Huntsman (NYSE:HUN), Kronos Worldwide, then Tronox (with an 8% share), and Ishihara Sangyo Kaisha of Japan.
See graph below of sample TiO2 pigment prices for the past five years. In 2011, when TiO2 pigment traded at much higher prices, a large amount of new capacity came online using the sulfate process, a cheaper technology mostly used in China. The alternative chloride process requires feedstock with higher titanium content, and global production is roughly split now between the two technologies. TROX's TiO2 pigments use the higher-quality chloride technology but proprietary processes make the Company a low-cost chloride producer.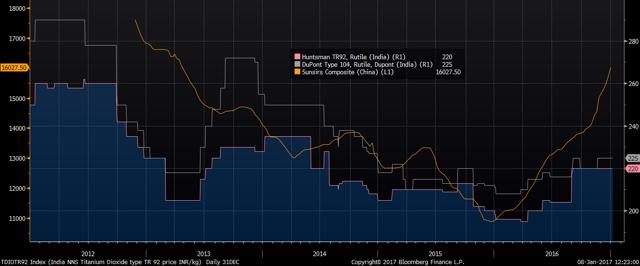 Vertical integration enables the Company to extract additional profits from its mineral sands by-products, co-products and finished pigment sales. Higher energy costs at TROX's South Africa and Australian mines pushed up input costs in FY'16, but the mineral sands business has been improving as legacy feedstock supply contracts expire and roll off and new contracts with shorter 3-6 month tenors roll on.
The TiO2 producers began raising prices in Q2'16. In December, TROX announced it will raise the price of domestic TiO2 by 7 cents per pound or $154/ton, effective January 1. HUN also intends to hike US prices by 7 cents per pound this month. CC announced that TiO2 prices for its Latin America, Middle East, Eastern Europe and Sub-Saharan Africa customers will increase to $150 per ton and that it will raise the price for titanium dioxide grades sold in Western and Central Europe, Turkey and North Africa by EUR 175 per ton, effective February 1.
As prices rise, TROX's mineral sands operations are geographically well situated, particularly for delivery of TiO2 into the Asia, EMEA, and Americas markets. The Company's new Fairbreeze mine in KZN Province, South Africa, commenced operations in April '16 with 190kt of TiO2 ore capacity and 60kt of zircon capacity. TROX estimates zircon volumes increased 5% between FY'15 and FY'16 due to Fairbreeze production.
Alkali. The alkali chemicals business is 38% of LTM revenue and 42% of LTM segment EBITDA. In April 2015, TROX paid $1.65 billion to acquire the alkali chemicals business from FMC Corp. (NYSE:FMC). Sales of alkali chemicals (also called soda ash) are driven primarily by demand for glass used in building construction and in the manufacture of automobiles but also by the production of bottles, detergents, and other chemicals.
TROX processes trona ore into chemically pure soda ash and specialty sodium products (e.g., baking soda). The alkali chemicals business deal gave TROX a competitive cost advantage because the Green River, Wyoming, mine it purchased from FMC supplies the Company with a source of cheap natural trona ore versus foreign producers that use higher priced synthetic alternatives.
The Company's TiO2 volumes increased 6% and pricing increased 1% year over year in Q3'16. At long last it appears that the TiO2 business bottomed and is reversing course. TiO2 Adjusted EBITDA of $75 million in Q3'16 compares very favorably to the $58 million the Company reported for the segment in Q3'15 when the decline in TiO2 prices seemed endless. The alkali business has been a steadier but more mixed story, one in which higher sales volumes, lower production costs and improved efficiencies have been offset by lower export selling prices. Alkali Adjusted EBITDA at $40 million in Q3'16 was just below the $41 million the segment reported the prior September.
See Tronox Ltd - Segment Information table below. Overall, alkali volumes trended upward in Q3'16 (+3% year over year), but that was offset by a 3% drop in pricing. At a more granular level, domestic alkali volumes dropped 3% while domestic selling prices moved up 1%. Export sales volumes increased 9% YoY on higher Asia Pacific and Latin America demand. But export selling prices declined 7% YoY mostly from following Asia Pacific prices lower. TROX management announced a domestic alkali price increase and expects to press for better pricing in FY'17 contract discussions.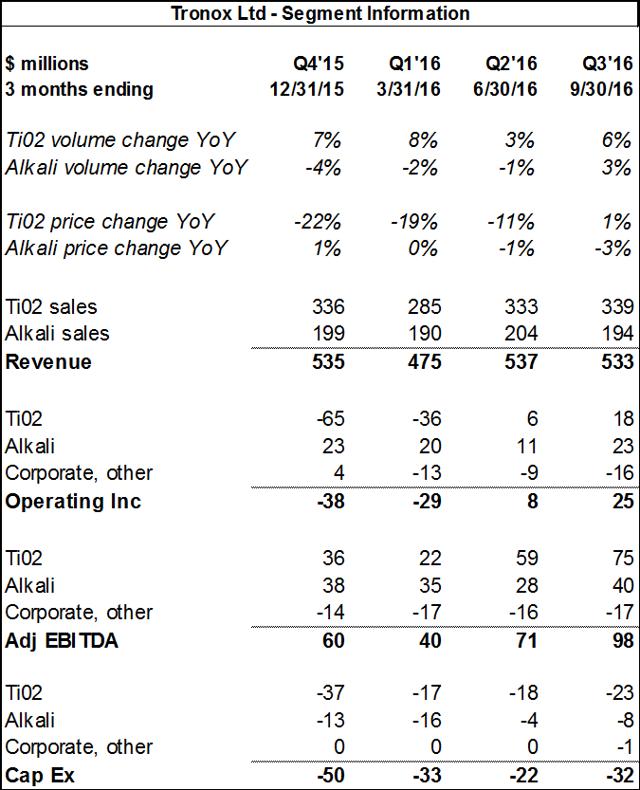 TROX is scheduled to release Q4'16 earnings on March 1st. With the Company and its competitors still facing pricing pressure during the quarter, the expectation is that TROX will report approximately $500 million revenue. That's lower both sequentially and YoY. However, Adjusted EBITDA is expected to reach $91 million versus $85 million in Q3'16 and $34mm in Q4'15.
Free cash flow will likely be positive, but should still trace back downward from the LTM $157 million produced through September to less than half that figure through the December year end. TROX has $202 million cash and $470 million of liquidity at September 30. However, with $3.05 billion total debt, leverage at the Company will still be exceedingly high. Net leverage will remain around 10x even with improved results. That leaves TROX as the most leveraged of the North American TiO2 producers.
On the other hand, the term loans and bonds don't have financial maintenance covenants - only the ABSA Revolver has a financial maintenance covenant that applies to local operations and only when the ABSA Revolver is drawn upon. In addition, most of the Company's debt doesn't come due until 2020: the $1.44 billion L+350 Term Loan B matures in March of that year, the $150 million outstanding Revolving Credit loans expire in April, and then $897 million 6.375% Senior Notes mature in August '20.
See Tronox Ltd - Financial Summary table below. Assuming TROX Adjusted EBITDA reaches the $483 million consensus forecast for FY'17, net leverage would drop back toward a more manageable 6.3x level and secured debt leverage would decline from 5.3x in FY'16 to 3.3x in FY'17. That's high, but not insurmountable.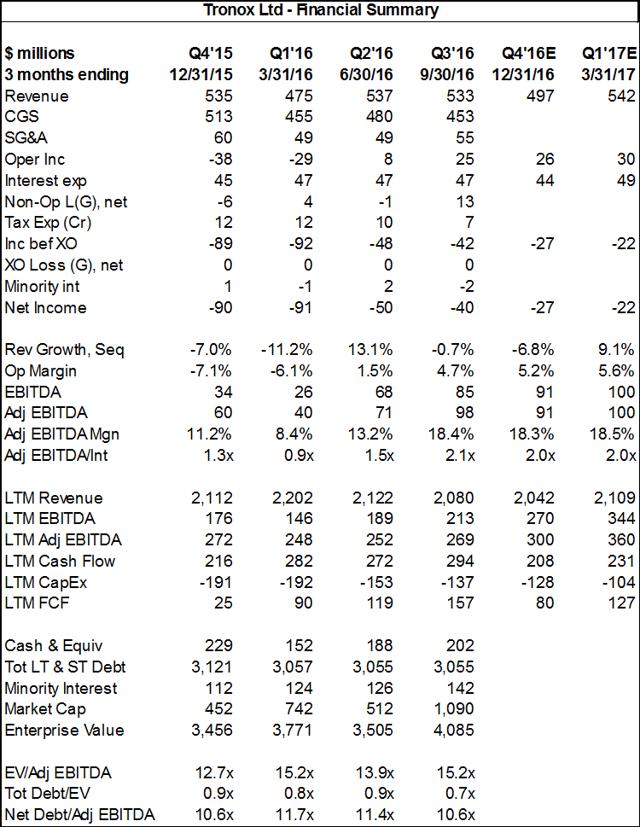 Comparisons. See the quarterly EBITDA margin graph below comparing TROX to its North American TiO2 peers. TROX may be the smallest competitor and it may be swimming in debt, but the Company's overall EBITDA margin in Q3'16 had it standing tall among the comps.
HUN's EBITDA margin actually deteriorated in Q3'16 on lower profitability in its non-TiO2 segments. But, tired of TiO2's volatility, HUN is spinning off the business (Call it HUN's corollary to the Warren Buffett dictum - apparently, when the tide comes up, you can discover the bodies of who's been drowning).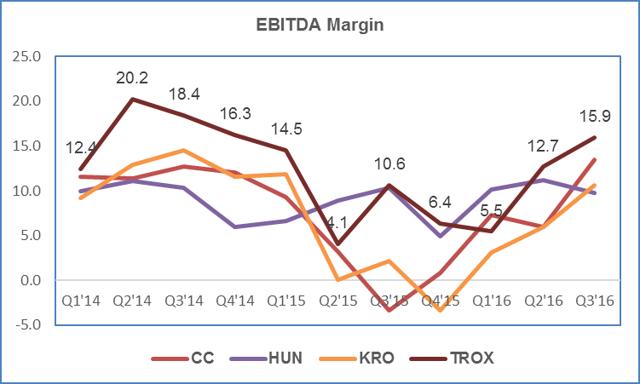 The next table compares TiO2 producers' equity valuation multiples. The improvement in TROX's profitability in Q2'16 and Q3'16 didn't go unnoticed by the stock market. Equity investors have given TROX's common shares a premium valuation to its comps based on the LTM outperformance and the Company's prospects for further improvement heading into FY'17.
The valuation multiple for TROX more or less stayed around the same level throughout the year, but that multiple turned out to be above the median for the group because CC and HUN are valued at significantly lower multiples. As can be seen in the table, only KRO is trading at a higher multiple of FY'16 or FY'17 estimated EBITDA.

The following graph provides TROX's term loan and bond price histories and then compares them to the common stock. As shown in the graph, the Company's debt prices declined and then improved along with the common during 2016. In fact, the Term Loan B, 6.375 Senior Notes due '20 and 7.5% Senior Notes due '22 have prices that are highly correlated with the price of the common stock (r-squared 77.5%, 74.2% and 77.8% over the past six months, respectively). The correlations are high, but if you normalized this graph, you would see that while the common improved by 2.6x during FY'16, the term loans were only up about 12% while the two senior unsecured notes rose about 1.5x:

The high correlation but lower relative price movement would initially suggest that the TROX loans and bonds have more room on the upside. I doubt it. There's a reason why their price improvement hasn't been as robust as what the TROX common stock experienced.
Have a gander below at the top half of my final graph in this exegesis - it shows the discount margin on Tronox term loans versus Kronos term loans. This section of the graph shows that the TROX loans are now trading through KRO's loan spread. The Tronox L+350 1L Term Loan B face 5.2x net secured leverage through the LTM period ended September '16. The loans have a fixed income equivalent yield of 4.91% (or +319 discount margin) at the last quoted price of 100.625.
Compare that to Kronos L+300 1L Term Loan B. The KRO loans are lower rated at B2/B+ but net secured leverage is about half a turn lower at 4.5x and the KRO Term Loan Bs have a higher 5.01% fixed income equivalent yield (+334 discount margin). For that matter, Chemours Term Loan Bs due '22 - not shown in the graph - yield 5.03%, but net secured leverage at CC is below one turn, and the ratings are up at Ba1/BB+.

Now look at the bottom half of the same graph. The bottom half shows the Z-spreads on TROX bonds versus the most widely traded Chemours and Huntsman senior unsecured notes (Kronos does not have bonds outstanding). TROX needs overall net leverage to decline even more sharply than its net secured leverage for its senior unsecured notes to look relatively attractive. That's because TROX senior unsecured notes are already trading at yields that are still too close to where far less indebted peer bonds trade.
The TROX 6.375% Senior Notes yield 7.58% (or +581 Z-spread) at their most recent trade price of 96.25 and the 7.5% Senior Notes yield 8.32% (or +639 Z-spread) at their most recent trade price of 96.56. That's with net leverage at 10.6x which won't significantly decline until mid-way through FY'17. Meantime, the Chemours 6.625% Senior Notes due '23 yield 6.91% at their last trade price with just 3.9x net leverage and their higher B1/B+ rating. Six turns of leverage should be worth a lot more than just 141 basis points of yield.
TROX common is a buy on the potential for both higher revenue and better margins. The combination should also push up the stock valuation multiple. The TROX stock isn't much threatened by high leverage through the next one or two quarters since most of the debt doesn't come due for another four years. On the other hand, TROX loans are a hold at best and its bonds are a sell until cash flow is actually used to take leverage back down and improve the credit metrics. When that happens, there will be greater justification for marking those credit instruments at the level of yields and spreads they already exhibit.
Disclosure: I/we have no positions in any stocks mentioned, and no plans to initiate any positions within the next 72 hours.
I wrote this article myself, and it expresses my own opinions. I am not receiving compensation for it (other than from Seeking Alpha). I have no business relationship with any company whose stock is mentioned in this article.
Editor's Note: This article discusses one or more securities that do not trade on a major U.S. exchange. Please be aware of the risks associated with these stocks.