In my professional opinion, matters are taking a rather interesting turn in the oil market after news broke that the EIA (Energy Information Administration) announced an odd mix of oil-related data for the past week. In what follows, I will look over this data and give my thoughts on what it should mean for investors in companies like Whiting Petroleum (NYSE:WLL), Chesapeake Energy Corp. (NYSE:CHK), Approach Resources (NASDAQ:AREX), and Legacy Reserves (NASDAQ:LGCY), as well as for the United States Oil ETF (NYSEARCA:USO) and other oil-related ETFs moving forward.
Very mixed inventories
According to the EIA, crude stocks for the week plummeted by 7.1 million barrels from 486.1 million barrels to just 479 million. This is the lowest we've seen since October of 2016 and was a great move no matter how you look at it. While the drop was a bit less than the 7.4 million barrel decline estimated by the API (American Petroleum Institute), it was much, much better than the 2 million barrel drop analysts had been expecting. In the graph below, you can see the trend that crude stocks have taken over the past 52 weeks.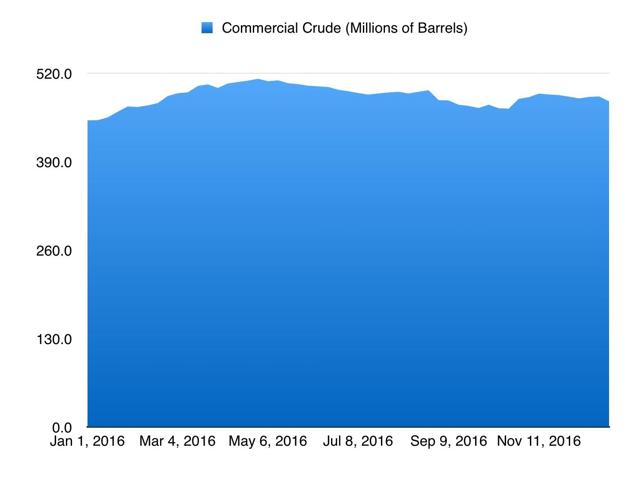 *Created by Author with EIA Data
While the decline in crude stocks was very bullish in my mind, the picture was, on the whole, bearish. According to the EIA, for instance, motor gasoline stocks skyrocketed by 8.3 million barrels from 227.1 million to 235.5 million, while distillate fuel stocks rose an even more extreme 10.1 million barrels from 151.6 million to 161.7 million. On top of this, kerosene-type jet fuel ticked up 1 million barrels from 42 million to 43 million, while residual fuel rose by 0.3 million barrels from 42.2 million to 42.5 million.
Fortunately, some areas followed the path that crude took, such as the "Other" category of petroleum products, which fell by 3.7 million barrels from 261.2 million to 257.5 million, and propane/propylene, which fell by 2.8 million barrels from 86.9 million barrels to 84.1 million. Meanwhile, fuel ethanol stocks stayed flat at 18.7 million barrels for the week. Despite these moves lower, however, total crude plus petroleum products still rose by an aggregate of 6.1 million barrels for the week.
Stable production and mixed demand
Another piece of data to cover for the week is that regarding domestic oil production. Despite fears that US oil output could rise again (and it has off its lows), total domestic output for the week came out to 8.770 million barrels per day, just 4 thousand barrels per day above the prior week's estimate. All of this move, though, came from a fluctuation in Alaska, which is not as meaningful as an uptick in the Lower 48 states. In the graph below, you can see the trend that domestic output has taken over the past 52 weeks.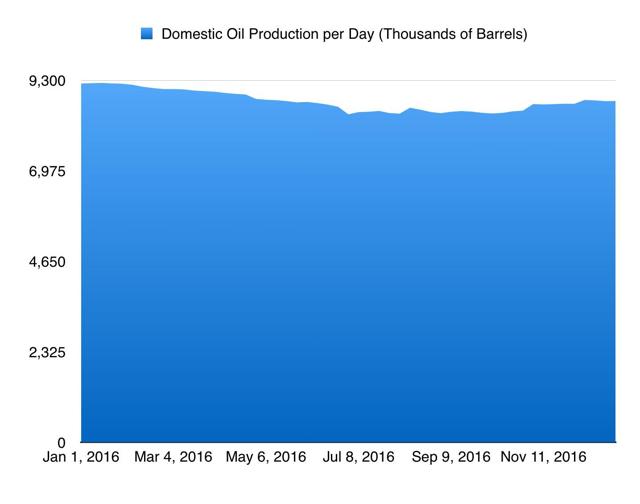 *Created by Author with EIA Data
On the demand front, however, the picture was harder to decipher. Take, for instance, motor gasoline demand which came out to 8.465 million barrels per day. This is far better than the 8.159 million barrels seen the same time last year but marked a huge drop from last week's 9.278 million barrels per day. Using the four-week average method, demand came out to 8.972 million barrels per day, down just 0.2% from the 8.990 million barrels per day seen the same time a year earlier, so not everything is terrible (the spread was larger for much of the past several weeks). The four-week average figure for distillate fuel, however, was still encouraging, despite a huge weekly drop in demand, without demand coming out to 3.835 million barrels per day, up 8.1% year-over-year.
A bad sign
In addition to the data mentioned above, there was, according to Baker Hughes (BHI), another bad piece of news. According to the firm, the US oil rig count ticked up by another 4 units during the week to stand at 529 compared to the 516 seen the same time a year earlier (the first year-over-year increase in many months). On top of this, the Canadian oil rig count rose by 29 units to 81, up from 71 this time a year ago.
A look at exports
Each week I've started adding some extra data into my regular oil article in order to mix things up. In this week's piece I elected to look at some changes in export data since, following the end of a multi-decade ban on exporting, US companies are now able to send oil overseas. Thanks to this shift in policy, even though US oil output has dropped over the past year, exports have risen from 500 thousand barrels per day to 686 thousand barrels per day over the past 12 months. The most recent data provided is also above the 627 thousand barrels per day seen just one week earlier.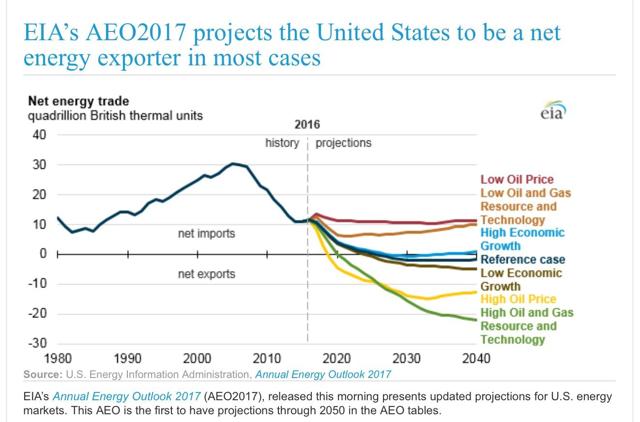 *Taken from the EIA
Though this data may seem small and almost insignificant given the size of the US oil market, the EIA believes that we may eventually become energy independent given current trends. In the image above, for instance, you can see a few different cases based on a mix of oil prices and changes in technology. Under their reference case, where Brent oil ends up at $109 per barrel by 2040 (I think this is too conservative), the US will become a net energy exporter. Under a more conservative low scenario where prices stay as low as $43 per barrel, we will still be reliant on imports, while if we see high prices of (in their highest case) $226 per barrel by 2040, the US will have the capacity to sell a lot of energy to overseas companies and/or nations.
Takeaway
As we can see here, data for the week was relatively mixed but, from an inventory perspective, production perspective, and demand perspective, mostly bearish. That said, the drop in crude is encouraging because it's only when crude inventories drop enough that we will eventually see the declines move through the pipeline and, with exports growing (though still very small) this could happen sooner than market participants may be expecting.
Disclosure: I am/we are long AREX, LGCY, WLL. I wrote this article myself, and it expresses my own opinions. I am not receiving compensation for it (other than from Seeking Alpha). I have no business relationship with any company whose stock is mentioned in this article.
Additional disclosure: I own LGCYO and LGCY. I may end up buying into CHK at some point.