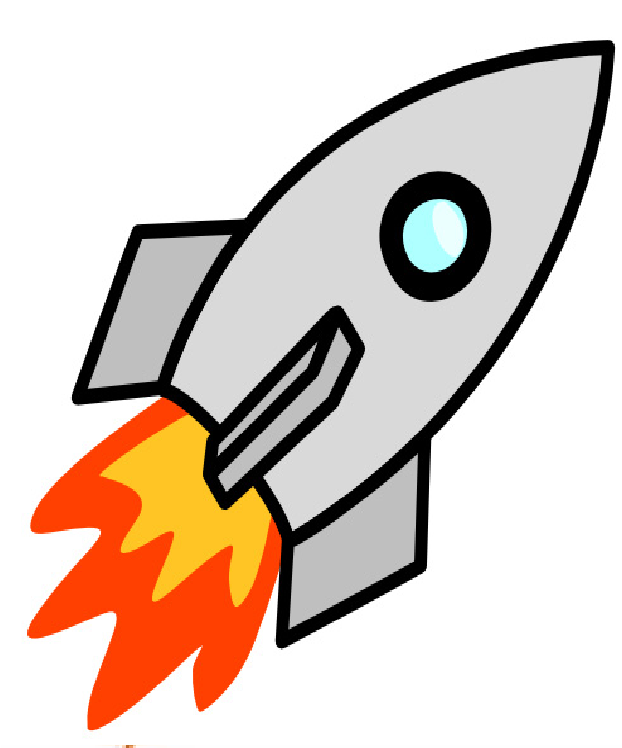 Pressures from the oil industry's decline linger for many companies. Vertex Energy (NASDAQ:VTNR), a UMO (used motor oil) re-refiner, is finding a way to be the exception. It has not generated an operating profit since 2013 and 2016 will be no different. However, Vertex anticipates 2017 will reflect positive impacts from all of the company's progress.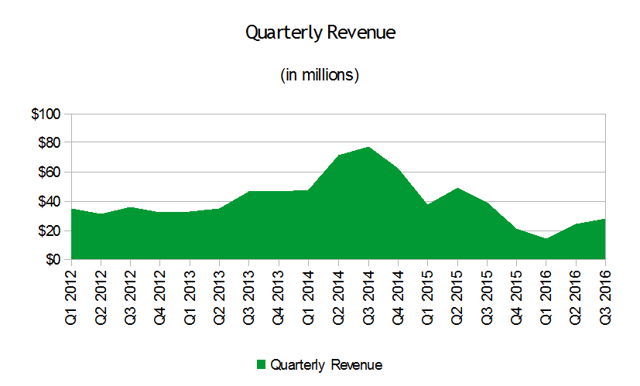 Source: Author-created from company data
At the end of the 2016 third quarter, Vertex Energy was cautiously optimistic the 2016 fourth quarter could be profitable.
"So we see the fourth quarter being a very solid quarter and we hope to be profitable as a result."
But, that was early November.
Things changed.
Vertex Energy has not run its plants at optimal capacity in the fourth quarter. Due to warmer weather, feedstock volumes have been lower than anticipated. But, the trajectory for 2017 is still intact.
"Based on current market conditions and normal production, we are targeting 2017 to be a profitable year."
Vertex Energy has the capacity to process over 115 million gallons of used motor oil. Its operations span three segments. Eighty percent of the company's revenue is derived from its Black Oil division. Black Oil collects, aggregates, re-refines and sells used motor oil. The Refining and Marketing division contributes fourteen percent of Vertex Energy's total revenue. This segment refines off-spec products and sells the re-refined products. The smallest segment, Recovery, provides dismantling, demolition and decommissioning services.
In 2016, the company has not only increased its street collections in the Black Oil segment but also managed to migrate from a pay-for-collection model to a charge-for-collection model. In 2015, the company was paying UMO generators $1.00 per gallon. Recently, the company has charged generators $0.32 per gallon for collection. Of late, 25% of the company's production is being collected rather than purchased from third-party suppliers. Vertex Energy expects the street collection volumes to grow to 30% of the total in 2017. It purchased and deployed six new collection trucks in the 2016 fourth quarter. And, the company is still on the hunt to acquire street collection routes.
Vertex Energy has developed a national footprint with a regional model. Collecting locally and having strategically-placed processing hubs helps control costs.
"By the end of 2017, the model we have been working on at Heartland will be finalized and we intend to use it as a platform to grow and develop our other operations. We believe it is a very powerful model that we want to replicate across our footprint."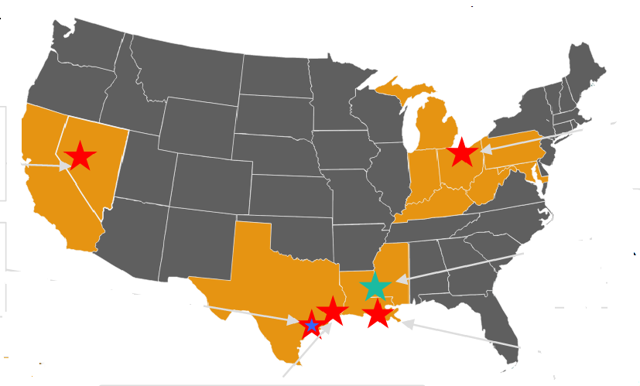 Beyond increasing volumes and cutting expenses, Vertex Energy is also focused on producing product that generates better margins.
"The higher margin products in the base oil space will take us 9-12 months. Also we anticipate that we will be able to transition 25% of our Heartland finished products into higher margin product streams, and this accounts for 5%-7% of our overall volume."
When crude oil prices fell, Vertex Energy found its share price in a free fall as its revenue and operating income declined. Vertex Energy expects EBITDA in 2017 to range from $7 million to 10 million. The projection is based on crude oil pricing of $45 to $50 per barrel. According to the five-year chart compiled by infoline.com, the range fits easily into the market's recent range.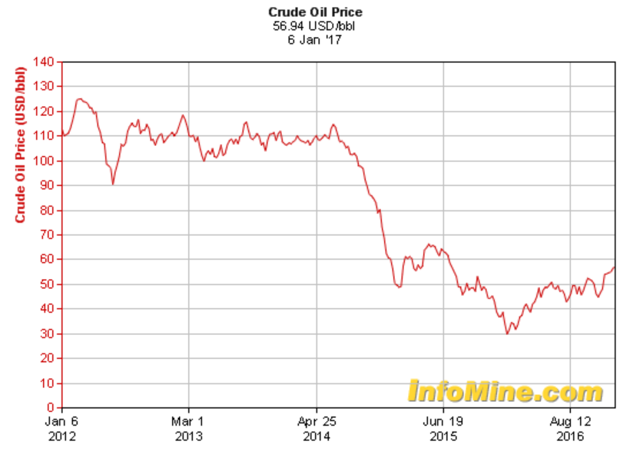 Vertex Energy has not generated EBITDA of that level since 2013 when it delivered EBITDA of $8.9 million. In 2013, adjusted diluted earnings tallied $0.39 per share on approximately 20 million outstanding shares. The company now has over 33 million outstanding diluted shares.
In the 2016 third quarter, Vertex Energy generated $1.85 million in EBITDA. On a diluted, adjusted basis, it lost $0.03 per share. The run rate for EBITDA now equates to $7.4 million, barely surpassing the low end of the 2017 projected range. In that regard, one might project Vertex to lose, at most, $0.12 per share in 2017. To get to breakeven on EPS, Vertex needs to increase revenue, improve margins, decrease costs or a combination of the three. And, the plan outlined above details the company's plans to do all three.
Returning to profitability should trigger some recovery in Vertex Energy's share price. Determining a fair impact to the share price is complicated. A price to sales ratio does not grant Vertex the benefit of improved margins or controlled expenses.
A price to cash flow valuation would be muddled based on 2016. In the first nine months of 2016, Vertex Energy's operating cash included $11 million from proceeds generated on the sale of an asset earlier in the year and expected insurance proceeds from a fire that interrupted business earlier in the year. The fire is not likely to repeat in 2017 and the sale of an asset may or may not occur.
"But we still have our own game plan and we'll continue marching forward as we evaluate other opportunities. So nothing's off the table."
Into 2016, the company has been trading at a market price similar to its book value. Book value is directly impacted by operating losses eating away at stockholders' equity. When Vertex Energy moves toward operating profitably, the share price should obviously follow suit. As Vertex Energy approaches breakeven, the share price could easily rocket through $2 and past $3 shortly.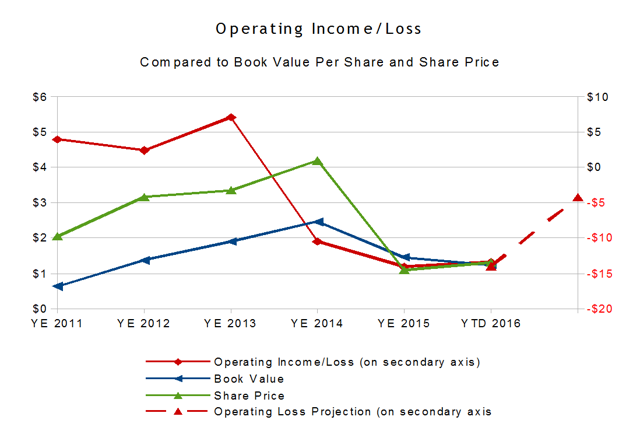 Source: Author-created from company data
Vertex Energy may appear to be a tiny fish in a small pond. Actually, it claims the distinction of second largest UMO refiner in the United States. Annually, over 1.3 billion gallons of used motor oil are generated domestically. Yet, only half is re-refined or disposed of properly. It is estimated the industry has the capacity to create $2.4 to $2.8 billion in revenue each year.
Disclosure: I am/we are long VTNR.
I wrote this article myself, and it expresses my own opinions. I am not receiving compensation for it (other than from Seeking Alpha). I have no business relationship with any company whose stock is mentioned in this article.
Additional disclosure: I belong to an investment club that owns shares in VTNR.
Editor's Note: This article covers one or more stocks trading at less than $1 per share and/or with less than a $100 million market cap. Please be aware of the risks associated with these stocks.