About an year ago, the International Monetary Fund (IMF) said that India will be the fastest growing economy in the world in 2016 and 2017. It said that India's GDP growth would strengthen to 7.5% during the period. In reality, India's GDP growth rate has improved significantly from 6.3% in December 2013 to 7.3% in September 2016, surpassing even that of China.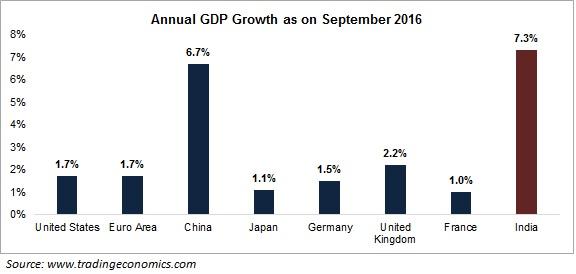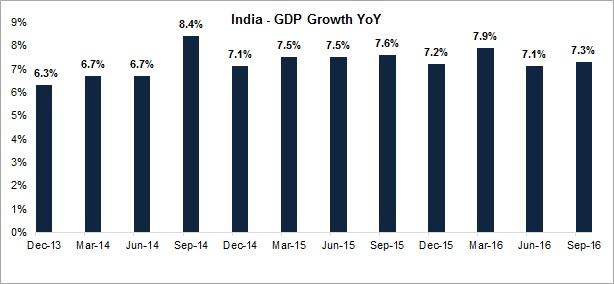 Contributors to growth
In the past couple of years, crude oil prices have fallen sharply from over $100/ barrel to around $45, after dropping to below $30. India, which imports around 80% of its crude oil requirements, benefited significantly from softer crude oil prices. It has al
Inflation, which was hovering at over 10% in 2013 has cooled off to around 4% in 2016. This has led to the Reserve Bank of India's (RBI) series of rate cuts which started towards the end of 2014. The central bank has so far cut the interest rate by 175 basis points (bps).
Global prices of various commodities, especially metals have come down sharply, owing to weak demand across various economies and Chinese slowdown. While this is negative for commodity exporters, it has been a huge positive for India, which imports them.
The National Democratic Alliance (NDA) won a clean majority in the 2014 general elections, with development as the major promise in their election manifesto. Since assuming office in May 2014, the Narendra Modi-led government has introduced new policies and schemes focused towards economic recovery and growth.
The government's push to make the country a manufacturing hub through the Make in India campaign has been gaining momentum in the recent months. Another major development has been the passage of Goods and Services Tax (GST) bill, in an attempt to simplify the tax laws. While it was expected come into effect from April 1st, 2017, there were some news articles stating that the implementation could be postponed to June 2017. The other major initiatives of the government include financial inclusion (through opening of Jan dhan accounts), skill development and the digital India campaign.
While these have contributed positively to the India's growth, the economy and the equity markets have been facing headwinds from both domestic and global factors. The decision by the government to demonetize old INR 500 and INR 1000 notes in November 2016 has caused a temporary cash crunch, which is expected to affect earnings of companies that depend on cash-based transactions. In the global front, in addition to weak demand, slow growth and Chinese slowdown, the year 2015 also witnessed two major surprises - Brexit and the victory of Donald Trump in the recently concluded U.S. elections.
The Road Ahead
The eagerly awaited Union Budget for 2017-18 is expected to be rolled out on February 1st, 2017. With the Make in India campaign gaining momentum, any announcement that supports manufacturing growth will be viewed as a huge positive. The markets will also be watching for decisions pertaining to infrastructure spending, investment in technology and other key measures that could give the economy a significant boost.
Over the past two years, the RBI has reduced the interest rate from 8% to 6.25%. While banks have already started transmitting the benefit to borrowers, further transmission is expected in the coming quarters. In addition to this, the demonetization decision has resulted in an increase in liquidity that has helped banks reduce their lending rates. With inflation under control, the interest rates are expected to remain stable with a downward bias in the short and medium terms. This could be a major positive for the economy, as lower interest rates would trigger new investments and capital expansion.
Corporate earnings have shown signs of recovery in 2016. While the demonitization decision could negatively impact earnings growth for the next couple of quarters, they are expected to improve in the second half of 2017. With the Indian economy expected to grow at around 7.5% this year, higher domestic demand and improving corporate earnings could result in higher return on equities (ROEs).
One has to also take cognizance of the fact that emerging markets (including India) are not immune to global factors. The US Fed hiked the rates by 25 bps last month and has revealed that there could be further hike in 2017. Any surprise decision on the pace of interest rate hike could negatively impact the markets. Global investors will also be keenly watching for any decisions by Donald Trump that could impact trade between US and emerging economies (especially Asia). Any adverse decision on this front could heavily impact economies that are dependent on exports. Global commodity prices, that have remained low for the past couple of years, would be keenly tracked by the markets.
Conclusion
The Indian equity markets have been quite volatile in 2016, in the backdrop of a dynamic domestic and global environment. However, the growth story of India remains intact and looks promising. Economic reforms, policies focused towards economic growth, pickup in demand, lower interest rates and commodity prices, benign inflation and a relatively young population place India in a sweet spot, making it an attractive investment destination for the next three to five years. I believe that any correction in the equity markets could be used as an opportunity to invest, with a long-term horizon.
Disclosure: I/we have no positions in any stocks mentioned, and no plans to initiate any positions within the next 72 hours.
I wrote this article myself, and it expresses my own opinions. I am not receiving compensation for it (other than from Seeking Alpha). I have no business relationship with any company whose stock is mentioned in this article.
Additional disclosure: The views expressed in this article are my individual views and do not pertain to that of my employer's.
Editor's Note: This article discusses one or more securities that do not trade on a major U.S. exchange. Please be aware of the risks associated with these stocks.