The correction in gold miners has been painful to endure for many investors, but especially those in Torex Gold (OTCPK:TORXF). The correction in gold sent the stock tumbling 50% from its September highs, eroding the majority of the stock's 2016 performance. Fortunately Santa came late for Torex investors, delivering some of the strongest drill results intercepted to date at El-Limon Guajes. SST-01 intersected 317.8 grams per tonne gold over 3.4 meters, and SST-19 intersected 230.7 grams per tonne gold over 2.4 meters. These drill results open up the potential to add significant ounces in close proximity to existing operations. This will not only benefit the mine life at El-Limon Guajes, but will also make the project more economic. I believe the market was caught off guard by these drill results, and this can be attributed to the massive move in the share price last week.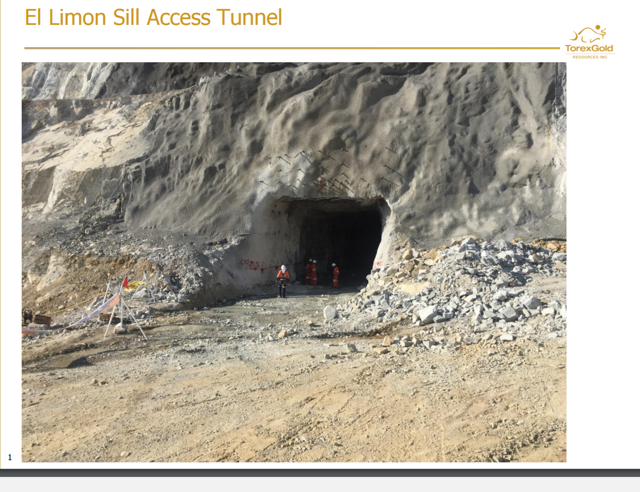 (Source: Torex Gold Website)
For those who have been following me the past couple months, it should be no mystery that one of my favorite miners is Torex Gold. I have highlighted the company as a takeover target on more than one occasion, and wrote "Torex Gold: A Junior Miner Trading For Fire Sale Prices" in mid November. At the time the stock was trading at a ridiculous valuation, as well as important technical support. The following excerpt and image is from my November article:
"Taking a look at the chart, Torex Gold is at an interesting spot. The stock has come right back to support after a waterfall 50% drop over the past three months. The stock previously had resistance at $13.85, but this turned into support in May of this year. Currently the stock is sitting right at this support level and has finally seen some reprieve from its correction.

I went long Torex Gold yesterday in my value account where I buy the best income generating gold producers. My strategy is to scale into these positions in thirds when I feel they are 30% or more below fair value. I added my first third of a position at $14.04 Friday and added yesterday at $13.66. My average cost for my two thirds of a full position is $13.85."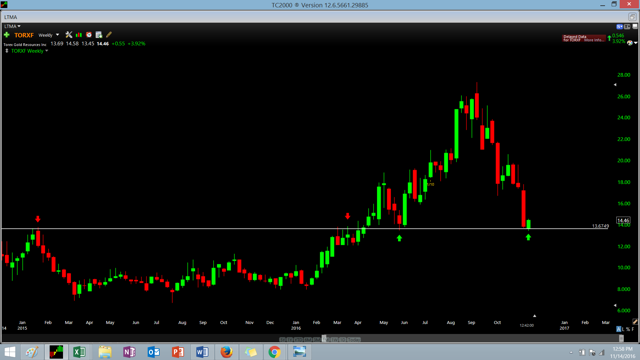 (Source: TC2000.com)
When I highlighted Torex less than 2 months ago, I had no idea that these kind of drill results were possible from underneath the El Limon Sill. I was confident that the company would add more resources, but would not even dream that they would come in at these grades. To put the most recent drill results in perspective, I have put together the below table to compare current resources to the most recent drill results.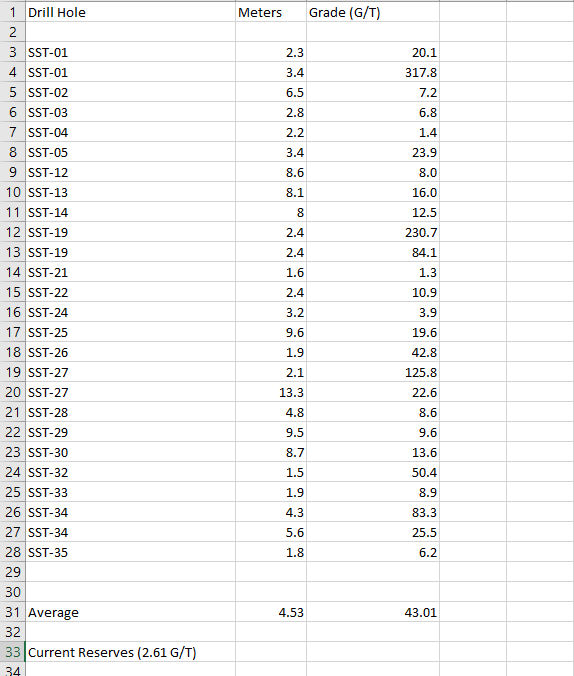 (Source: Author's Table)
The current reserves at El Limon have an average grade of 2.61 grams per tonne gold. If we average all of the drill intercepts in the release, the average result comes out to 4.53 meters of 43.01 grams per tonne gold. To help put this in perspective, I will use ounces for the next comparison. El Limon's reserves currently stand at 3.7 million ounces, at an average grade of 0.08 ounces per tonne of gold. The most recent batch of drill results had an average grade of 1.38 ounces per tonne gold over 4.53 meters. This means that the average drill intercept had a grade 1,700% higher than the current reserves at El Limon.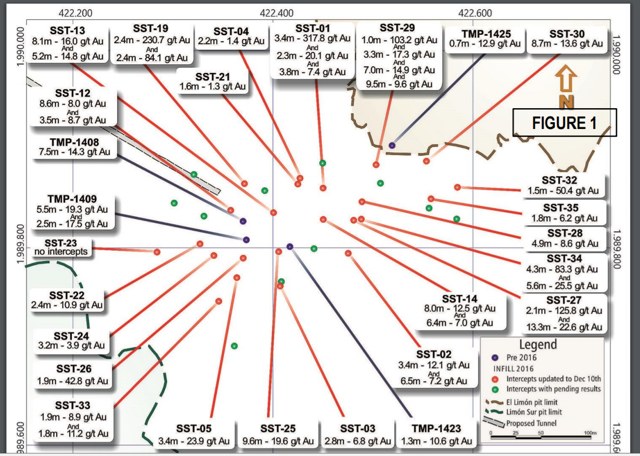 (Source: Torex Gold Website)
The most impressive thing about the most recent batch of drill results is the fact that nearly every drill hole hit significant mineralization. Torex reported 28 holes in the most recent batch and only one of them came out with insignificant results. This is not an instance of a company hitting a 'one-hit wonder' hole, but instead a batch of results that are uniformly impressive.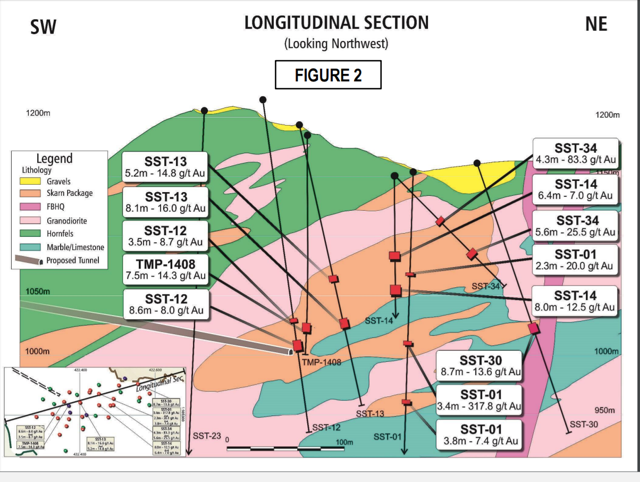 (Source: Torex News Release)
The news release stated that Torex completed 34 holes (7,700 meters) in the second half of this year, covering an area of 350 meters by 150 meters. According to Torex, the mineralized areas are located between 30 meters and 270 meters below surface. Based on this limited information, we can attempt to speculate on how ounces the 'Under The Sill' area may hold currently. Due to the limited information and speculative nature of this first batch of drill results, I will use ultra-conservative dimensions and grades.
For a very back of napkin calculation, I have chosen to use a strike length of 100 meters, widths of 100 meters, and depth of 50 meters, with a specific gravity of 2.5, and an average grade of 14 grams per tonne gold. I have chosen to more than halve all of the above dimensions, as well as using 1/3 of the average grade, to be as conservative as possible in my estimation. I have done this as there are still more drill results to be released, and there is always a possibility that they come in much lower grade than the first batch.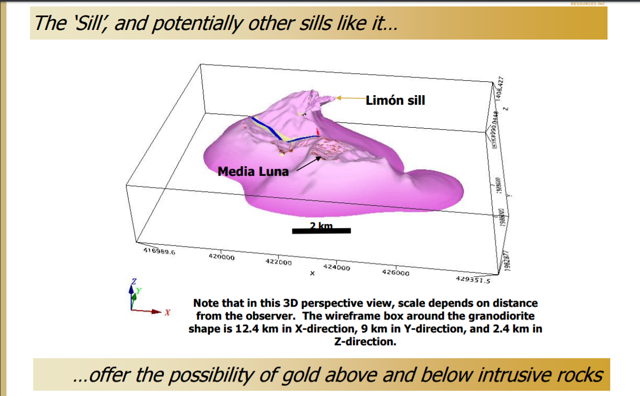 (Source: Company Presentation)
Using the above dimensions and grades, there is the potential that the 'Under The Sill' resource holds 510,000 ounces, at an average grade of 14.0 grams per tonne gold. This would add nearly 1.5 years to Torex's current mine life, with the potential for lower costs than the company's current cost profile. Torex is planning to release an initial resource estimate for their 'Under The Sill' resource in Q2 of this year. This will help us quantify how much mine life can be added, and if this news release is as significant as it sounds.
Summary
The most recent results by Torex are a game-changer for the company, and gives Torex significant new exploration potential going forward. Not only have they potentially added a year or more to their mine life, they've uncovered ounces that could be exponentially higher than their current reserve grade. These ounces are not located at a different end of the property, but are right next door to their existing operations. Previous to this news release Torex Gold was a favorite of mine, as I expected the company would ultimately uncover 15 million ounces of gold at their Morelos Gold Project. They already had delineated 12 million ounces of gold between El-Limon Guajes and Media Luna, but had several untested targets to explore. These most recent drill results give me confidence that 15 million ounces may have been a conservative estimate, as the 'Sill' and 'Arch' resources could be enough to put the company near the 15 million ounce mark alone.
The news last week catapulted Torex back above its key moving averages, and to new 10-week highs. The stock is now well above its downtrend line, and is one of few gold stocks sitting well above its 200-day moving average. The technical picture for the stock has improved immensely the past week, and I would not be surprised to see its outperformance vs. the Gold Juniors Index continue.
Torex Gold is one of my top takeover targets in the industry, and this recent news release has instilled further confidence in my thesis. Mexico or not, gold majors cannot sit by and ignore a 10+ million ounce deposit that's producing nearly 400,000 ounces of gold per year at under $700/oz. The fact that the company now has a bonanza grade discovery below their current operations is a kicker to the previous allure of the project. I remain long Torex Gold, and will likely add to my position on further weakness.
Disclosure: I am/we are long TORXF.
I wrote this article myself, and it expresses my own opinions. I am not receiving compensation for it (other than from Seeking Alpha). I have no business relationship with any company whose stock is mentioned in this article.
Additional disclosure: If you liked this article and found it useful, please feel free to follow me by clicking on my name next to my avatar at the top of this article. I also invite you to follow me at www.twitter.com/TaylorDart01 where I routinely share my entries, exits, and stops on new positions, as well as updating followers on sentiment data on markets I am following.
Editor's Note: This article discusses one or more securities that do not trade on a major U.S. exchange. Please be aware of the risks associated with these stocks.