Please take note this is only one aspect in weighing the attractiveness or non-attractiveness of the companies mentioned as an investment and should not be used independent of other factors. This article examines one segment of the companies' businesses, and other factors such as valuation are not addressed.
While India's residential real estate market is currently facing a slump, the commercial sector is emerging as a bright spot.
Indian cities Bangalore and Mumbai edged out Tokyo and Sydney to emerge as the leading cities for real estate investment and real estate development in the eyes of major institutional investors, according to the 2017 version of Emerging Trends in Real Estate Asia Pacific, jointly published by the US-based non-profit research organization, the Urban Land Institute and PWC. Tokyo dropped to 12th position, after holding the top position for the past three years.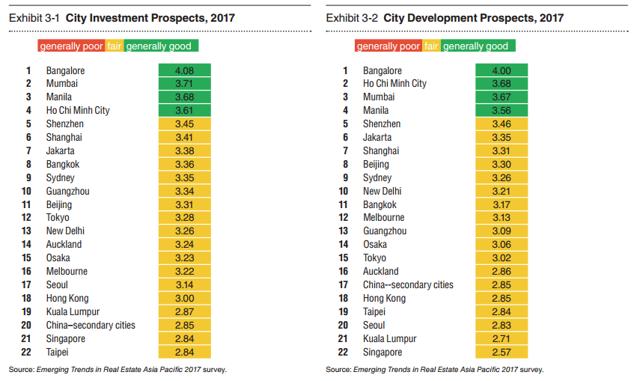 Source: PWC
With both Bangalore and Mumbai among the lowest ranked in the ULI's and PWC's list in 2014 and 2015, the two cities' sudden ascent has been credited to the increasing attraction of their commercial real estate sector.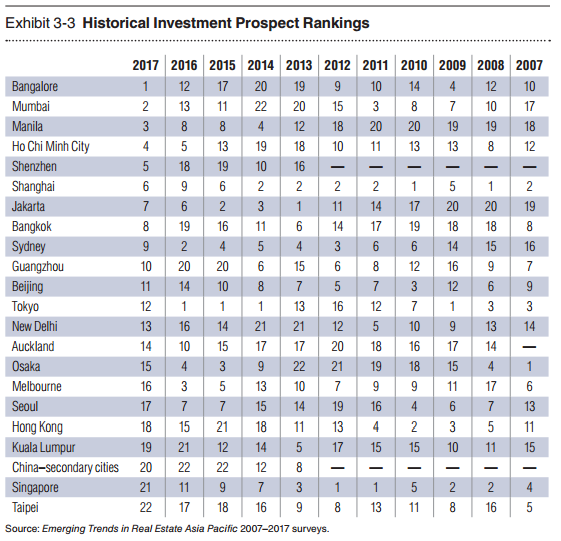 Source: PWC
Bangalore, Mumbai are perhaps the most popular Indian cities for multinationals to open offices. Other Indian cities include Gurgaon, Noida and Hyderabad. Mumbai is seen as India's main business center while Bangalore, nicknamed "Silicon Valley of India" is the country's IT capital and serves as a key hub for BPO (Business Process Outsourcing) and IT-related industries.
Increasing foreign investment, strong GDP growth and growth expectations, growth sectors in India such as e-commerce and pharmaceuticals as well as encouraging government initiatives (such as improving transparency and implementing pro-investor regulations) are some of the factors behind the increasing demand for Indian office space. The growing IT, e-commerce and pharmaceuticals industries are fueling demand for office space and warehouses. The share of Indian office space taken up by e-commerce firms increased from 0.3% in 2011 to 6% in 2015 according to real estate services firm JLL (Jones Lang LaSalle) (NYSE:JLL) and the demand for warehouses is expected to outstrip that of office space in the next two years.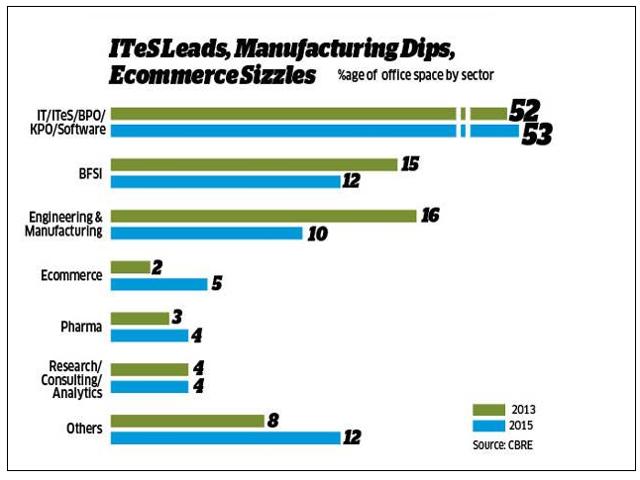 Source: The Economic Times India
According to JLL, the annual requirement for warehousing space has reached 25 million sq ft against 30 to 35 million sq ft for office and annual demand for warehousing is projected to reach 40 million sq ft in the next two years, overtaking the office real estate. A report published last year by Knight Frank projects the warehousing requirement of e-commerce firms to more than double from 14 million sq ft in 2016 to 29 million sq ft by 2020.
China's e-commerce giant Alibaba (NYSE:BABA), which has made investments in Indian e-commerce firms Snapdeal and Paytm and is looking to capture a share of India's growing e-commerce industry, will be setting up its first office in Mumbai, in the same complex as its American rival Amazon (NASDAQ:AMZN). Last year, generic pharmaceuticals company Teva Pharmaceuticals (NYSE:TEVA) signed a deal to lease office space in Mumbai to set up its Indian headquarters. This year, Korean consumer durables firm Samsung signed a deal to lease office space in Mumbai for its new corporate office.
Abbott Laboratories (NYSE:ABT) has taken up an entire under-construction building in Mumbai to set up an innovation & development center. This comes after Abbott purchased office space in Mumbai in 2015, in what was one of the largest commercial real estate transactions at the time.
Demand for Indian commercial real estate is reportedly growing 20-22% on a year-on-year basis.
However while demand has been growing, supply of good quality office space has been limited. After the economic slowdown in 2008, developers began to shy away from commercial real estate projects and shifted focus towards India's residential estate projects resulting in a glut in the residential market. With limited construction of new office spaces, supply has been limited as well, resulting in falling vacancies and upward pressure on rentals. High vacations tend to affect low-quality buildings and net absorption in 2017 is expected to be lower than 2016 due to scarce supply of good quality office space.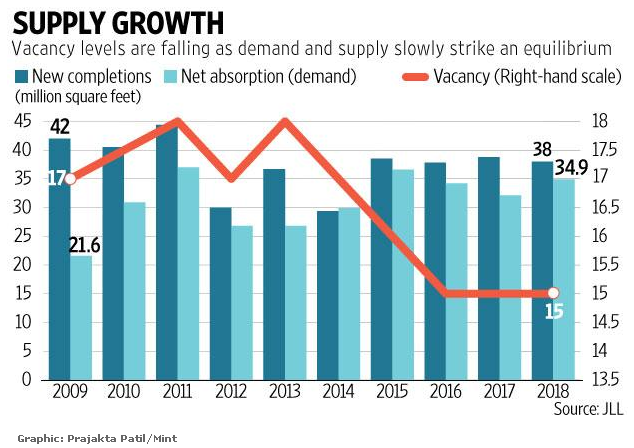 Source: Live Mint
Nearly a third of India's 36 commercial micro markets have seen rents increase by over 25% last year while in some markets such as Hyderabad, rents have jumped by up to 40% according to news reports.
International investors have begun to take note. With investments into India's office assets having jumped 157% in the first half of last year according to a report by Cushman & Wakefield, 2016 is expected to be a record for private equity investments into India's real estate industry since 2008.
Goldman Sachs (NYSE:GS), Qatar Investment Authority, Canada Pensions Plan Investment Board, Singapore sovereign wealth fund GIC, China's Fosun and Dalian Wanda are a few notable names that have turned to India's property market.
In October last year, Canadian alternative asset management firm, Brookfield Asset Management (NYSE:BAM), reportedly agreed to pay US$ 1 billion to buy 4.5 million square feet (418,000 square metres) of prime commercial space in Mumbai. The deal was said to be the largest purchase of commercial assets in Mumbai at that date. Blackstone (NYSE:BX) battled with GIC for control of the prime commercial property but GIC subsequently withdrew.
This is Brookfield's second investment in Indian real estate after the 2014 purchase of four special economic zones (SEZ) owned by London Stock Exchange-listed, India-focused real estate firm UCP (Unitech Corporate Parks). Brookfield also acquired UCP for £205.9 million through its purchase of the entire stake of Candor Investments Ltd which is a subsidiary of UCP as well as the stakes held by UCP in other properties.
In November last year, in was reported that Dutch pension fund asset manager APG Asset Management together with investment firm Xander Group, backed by the Rothschild family were co-investing US$ 450 million in retail assets in India. This comes after the two parties formed a US$ 300 million joint venture in 2014 to invest in Indian commercial real estate.
In September last year, Chinese conglomerate Fosun International had reportedly planned to invest US$ 1 billion into Indian real estate through a real estate private equity platform the company is setting up in India. Dalian Wanda, one of China's biggest property companies controlled by China's richest man Wang Jianlin, has signed preliminary agreements to develop industrial parks in India which could be worth as much as US$ 10 billion.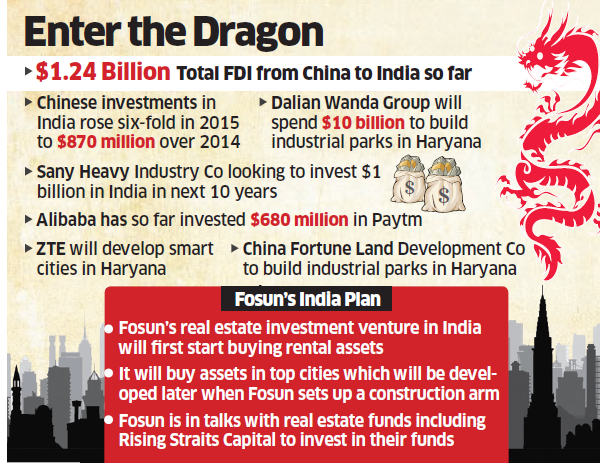 Source: The Economic Times India
Private equity giant Blackstone is particularly well positioned to profit from the growing interest in India's commercial property market. Blackstone first entered India's property market in 2005 but acquired its first property in 2011, at a time when other property investors were shying away from India's commercial real estate market for various reasons such as inflated values and disagreements with domestic partners.
Since entering the market in 2005, Blackstone has invested over US$ 2 billion into India and now owns over 31 million sq ft of office space, making it India's largest owner of office real estate (India's largest real estate developer DLF Ltd is the second largest office space owner).
Now with India's office sector on the road to recovery on the back of growing sectors such as e-commerce, pharmaceuticals and limited supply of quality A-grade office space (since construction of new offices slowed over the past four years), Blackstone is ready to cash out on some of its Indian real estate investments taking advantage of the Indian government's enthusiasm to open a REIT market in India.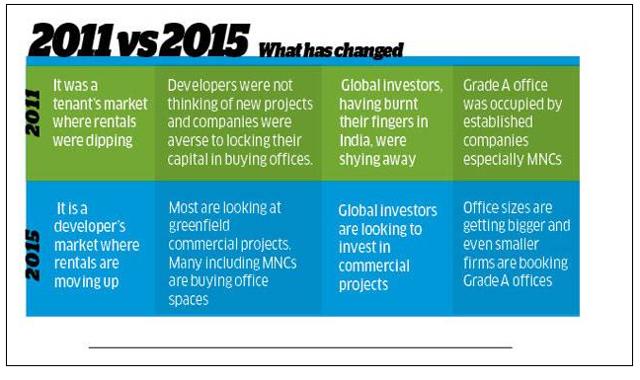 Source: The Economic Times India
The idea of a REIT market had been mooted several years ago however regulatory approvals were not finalized until after Prime Minister Narendra Modi took power in 2014. For instance, in the Union Budget early last year, the government removed the Dividend Distribution Tax (DDT) which was a major impediment in listing a REIT in India and certain REIT-related regulations were relaxed such as allowing REITS to invest up to 20% in under-construction assets (from a maximum of 10% earlier).
The new regulations have come at an opportune time for Blackstone, one of the world's largest investors of real estate, as it prepares to launch India's first REIT in an IPO that could raise over US$ 600 million for the firm.
India's Grade-A office space is over 464 million sq ft of which about 25% - valuing approximately USD 18 billion - is expected to get listed by 2019 although it is possible that the figure is less than 25% considering the fact that even in mature REIT markets in Asia-Pacific such as Singapore, Australia and Hong Kong, the figure is less than 20% according to research by Jones Lang Lasalle. In Singapore for instance, it is 19%. As India's REIT market expands, this percentage is likely to increase in line with the figures in these mature markets.

Source: Jones Lang Lasalle
Disclosure: I/we have no positions in any stocks mentioned, and no plans to initiate any positions within the next 72 hours.
I wrote this article myself, and it expresses my own opinions. I am not receiving compensation for it (other than from Seeking Alpha). I have no business relationship with any company whose stock is mentioned in this article.