One of my core holdings is Walgreens Boots Alliance (NASDAQ:WBA). The company has grown earnings consistently over the years. The primary reason is that it is a well managed company, that is able to keep margins up, by keeping costs down. I look for stocks that have a competitive advantage, that are modestly priced and have the potential for future growth. Walgreens Boots Alliance fits the bill.
The Drug Store Industry
The drug store industry in the United States Is controlled by two companies. Walgreens and CVS (NYSE:CVS). They control 50 to 75% of the market share in each of the countries 14 largest metro areas
The third largest company in the market, Rite Aid (NYSE:RAD), is being acquired by Walgreens pending FTC approval.
The chart below breaks down market share in the largest U.S. markets.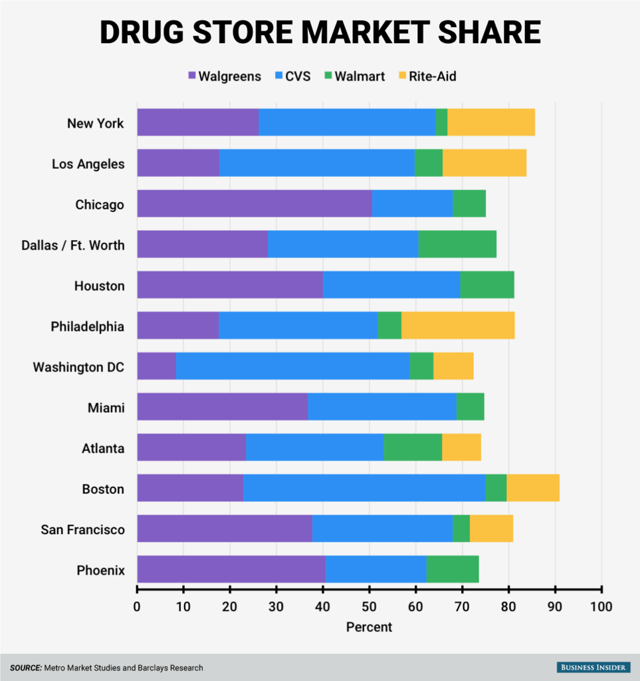 These retail drug stores negotiate partnerships with pharmacy benefits managers (PBMs) and suppliers. The relationship with suppliers and PBMs is very important to drug stores.
Similar to the drug stores, there is a small concentration of large companies in the PBM industry. When dealing with retail drug stores, they rely on their large customer base, to negotiate cost savings for their customers. The drug stores like to negotiate deals with the PBMs because it gives them access to their customers. CVS owns its own PBM, CVS Caremark.
The suppliers need to be able to meet the needs of those customers, at a price which the drug stores can make a profit. In this case, the drug stores will use their large client base to negotiate lower costs with suppliers.
Economies of scale are important in the drug store industry. It is critical for them to keep costs low. It is a high volume business. A lot of their revenue comes from Medicare reimbursements, which can pressure revenue. With low costs, come higher margins and greater profits. A well run drug store company will generate a lot of cash.
Walgreens Boots Alliance Operations
Walgreens is the leading drug store chain by Rx sales. It has been adept at keeping costs low, while providing superior service to its customers. They have prime store locations, in markets around the country.
In 2012 Walgreens formed a strategic partnership with Alliance Boots, to "create the first global pharmacy-led, health and wellbeing enterprise". The synergies realized from the partnership along with a cost transformation program have helped Walgreens Boots Alliance steadily grow revenue and earnings over the last five years.
Walgreens Boots Alliances primary line of business is U.S. retail pharmacy. They received $20.7 billion in revenue, in this division. 69.1% of those sales are pharmacy sales. Within the last year, they have entered into deals with drug maker Valeant, health service company OptumRx, PBM Prime Therapeutics and Tricare. These deals promise to cut costs. This will offset some of the Medicare Part D reimbursement pressure that is occurring. In addition to this, they are working on reviving their retail brands. In particular their beauty offerings.
Retail pharmacy international and wholesale pharmaceuticals make up a smaller part of revenue at $3.0 billion and $5.4 billion, respectively. On the wholesale side, Walgreens strengthened their relationship with AmeriSourceBergen (NYSE:ABC).
Walgreens Boots Alliance is in the process of acquiring competing drug store Rite Aid. The deal is under FTC scrutiny. They recently divested 865 stores, to competitor Fred's, to help the deal go through. So, now Fred's will be the third largest drug store behind Walgreens and CVS. Walgreens believes that they can realize $1 billion dollars of synergies per year from the acquisition.
Earnings, Growth and Valuation
Walgreens Boots Alliance raised the lower end of their annual earnings expectation by 5 cents, in their most recent quarterly report. It is now between $4.90 to $5.20. This would be an increase, from $4.59 last year or about 10%, if they hit the mid range of their estimate, $5.05. Most of that would be achieved through the cost savings from operations, highlighted above, offset by continued pressure in reimbursements. They say a lot of these cost savings will be seen at the back end of the year. To quote Co-Chief Operating Officer, Alex Gourlay, speaking about Walgreens income growth:
"In the future that you will see continuing reimbursement pressure and we are managing it through a combination of three, through more volume, through better partnerships, which we are very happy with the moment and are going well. Secondly, to increasing our retail gross margin and retail operating margin where we are seeing good GreenChill and have seen good growth in the last three years and that continues on good cost control."
A caveat for the Walgreens earnings forecast is that they are forecasting 5-12 cents to come from the Rite Aid acquisition, which is still under FTC evaluation.
Walgreens Boots Alliance also generates a lot of cash. Free cash flow was 6.52 billion in 2016 and they have about $10 billion in hand. Look for that to go down, if the Rite Aid transaction goes through. The transaction involves Walgreens Boots Alliance paying $9 a share in cash. Rite Aid has 1.052 billion shares outstanding, as of December 26th 2016. However, the way Walgreens Boots Alliance generates cash, bodes well for future growth.
Recommendation
Walgreens is a well run company, that has proven that they can execute, to bring costs down and margins up. They have a trailing P/E of 21.75, which is above the industry average of 17.3. However, if they are able to achieve the mid range of their EPS estimate, with its last closing price of 83.03, it would have a P/E of 16.4. Considering the future growth prospects, I do believe Walgreens Boots Alliance is worthy of a higher multiple then that. The potential synergies from the deals they are implementing along with their ability to generate cash, make it worth an above market average multiple. Closer to the one it now commands, based on a trailing basis. That would put its value above 100.
However, buying the stock now comes with the risk that the Rite Aid acquisition will not go through. I believe it will, since regulators have said they will need to close between 500-1,000 stores and they are selling 865 stores to Fred's. If the deal does not go through, the stock would obviously go down, considerably. On the flip side, it will get a nice pop, if and when the deal closes.
I own shares and am holding them. I also believe the stock is a buy now, if you are willing to bear the risk of the Rite Aid acquisition not going through. If the deal does not go through, I would look for an opportunity to buy more shares, since they have relationships and processes in place to cut costs and will grow earnings regardless.
Summary
Walgreens Boots Alliance is executing their business phenomenally. They are cutting costs and should be able to grow earnings this year and years to come. It is a long term buy, in my opinion. Buy now, if you can bear the risk of the Rite Aid acquisition not going through, later if you cannot.
Disclosure: I am/we are long WBA.
I wrote this article myself, and it expresses my own opinions. I am not receiving compensation for it (other than from Seeking Alpha). I have no business relationship with any company whose stock is mentioned in this article.