Syrah Resources (OTCPK:SYAAF) (ASX:SYR) is currently developing the world's largest graphite mine in the Balama region of Mozambique. SYR is one of dozens of young, aspiring graphite miners which enthusiastically claim to be exploiting a huge commodities gap in graphite' However, the enthusiasm in the capital markets is not reflective of current market conditions. The graphite industry generally appears to be marketing itself through promotional gimmicks. SYR leads the charge with Credit Suisse (NYSE:CS) and Deutsche Bank (NYSE:DB) cheerleaders, utilizing Tesla (NASDAQ:TSLA) fan-boy-esque marketing material with no real substance to entice investment into an opaque industry and business. In reality:
The industry appears to be in oversupply;
SYR's NPV assumptions are overly optimistic;
Offtake agreements for the Balama mine and spherical plant output appear dubious at best; and
The management team is unstable.
1. The Graphite Market
Before we start, we'd like to note how incredibly ambiguous the graphite market is. It's a niche industry, and as such it has been difficult to source reliable sources for spot prices, demand distribution, etc. Please do your own research.
The graphite industry has displayed strong growth in the capital markets, not reflecting the commodity's poor trade-level performance. Industrial Minerals, which Syrah cites on several marketing materials, has reported weakened transaction volumes, excessive inventories and slowing industrial activity in steel refineries which constitute a vast majority of the graphite market (see correlation on graph below). These factors have significantly negatively impacted the price of the steel. Despite this, China has continued to ramp up steel production.
Graphite Production Correlation with Steel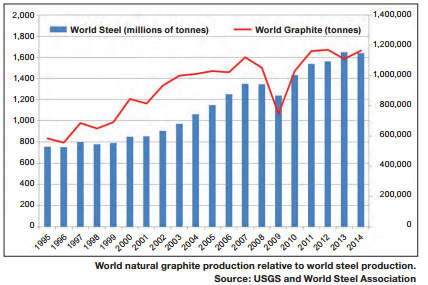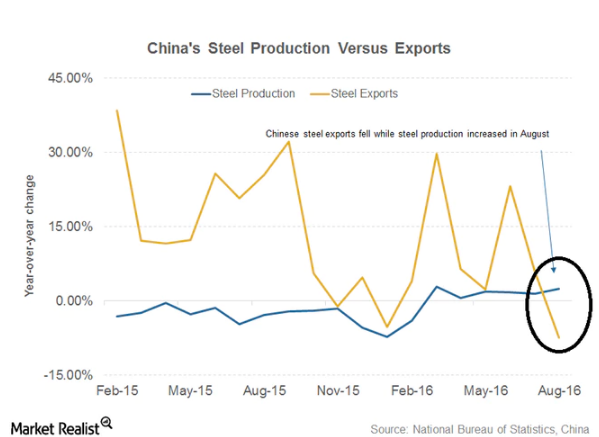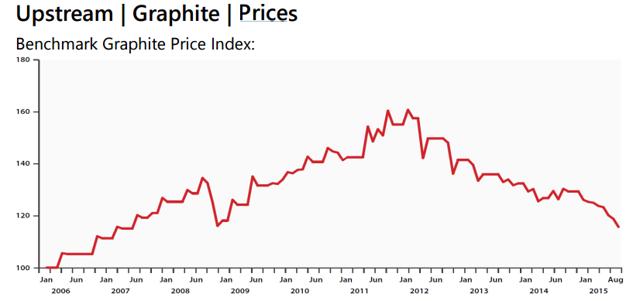 The above graphs demonstrate that while production is increasing, demand is decreasing resulting in a fall in benchmark prices. Opening the world's largest graphite mine seems badly timed given these weak trends.
Spherical Graphite
Syrah has indicated its intention that it will target the growing battery market through production of high-grade spherical graphite.
In order to produce spherical graphite, the raw product must first be pressed into microscopic spheres, which are then coated with a magic solution - we call this the magic sauce. Note this the barrier of entry into this market is not that the coating technology is highly proprietary, but there is significant waste by-product, efficiency and cost concerns.
The pressing of the graphite into spheres is entirely dominated by China. We think this may be because China tends to have more leeway on the environmental side, and this process produces significant quantities of by product (60-70% of input).
This coating market is currently dominated by Japan and South Korea, as low cost productions in China have restrained the development of this fine art.
Syrah has announced that it will develop a downstream spherical graphite processing plant in the USA.
Spherical graphite is primarily used in battery production.
Investors looking for a similar boom to the lithium markets are in for a rough awakening. The graphite market hasn't reacted in the same way as the booming lithium market, as prices are still totally dominated by the steel industry. Low steel prices have thus brought the price down further as refinery margins are pushed downwards: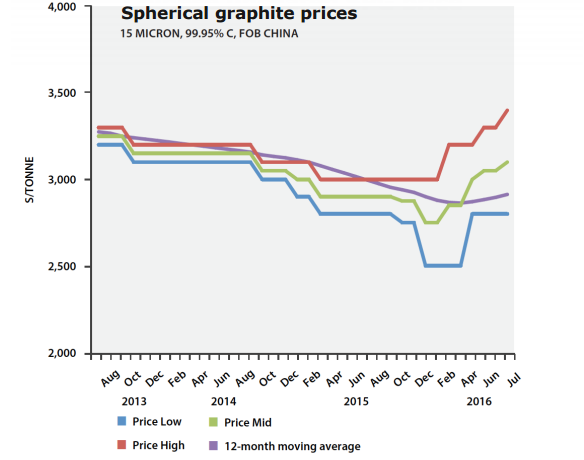 Syrah has other ideas, expecting cost of production at around $2,300/t, and sale from $3,000 to $4,500/t: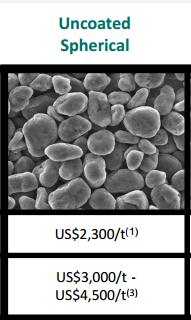 Chinese spherical graphite production accounts for over 70% of the spherical graphite market based on 2015 figures. Chinese suppliers are logistically better suited to supply key customers which are heavily concentrated in Japan and Korea:
Chinese Spherical Graphite Exports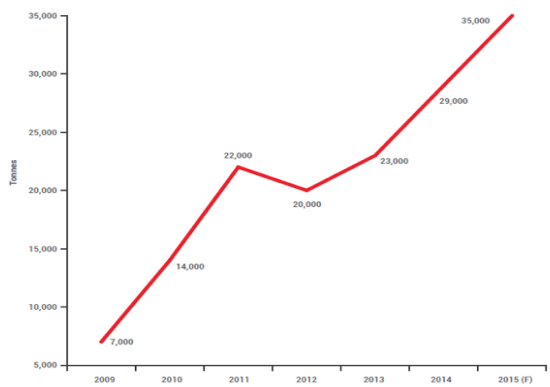 Although higher revenues can be achieved from spherical graphite, the process has costs and inefficiencies which eliminate the majority of the benefit. We see competitors venturing into this area instead forgoing downstream production or pulling out of investments altogether, including Triton Minerals (ASX:TON) which operated a similar sized mine in Balama and is now insolvent, and Northern Graphite: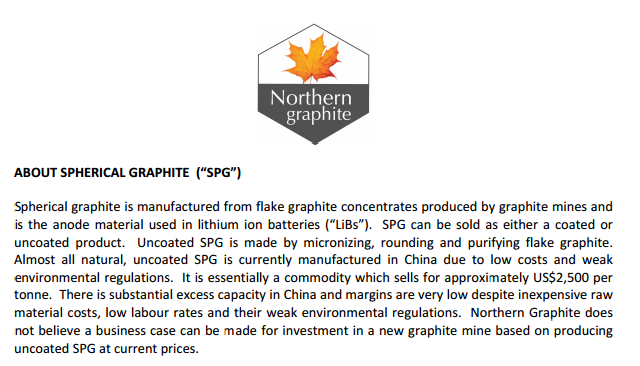 In its presentation to investors in May 2016, Syrah indicates Benchmark Mineral, another independent journal, estimated 50kt of spherical graphite was supplied in 2015. Roughly a 3:1 ratio is needed to turn flake graphite into spherical graphite. Syrah's anticipated annualized production of small flake graphite will flood the market with 1.5x current supply. As Syrah will more than double the current market supply whilst competitors are also ramping production, basic economic principles suggest that even low spot prices are too high for Syrah's NPV. Syrah must brace itself for large inventory build-ups or be willing to take a BIG hit on margins.
2. Basket Prices, CAPEX, OPEX Basket Prices
As discussed in Section 2, several sources and data support weakened transaction volumes, excessive inventories and slowing industrial activities in iron refineries. These factors have significantly negatively impacted the price of the graphite commodity.
High mesh grade supply has not been resilient to the market slump, with +80 mesh (94-97% graphitic carbon) currently traded at ~$800/t a 35% discount to August 2009. Fine grade, -100 mesh (94-97% graphitic carbon) currently trades at $620-650 per ton.
These current market prices indicate Syrah's graphite flake and quality mix will yield an average basket price of $655-701 per ton.

Basket profile - Weighted Price Per Mesh Size Per Ton:
Basket Price for Syrah -

August 2016

Expected production

Weight

Price (high)

(Aug 2016)

Price (NYSE:LOW)

(Aug 2016)

Weighted

Price (high)

Weighted

Price

+50

30

8.2%

850

750

170

150

+80

43

11.8%

+100

41

11.2%

750

700

84

79

-100

251

68.8%

650

620

447

426

701

655
We note that prices have not fluctuated materially since August, or (at least) 3 months prior to August; however, we do acknowledge the difficulty of obtaining market data for a surprisingly economically ambiguous industry and encourage readers to conduct their own research.
This data surprised us because Syrah's Financial Forecasts actually use a basket price assumption of $1,000 a per ton, 42-52% above the current spot prices. As noted in earlier in the report, even the current spot price will be too low for Syrah's NPV assumptions, as its Balama production will more than double the current market supply and likely cause graphite prices to collapse.
SYR Reported Basket Price Assumptions: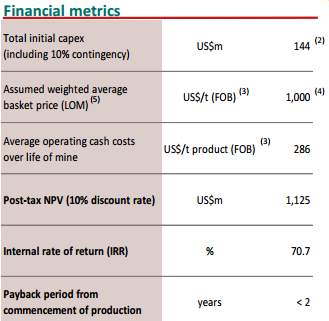 We believe that the wish is the father of the thought in this case.
3. Logistics, OPEX, CAPEX
SYR's Balama mine is located 6 hours by road from the destination port in Nacala: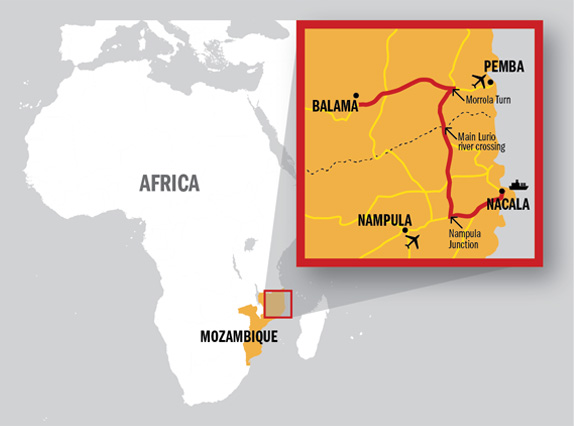 Syrah plans to run a large convoy trucks each day on the 462km, 8-hour route to Nacala. The route consists of large unpaved sections which will be problematic during Mozambique's 5-month wet season. The RENAMO militia is also present in the Balama region and have been more active in attacking commercial vehicles. We cover this in greater detail further in the report.
CSA Global's independent review of flake graphite projects in 2015 indicates that Syrah's Balama mine is logistically poorly located relative to other ASX listed and international competitors: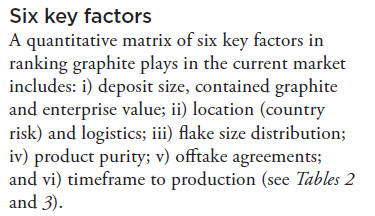 Despite these obstacles, Syrah's OPEX assumptions appear to be significantly below that of its competitors despite similar trading conditions, such as large economies of scale operations and isolated locations in Africa. The below table created by Viceroy Research shows a comparative analysis of this, with figures obtained from feasibility studies of each miner:

We note that we have found Syrah to be the least transparent of any graphite miners we looked at. A good example of this is how Syrah is the only graphite miner we came across that has chosen not to publish its original feasibility study to the public, only a company issued summary.
Another key takeaway from the above table is how little Syrah expects to spend on its initial CAPEX outlay, ongoing CAPEX requirements, and OPEX.
Theoretically, we would expect:
Greater initial CAPEX for larger mines. With Syrah and Triton being by-far the biggest mines, they should have the largest CAPEX. They do not. It is noteworthy at this point to note Triton and Syrah both operated near the same geographical region in Mozambique. Triton (ASX:TON) entered into administration.
Ongoing CAPEX costs are significantly below competitors. Economies of scale would definitely play a factor, however $7.1m/year appears to be overly optimistic against comps.
We would have thought greater CAPEX should theoretically reduce OPEX (i.e. you have better, more efficient equipment). This is sort of hard to test with the data we compiled because, again, factors such as economies of scale through to logistics to mine strip-ratios are not linear. Syrah assumes the lowest OPEX figures amongst its comps. Note that these mines are all extremely large, and we do not believe economies of scale can account for these saving.
As described above, Syrah is also very poorly placed logistically. We've used the bottom end of all feasibly study shipping costs. Syrah's best case scenario would only play out if all its graphite was sent to China. We were quoted prices of $105-130 for Japan and the USA. Also, it's worth noting that China has a 3% import tax for graphite. We find it highly unlikely that Syrah will find economic value in selling to China after duties and shipping costs due to the presumably competitively priced, overstocked local market.
4. The History of the Business Soil Contamination
The prior owner of the Balama site, Helios Resource, reported airborne data which showed a large Uranium anomaly: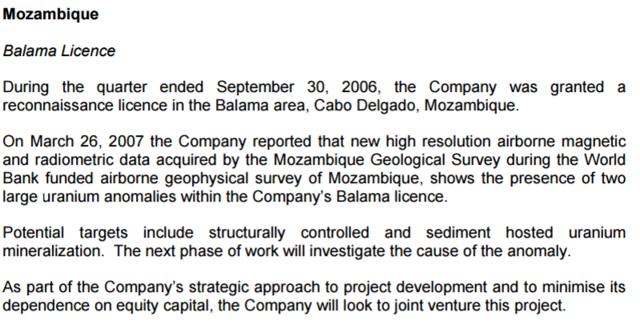 The presence of uranium was further verified in a technical report for Jacana Resourced Limited, which was acquired, then spun off by Syrah. The report is no longer available on Syrah's website, but is saved on web archive:

It also shows, embarrassingly, that Balama was acquired to initially be a uranium deposit, but a mediocre one at that. Management can spin it whatever way it wants.
A waste management report conducted by Coast and Environmental Services also identified uranium in the site, and noted that the radiation was a potential health and environmental risk which must be mitigated:

For number reference; the Earth's crust is about 1.8ppm uranium, a low-grade uranium mine is about 100 ppm, and Syrah's site ranges from 37-86 ppm uranium.
Tech Metals Research notes that battery grade graphite requires high purity for effective operation. Samples should be tested frequently, with a full spectrum analysis showing all contaminants, Syrah has never released these tests. Further industry sources we spoke to acknowledge uranium as a serious contaminant.
Syrah claims to have an advantage in making spherical graphite because the small flake size requires less energy to transform, however, in light of these hush-hush contamination reports, we are skeptical that Syrah will be as economic as it claims in its graphite purifying process. Given these contaminants, we believe Syrah will incur further costs in refining its output.
The Jacana Spin-Off
On 17 July 2014, Syrah stated its intention to offload a number of small Tanzanian assets, a long-standing chairman, and its managing director through the listing of Jacana Minerals. The proxy form sent to shareholders on 1 September 2014 confirmed that, once de-merged, the board would seek to list Jacana on the ASX through a separate IPO.
The Jacana prospectus proposed the issue of $10m equity raise for roughly 50% of equity of the recycled venture, giving it a value of ~$20m. It would also throw in Tom Eadie and John Kehoe, long standing Syrah directors and large shareholders.
The venture was managed by Shaw Stockbrokers, which prides itself on being privately owned and value independence. It therefore is curious why its longstanding relationship with Tolga Kumova, the incoming Managing Director replacing Paul Kehoe, was undisclosed. Tolga worked for Shaw Stockbrokers for 7 years.
The company failed to raise funds for the IPO. The business was then reverse merged with Strandline Resources in July 2015. Jacana funded the acquisition costs through essentially a non-recourse $250k loan made to Strandline, which offered $5m worth of $0.01 shares to Jacana shareholders. Jacana was $900k net cash. Paul Kehoe promptly sold a significant portion of his stake in Syrah for $57m
5. Mozambique
The Government
Syrah will need to be prepared for increased State control in its operations in Balama. The 2014 which introduces the following new requirements:
The right for the State to acquire mineral products to the government "in the public interest."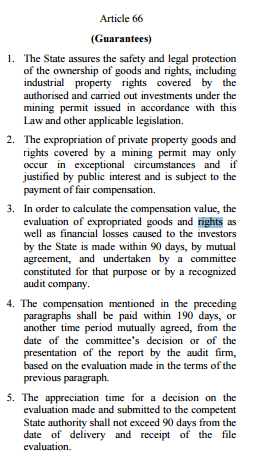 The state must consent transfers of shares in the mining title holder either direct or indirect.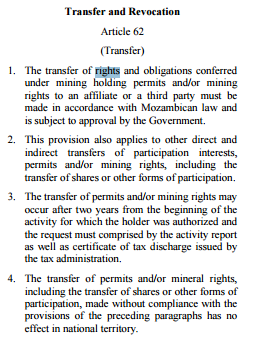 Operators will need to acquire a Mineral Processing License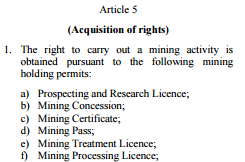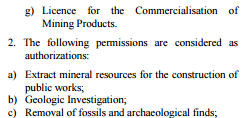 Limited investment protection. The 2014 Mining Act no longer includes undertakings that the State would not change the tax regime applicable to the operator at the time of granting the mining concession. The 2014 Mining Act will no longer provide indemnity from adverse financial consequences of changes in mining legislation.
The Rebels
The Renamo Militia has become increasingly active in Mozambique, attacking government, resident and commercial vehicles in many of the areas where Syrah plans to establish its logistics route. The commerciality of this incident should be second to the security of the drivers. There have been no mentions on how Syrah plans to mitigate this enormous risk.
Global Rescue has summarized the issue well on its website:
The Weather
The Balama region experiences severe monsoons every year: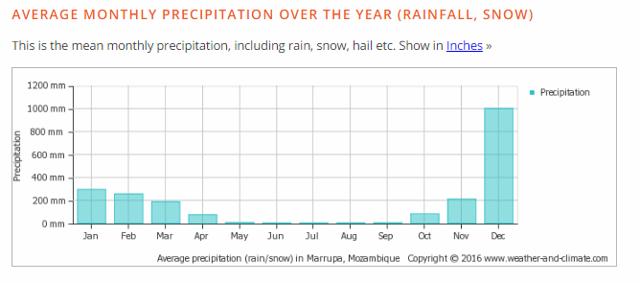 Here is the rainfall distribution. Note that Balama and the route to the Pemba port are severely affected: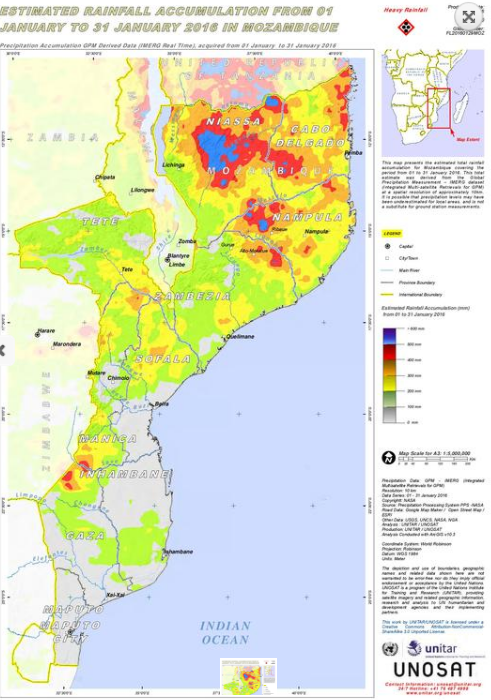 This obviously affects the quality of infrastructure in the area.
See videos here, here and here to see what we mean.
6. Morgan Hairong & The Magic Sauce
Morgan Hairong
Syrah announced on November 11, 2015, to be in partnership with Morgan AM&T Hairong Co., Ltd. for use of its proprietary spherical graphite coating technology outside of China, and agreement to supply graphite to China:

We note the following:
The graphite coating industry (especially high end) is dominated by Japan and Korea.
Morgan Hairong was offloaded by Morgan Crucible for an implied value of US$640k on June 20, 2014, due to incurring large trading losses. Morgan Crucible completed the purchase of the business in Jan 2011 for approximately US$10m, expecting US$7.5m revenues and ~30% operating margins.
Syrah obtained the rights to use this apparently spectacular technology for an even more spectacular price $1m in shares.
The Louisiana Plant
The graphite will be coated in the magic sauce in Louisiana as advised by the company on numerous occasions:

Naturally, we followed up on this. Our public records request to the Louisiana DEQ returned no plans, permits, or even a Louisiana DEQ Agency Interest Number, which you would need in order to lodge said plans and permits.
The only record with reference to Syrah that was found was a meeting attendance register with two Syrah representatives, one of which is the study manager for the proposed plant.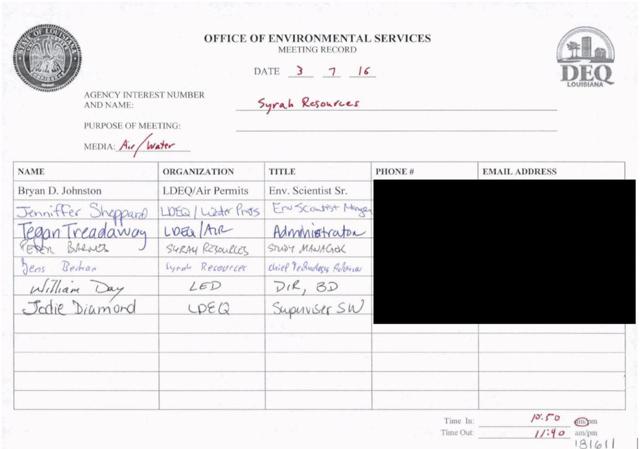 The listed study manager, Peter Barnes, no longer works for Syrah directly according to his LinkedIn Profile: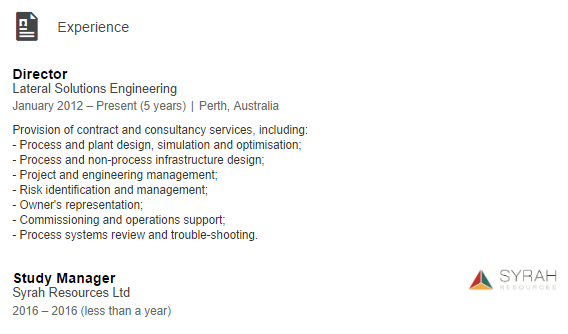 Peter's firm, Lateral Solutions Engineering, lists Syrah as its client. We are of the opinion that either:
The Study Engineer Manager for the Balama Site has left Syrah; or the "Leading Engineering Firm" cited on Syrah's presentation is in fact, Lateral Solutions Engineering, aka. Peter and a friend. LSE or any abbreviation of the name also does not have any plans listed with the Louisiana DEQ to the extent of our searches.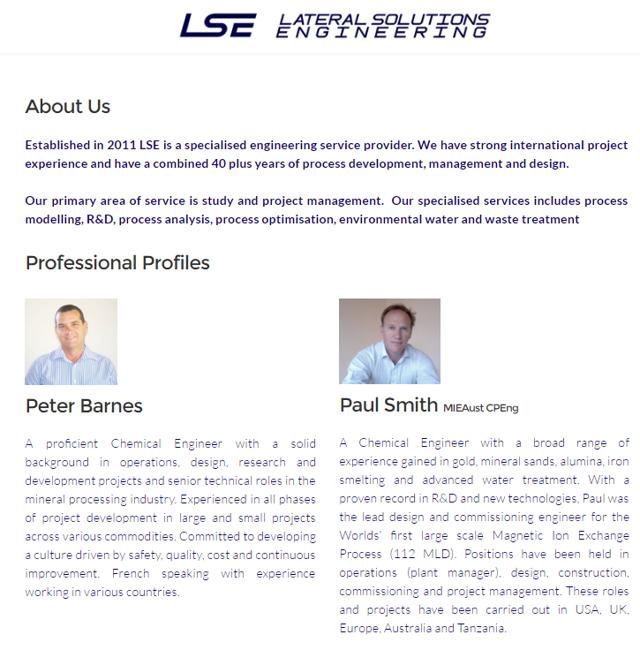 7. The Marketing Play
Tesla
Syrah's marketing material is riddled with the premise that the commencement of Tesla's mass production will significantly boost graphite demand. It is not wrong, but this is also not the whole truth. As discussed earlier in this report, most graphite demand comes from metallurgical and refractory applications: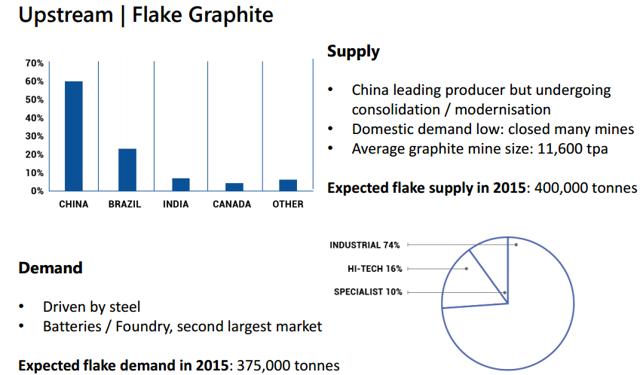 Even with exponential growth in the battery market, the increment as a whole would not accommodate demand for Syrah, let alone all of the other junior graphite miners.
We also see evidence in AGM's and interviews of Tesla actively moving away from and generally avoiding natural Graphite:
There are some things that are sort of a tricky - or that matter, like for example the anode, the structure of the carbon in the anode is important. I mean we use a very high percentage of synthetic graphite, because that gets sort of a more precise microstructure. And, yes, so there is some potential trade-offs there as to how much work effort you put into creating the synthetic graphite. I think generally we want to probably aim for highly precise microstructures, which is a little trickier to do. You don't want to just have random microstructures, stuff that came out of the ground." - Elon Musk, Tesla Q1 2014 earnings call
...and "Even more Ludicrous: Elon Musk says Tesla now has the world's fastest production car" - LA times, August 2016:

Benchmark Minerals & Industrial Minerals Group
These are the two journals which publish on 'tech metals' such as graphite. Graphite, as we mentioned earlier, is a niche market. Information is not readily available, therefore Benchmark and Industrial both gain incredible credibility.
We respectfully observe that their coverage is not really fact-driven. For example: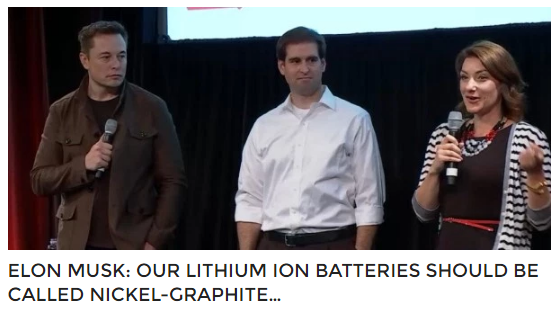 There is one quote from Elon Musk in the article:

Somehow, Benchmark spin this information into this!

in our opinion, 'Benchmark Understands' as backing for a statement of fact simply does not cut the mustard.
8. The Offtake Agreements
The Chalieco Agreement
China Aluminum International Engineering Corporation ("Chalieco") is the EPC arm of Chalco. None of its documents mention graphite, except for the fact that graphite is a raw material for refractory bricks that it buys to supply its parent company Chalco. As such, it would buy small quantities of very low grade graphite.
Nevertheless, it plays a big role in Syrah's promote: "Based on Chalieco's knowledge, the size of the Balama resource and the high quality of its large flake graphite ranks it as one of the top global graphite deposits 'ever known to man'."
As an FYI, the Spherical Graphite assessment study PR notes:

Chalieco also claims to "regularly organise [Syrah] training."
Chalieco announced in its 1H16 PR that it had also won engineering work at Balama. However, none of Chalco's annual reports or announcements makes mention of coated spherical graphite.
Syrah advertises Chalieco as an offtake partner, which will buy 80,000 tons per annum of high grade graphite in order to substitute petroleum coke and anthracite in bricks. We understand that graphite (especially from China) is typically not used in recarburiser applications due to its high impurity contents. Further, quality flake graphite sells at a premium to refractory applications. Miners would have to be willing to take a cut on margins if they chose to service the recarburiser market with a quality product.
The Marubeni Agreement
Syrah's only other signed offtake agreement is with Marubeni Corporation. The agreement stipulates that Marubeni is to purchase a total of 50,000 tons of coated and uncoated spherical graphite per annum, and exclusive right to sell in Japan and Korea which, as discussed earlier in this report, dominates the spherical coating market.
Here is an extract from Syrah's announcement of the Offtake Agreement:

We get a much different feel from Marubeni's market announcement, which indicates that coated graphite is a new venture for the business:

Another significant omission from the Marubeni disclosure is its alleged obligation to buy the product. Marubeni only states that it has exclusive right to market up to 50,000 tons of the Balama product per year, not that it has agreed to buy 50,000 tons of product every year. Someone has got it wrong.
Pricing and Excess
Syrah has released a forecast schedule for its Chalieco sales as follows:

Chalieco has also provided a summary of the offtake agreement; however, it differs significantly from that of Syrah. Chalieco is under the impression that it is buying 80,000 tons of quality flake graphite only, for approximately US$750 per ton.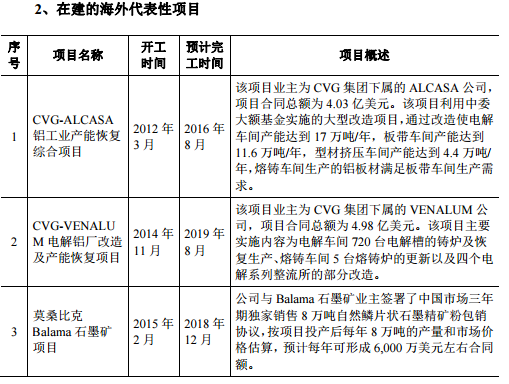 Following from our market analysis earlier in the report, we think the market oversupply and increasingly competitive industry will result in spot prices that fall well below Syrah's optimistic expectations.
In reality, the offtake agreement has no pre-established price:

How can the offtake be binding if it is still contingent on a pricing negotiation? This may be an industry thing (we don't know), but it seems like either Chalieco or Marubeni can pull out of the deal if they cannot agree with Syrah on an acceptable price.
Hypothetically, if these offtake agreements worked out perfectly, there is still going to be a huge production gap! The Chalieco deal secures only 80,000 tons of 350,000 tons of annualized production. The Marubeni deal does not even take off until around 2019.
Despite management's enlightening confidence, we think there is too much excess graphite to be rectally consumed by the board. On the plus-side, we believe there may be significant growth in the graphite fire retardant market moving forward driven by the need to put out fires at its offices.
9. Sell-side Cheerleading
Credit Suisse and Deutsche Bank frequently release adjective-riddled, poetic praise of Syrah's operations.
It is worth noting that CS was lead manager in Syrah's 2013, 2014 and 2016 share issues.
Here is an extract from the latest CS report on October 5, 2016:

However, we note the following:
According to Syrah's most recent equity raising roadshow presentation, Syrah outlines it is expected to require further funding in order to commence operation of the Balama mine and the spherical plant. CS should know this, it was lead manager for this equity raising:

We have no doubt that the reserve is large, however no independent reports on the quality of the graphite have been made available to the market.
As highlighted within the Logistics, CAPEX, OPEX section of this report, CSA Global comparatively rates Syrah amongst the worst placed mines logistically. The same graph also shows the quality mix of the graphite is no better or worse than any of its competitors. As a general observation, larger flake graphite yields significantly higher prices than small flake graphite present at Syrah's mine.
As highlighted previously, we are skeptical that Morgan Hairong has the technical capacity to extensively test Syrah's products.
Here is an extract from Deutsche Bank's report, also on October 5, 2016:

And here is a picture of Syrah blasting its quarry in September 2016, found in Syrah's Gallery: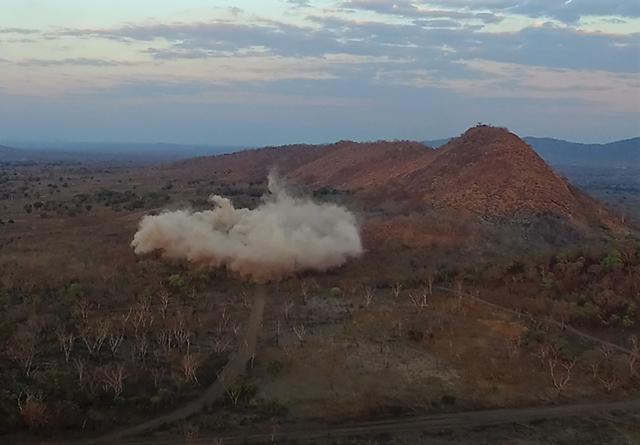 The AU$194m equity raise
On June 20, 2016, Syrah announced it had successfully completed an underwritten institutional placement to "sophisticated" investors to the value of AU$194m. Credit Suisse (Australia) Limited acted as Sole Lead Manager and Underwriter, and Gilbert + Tobin acted as legal advisers, to the Offer.
We thought it would be prudent to examine Credit Suisse's NPV model to determine how it was able to sell this investment and unsurprisingly came across some major issues in the financial model. We note that the model we used was dated June 21, 2016, a day after the share placement news was made available to the market. The target price per the below summary was $7.80/share: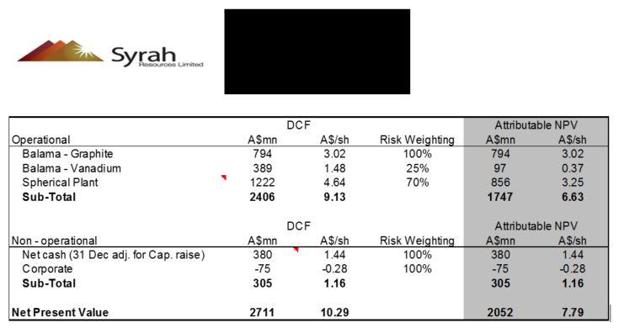 We note the following which appear to be errors or Credit Suisse's financial model:
Syrah's post placement cash balance is included as part of the NPV of the project, despite the cash being sunk into CAPEX and initial OPEX over the next two years.
There appears to be an intra-division discount which is not properly consolidated. The raw graphite basket price/ton from the Balama Graphite Mine is $850/t. The raw material cost of the graphite at the mine is $800/ton. We could not locate a consolidating entry to remove the discount from the group profits.
Similar to the above, the Balama Graphite Mine NPV analysis shows the graphite is sold FOB, therefore meaning the purchaser is liable for shipping costs. We could not properly identify shipping costs in the spherical plant's input costs. The efficiency (recovery) rate of the spherical graphite process is noted in the model at 37.5%; however, the input-output quantities appear to be incorrectly calculated to output at 50% efficiency.
Syrah believes it can sell the by-product of the spherical plant. The income from these sales are included as a revenue item and then double counted as a negative cost item. Industry sources we spoke to advised that spherical graphite producers typically had to pay someone to take this waste product.
An adjustment for these errors brings the target price down from $7.80/share to $2.43/share. The new shares were issued at $6.05c.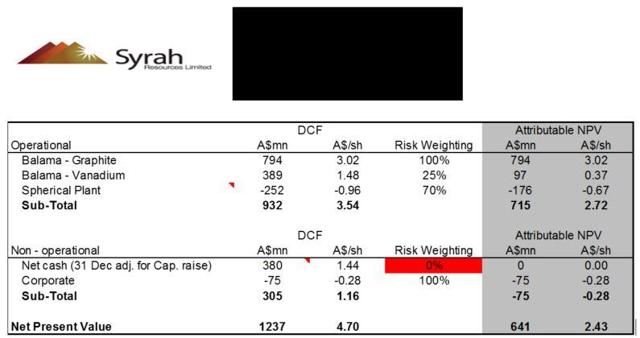 As previously mentioned, the NPV analysis, which draws largely from Syrah management assumptions, is riddled with extremely optimistic assumptions:
Inflated Graphite basket price;
Low corporate costs, which appear even more unrealistic given Tolga's retirement;
Low logistic expenses;
It's not Credit Suisse's fault, I would assume it also does not have the feasibility analysis of the Balama mine which would provide greater costing detail. On the flip side, if it did have it, it would probably be insider trading.
10. The Management Team
The M.D.
Managing director, Tolga Kumova, 'retired' abruptly as managing director of Syrah on October 5, with the board citing that Mr. Kumova did not have the skills necessary to oversee the business' transition into an operating miner.
Despite hosting a "roasting" of the Chairman Jim Askew and Mr. Kumova at their offices, CS spun this in its October 5 Analyst Update:

And DB on the same date: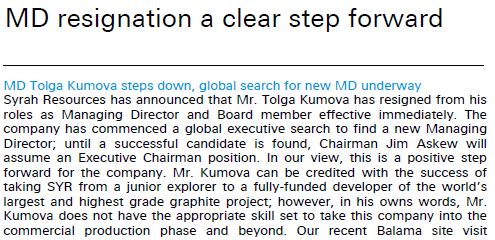 ..and again in Tolga's statement to The Australian:
I am not an operations guy. I am like Andrew Forrest. I am a stockbroker like he was and he brought in Nev Power to run his business to get the efficiencies and all that sort of stuff"
We found this very odd, because, in September 2014, Mr. Kumova replaced former MD, Paul Kehoe, specifically because he claimed to have the vast knowledge of graphite and vanadium markets critical for Syrah's commercialisation into an operating mine. Noteworthy that Mr. Kehoe offloaded his shares for $57m upon his replacement, and that long standing Chairman Tom Eadie simultaneously stepped down to join Syrah's Jacana spin-off:

Mr. Kumova pushed for a revised contract to bump his base salary to $450k per year in January 2016. The contract provisions clearly state Mr. Kumova must give 6 months' notice:

We think it's pretty obvious there is more to Mr. Kumova's retirement than him suddenly deciding he is not qualified.
Tolga heroically shared how he was 'robbed, bashed and infected' in Africa while simultaneously losing his clients' money during his 7-year stint with Shaw Stockbrokers. Tolga was apparently an average student, who allegedly found himself at Shaw Stockbrokers because he described himself as a 'poker player' on his application despite knowing little about the game. We find this ironically reminiscent of the current situation Tolga has found himself in at Syrah. We've read this article many times over and are baffled as to why this should instill confidence in the minds of shareholders.
We have toyed with company assumptions and derived a target price of around $0.70/share, representing an 76% downside to the current price of $2.95 at the time of writing.
The major points of difference between our NPV and sell-side NPVs are:
Use of current graphite spot prices;
More realistic shipping freight costs obtained through brokers. It does not appear SYR or sell-side have appropriately weighted shipping and logistics costs between Balama and the USA spherical plant.
More realistic maintenance CAPEX requirements, in line with regional competitors;
Sell-side have priced in ~$325m cash on hand into the price target. This cash will be sunk into the production of the mine? We have not priced this cash into our assumptions.
There are several important factors not considered which would drive the price down even further:
Our model assumes SYR will actually be able to sell all of its product. Realistically, we don't think it will.
Our model assumes that, as SYR floods the market with supply, graphite prices will remain constant.
The lack of binding offtake agreements at its commencement are of particular concern to short-term liquidity and may further drive down the price target.
We presume management fees will increase in search for new CEO talent and more enticing, talent worthy salaries.
Disclosure: I am/we are short SYAAF.
I wrote this article myself, and it expresses my own opinions. I am not receiving compensation for it. I have no business relationship with any company whose stock is mentioned in this article.