For those investors that were buyers of CoreCivic (NYSE:CXW) (previously Corrections Corporation of America) during the price collapse in the latter half of 2016, they have been rewarded quite handsomely. While I think investors at the time were taking on inordinate risk, particularly given the potential long-term ramifications of the Department of Justice memorandum (instructing the Federal Bureau of Prisons to significantly reduce/cut renewals on private prison operators), sometimes taking a gamble pays off.
With the victory of Donald Trump and the nomination of Jeff Sessions for Attorney General, CoreCivic's future seems so much brighter than it did early on last year - yet the shares are still trading down. Is there still a little meat left on this bone for investors getting involved now, or is the recent distribution cut reason enough to leave this one alone?
Rebranding Initiative
Coincidentally, right around the time of the Department of Justice memorandum, CoreCivic (at the time Corrections Corporation of America) decided to undergo a rebranding initiative, officially starting the process to change its name. The company line on this move was that this was simply a result of a years-long evolution of the company's structure, away from just a corrections and detention management company and into a company that offers a broader suite of product offerings.
CoreCivic now has three business lines, driven by $250M in acquisitions over the past several years: Safety (legacy business), Properties (government real-estate advisement), and Community (residential re-entry for released prisoners). Of note, however, is the fact that CoreCivic management does not report these three business lines on a segment basis, and has not announced any plans to do so. If management wants investors to buy the story of not being just a private prison operator, then the financials and granularity needs to be provided.
Critics of the private prison industry take the polar opposite view of why this name change was done. To them, this name change is simply a way for the nation's largest private prison operator to try to escape a damaged brand that the media has raked over the coals for years.
Remember, this change comes after a Department of Justice report was released that looked at more than a dozen prisons in the industry. A report that found incidences of overcrowding, misuse of solitary confinement, inadequate medical care, and overall dangerous conditions at many of the nation's largest prisons, including CoreCivic assets. Is management simply trying to engage in a bit of sleight of hand?
Like most stories, the reality is that the real reason is a blend of both. While CoreCivic may be developing itself into a company with a more diversified asset base, it will also benefit significantly by being able to distance itself from past negative press. Certainly in the short term, I think the critics might be more right about why the move was done, but long term, CoreCivic very well could become a diversified player in the industry.
This middle ground extends to the company's business model as well. I'm a firm believer in the power of private enterprise, and I do think that private prison systems can be run and regulated in a way that creates benefits for taxpayers while at the same time being controlled for issues related to the incentive structure.
Recent Developments Are A Mixed Bag…
As part of the Q3 earnings release, CoreCivic management announced the contract retention with Immigration and Customs Enforcement at the South Texas Family Residential Center. This facility was turned operational, and an expansion was announced in 2015 to accommodate additional capacity of female illegal immigrants with children (family units).
The initial service agreement was for four years, but CoreCivic agreed to lower fixed monthly payments beginning late in 2016 in order to extend the lease term to five years. This secures the cash flows long term, but it will reduce revenues at the South Texas facility by 40%, along with reducing operating margins (once stronger than consolidated results) down to average among the company's facilities. This will hurt consolidated net income (and therefore distributable cash flow) going forward.
Why the agreement to lower rates? In June of 2015, the government announced policy changes in the duration of detentions for those awaiting processing through immigration courts. The United States government continues to be sued over its policies related to detention of migrant families. CoreCivic is apparently willing to lock in less short-term earnings on a more ironclad contract with a longer term, which should hopefully avoid a disastrous outcome where its facilities become orphaned.
This is a real risk for CoreCivic. The new contract at Cibola County notwithstanding, if facilities go idle, they often sit for quite some time. Prairie Correctional, Huerfano County, and Diamondback (4,500 beds of capacity) have all sat idle since 2010. This isn't an immaterial amount of capacity, and these idled facilities have been a primary contributor to why owned and managed facilities have fairly poor occupancy rates (82% average in 2013, will slide to below 80% in fiscal 2016).
As far as those facilities sitting vacant since 2010, CoreCivic continues to carry these assets at a fair value of $75M on its balance sheet, despite these properties not generating any revenue; in fact, generating millions of dollars in expenses related to carrying costs.
I'm honestly surprised that management has not taken the steps to write down the carrying value of these assets. If they have sat idle this long, they are highly unlikely to generate value in the future. These aren't the only assets sitting idle, but are simply the oldest ones. CoreCivic has seven core facilities sitting vacant, generating more than $2M in expenses per quarter, along with $200M in book value that is at risk.
As can be seen below within the financials, the associated expenses are not immaterial to the company's quarterly net income, and the fact that correctional facility assets can often be orphaned for years before finding a new contract (if at all) is a major reason why the sell-off in 2016 occurred.
... And So Are The Financials
Broadly, CoreCivic has seen increasing funds from operations since 2013, primarily driven by margin expansion and not top line growth. Revenue has only grown at a 4% annual pace since 2013, barely a trickle when you consider the $250M spent on business acquisitions and $500M in capital expenditures (a large portion of which was expansionary):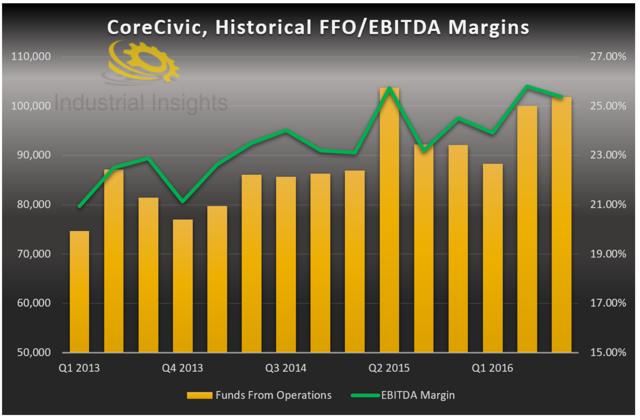 All of that margin expansion has come from very tight control on facility costs. GAAP depreciation and corporate costs have all well outpaced revenue growth over the past several years. Critics here would likely point out all the problems CoreCivic facilities have endured, a lot of which come down to accusations of understaffing or underqualified employees (driven by uncompetitive pay). Management would say this is a result of quality management on a facilities level to bring down costs per bed, without compromising safety or lowering the quality of treatment of housed individuals.
In any case, I think investors need to have caution going forward, and should not expect a repeat of >100bps of EBITDA expansion annually when they are considering CoreCivic prospects over the next several years, particularly when you have issues like the South Texas contract restructure that will negatively impact overall margins going forward.
This plays into 2017 guidance, which calls for $2.16-$2.27/share in funds from operations ("FFO"), representing a significant contraction from what is likely to be $2.60/share in 2016. Seeing >10% drops in FFO year/year is never something an investor seeking stability and consistency wants to see, and this drop is a major reason why CoreCivic equity trades at a discount to 2013 levels, despite the incremental improvements posted since then.
That drop in FFO is what drove the cut in the distribution. Given investors should expect $2.00-$2.05/share in funds available for distribution ("FAD") given the usual $0.10-$0.15/share in maintenance capex and other deductions, the prior distribution level would have had to be funded partially through debt, and would give the company no ability to retain cash flow for expansionary activity. I don't think investors should be upset by the cut in this case, given its necessity given expectations.
That strong financial management carries over to how CoreCivic treats its balance sheet. The company has no debt maturities until 2020, and has a touch more than $500M in available liquidity via cash-on-hand and under its revolving credit facility. Leverage remains light (net debt/EBITDA of 3x), and interest coverage is firm. In the short term, there is little risk, but investors do need to be aware that lease terms are rather short (~3 years), which is particularly bothersome given the near impossibility in finding alternative tenants for these facilities. CoreCivic can ill afford to see more of its facilities idled.
Investor Takeaway
While the new 6.8% yield going forward should be relatively stable, there are risks of further weakness. While the next four years will almost assuredly not be a period characterized by the Federal government incentivizing cuts in prison populations, there is no guarantee that the future is as concrete. I think that feeling is palpable by management, given the lack of expansion or new facility starts heading into fiscal 2017.
With little expansion planned, there is not much reason to assume any meaningful growth to take place - expect the distribution to stay where it is. Management focus will likely shift to getting someone - anyone - into idled facilities as a means of driving financial improvement. I don't see the screaming deal here that many still see, but instead see investors being close to fairly compensated for the risk they are taking on.
For deep dive research on asymmetric risk/reward plays in the Industrial and Basic Materials sectors (particularly small and mid-caps), consider investing alongside me and other subscribers within Industrial Insights. Get cutting-edge information with proven results.
This new offering doesn't mean I will be cutting down on quality or my allocated time towards my free offerings on Seeking Alpha. Follow me (by clicking the "Follow" button at the top of this article next to my name) to receive general stock market research and commentary, especially on under-followed small/mid-caps across a wide variety of sectors and industries.
Disclosure: I/we have no positions in any stocks mentioned, and no plans to initiate any positions within the next 72 hours.
I wrote this article myself, and it expresses my own opinions. I am not receiving compensation for it (other than from Seeking Alpha). I have no business relationship with any company whose stock is mentioned in this article.