Overview
Founded in 2009, Kinsale Capital Group (NASDAQ:KNSL) provides excess and surplus insurance (E&S). (The part of the insurance market that provides casualty and property insurance for consumers with either unique risks or poor loss history.) KNSL is eligible throughout the U.S. and uses a network of independent insurance brokers to market its products. The company provides specialty, casualty and property lines across 14 underwriting divisions.
We wrote about Kinsale's IPO here and its IPO quiet period expiration here, both buying opportunities.
Due to its proprietary technology platform, KNSL draws attention to its efficiency. In its SEC filings, KNSL maintained that its technology and systems allow the company to quickly and accurately collect and analyze data regarding hard-to-place risks for small businesses. This method ultimately controls their expenses and improves their response rates with processes and customers, enabling them to maintain control over claims and underwriting operations.
Competitive Landscape
Kinsale describes how it faces competition from underwriting agencies, standard insurance companies and specialty insurance companies as well as from diversified financial service companies. Top competitors are Alleghany Corporation, Argo Group International Holdings, James River Group Holdings, Markel Corporation, Navigators Group, Inc., RLI Corporation and W.R. Berkley Corporation.
Kinsale's P/B of 3.3 is somewhat pricey and higher than the industry average of 1.4, along with Alleghany's 1.2.
IPO & Early Highlights
At the time of its IPO in July 2016, KNSL was priced at $16 - the high end of its expected range of $14 to $16. On its first day of trading, the stock opened at $18.30, and it is currently trading at $31.74 (market close 1.6.2017).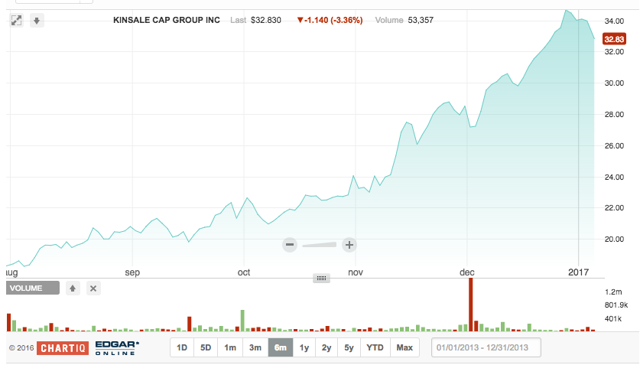 In sum, Kinsale delivered a first day return of 14.7% and 78.9% in the after-mkt (1.6.2017).
In 2015, KNSL increased its revenues to $80.596 million from its 2014 revenue of $63.676 million. Net profit increased from $12.97 million to $22.27 million, and gross written premiums increased from $158.58 million to $177.00 million.
Return on equity increased from 14.01% in 2014 to a healthy 21.62% in 2015. TTM we see a somewhat more modest 11.39% figure.
Conclusion: A Buy For 2017
According to Renaissance Capital, 2016 may go down in history as the worst year for IPOs since 2003. While tech IPOs dropped significantly -- only 21 U.S. IPOs in 2016 -- there was an increase in tech deals in the last quarter of 2016, leading experts to predict a surge of similar deals in 2017.
Kinsale stood out from the IPO crowd in 2016. Despite being slightly more expensive than its peers at present, macro winds could blow in Kinsale's favor. Policies that favor small businesses could expand Kinsale's market, with more SME's potentially benefiting from new tax policies and a repatriating of corporate profits to the U.S.
A Wells Fargo survey found that 46% of the 600 people questioned believed that the operating environment for their businesses would improve in 2017 -- an increase from 30% two years ago. Optimism could also fuel growth.
IPO-focused investors, looking to initiate or build on current positions might consider KNSL -- not simply as a short-term trade but a longer-term hold for the year to come.
Don Dion's IPO Insights provides up-to-date information and analysis on the major IPOs each week, along with additional opportunities to invest and short these stocks at their quiet period and lockup period expirations, respectively. Consider following us at the link above. We will continue our PRO offerings on Seeking Alpha alongside our more exclusive research.
Disclosure: I/we have no positions in any stocks mentioned, and no plans to initiate any positions within the next 72 hours.
I wrote this article myself, and it expresses my own opinions. I am not receiving compensation for it. I have no business relationship with any company whose stock is mentioned in this article.