Currently when it comes to Apple (NASDAQ:AAPL) there are two aspects that stand out:
- A probable lower corporate tax rate on repatriation that would benefit Apple as it has around $216 billion in overseas cash. Without any doubt this favors Apple and its shareholders because a good part of that amount would be applied in increasing dividends and also in innovation.
- Increasingly, Apple is turning out to be a service company rather than a product cycle company. Augmented Reality (NYSE:AR) is being regarded as an important strategy given that it can be part of Apple's business on a long-term basis.
In fundamental terms I do not see Apple wobbling, although the development of its products and also its position in the market is less aggressive. Anyway, there is one aspect that puzzles me: why Apple has not taken more advantage of the huge problems that Samsung (OTC:SSNLF) knew a few months ago. According to data from Gartner, in the global top five the companies that had increased their market share in the third quarter of 2016 were three Chinese Smartphone vendors (Huawei, Oppo and BBK Communication Equipment). Samsung dropped about 14% but kept the top position still way ahead of Apple which remains No. 2.
At the same time, for a company with around $630 billion in market cap to have a ROE of 35.60% and a ROA of 14.20% is noteworthy. Operating cash flow has continued to be large and the gross margin of 39% has remained very close to the levels of previous years. It should be noted that Apple spent more than $10B on research and development in 2016 - 25% and 65% more than in 2015 and 2014, respectively.
Now we need to look at how Apple's stock price has behaved. The three-year daily chart below is illustrative:
a) In April 2015 following a top at $129.92 there was a reversal in the uptrend that had been in place since 2003.
b) From there, share price fell steadily and made a bottom in May 2016 at $88.53. Soon after a new trend reversal has appeared showing a series of higher highs and higher lows that have denoted a renewed force.
c) The intermediate top at ~$118 in last October was too hard to beat and there was a significant pullback. Recently a new attempt to exceed this value is now under way.
d) In this phase of recovery, the rise to new levels is fundamental. Undoubtedly, the resistance indicated by the green horizontal line is decisive in order to see if the upward movement is maintained.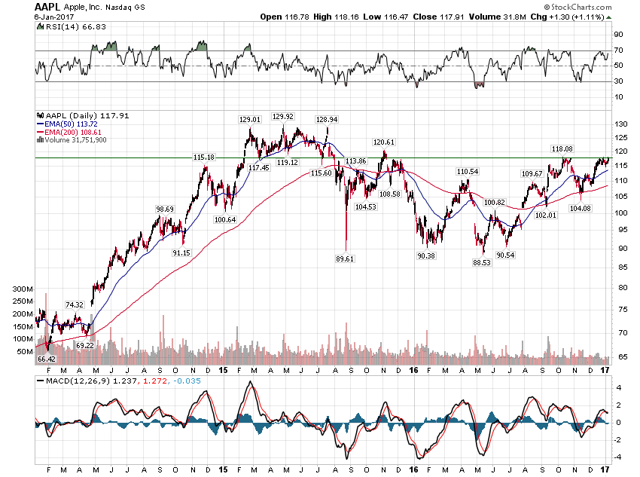 Chart courtesy of StockCharts.com. Note: The chart is in semi-logarithmic scale.
Apple's share price is at a crucial stage. Now it's not a question of returning to the great long-term upward trend that was broken in 2015. There is now another uptrend on a lower level and with a more moderate slope that will continue to be bullish if the indicated resistance is exceeded soon.
Conclusion
It is no longer enough to have some remarkable improved products every year. Apple is engaged in many decisive actions with the aim of creating new products and features. But the company needs to stand out again with true innovations that appeal to the public. Only then will the price of its shares rise more easily, reflecting a leading position and growth.
Apple's fundamentals are solid and even a company of its size has room to grow in the long term. Even with the excellent generation of annual cash flow, it is noted that the company has potential for more. This is what is being discounted in the price of its shares and that is the reason why the rise is not strong. Prices should show strength to move beyond the indicated barrier of $118. If this happens without too much delay, investors will show that they believe in the value of the company and its future growth.
Disclosure: I/we have no positions in any stocks mentioned, and no plans to initiate any positions within the next 72 hours.
I wrote this article myself, and it expresses my own opinions. I am not receiving compensation for it (other than from Seeking Alpha). I have no business relationship with any company whose stock is mentioned in this article.
Additional disclosure: The author of this article is not an investment adviser and gives only his personal view and opinion, never making any investment advice or recommendation to buy or sell specific securities. Investors in financial assets must do so at their own responsibility and with due caution as they involve a significant degree of risk. Before investing in financial assets, investors should do their own research and consult a professional investment adviser.