Surprisingly to many, the markets have been on a tear since Donald Trump's election victory. On the night of the election, S&P 500 futures were down over 5% but the index SPY ended up over 1% on the first full day of trading after the event and is now up over 6%.
Looking at historical data, perhaps this shouldn't have been so surprising.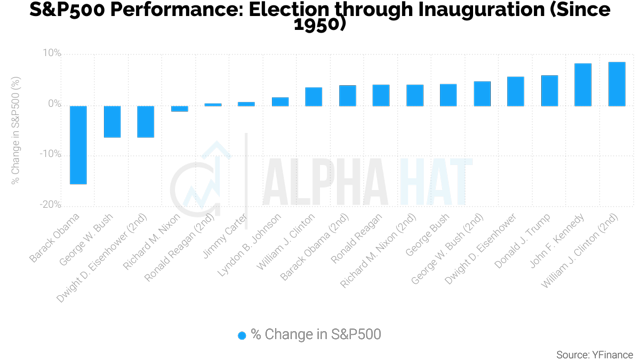 Since 1950, only four presidents have experienced negative markets between their election victories and their inaugurations. Two of those presidents (G. W. Bush and Obama) were elected in the thick of market downturns (Dot-com crash and financial crisis, respectively). The markets appear to like new presidents, at least through to their inaugurations.
Judging presidents based on their first full-year post-inauguration, the S&P 500 has a median return of +7.5%. However, there's a noticeable differential between Republicans (-7%) and Democrats (+14.5%).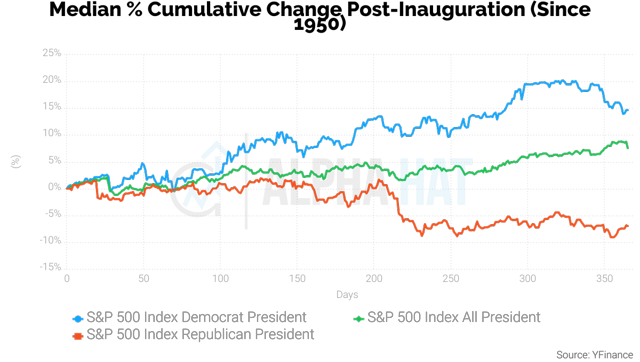 Looking more specifically at Republican presidents, only three out of nine terms since 1950 have experienced positive markets in their first year post-inauguration - Ronald Reagan's second term (+17.5%), George Bush (+18.3%) and George W. Bush's second term (+7.3%).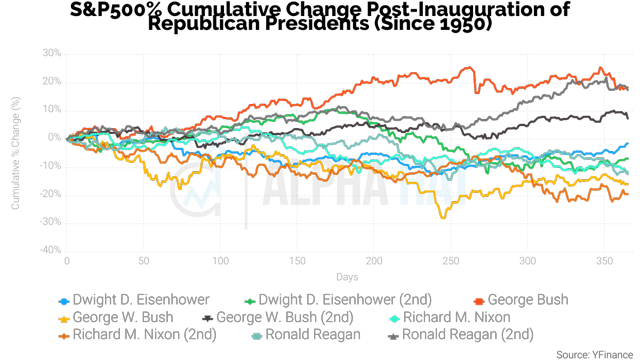 Admittedly, there are plenty of other factors that go into market movements so these analyses are in no way conclusive. However, data shows us that we shouldn't have been too surprised at the strength of the markets post-election but we ought to be a little cautious as we face the reality of President Trump over the next year.
A word on Alpha Hat:
Alpha Hat enables investors to ask the question, "what happens when X occurs?"
What happens when Donald Trump Tweets?
What happens when oil increases 10% in a month?
What happens when Apple releases a new iPhone?
Let us know what questions you'd like to ask and we'll answer them for you.
Disclosure: I/we have no positions in any stocks mentioned, and no plans to initiate any positions within the next 72 hours.
I wrote this article myself, and it expresses my own opinions. I am not receiving compensation for it. I have no business relationship with any company whose stock is mentioned in this article.