I last wrote about McDonald's (NYSE:MCD) back on April 26th of last year. In that article I recommended caution on this stock. While McDonald's had indeed come a long way to turn around its business into consistent, same-store growth, I was concerned that the following quarters would have more difficult comparisons, and that, more importantly, that the stock had already run a good long way.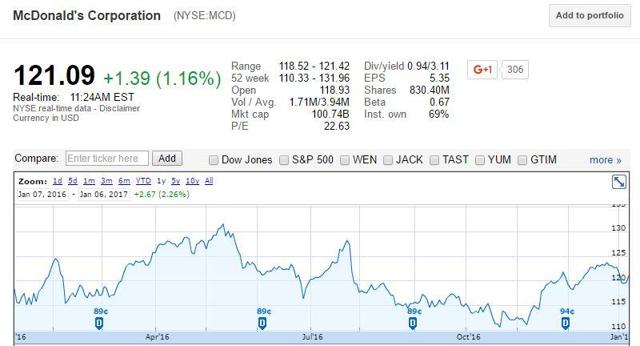 Courtesy of Google Finance.
Was I right? Well, it's eight months later and McDonald's has drifted down, recovered some, but is still around 5% lower than where it was back then. In that article I said there was "plenty of potential downside if earnings and sales momentum taper off."
Since then, earnings and sales momentum have continued to be pretty good. This is, in my opinion, why shares went down by only a little and not by a lot. This article takes a look at where McDonald's has gone since then, specifically its earnings, dividend and valuation.
High quality growth
Back in 2014 and 2015 McDonald's, as well as much of the rest of the restaurant industry, was in a bind. It seemed people were going out to eat less, and when they did go out, were making some very different choices than usual. Many people in the industry summed it up to "a need for healthier choices," but consumers weren't much responding the to the usual 'reduced fat' or 'reduced calories' approach.
In March of 2015 Steve Easterbrook, previously a brand manager for McDonald's in the UK, took over as CEO and promptly set about cleaning house. McDonald's took a more "customer-centric" approach and focused more on franchisee ownership of stores as opposed to corporate ownership. The company also re-classified its geography, classifying 'international lead markets,' 'high-growth markets,' 'foundational markets' and the US market.
The result of this shakeup has manifested itself in many ways, depending upon geography. In the US, McDonald's rolled out all-day breakfast, which was really a no-brainer but had quite an effect anyways. Management also began to phase out chicken nuggets from chickens fed antibiotics, and removed high fructose corn syrup from it hamburger buns. The latter of which, by the way, was why I stopped eating at McDonald's years ago. Now that HFCS has been removed from hamburger buns, I might actually go to McDonald's again, for what that's worth.
There were many other aspects of this turnaround, but a lot of this is centered around localization and technology. Self-order kiosks and moveable menu boards are allowing for a more detailed menu overall, providing a broader range of choices. A new content management system can remind customers of relevant products depending upon the type of day outside, or even the weather. All of this is driving up customer satisfaction, which is a great thing.
This quarter, global comparisons rose 3.5%, with sales growth in all segments. Operating income rose 5%, and was up 7% in constant currency. On the quarter, EPS rose 7% and management decided to raise its dividend 6%.
One thing is for sure; investors are more than happy to pay up for that kind of high single-digits growth from a non-cyclical S&P 500 company, and it shows. Operating EPS sits at 20.9 times per share. According to data from FAST Graphs, shares have averaged 17.8 times earnings over the last ten years. In other words, McDonald's is still trading at about 17.5% above its average valuation. Investors are paying up for what McDonald's has.
The big question is how much longer this growth will persist. I think this trend can go on for awhile, especially with management utilizing technology and switching to franchisee ownership. The company is firing on all cylinders, doing many right things. Steve Easterbrook is a darn good CEO and an asset to the company, I believe.
Is McDonald's a buy?
McDonald's now yields a solid 3.11%, and that dividend looks poised to continue growing by the mid to high single digits, and analyst expectations are for 8% EPS growth in 2017, but I prefer waiting for management expectations for the year.
I prefer buying McDonald's when its valuation is closer to its average valuation, or even below it. Because shares remain at such a premium, I think a lot of that upside is baked in. Still, if you want a high-quality name with solid growth in both dividends and earnings, McDonald's is a well-managed company and a solid choice.
If you're interested in McDonald's, feel free to follow me on Seeking Alpha. I intend to write update articles when doing so is both material and relevant.
Disclosure: I/we have no positions in any stocks mentioned, and no plans to initiate any positions within the next 72 hours.
I wrote this article myself, and it expresses my own opinions. I am not receiving compensation for it (other than from Seeking Alpha). I have no business relationship with any company whose stock is mentioned in this article.