Again, Twitter (NYSE:TWTR) needs a new CEO.
As I've noted, ideally, Jack steps down (or gets fired - more likely) from TWTR in 2017 and runs Square (NYSE:SQ) full-time. By all accounts, there's no buyout coming. But who can oust Jack Dorsey? It seems everyone in the C-suite has exited except Dorsey. It'll likely take an outside force, as Dorsey won't willingly step down - and instead, is consolidating his power.
Dorsey is one of the few executives still standing. Over the last year, Twitter has lost its COO, SVP of Engineering, VP of Global Media, VP of Human Resources and Chief Development Officer. The few remaining executives include its CFO and Chief Accounting Officer - the "money men." Then, we saw more "exits" this week, with its CTO stepping down.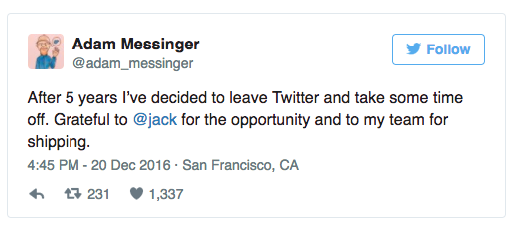 Messinger's leaving follows the departure of Twitter COO Adam Bain. The C-suite is in shambles at Twitter. The company has shown it doesn't have a strategy to get more users to the platform, but more importantly, it doesn't have a plan to keep the users it does have.
The same day that CTO Messinger left the company, its SVP of Product who oversaw advertising product development also left. The demeanor within the company is deflated. Former COO Bain was said to be an internal cheerleader and optimist. Now, you have the company CFO, Anthony Noto, stepping into the COO position while the company looks for another CFO. Noto, who's pretty much handling COO and CFO duties right now, can likely add CTO duties to that with Messinger's exit.
Dorsey is becoming even more central, with Twitter's engineering, product and design heads now reporting directly to him. Dorsey notes, "I'll be working even closer with our engineering and design teams to ensure we continue to be the fastest and best service to show what's happening in the world."
If insider selling is a sell signal, what is insider resigning?
If an insider sells his/her stock, it can be a bad omen. Or, maybe not, Insiders sell for various reasons. Now if everyone in the C-suite started selling, well something would be amiss and we could be in for a bumpy ride as the company might be embarking on some rough patches. But if the entire C-suite leaves, then there's simply not just rough patches, there is no road, no path forward (at least not one that these executives can see/find). It appears the turnaround plan isn't gaining traction.
Management sees the platform struggling, and yet no one has any answers for strategy or direction. The C-suite remains too indecisive. Rather, this is an opportune time to do just that - build an executive branch that is product and media focused, and not tech heavy. The 9% layoffs that Twitter did in October was a first step, ridding the company of excessive engineers and costs.
The problem with the executive exodus isn't just an unclear growth/turnaround strategy, it's that partners will likely take notice. Companies are going to be reluctant to partner with a company that lacks sound and consistent management, as well as lacking a plan. Companies will eventually get fed up of slow-to-no growth in users and an inability to jump start engagement.
The NFL took a chance on Twitter, and it remains to be seen how it plays out or if they'll renew. Twitter saw a boost in ad revenue, but with the executive "issues," I wouldn't expect to see Twitter enjoy a boost in revenue for the fourth quarter. Rather, as Twitter has been focused on boosting daily usage, we're likely to see a fall in 4Q ad revenues. That would be the first every year-over-year ad revenue decline ever for Twitter.
This is an ideal time for an activist investor to step in and have a big say in building up a new and competent management team. One without Jack Dorsey. However, it'll likely be until after 4Q numbers if anything is to happen. 4Q may prove to be a buying opportunity for any activist looking to make a move, as there will be plenty of product and marketing execution risks and hiccups, which will be funneled through to forward outlooks.
Twitter, which is no longer a "tech" company, shouldn't trade as such. Instead, it's a media platform (planning to roll out breaking news notifications) - and dare I say, a glorified chat room. My time spent on Twitter, like many people I follow and read about, has fallen precipitously over the last year. With that, it is not a tech company, nor a growth story, and shouldn't trade as such.
Twitter shares trade at 5x sales, rich for a media company. The "most expensive" media publisher out there is the New York Times (NYSE:NYT) at 1.5x sales. But as a purely online "publisher" fair value for Twitter is somewhere around 3x sales right now. All the low-level tech platforms that act more as connectors for a niche community, such as Angie's List (NASDAQ:ANGI) and Yelp (NYSE:YELP), have hovered around the 2x-4x range. At 3x sales, Twitter should trade for $12 a share. That will likely happen over the next 12-18 months unless we see a major shakeup with the Twitter CEO slot.
Disclosure: I/we have no positions in any stocks mentioned, and no plans to initiate any positions within the next 72 hours.
I wrote this article myself, and it expresses my own opinions. I am not receiving compensation for it (other than from Seeking Alpha). I have no business relationship with any company whose stock is mentioned in this article.