Recently, Synthetic Biologics (NASDAQ:SYN) announced positive phase 2b results for its trial treating patients with C. difficile infection. The stock took off in pre-market gaining 20% but ended the day by only closing up by 1.5%. The fact that the phase 2b trial met its primary endpoint means that the product to treat C. difficile infection, SYN-004, works in the patient population. While the stock didn't take off now, it doesn't rule out the possibility for a later rally to happen. On top of receiving these positive results, the company had already achieved positive results for its other mid-stage product known as SYN-010. That candidate is being used to treat patients with Irritable Bowel Syndrome with Constipation. It too achieved the primary endpoint of the study and the company had already met with the FDA for an end of phase 2 meeting. The company recently completed dilution in November. If all stocks and warrants are exercised that would give the company around $103.8 million to work with.
Phase 2b SYN-004 Results
The phase 2b trial of SYN-004 recruited a total of 412 patients in a placebo controlled trial. Patients either received 150mg of SYN-004 -- ribaxamase -- or a placebo orally. The treatment path was from Day 1 until 72 hours following last treatment of IV ceftriaxone. The primary endpoint of the study was reducing C. diff infection in patients. SYN-004 was able to greatly reduce risk by 71.4% compared to patients taking the placebo. With the goal of the study achieving its primary endpoint and other key endpoints it seems that this drug is on the right path to the next stage of clinical testing. The drug also showed that it was able to reduce bacterial colonization compared to placebo with a p-value of p = 0.0002. It even met the secondary endpoint of being able to reduce the incidence of antibiotic associated diarrhea with a p value of p = 0.13. These results are important as evidenced by this quote from Joseph Sliman, who is an MD, SVP, and clinical regulatory affairs for the company:
"More than 453,000 patients are diagnosed with CDI annually in the U.S. resulting in approximately 29,000 deaths as well as significant and sometimes prolonged illness. Ribaxamase has the potential to shorten hospital stays, diminish morbidity and mortality and reduce the emergence of antibiotic-resistant organisms in the gut microbiome by protecting patients from primary C. difficile infection resulting from antibiotic use"
The quote above describes exactly what problems hospitals face on the excessive use of IV antibiotics. C. difficile infection stems from IV antibiotic use. Ironically, current treatment options for C. difficile infection are you guessed it more antibiotics.
Such antibiotics used to treat C. difficile are:
Metronidazole - marketed as Flagyl -- it has not been approved by the FDA to treat C. difficile infection, but has been shown to work pretty well in mild to moderate cases anyways. This drug is produced by GD SEARLE LLC, which is a subsidiary of Pfizer (NYSE:PFE).
Fidaxomicin - marketed as DIFICID -- has been approved by the FDA to treat C. difficile infection but is the most expensive oral antibiotic of them all. Plus it has terrible side effects such as abdominal pain and nausea. This drug is produced and marketed by Merck (NYSE:MRK)
The problem is that additional antibiotic treatments may cause more harm than good. While they may work, there is a possibility of antibiotic resistance occurring. In addition, there is a greater likelihood that C. difficile infection could reoccur. At least 20% of patients with C. diff get the infection again. Either because it was never fully cleared from the system in the first place, or they have a weakened immune system. The SYN-004 drug is being developed to be co-administered with IV antibiotic to maintain gut balance to prevent C. difficile infection. The image below demonstrates the activity and process that occurs when SYN-004 is at work: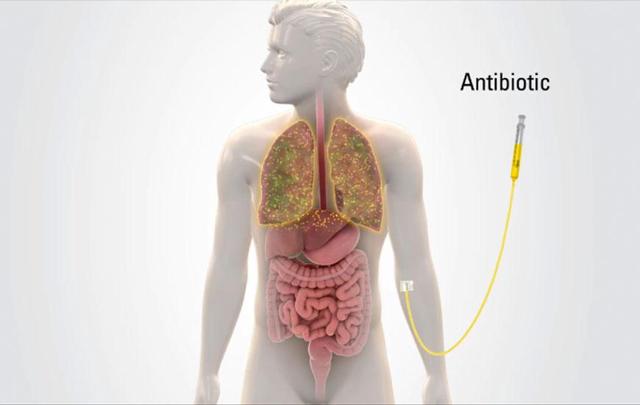 Image Source
In other words, already approved antibiotics help treat the C. difficile infection that has already happened. SYN-004 is being co-administered together with IV antibiotic treatment to prevent it from happening in the first place. It makes sense that if such as drug such as SYN-004 is eventually approved it would greatly take market share away from FDA approved antibiotic drugs that treat C. difficile.
Phase 2b SYN-010 Results
Synthetic Biologics was also able to achieve positive phase 2 results in another indication. This provides a backup target that greatly reduces investor risk. This targeted indication is in patients with Irritable Bowel Syndrome with Constipation or IBS-C. There were two studies set up into one. Patients were recruited into the first part of the phase 2 study. The first part of the study was a double-blind randomized control study. Patients either received 21mg, 42mg of SYN-010 or a placebo instead. This treatment was prescribed over a 4-week period, and those patients who completed the first part of the study moved on to the second part. The second part of the study moved on with patients being treated with SYN-010 for an additional 8 weeks. The final outcome was positive as there was a clinically meaningful reduction from baseline from part 1 to the end of the study of part 2. In other words, it was able to improve the outcome of the IBS-Symptom Severity Score which includes: Bloating, abdominal pain, stool frequency, quality of life. When comparing the drug SYN-010 to placebo, the drug achieved a statistical significance of p < 0.004. Dr. Pimentel explains the positive results with this quote:
"Results from the first and second phase 2 clinical trials of SYN-010 presented during DDW 2016 continue to suggest the potential ability of both the 21 mg and 42 mg dose strengths of SYN-010 to lower breath methane in IBS-C patients and treat an underlying cause of the abdominal pain and bloating associated with this disease. Unlike current treatments, which are focused on relieving symptoms, outcomes from these latest SYN-010 studies strongly suggest a potential role for SYN-010 in treating an underlying cause of IBS-C by reducing the production of methane in the gut and improving the quality of life for IBS-C patients"
The key point in this quote is that the SYN-010 drug has an advantage over other drugs that treat IBS-C. That is because SYN-010 treats the underlying cause of the symptoms. Other FDA approved drugs only treat the symptoms after the fact, but do nothing to help the underlying cause of the problem. This is where SYN-010 can shine to potentially become standard of care in the market. For example there is a drug known as Linzess -- linaclotide -- which comes from Allergan (NYSE:AGN). It is marketed to treat patients with IBS-C and Chronic Idiopathic Constipation. Such a drug helps with the symptoms that these patients may experience as noted above like bloating, and increasing bowel movement. What the drug doesn't do is treat the underlying cause of the disease. SYN-010 on the other hand will treat the main underlying cause of IBS-C by reducing the production of methane in the gut. This is clearly a good advantage SYN-010 will have should it make it past phase 3 testing and ultimately once approved by the FDA.
Two Big Markets
The stock price surged in pre-market but wasn't able to hold its gains closing just about flat for the day when the results were announced. Again, this could be because of the huge common stock and warrant overhang. The good news is that over time as the positive results are analyzed there could be a significant move going forward. This is especially true if you factor in the market opportunities for both SYN-004 and SYN-010.
First, lets take a look at SYN-004. As noted above the drug would partially eliminate the need for oral antibiotic drugs to treat C. diff. According to research and consulting firm GlobalData, the C. diff. market is expected to grow to a $1.5 billion market by 2024. Just in 2014 alone it was a $356.3 million to market. According to this research firm the C. diff indicaion market is growing by 15.8% each year. This provides Synthetic Biologics with a billion dollar drug market opportunity by the time it is possibly approved.
Now, lets take a look at SYN-010. The irritable bowel syndrome market is another billion dollar market opportunity. Both Allergan and Ironwood anticipate Lizness -- their marketed IBS-C drug -- to reach peak U.S. sales of $2 billion. The full year profit for Lizness at the end of 2015 was $450 million in sales. Keep in mind that Lizness only helps with the symptoms, but SYN-004 has the potential to earn more as it will be used as a preventative type drug, should it eventually be approved by the FDA.
Another company working in the IBS-C space is known as Synergy Pharmaceuticals (NASDAQ:SGYP). It has a drug known as Plecantide which is currently in phase 3 testing for IBS-C. To outline the potential of the drug it too has made it clear how good the market potential is for such a product. The market potential is outlined in the graphic below: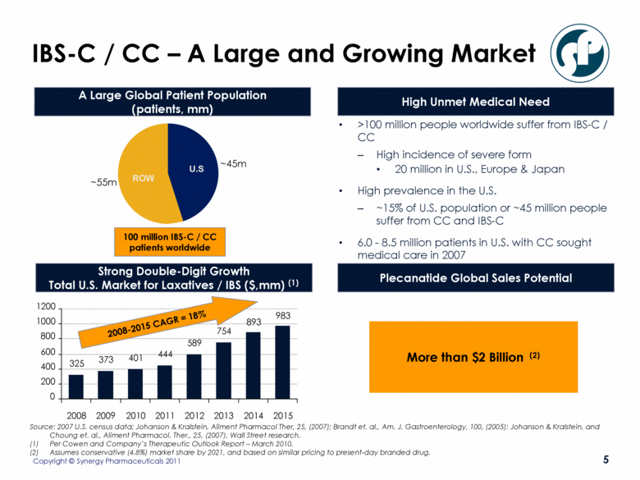 Again, another iteration of the sales potential of IBS-C treatment to reach a potential $2 billion or more in sales. In addition, it is noted above that the market continued to grow at an annual rate of 18% every year from 2008 to 2015.
Pre-Clinical Candidates
Through the work of research collaborations Synthetic Biologics is teaming up with Intrexon (NASDAQ:XON) to deliver two additional candidates in the pipeline. One thing to keep in mind is that these candidates are in the pre-clinical stages of testing. In other words, it will be awhile before they reach mid-phase or late-stage testing. Still, it is nice to have additional candidates in the pipeline to reduce investor risk. Should something go wrong with SYN-004 or SYN-010 then investors may still have a chance to recover any losses.
The first candidate in pre-clinical trial testing is SYN-005 which is being co-developed with Intrexon and academic researchers at the University of Texas Austin. The drug is being tested in children with Pertussis -- whooping cough. The drug includes a combination of two antibodies that includes huB17. Pertussis is a dangerous disease for an infant because the uncontrollable coughing makes it very hard to breathe. It is caused by a bacterium Bordatella Pertussis as shown in the graphic below: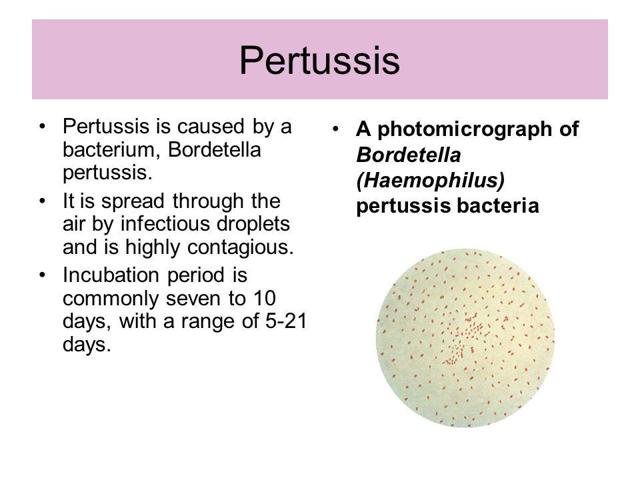 The good news is that Pertussis might be preventable with a vaccine. This is through a vaccine that is known as DTaP, which stands for Diphtheria, Tetanus, and Pertussis. This vaccine covers all these diseases. The problem is either parents don't get their children vaccinated or access to such vaccines don't happen as often as they should. For older children and adults the disease is not so bad, but for infants under the age of 6 months it can be deadly. That is because no coughing occurs in infants, but the incidence causes a halt to breathing. The whole goal of the SYN-005 program is to administer the antibody at birth to determine if it can prevent infants from obtaining pertussis. If it works out well this may be another good alternative measure instead of infants having to get a vaccine. Just how much focus is there to getting alternative treatments for Pertussis to market? It is quite important to the Gates Foundation, which has awarded a grant for all pre-clinical work relating to this product. The collaboration team working on this disease obtained $400,000 to fund the pre-clinical work of this in non-human primates. Why is the gates foundation interested in helping to find alternative treatments? It is a high unmet need disease that causes at least 300,000 deaths each year. The majority of deaths happen in infants within the first four months after birth. If SYN-005 ends up being successful it can end up saving thousands of lives each year if not more.
The second pre-clinical candidate is known as SYN-200. It too deals with a debilitating disease, known as Phenelketonuria -- PKU. This PKU disease is a metabolic disorder that causes a build up of Phenelalanine. Some of this substance in the body is not bad, but this inherited disease causes a massive build up of Phenelalanine in the body. The excessive buildup of this substance can lead the infant to have serious problems. The graphic below shows that Phenylalanine in small amounts is needed, and can be found in different food groups. It is just that when the inherited disorder causes a buildup of Phenylalanine that is just too much for the body to handle.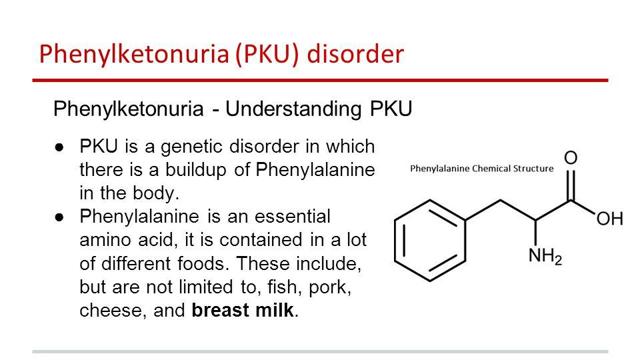 Such problems include: Development of permanent intellectual disability, seizures, delayed development, behavioral problems, and the possibility of a psychiatric disorder. The disorder is tested immediately by using a blood test on the newborn's feet. It is performed 1 to 2 days after birth, and can immediately detect if the new born has a form of PKU. To deliver this compound Synthetic Biologics is using Intrexon's delivery system known as the ActoBiotics platform. This delivery platform will the therapeutic protein to be delivered to the gastrointestinal tract through food-grade microbes.
Financials
One of the main problems that greatly affects biotechnology stocks is dilution. The good news is that Synthetic Biologics performed a raise in November of 2016. The company raised up to $25 million in total. Although, if all the warrants are exercised it could net the company up to an additional $78.8 million. This would bring total cash of $103.8 million. That's not to say that it would be enough to run a phase 3 and everything else in the pipeline over an extended period of time. If any dilution is to occur again it probably wouldn't happen until sometime in 2018. Especially, since the company just raised money a few months ago. This means that the risk of dilution in the near-term has been eliminated. Plus with the two phase 2b trials hitting the primary endpoint of each study, it shouldn't be difficult for Synethics to possibly find a partner for one of these programs.
Risks
Synthetic Biologics has shown some positive phase 2b results in two indications but that doesn't entirely take away the whole risk factor. As shown above, it will still have to run large confirmatory phase 3 trials before it can take its drugs to the FDA for approval. Phase 3 trials are a lot tougher than phase 2 because the goal to hit is far more difficult. In addition, the larger patient population can change the data outcome.
Therefore, phase 2 is a good indication of how good a drug is but will not with 100% certainty predict the phase 3 outcome. Even though there is no dilution in the near-term that doesn't mean that there won't be another raise in the future. If the company is unable to find a suitable partner to run both phase 3 trials, it will have to further dilute shareholders to complete the trials. In addition, the common stock and warrants may act as a deterrent for the share price. This is a risk that an investor must keep in mind before entering a position.
The good news is that like all other biotechnology stocks it's a risk going into phase 3. If the company is successful with both phase 3 trials then the short-term dilution to fund the trials won't matter. On the flip side, if both trials fail then the dilution will continue to act as a huge overhang. Even if the drugs make it to market they will have to deal with competitors. As noted before the IBS-C space is starting to heat up with other competitors such as Synergy Pharmaceuticals. In addition, there are currently some forms of treatment for IBS-C and C. difficile. Therefore, it is too early to tell how well both SYN-004 or SYN-010 will do should they be approved by the FDA.
Catalyst:
Initiation of phase 2b/3 trial for IBS-C SYN-010 program set to start in Q1 2017
Conclusion
Synthetic Biologics just proved itself in not one, but two phase 2b trials targeting billion dollar markets. Although phase 3 trials may need to be done to confirm these findings, the future looks very bright for this company. The current market cap of the company stands at $105 million, which is very small for all the company's prospects. That's why the current share price of $0.89 per share provides investors with an attractive entry point. As the phase 3 trials prove themselves in time that should value the company much higher close to billions in market cap. Of course, such a valuation will occur if the FDA approves its products for the market. Even then, the results to date from both phase 2b trials should have garnered a higher valuation than the current market cap. That's what makes it a great opportunity for those seeking a long-term investment.
Disclosure: I/we have no positions in any stocks mentioned, but may initiate a long position in SYN over the next 72 hours.
I wrote this article myself, and it expresses my own opinions. I am not receiving compensation for it (other than from Seeking Alpha). I have no business relationship with any company whose stock is mentioned in this article.
Editor's Note: This article covers one or more stocks trading at less than $1 per share and/or with less than a $100 million market cap. Please be aware of the risks associated with these stocks.