Adidas (OTCQX: OTCQX:ADDYY) capped off a fantastic year with a 63% share price increase and a renewed presence in the all-important region of North America. The company finally found success in the United States by capturing the attention of fashion-conscious consumers and capitalizing on the popularity of retro styles such as the Stan Smith and Superstar.
The company will, however, face a difficult time in 2017 trying to replicate its past year's success due to tough quarterly comparisons and several other roadblocks. In this article, I'd like to elaborate on some of the headwinds that the company currently faces and what it needs to do in order to continue taking market share from Nike (NYSE: NKE) and continue growing at a solid clip.
I'd like to add that while I first wrote about Adidas on Seeking Alpha in September 2016 when its share price had already increased considerably, (click to enlarge), I began encouraging people to invest in Adidas during the first half of 2016 through a series of posts on StockTwits. The company's share price has increased by over 25% since I first wrote that Adidas was a buy.

Foreign Currency and Profitability
I've mentioned this in prior articles but the continued strength of the dollar will most likely lead to deteriorating gross margins in the upcoming quarterly earnings reports. Adidas, while it is a German company, manufactures its products in Asia and pays these Asian suppliers in USD. As such, a strong USD is a headwind for Adidas and one of the reasons why gross margins declined .9 basis points from Q3 2015 to Q3 2016. Operating margins also declined from 10.6% to 10.4% from Q3 2015 to Q3 2016, an area which Adidas has always struggled in. I would urge shareholders to monitor the dollar as it plays a significant role in shaping Adidas's bottom line.

Adidas's operating margins and overall profitability levels have always paled in comparison to those of Nike's, for a number of reasons: Reebok's weakness and slow growth have weighed on Adidas's bottom lines, and Adidas's weakness in past years in the United States gave the company little room to increase profitability. Its products have traditionally not had the pricing power of Nike's, another reason why its profitability levels have been weak. New CEO Kasper Rorsted addressed this in the Q3 earnings call and vowed to help the company's bottom line, with his first initiative being to cut part of Reebok's workforce and restructure the ailing fitness brand. Rorsted will need to improve Adidas's profitability in order to please shareholders and to continue the company's share price appreciation.
Performance Market
Adidas's success in 2016 came on the backs of teenagers and millennials, who flocked to the company's popular retro models such as the Stan Smith and Superstar. Models such as the Ultra Boost and NMD became pop culture heavyweights, earning the approval of pop culture magazines such as Complex, which argued that the Ultra Boost "changed everything for Adidas". Adidas also collaborated with big name hip-hop stars such as Pharell, Kanye West, and Fetty Wap, earning the company a niche in America's hip-hop and fashion worlds.
However, Adidas needs to be able to take some market share in performance areas, which it has continued to struggle in. Nike is still dominant in basketball, football, and the majority of America's performance sports, although Under Armour (NYSE: UA) has made some progress particularly in basketball and football.
Adidas is clearly aware of this issue as it has introduced a broad swath of new basketball shoes that incorporate the company's popular Boost technology and has made renewed efforts to market and sponsor American athletes. Only time will tell if these efforts will prove successful for the company and whether it has the potential to challenge Nike long-term.
North America Momentum
Adidas has been on an absolute tear in North America, with its Adidas brand (excluding Reebok) posting a 29% increase in year/year sales in Q3 2016. The company has seen a reversal in fortune in North America and the US in particular by focusing on product quality and increasing the number of its athlete and celebrity sponsorships. Many critics have warned that Adidas's growth has come primarily from its lifestyle-oriented Originals line, which is dangerous as fashion trends are subject to change.
Adidas has fought back against this line of thinking by working hard to introduce new models, according to NPD Sports Industry analyst Matt Powell, who wrote that "Adidas and Puma should stay hot in 2017. Both brands are working hard on diversifying from their narrow base of hot styles" . The company currently has a high valuation largely due to the momentum that it has in the all-important North American region, so shareholders will need to pay attention to whether or not Adidas will be able to continue this rapid pace of growth.
I believe that Adidas will continue to post high growth rates in North America, as I think the company is making a strong push both in the performance and fashion markets and am encouraged by the popularity of its Boost technology and products. I also regularly search for tweets by searching keywords such as "Adidas killing" and "Adidas shoe game" and can attest to the fact that Adidas and its products are receiving a lot more social media attention than either Nike or Under Armour. Tweets like these appear daily, yet results are sparse when I perform the same queries with Nike or Under Armour substituted for Adidas.

I would like to qualify my statements by noting that Twitter is just one source of consumer sentiment and is used primarily by younger people, which doesn't make it the best or most comprehensive source of data. However, this informal social media analysis is in my opinion an encouraging sign for shareholders and a testament to the growing strength of the Adidas brand.
Google Trends data is also encouraging and shows that queries for Adidas have been steadily increasing over the past few years. Even more compelling is the fact that the gap between searches for Adidas and Nike has continued to decrease significantly.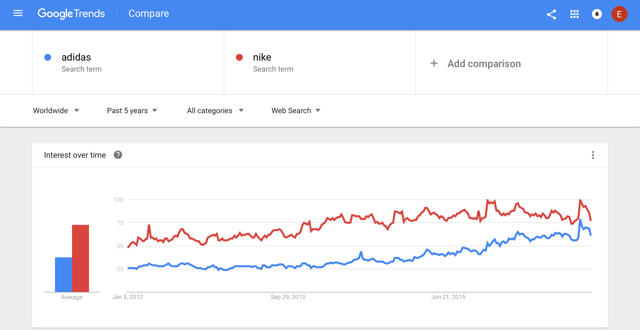 Valuation
Adidas currently has a PE ratio of 30x and a market cap of $31.39 billion. Approximately $20 billion in revenues is expected for FY 2016, which puts the company's price-sales ratio at 1.6x. The company's PE ratio is higher than Nike's which is currently at 23.75 for a number of reasons: Adidas is growing at a faster rate (17% increase in revenues as per its last quarterly report as opposed to 8% for Nike) and there is an expectation that CEO Kasper Rorsted will be able to improve the company's profitability and margins.
If he is successful, shareholders should see the PE ratio contract and the price-sales ratio start to increase as Nike's is much higher at 2.7x. If the company is able to improve its bottom line, then a price-sales ratio of 2x should be quite reasonable, which would mean a market cap of $40B and a 30% upside from the current share price level.
However, this is contingent upon whether or not Adidas will be able to improve profitability, an area in which it has traditionally struggled. The strength of the dollar is another headwind for Adidas's bottom line and it will be important to see whether or not the company is able to boost margins.
Conclusion
While Adidas continues to enjoy strong momentum globally and the United States in particular, its share price has appreciated significantly in 2016 to where I don't think it has much upside potential in the short-term.
However, I believe that in the long-term Adidas represents a solid value and should appreciate significantly as long as the company is able to improve profitability and grow at a solid pace. I will continue to update readers on the company's prospects as new trends and information arise.
I've spent the majority of my time in equities analyzing sportswear companies, and welcome any questions or disagreements either in the comments section or to my email (email address is in my Seeking Alpha bio). Thanks for reading!
Disclosure: I/we have no positions in any stocks mentioned, and no plans to initiate any positions within the next 72 hours.
I wrote this article myself, and it expresses my own opinions. I am not receiving compensation for it (other than from Seeking Alpha). I have no business relationship with any company whose stock is mentioned in this article.
Editor's Note: This article discusses one or more securities that do not trade on a major U.S. exchange. Please be aware of the risks associated with these stocks.