2016 is over and AMD's (NASDAQ:AMD) market capitalization has risen from $2.178 billion to $10.21 billion today - a 377% increase over the past year.
AMD has traded at this level on only two other occasions before: Q2-Q3 of 2000 and Q4 2005 - Q1 2007. The rise in market capitalization in both occasions came with the release of a competitive CPU processor/architecture.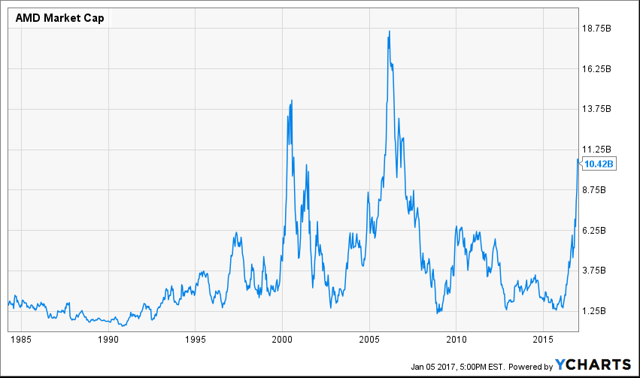 AMD in 2016/2017 is beginning to look a lot like AMD's most successful periods in 2000 and 2006. I'd like to examine catalysts then and now to gain insight on where AMD may be headed.
Valuation in 2000
In June 1999 AMD debuted their K7 Athlon processor. This processor was a success and competed well with Intel's offerings. AMD's Athlon processor brought AMD from a $2.82 billion valuation in June 1999 to a peak $14.32 billion valuation in July 2000.
But Athlon was the only catalyst for the over 400% growth in market cap during this period - and it came with only a 20% CPU market share.
What is interesting about AMD at the time, however, was there was no appreciation in its market capitalization prior to Athlon's release. In fact, it was not until September of 1999 (when I assume AMD reported strong guidance for fiscal Q4 1999) that the stock's ascent had begun.
For the next few quarters AMD reported increasing EPS as shown below until its eventual descent in July 2000. This represented a period of approximately 9 months which greatly rewarded AMD shareholders.

Data from Ycharts.
Valuation in 2006
In May 2005 AMD debuted their K9 Athlon 64x2 dual-core processor for desktop and server. This launch was also accompanied with AMD's Turion mobile technology for notebook PC's. AMD was even more competitive this time around and in some respects ahead of Intel's offerings.
AMD's market cap rose appropriately from a $5.95 billion valuation in May 2005 to a peak $18.6 billion valuation in February 2006, a 213% rise.
This time around AMD wasted no time as its rise in market capitalization began directly following the K9 Athlon release. And, once again, its fundamentals met the hype as AMD continued to report increasing EPS for the next few quarters.

Data from Ycharts.
But, as it goes, history had a way of repeating itself. Approximately 9 months later AMD's stock was headed downward, and in the exact time frame it had with the K7 Athlon release.
AMD Today
AMD currently sits at a $10.42 billion valuation. Zen is coming in Q1 of 2017. The question is: How can we use knowledge of AMD's past performances to infer where the stock may be headed today?
First, AMD's fundamentals caught up to the increase in valuation in both occasions, and quickly. In Q3 of 1999, when the K7 Athlon debuted, AMD reported EPS of -$0.36. In Q3 of 2000 AMD reported EPS of $1.31. Quite the difference.
In a similar but less dramatic fashion, in Q2 2005, the K9 Athlon debuted. AMD reported EPS of $0.03. In Q1 of 2006 AMD reported EPS of $0.38.
Almost as a sidebar, but interesting nonetheless, in Q1 and Q2 2005 (the two quarters before K9 Athlon release) AMD reported EPS of -$0.04 and $0.03 respectively. Sound familiar? Because in Q2 and Q3 of 2016 AMD reported Non-GAAP (not accounting for the $150 million from the JV Thatic licensing deal and the $400 million payment to Global Foundries here) EPS of $-0.05 and $0.03. I'll note it is one quarter off from a direct comparison.
AMD's valuation is quite a bit higher this time around. But is it warranted? I believe it is.
There were few non-CPU and market catalysts when the K7 Athlon and K9 Athlon debuted. There are many today. They include: Vega GPUs, Alibaba (NASDAQ:AMZN) and Google (NASDAQ:GOOG) (NASDAQ:GOOGL) cloud deals, semi-custom wins with Xbox and PlayStation, an unknown semi-custom win, and a huge growth potential for artificial intelligence, deep learning, and autonomous vehicles. For more information, see here.
But this is not to say that Zen has not impacted AMD's valuation, because I believe it has. Unlike the K7 and K9 Athlon, investors have jumped on board before the release. If you want my opinion, I think it's a non-issue. Provided AMD meets or exceeds their forecasts, the stock will continue to perform and reward investors.
Finally, based on previous CPU releases, I believe Q3 of 2017 (or 9 months after the release of Ryzen) will be an important time for AMD's future. I have seen many investors write about purchasing protective put options before the release of Zen. I find it to be an inappropriate time for there is no indication Zen won't be a competitive CPU. And that seems to be the only reason AMD stock would take a dive. If history is any indication, protective put options are not necessary today but may be a tool to further evaluate in Q3 2017.
Takeaways
The highs in AMD valuation of 2000 and 2006 originated from some of AMD's most successful CPU releases, and, based on Zen benchmarks, I believe Zen will be another successful release.
While AMD stock has appreciated substantially in 2016, it is not overvalued when considering what's on the horizon. I find the most appropriate valuation metric for AMD to be its TTM price/sales ratio as AMD is just beginning to make a profit. Currently sitting at 2.2, TTM price/sales has been as high as 3.8 during the highs of 2000 and 3.2 during the highs of 2006. There looks to be plenty of room to go when you factor in big expectations for revenue growth in 2017.
Protective put options are a way to realize AMD's maximum potential while locking in profits. I believe there is plenty of ceiling for AMD in 2017 and consider Q3 2017 a good time to evaluate purchasing protective put options based on historical performance.
Disclosure: I am/we are long AMD. I wrote this article myself, and it expresses my own opinions. I am not receiving compensation for it (other than from Seeking Alpha). I have no business relationship with any company whose stock is mentioned in this article.