One of the main tenets of successful investing is to find companies that possess a competitive advantage. This advantage gives the company a superior position compared to competitors for a variety of reasons. Warren Buffett espouses the importance of investing in companies only if they have a significant competitive advantage in order to create a moat between the company and competitors. This moat allows for pricing power, which ultimately leads to profits.
Netflix (NASDAQ:NFLX) was the first mover in the industry and cannibalized Blockbuster by successfully envisioning the future. However, with the proliferation of competitors, it is apparent that this advantage is rapidly degrading. The industry remains marred by low levels of brand loyalty. The type of content the competitor has is the most influential buying criteria for the customer. As such, NFLX must pay an increased amount for new content and is required to lock-in long-term deals, which makes NFLX an inherently riskier company.
Headwinds
Competition
By being the first major player in the industry, Netflix enjoyed relatively high purchasing power. Licensing of titles is typically done through multi-year exclusive subscription video-on-demand licenses (SVOD). Through this method, Netflix was able to lock in content at attractive prices. Unfortunately, with the recent heightened competition from a wide range of companies such as Amazon (NASDAQ:AMZN), Hulu, Microsoft (NASDAQ:MSFT), and AOL (NYSE:AOL), these costs are set to rise dramatically. Moving forward, Netflix will have to pay substantially more for content, which will impinge upon margins. Evidence of this trend is percolating as the divergence between free cash flow and net income continues to increase. (I'll further explain this trend below).
Amazon has been considered its biggest competitor to date. However, Hulu, which is co-owned by Disney (NYSE:DIS), Comcast (NASDAQ:CMCSA), Fox (NASDAQ:FOX), and Time Warner (NYSE:TWX), has been becoming a bigger player in the market and has gained a number of exclusive rights of late. For example, in late December, Hulu signed a multi-year deal to be the exclusive streaming home of dozens of movies such as Mulan, Pocahontas, and Hercules.
Reduction in Domestic DVD Business
NFLX's DVD business has continued to shrink. As of September 2016, it only had 4.27 million DVD subscribers, which is down significantly from 5.06 million just one year ago. Many investors may not worry about this dwindling business segment since NFLX has pivoted towards streaming as its primary area of focus. However, investors do have cause for concern when one considers that the DVD business segment contributed over half (52% to be specific) of NFLX's operating profit in the last quarter.
The reason for this business constituting such a large segment of NFLX's profit is because it has already taken out its competition in this segment, Blockbuster. However, in the streaming market, NFLX faces a growing amount of competition, which increases its content acquisition costs and puts pricing pressure on what NFLX can charge for a subscription. This heightened amount of competition has made it difficult for NFLX to generate significant profits from its streaming business.
Saturation of US Market
In the US Domestic Streaming Segment, total memberships as of September 2016 was 47.5 million and, during last quarter, only 368,000 new subscribers were added. That represents a 58% reduction in the number of new subscribers as of the same period a year ago when NFLX had 881,000 added subscribers in the quarter.
With this segment accounting for over one third of NFLX's profit, 36% to be exact, that decelerating growth should be concerning to investors.
International Streaming Segment
Unlike NFLX's domestic business, its international membership has been adding subscribers at an accelerated rate. In the last quarter, it added roughly 3.2 million subscribers, which represents a 17% increase in the added subscriber rate from a year ago. Moreover, NFLX was able to increase the total number of subscribers by 51% from one year ago.
Nonetheless, the international market still contributed a loss in the quarter of $68.5 million.
I believe that the fragmented state of the international market is to blame for the continuing losses. Unlike the domestic market, entering these smaller markets is much more expensive, as the preferred content varies greatly. The US has a much more homogeneous taste in shows compared to the various smaller international markets. Investments in content do not generate the same return in these fragmented markets.
Furthermore, Netflix faces more competition from Amazon in international markets. In mid-December, it was announced that Amazon had expanded Prime Video to more than 200 countries. Importantly, Amazon has priced Prime Video at a significant discount to Netflix's global pricing of $9.99. The first six months cost $2.99 per month and only $5.99 after that.
Additionally, Amazon has increased the number of countries that will get Prime Video included with its existing Prime service such as Belgium, France, Canada, India, Italy, and Spain.
Increased competition in an already fragmented and unprofitable market spells trouble for NFLX moving forward, especially when considering the saturation of the domestic streaming market and declining DVD business.
Debt
As of September 2016, NFLX held only about $1.34 billion in cash and $2.37 billion of senior notes with interest rates varying from 5.375% - 5.875%. These notes mature between 2021 and 2025.

(Source: 10-Q)
This level of debt relative to its assets is not too alarming. However, when considering that NFLX's free cash flow has been declining, this does become somewhat concerning. In the last quarter, free cash flow was $557.9 million lower than net income. This represents an increased gap between free cash flow and net income than in the prior-year quarter when the gap was $281.4 million.
The major driver for this divergence has been the onslaught of competition, which has required larger investments in content. Cash outlays for content have been increasing and spending more cash than its streaming amortization expense has been the primary driver of this divergence.
With its cash burn rate increasing, NFLX will have to go to the market to borrow more debt, which will make NFLX a riskier investment. Moreover, with interest rates set to increase, NFLX will likely have to pay more in interest expenses.
Streaming Content Obligations
Additionally, the balance sheet alone does not show the true nature of NFLX's liabilities. As of September 30, 2016, NFLX had a staggering $14.4 billion in content obligations. However, only $6.5 billion were recognized on the balance sheet ($3.5 billion in "current content liabilities" and $3 billion in "non-current content liabilities"). The reason for this is because $7.9 billion did not meet the criteria for recognition. In the 10-Q, management explained that "once a title becomes available, a content liability is generally recorded..."
With a market capitalization of roughly $57 billion, that $14.3 billion in streaming content obligations represents nearly one fourth of the company's value. Having that level of off-balance sheet liabilities should be alarming to NFLX investors. If NFLX begins to lose subscribers and is required incur these content liabilities, the company can generate substantial losses.
In the past year alone, NFLX has increased these content liabilities from $10.9 billion to $14.3 billion. I believe that competition for an increasingly scarce amount of content has led to this development. Management must take longer term risks in order to secure content away from several competitors, such as Amazon and Hulu.

(Source: 10-Q)
Net Neutrality Risk Under Trump
A policy change regarding Net Neutrality also presents a serious risk to NFLX. Net Neutrality is a rule that the FCC promulgated which prevents internet providers like Comcast and Verizon (NYSE:VZ) from charging websites like Netflix for a fee to reach internet users at faster speeds. Netflix, which uses 35.2% of the North American broadband, as of June 2016, is the most vulnerable company to a change in the Net Neutrality rule.
With speculation swarming that Trump is a proponent of a rule change, this presents a significant risk to NFLX. Moreover, NFLX finally allowing for downloading some content for offline viewing is evidence that management is considering this risk to be significant.
Impact of Anticipated Tax Rate Changes on NFLX
Taxes can have notable impacts on how investors make decisions. For example, investors with losses can mitigate their taxable income by selling stocks with losses, a practice known as tax loss harvesting. (More can be read about this practice in my article on Glu Mobile (NASDAQ:GLUU)).
However, today, taxes are more impactful on investors' decisions than during previous years. The reason for this is the anticipation of a reduction of both ordinary income tax rates and the capital gains tax rate under a Trump administration. This anticipation of a reduced tax rate leads investors with gains to hold on to their stocks until the introduction of those lower rates.
As shown in the chart below, NFLX has generated substantial gains for investors in the past 10 years, with the most significant portion of those returns coming in the past few years. With NFLX at all-time highs, there are innumerable investors with huge gains. Many prudent investors, with gains in NFLX, have held onto their stock, but once reduced tax rates are effective, these investors will sell their holdings, and lock-in these gains, which will cause downward pressure on NFLX's share price.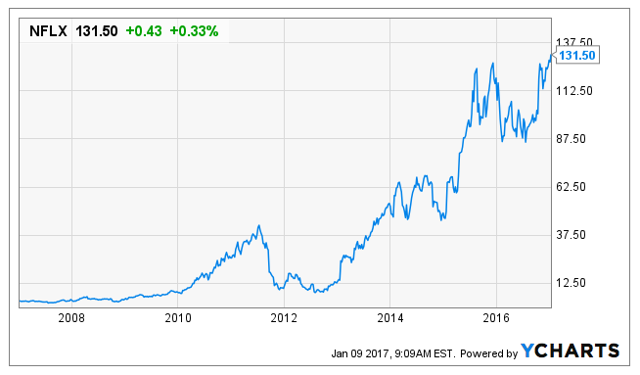 Valuation
Netflix trades at a pricey valuation. Its price-to-sales ratio is 8.5 and its price-to-book value is a staggering 22.3. With cash of only $1.34 billion, which is significantly dwarfed by its debt of $2.37 billion, and tremendous number of liabilities (both on the balance sheet and off the balance sheet) NFLX appears to be a risky investment. With last quarter's net income only $51.5 million, it does not appear that NFLX will justify its lofty $57 billion market capitalization, especially when considering the numerous risks that I outlined above.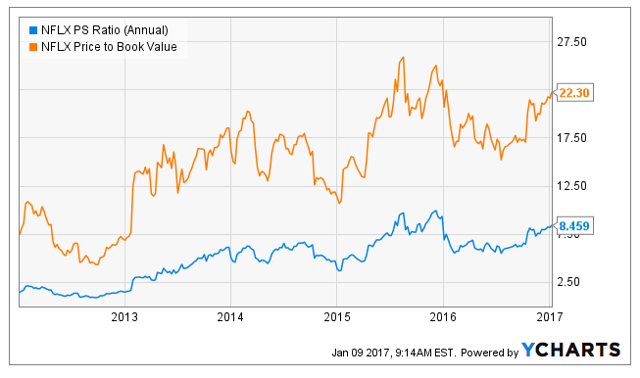 Conclusion
There is no doubt that Netflix has been a wonderful investment over the past decade. Management deftly pivoted NFLX's business model away from DVDs and into the burgeoning streaming market. However, when considering the significant risks that I outlined above, such as a saturating US market, increasingly competitive environment, and chance of a Net Neutrality policy shift, NFLX appears to be overvalued and poised for a meaningful pullback. I believe that NFLX will trade much lower than its current level when 2017 ends.
Disclosure: I/we have no positions in any stocks mentioned, and no plans to initiate any positions within the next 72 hours.
I wrote this article myself, and it expresses my own opinions. I am not receiving compensation for it (other than from Seeking Alpha). I have no business relationship with any company whose stock is mentioned in this article.