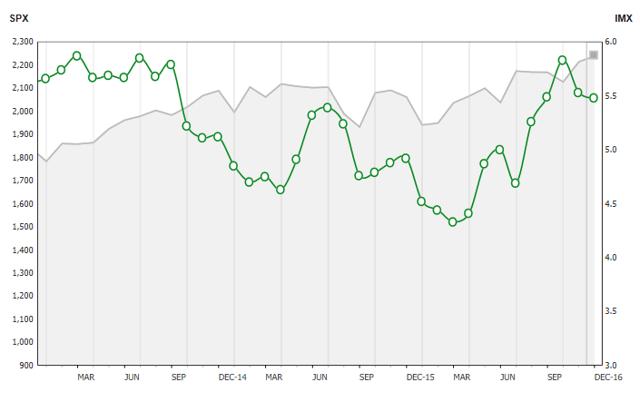 Sometimes what you see isn't necessarily what you get.
Take the December Investor Movement Index, or the IMX SM. At first glance, it looks like retail traders continued their fledgling retreat from stocks that began in November after a long string of broader exposure. The IMX fell to 5.48 in December, from 5.53 in November and a two-year high of 5.83 in October.
But that isn't really the full story. In fact, our clients were actually net buyers in December, even as their exposure to stocks declined minimally. Why, then, did the overall number fall? It didn't seem related to any lack of interest in the stock market, which recorded new record highs. Instead, the drop appeared to reflect lower relative volatility in some widely held names like Apple Inc. (NASDAQ:AAPL) and General Electric Co. (NYSE:GE).
And in a year that saw the S&P 500 Index (SPX) return nearly 10% and rise to an all-time high by December, the IMX climbed 11.4% overall, the first annual gain for IMX since 2013. Does this mean retail traders feel more positive about the markets as we head into a new year? Possibly, but there's still a lot to consider, especially the Fed's recent rate hike, as well as a rising dollar. These are among the factors that could represent points of caution for retail traders in 2017, and we know from experience they tend to be a careful bunch.
With holiday shopping season in full swing last month, it's not too surprising that retail traders had their eyes on holiday-sensitive names, increasing their exposure to Amazon.com (NASDAQ:AMZN). Another stock that was popular with retail traders? Nvidia Corp. (NASDAQ:NVDA), which was in the news as one of the best performing stocks in the SPX. Social media also got some love, with Facebook (NASDAQ:FB) shares a net buy.
But we saw it again last month: Retail traders exited positions in some stocks as those names reached more lofty levels. Some stocks that were part of this trend in December included Apple, ConocoPhillips (NYSE:COP), and Chevron (NYSE:CVX). Also in this category were a couple of big financials, Wells Fargo (NYSE:WFC) and Citigroup (NYSE:C). Throughout 2016, retail traders had been bargain hunting for lower-valued names and were shedding positions in some of the high flyers, so there you have it - no change from that trend in December. We'll see if it continues in 2017.
In the accompanying video, you'll get my take on the December IMX reading, and learn which other stocks retail traders were buying and selling during the month.
Remember, this sophisticated index is a tool that lets you see what hundreds of thousands of actual traders were doing in December across all markets. January brings a new earnings season and a new president of the United States, so fasten your seatbelts as we head into another 52 weeks of excitement!
Happy New Year everyone,
Nicole Sherrod
Click here for a copy of the report.
Inclusion of specific security names in this commentary does not constitute a recommendation from TD Ameritrade to buy, sell, or hold.
Past performance of a security, strategy or index is no guarantee of future results or investment success.
Historical data should not be used alone when making investment decisions. Please consult other sources of information and consider your individual financial position and goals before making an independent investment decision.
The IMX is not a tradable index. The IMX should not be used as an indicator or predictor of future client trading volume or financial performance for TD Ameritrade.
TD Ameritrade commentary for educational purposes only. Member SIPC.
Disclosure: I/we have no positions in any stocks mentioned, and no plans to initiate any positions within the next 72 hours.
I wrote this article myself, and it expresses my own opinions. I am not receiving compensation for it. I have no business relationship with any company whose stock is mentioned in this article.