Construction Spending
The construction spending report includes the total value of all new construction activity for residential, non-residential and public projects. Overall construction spending increased 0.9% in November and October's increase of 0.5% was revised up to 0.6%. The year-over-year rate of growth has increased for a second consecutive month to 4.1%. The improvement was equally balanced between private and public spending. Construction spending will clearly have a positive impact on the rate of economic growth in the fourth quarter.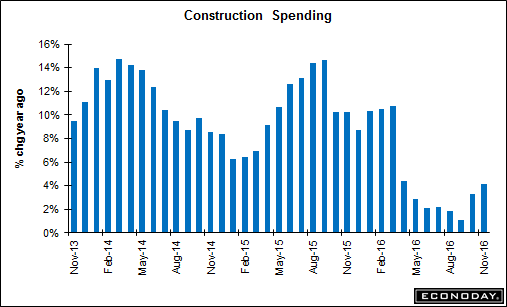 ISM Manufacturing Index
The Institute for Supply Management's manufacturing index rose to 54.7 in November from 53.2 in October, which was the strongest reading for all of 2016, and the fourth consecutive month of expansion for the sector (readings above 50). The strength in the new orders sub-index suggests this revival is not over yet, but how long it lasts is most likely dependent on the fiscal policy developments out of Washington.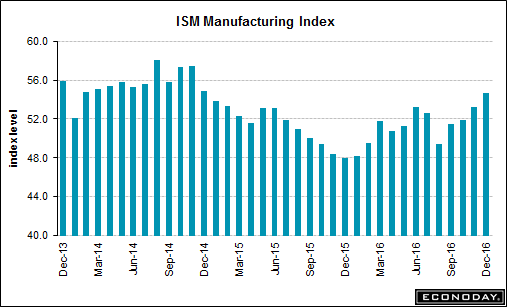 ISM Services Index
The Institute for Supply Management's service sector survey (non-manufacturing), which represents a much larger percentage of overall economic activity, held the previous month's strength with a reading of 57.2 for November. The only caveat is that while new orders and business activity were stronger, employment and backlogs are weaker. This index does indicate that the strength in the third quarter carried over into the fourth.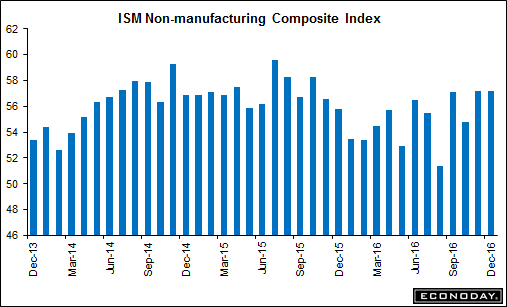 Factory Orders
Factory orders measure the change in dollar value for both durable and non-durable goods orders. This report updates the most recent durable goods report with more information. The headline was disappointing, as orders decreased 2.4% in November, but when we exclude transportation equipment, orders were virtually unchanged. The positive aspect of this report was that business investment, as measured by new orders for non-defense capital goods excluding aircraft, rose 0.9% in November after the 0.5% increase in October.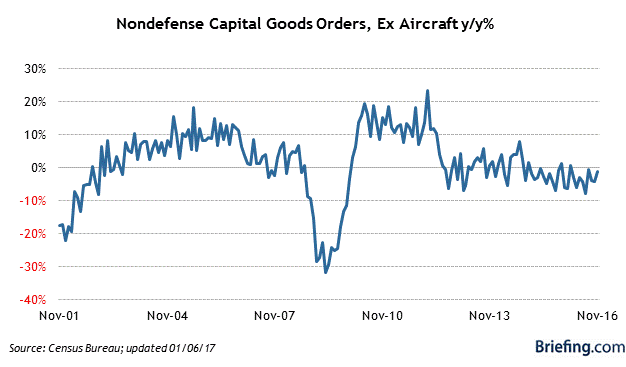 Conclusion
We are seeing near-term strength in the economic indicators for the fourth quarter, but it is more consistent with a sustained rate of growth below 2% on an annualized basis rather than a reacceleration. Furthermore, the fuel necessary to ramp up the rate of growth is running dangerously low. While average hourly earnings have risen in recent months, the number of hours worked is declining and the rise in the rate of inflation is leaving workers with the slowest rate of increase that they have seen in the past two years.
Now that financial conditions are tightening, primarily due to higher borrowing costs, fiscal stimulus should be implemented in such a way that it leads to faster rates of real income growth for middle-income households. Otherwise, the rate of economic growth will continue to decline.
Disclosure: I/we have no positions in any stocks mentioned, and no plans to initiate any positions within the next 72 hours. I wrote this article myself, and it expresses my own opinions. I am not receiving compensation for it (other than from Seeking Alpha). I have no business relationship with any company whose stock is mentioned in this article.