Wells Fargo (NYSE:WFC), the big bank that has committed fraud - fraud that appears more rampant that many realized - is still trading at multi-year highs. But why? With WFC customers pull money from the bank and the rate of new accounts slowing. WFC is trading at a large premium to other 'too big to fail' banks. At 160% of book value, is WFC a short opportunity here?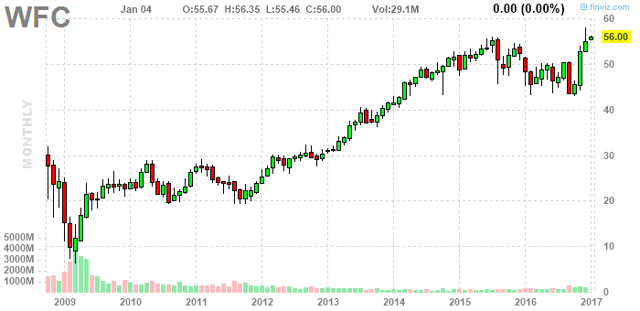 Granted, rising interest rates will be a slight boon for WFC, it also means that higher rates could be a slowdown in mortgage lending, which is a big business for WFC. WFC opened fraudulent bank and credit accounts, but has also failed to help customers fix their credit or remedy issues. Customers, and potential customers, are taking notice. In November, applications for new credit cards and new checking accounts were both over 40% from a year earlier. This comes after both saw a 40% fall in October as well. The writing's on the wall. Customer's trust is broken and the bank should face various investigations from federal and state regulators. Especially, as it comes to light that the fraud appears more far reaching than before. Wells Fargo was even selling fraudulent Prudential (NYSE:PRU) insurance policies.
It's modest $185 million fee was a small price to pay. But the reputational price is yet to be waged. The company is failing to make things right with its customers. For customers getting charged several hundred dollars in fees, Wells Fargo has only offered to refund 10% or so in most cases. Customers will likely remain jaded. Credit reporting agencies won't remove the negative reports without the bank's help and Wells Fargo is forcing customers to use arbitration to handle 'complaints.' There's no time table either from Wells Fargo for fixing the issue either.
Things may well get worse before getting better as more regulators and cities look to end Wells Fargo ties. The latest is New York City, where the NY Department of Finance just inked a new deal earlier this year for processing credit-card transactions. The deal is suppose to run until 2021. However, NYC has not put that deal up for acquisition. New York could soon join the likes of California and Illinois with ending Wells Fargo ties all together.
At the end of the day, the bank is huge and has a large installed customer base - that for now - isn't giving up on the bank. They are having trouble finding new customers. Still, WFC is just too expensive these days and it'll take some time before WFC can shake the overhang. In the meantime, there are better banking and interest rate opportunities. There's no activist investor large enough to come in and straighten out the big bank.
Disclosure: I/we have no positions in any stocks mentioned, and no plans to initiate any positions within the next 72 hours.
I wrote this article myself, and it expresses my own opinions. I am not receiving compensation for it (other than from Seeking Alpha). I have no business relationship with any company whose stock is mentioned in this article.