Late last year, the last article I wrote about Vanguard Natural Resources (NYSE:VNR) was published on October 30th. In it, I pointed out that the firm was not bankrupt at the time but was, instead, being pinched by its credit facility lenders and posed investors with meaningful risk. Despite seeing shares of the firm climb as much as 77.6% after the publication of that piece, the business's stock has since plummeted and is now trading 11.3% below the last trading price before that article was published. Given the time that has passed and the significant uptick in energy prices that we've seen, I figured it would be a wise idea to go back and look at the firm once more to see if anything has changed from my viewpoint.
Disclosure
In this piece, I am making assumptions that rely on management's latest guidance for the firm for its 2016 fiscal year and applying that data into future years. On top of that, I had to make my own assumptions regarding energy prices (I'm assuming that oil prices average $54.04 per barrel in perpetuity while natural gas prices average $3.484 per Mcf). I also had to adjust for a scenario where management adheres to its credit facility lenders' demands by repaying some of their borrowings on time.
An update on what has transpired
The last meaningful thing we heard from Vanguard, the business had reached an agreement with lenders wherein its credit facility's borrowing capacity had been cut from $1.325 billion to $1.1 billion, leaving the firm with a significant capital shortfall. To try and make matters work, lenders agreed to allow Vanguard to free up some of the at-least $50 million cash it was required to have on hand in order to pay some interest owed under its Senior Notes and to give it the opportunity to pay down some of its credit facility borrowings. By monetizing some of the business's hedges, management was also able to pre-pay $37.5 million under its facility.
As part of this arrangement, Vanguard was forced to agree to pay $37.5 million per month, starting in January, toward its facility's principal balance. This would take place over a period of five months into this year until the company reduces total borrowings by $187.5 million. With $30 million on hand as of the start of November and the prospect of generating some cash in December, this may not seem so bad but the fact of the matter is that Vanguard's financial condition is still very much dire.
Can Vanguard survive?
You see, despite the fact that oil prices have soared 11.1% from the time of my last writing on Vanguard, while natural gas prices have risen 11.9%, the firm is still unable, right now, to generate enough cash flow to keep itself afloat. In the image below, you can see the cash flow projections I've made for Vanguard for 2017, 2018, and 2019 (2018 and 2019 look the same because the business has no hedges in place for either year). If my assumptions hold true and if management's guidance holds firm in perpetuity, Vanguard should generate cash flow of $201 million this year, followed by around $175.35 million each year afterwards. For a company whose market capitalization stands at $88.58 million, this looks like not just a home run but a grand slam.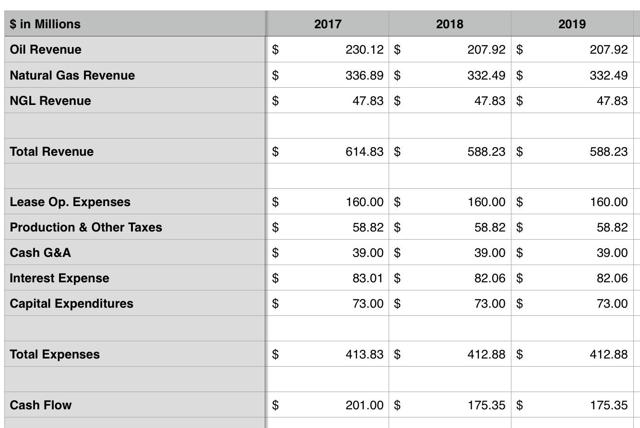 *Created by Author
The sad truth, however, is that lenders have their hands wrapped so tightly around Vanguard's throat that the company's probability of survival looks, at the moment, quite slim. Each month, starting this month, the company has to come up with cash totaling $37.5 million until $187.5 million has been repaid. Thanks to the cash on hand, plus whatever cash it may have generated last month, it has some cushion but by my calculations, the company will only generate free cash flow of between $16.45 million per month and $16.83 million per month during the five-month timeframe it must pay the debt off during. This means it's likely only a matter of time before the company is forced into bankruptcy.
Now, this doesn't mean that I am definitely calling bankruptcy just yet. I do think the odds are tilting heavily in that direction right now, but if management can engage in an appropriate asset sale and/or if it can bring on outside funding, then it may just have a chance. Let's assume, for instance, that the company could attract $600 million in Second Lien debt on terms similar to what Legacy Reserves (NASDAQ:LGCY) managed to do late last year (12% interest rate plus a 2% fee). This would allow the company to pay down $588 million in credit facility borrowings at the cost of an extra $54.24 million in interest expense per year. If a standstill could be struck with lenders for a year or so, this kind of transaction would leave the company generating positive cash flow moving forward while making lenders happy.
Takeaway
I have no illusions regarding the risk profile that Vanguard has at the moment. The fact of the matter is that if management doesn't do something soon, Vanguard could be yet one more victim of the energy downturn. If the energy market improves like I believe it will, the firm may be the very last victim of the downturn at that. That said, the positive free cash flow generated by the firm without impatient lenders striking it down may give the firm some chance of success but until I see something concrete, I'm personally staying away.
Disclosure: I am/we are long LGCY.
I wrote this article myself, and it expresses my own opinions. I am not receiving compensation for it (other than from Seeking Alpha). I have no business relationship with any company whose stock is mentioned in this article.
Additional disclosure: I own both LGCY and LGCYO
Editor's Note: This article covers one or more stocks trading at less than $1 per share and/or with less than a $100 million market cap. Please be aware of the risks associated with these stocks.