The triumvirate of United Technologies (NYSE:UTX), Honeywell (NYSE:HON) and General Electric (NYSE:GE) have enjoyed a phenomenal surge in their stocks since the election of Donald Trump. The respective returns of UTX, HON and GE since election results are 9.2%, 7.8%, 6.5%. I have been trying to look for a narrative that fits the multiples at which these three companies trade currently. And even more so with United Technologies where the stock continues to counter my bearish view on it. I remain convinced that these stocks are way ahead of themselves, and after writing on Honeywell, I justify my view on United Technologies in this piece.
Relying on a shaky foundation
Despite the glaring absence of any clarity related to the nature of tax cuts and infrastructure spending under the Trump presidency, the markets have taken it as a done deal. Unfortunately even with the assumption of an increased stimulus, the narrative is quite complicated as the correlation of revenue growth to increased stimulus is not a direct one. Therefore, I believe all the three companies are now pricing in significant growth and setting themselves up for disappointment.
Carrier business of United Technologies
Carrier sales are responsible for ~65% of the revenues of the CCS unit of United Technologies. I couldn't find the exact figure for replacement demand vs. new construction demand for Carrier. However, Watsco, the distributor of Carrier and the majority partner in the Carrier joint venture has stated that 65% - 70% of its total demand is driven by replacement. The key drivers for replacement demand are a) average age of installed air-conditioning units and b) efficiency regulations that require units to be replaced before their obsolescence. Trump cannot accelerate the average age of air-conditioning units, and if anything he is going to be lax on regulations.
Otis elevators
The Otis segment which is responsible for ~20% of the annual sales of UTX has had a China problem for a couple of years now. China is responsible for roughly 60% of new equipment orders in the global elevator business. And Otis derives 90% of its China revenues from new equipment sales. While the segment is United Technologies' most profitable division, margins in the segment have trended southward ever since the housing downturn took roots in China. Margins will continue to be weak as it tries to gain market share and international as well as local competitors compete for price. International operations represent 75% - 80% of the total sales of Otis. Therefore, even if infrastructure spending that leads to excess demand for elevators in the US were to come to fruition, I doubt if it would trickle down into a massive gain in free cash flows.
Pratt & Whitney, UTC Aerospace Systems
Roughly 60% of UTC Aerospace Systems sales are derived from Boeing (NYSE:BA) and Airbus (OTCPK:EADSY) and the US government provides 20% of sales. Pratt & Whitney's geared turbofan engine which took $10 billion to develop will have to undergo a long gestation period before it logs decent margins at delivery. Commercial aerospace is expected to experience a downturn in deliveries and I remain skeptical of a boost in defense spending.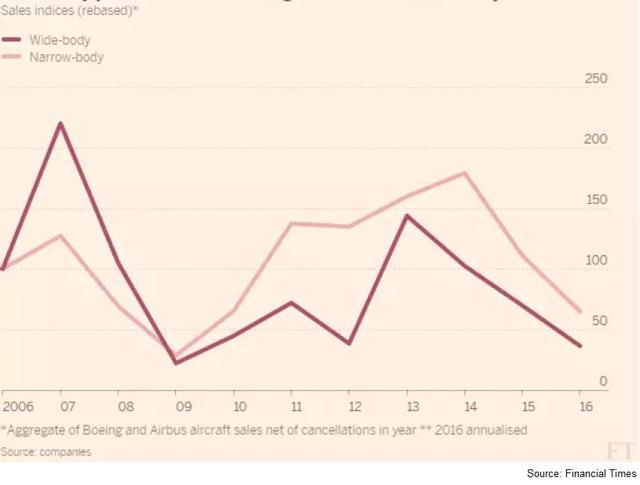 With the increase in interest rates, the discount rates used to value the company is expected to increase as well without a proportionate increase in growth to mitigate the impact. Therefore, I would be extremely cautious about initiating a position at these multiples.
Disclosure: I/we have no positions in any stocks mentioned, and no plans to initiate any positions within the next 72 hours.
I wrote this article myself, and it expresses my own opinions. I am not receiving compensation for it (other than from Seeking Alpha). I have no business relationship with any company whose stock is mentioned in this article.
Editor's Note: This article discusses one or more securities that do not trade on a major U.S. exchange. Please be aware of the risks associated with these stocks.