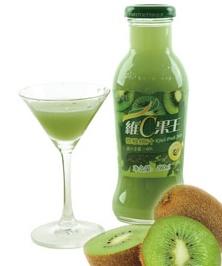 The last time I wrote about Sky People Fruit Juice (SPU), investors were wondering whether they would file, many concerned about the history of Chinese companies that have gone bust while trading their stock in the US.
Sky People have since filed their 2015 10k and 10Q 1-2016. They have been offered an extension by the Nasdaq panel until the end of January for the two outstanding filings covering Q2 and Q3, and have confirmed in a recent press release, that they will be complying with this agreement.
So what opportunities and issues are now facing SPU investors?
Q1 2016 shows an increase in cash and asset value per share, albeit the company has restructured and operating income has changed, the basis for which I will try to assess.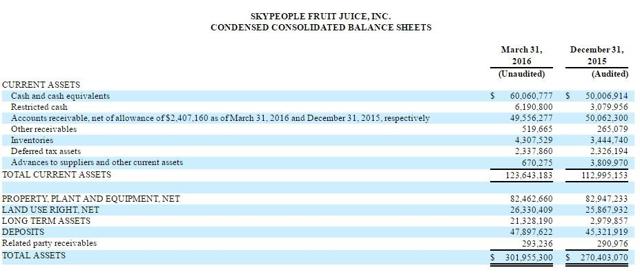 From the 2015 - 10k
2015 profit margins exceeded 2014
2015 revenues from fruit juice and beverage production exceeded 2014

* the 2015 operating revenue reduction seems to be due entirely to a decision to drop fresh fruit sales and similar products due to the risk of high purchase and low resale prices, however the overall income return for the year was still positive.
Issues First
Sky People (SP) are in a business that creates fluctuating quarterly earnings, since juicing from fresh fruit is reliant on harvests which generally take place during our Fall-Winter quarters. This is a situation they are managing and improving, by expanding into fruits with different harvest times (orange, pomegranate and peach have spring-summer harvests in China, while kiwi, mulberry, apple and pear are later).
Pomegranate, strawberry, peach and cherry yields are also high in Shaanxi Province. Liaoning Province in the PRC, the location of our Huludao Wonder and *Yingkou factories, abounds with high acidity apples.
All year round income has also been developed by diversifying into beverages created from juice like ciders. *Yingkou is now out of production for apple. 2015 10k excerpt:
The PRC has the largest planting area of kiwi fruit and apples in the world. Shaanxi Province, the location of two of our factories, has the largest planting area of kiwifruit and apples in the PRC. According to "Statistical Bulletin of Development of Fruit Industry in Shaanxi Province 2010," in 2010, the kiwifruit planting area in Shaanxi Province was over 114,226 acres. In 2015, the kiwifruit planting area in Shaanxi Province was about 164,737 acres, with an output of 12.3 million tons, which is 20% of the world output and 33% of China's total output.

Aug. 8 2016, Sky People announced the official launch of Hedetang Mei County (Kiwi) vine orchard consisting of a 3,300 square acres, with a 30 years lease.
An investor comparing numbers, has to make allowances for how juice is used and sold; for example the picking season could incur costs which relate to sales and profit, but in later quarters reflected in inventory. Gross margin differs with the product being sold too. Beverages create a higher profit margin, spread revenue (against costs) throughout the year.
The company is moving away from concentrates and developing beverage sales, so they'll be filing evidence of this transition at some point, but currently this seems to be about the new Kiwi operation and poor winter pear harvest. Inventories have increased above December 2015, while most of production (as filed) was apple concentrate. (Other juices are produced but don't warrant an individual statement).

Fruit beverage sales improved from 2014 to 2015 helping to replace fresh fruit and 'other products', which the company dropped. SP filing:
We did not sell any fresh fruits in 2015 as the cost to buy fresh fruits was high and sales price was low, which could result in lower margin and higher risk. Management decided not to procure any fresh fruits for fresh fruit sales in 2015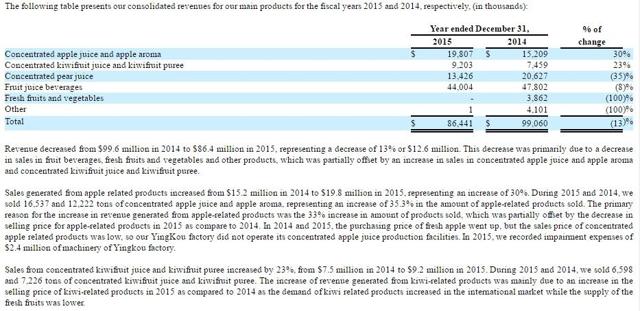 Fruit concentrate revenue also improved over 2014 numbers, with 2015 beverage gross margins

rising from 36 to 41%. So SP are becoming more efficient at creating profit from turn over. Results reported so far this year seem to be due to fruit availability at the right cost.
There was also some extreme local food price inflation in 2016, which eased off mid year, along with an increase in consumer sentiment. China Food Inflation Chart source : Trading Economics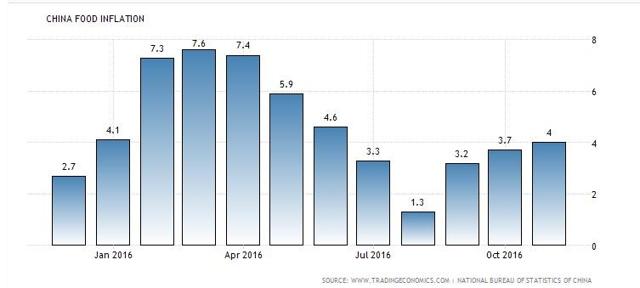 fruit concentrate, fruit beverages, fresh fruit, other products
2015 revenue 49% 51% 0% 0%
2014 revenue 44% 48% 4% 4%

We should bear in mind that the 2015 harvest is now a full year ago, and that this year's financials currently being released, (which revolve around that crop), have already been superseded by another. Peach and pomegranate are March and later harvests in the southern hemisphere, juice products not mentioned specifically in filings, it would be interesting to know how those are faring, and the opportunity and plans for other juice flavors.
In July 28, 2016 SkyPeople International Trading (NYSE:HK) Limited ("SIT"), was announced, a subsidiary that has been incorporated in Hong Kong, to operate as a global trading and marketing platform to optimize SkyPeople's Hedetang fruit juice product portfolio and reinforce its leading market position.
Hong Kong is basically a free trade zone, which creates an opportunity to cut down on import tariffs, transshipment costs, and tax, for importers and exporters.
Factory Production and Distribution Facilities
SP have taken a charge against one of their apple factories in 2015, 'Yongkou' which has negatively affected reported income, having halted progress on another facility. 2015 10k excerpt:
The company recorded $2.4 million impairment expenses mainly related to the equipment in Yongkou factory, which ceased operations in 2014 and 2015 due to lower market demand for concentrated apple juice and higher raw material purchase prices.
However apple revenues proved to be the supporting operation in Q1 2016. With pear juice production down because of bad weather, and Kiwi juice virtually nonexistent, apple really supported operations. It would be interesting to know if this facility/production line could be cheaply modified for another fruit juice line production process, the opportunity, and how long that would take.
The new Kiwi market premises also includes manufacturing lines, and Kiwi was a growth product in 2014. Market occupation is why I suspect Kiwi juice and resulting beverage production has dropped in Q1. Even if there was on-line competition for ordering from supermarkets (meaning the limited distributor channel is an issue), they should still show financial benefit from Kiwifruit market operations, and that isn't obvious even from the 2015 10k.
Where progress has halted (2015 10k):
The construction of the refrigeration storage unit has been delayed due to a change of plans (to) build the refrigeration storage unit in Suizhong, Liaoning Province...The company has finished construction of an office building, dormitory, refrigeration storage facility and warehouse. Due to heavy competition in the concentrated fruit juice business in China construction work on this project is currently suspended.
There are four factories and other 'developing' production facilities:
Town, Jingyang County, Xianyang City, Shaanxi Province Concentrated apple and pear juice and concentrated kiwifruit juice (Sky People China)
Siqun Village, Mazhao Town, Zhouzhi County, Xi'an City, Shaanxi Province Kiwifruit puree, concentrated kiwifruit puree, and fruit beverages (*Shaanxi Qiyiwangguo)
Hujia Village, Gaotai Town, Suizhong County, Huludao, Liaoning Province Concentrated apple and pear juice and apple aroma, fruit juice beverages (Huludao Wonder)
Yuton Village, Shizijie Town, Gaizhou, Liaoning Province Concentrated apple juice and apple aroma (Yingkou)
5. New Kiwi Facility:
The new Hedetang Farm Products Trading Market (Mei County) Co., Ltd, (formerly 'Mei County National Kiwi Fruit Wholesale Trading Center), became fully occupied only last summer, despite an operational pilot in 2015. The trading zone accommodates 25 companies including 12 courier service companies, 4 large logistics enterprises, 4 e-commerce enterprises, 2 packaging enterprises and 3 plant growing enterprises, with SP profiting from leases and a small percentage of each transaction.
Kiwi Deep Processing Centre:
The National Trading Market release also mentions a Kiwi Deep Processing centre which is part of the same Trading Centre enterprise, and would expand the former manufacturing scale:
The Committee has been authorized by the People's Government of Mei County to be in charge of the construction and administration of the Mei County National Kiwi Fruit Wholesale Trading Center for the development of production lines for the deep processing of kiwi products as well as the establishment of a trading zone for the marketing and distribution of kiwi goods (the "Project") in Mei County, China....

"The Project substantially increases our existing manufacturing scale for kiwi-related products and has the potential to capitalize upon the region's large planting area for kiwi"

Pursuant to the Agreement, the Project will also include the development of a kiwi-related materials trading zone to include a trading mall, fruit trading shelter and fruit-related materials trading shelter with a planned area of 136 mu (approximately 22.4 acres)
6. New Orange Facility:
On November 23, 2015, the company started the construction of the Yidu project. The company plan to finish the construction of the infrastructure of office building, R&D center, fruit juice production facility and cold storage, and other areas in Q2 2017.
From the 2015 10k - facilities will include:
| | |
| --- | --- |
| 1. | one modern orange distribution and sales center (the "distribution center"); |
| | |
| 2. | one orange comprehensive utilization deep processing zone (the "deep processing zone"), including: |

| | | |
| --- | --- | --- |
| | a) | one 45 ton/hour concentrated orange juice and byproduct deep processing production line; |
| | b) | one bottled juice drink production line with a capacity to produce 6,000 glass bottles per hour; |
| | c) | one storage freezer facility with a capacity to store 20,000 tons of concentrated orange juice; and |
| | d) | general purpose facilities within the zone, office space, general research and development facilities, service area, living quarters and other ancillary support areas |

| | |
| --- | --- |
| 3. | one research and development center for orange variety improvement and engineering technology (the "R&D center") and |
| | |
| 4. | one standardized orange plantation (the "orange plantation"). |
The orange plantation should be operational in Q2 2017, the distribution center is planned to be completed by the end of 2017. So far plans (and description in the organization structure), look similar to the National Kiwi market, but we'll have to wait on further releases for details. Orange juice is in a worldwide shortage (see my earlier report), so we can expect the company is highly motivated towards production and delivery as soon as possible.
Apple and Pear Juice Concentrate
The 10Q-1 2016 filing shows a drop in pear concentrate (previous harvests poor weather), and Kiwi juice, (beverages), which coupled with the factory write down created an operating revenue loss, (and a loss had it not been for positive cash flow from other areas), a reversal of which is entirely possible. There are four key issues for apple and pear concentrates. According to an article in Freshplaza:
1 - Apple export prices fell:
According to custom statistics, in December 2015, total apple export amounted to 145,000 tons. This is a 45% increase compared to the previous year. Apple prices were high in 2014 and export slowed down, which was still noticeable in the first months of 2015. Apple prices decreased over summer. On average, 2015 apple export prices ended 3.4% lower than in 2014....Another effect is that farmers have postponed harvesting the late crop. This has had a positive effect on quality, brix levels and sizes.
2 - International export volumes fell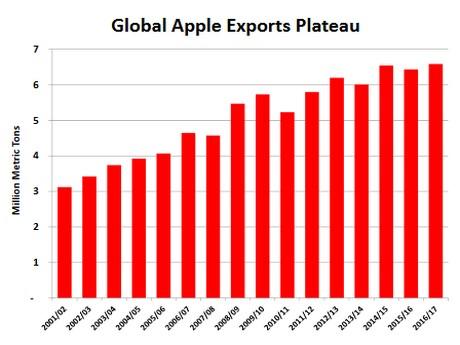 The same export volume data indicates an improvement which appears slightly in advance of 2014 for the current 2016/7 season, and ahead of 2015. Chinas apple export forecast for 2017, notes increased tonnage as weather related losses should be compensated for by 'additional trees'. Trees according to the next report, which are in Shaanxi and Gansu provinces.
3 Weather conditions - however additional tree plantings in Shanxii province are expected to offset weather related losses in 2016/7
Chinese production is forecast to rise again, up 900,000 tons to 43.5 million tons, as additional bearing trees are expected to more than offset weather-related losses in top growing provinces Shaanxi and Shandong. Exports are also projected up 150,000 tons to 1.3 million as lower prices trigger higher shipments to price-sensitive markets in Asia, especially Bangladesh, Indonesia, and Thailand. Imports are forecast up 7,800 tons to 85,000 on sustained demand for higher-quality fruit from the United States and Southern Hemisphere suppliers.
This review dated 1st November 2016 is early current season in China:
Post forecasts China's apple production at 43.5 MMT in MY 2016/17, up 2 percent from the previous year. Pear production is expected to increase by 3 percent to 19.3 MMT and grape production is forecast to increase by 6 percent to 10.2 MMT. China's imports of deciduous fruit will continue to increase on strong demand for high quality fruit and off-season supplies. Fruit exports will continue to rebound given increased but low-priced foreign supply.

Post forecasts China's apple production at 43.5 million metric tons (MMT) in marketing year (MY) 2016/17 (July-June), up 2 percent from the revised number in the previous year. Despite persistent heat and hailstorm events in Shaanxi and Shandong provinces, the two largest apple producing regions in China, new bearings, especially in Shaanxi and Gansu provinces, are expected to offset the crop losses. As weather conditions during the summer of 2016 were less than favorable, fruit size, appearance, and taste will be negatively affected, leading to a decline in quality versus last year's crop

Post forecasts China's pear production at 19.3 MMT in MY 2016/17 (July-June), up 3 percent from the revised number in the previous year. Compared with apples, pears grow across a much wider region within China, so abnormal weather conditions have less of an impact on overall production. In Hebei province, the largest pear producing province, more than one-third of the pears were infected with "chicken paw disease" due to excessive rain and lack of sunshine. As a result, pear quality, especially the appearance, was generally poorer compared to that in the previous year.
* Irregular sized fruit is most commonly used for juicing anyway, maybe the issue is also about the price of product offered by suppliers?
4 Wholesale apple prices fell
The chart below along with comments about 'Fuji apples' prices, seems to describe the situation indicated in the 10k; that apples were 'too expensive to buy'. Apple didn't reach a low until Q1-Q2, while pear prices seem fairly stable, with a price high just before harvest. The chart below is an excerpt from the report quoted above.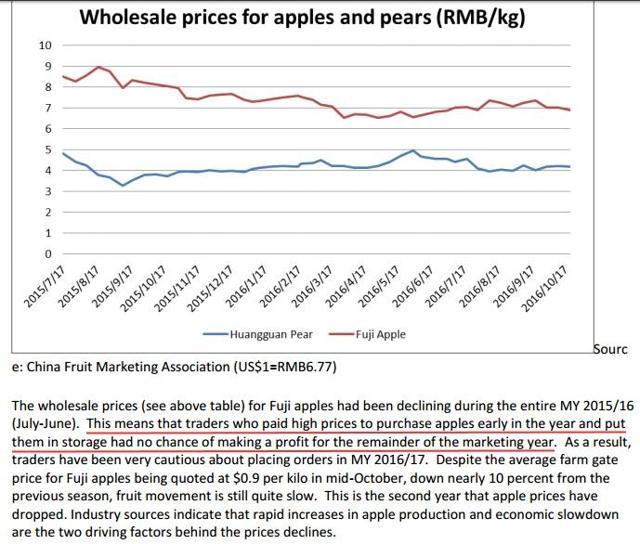 Quarter 1 2016 filing excerpt- Fruit

What is evident from the filing above, is apple supported operations in quarter 1 2016, compared to 2015. Kiwi is almost nonexistent compared to the year ago quarter, and a major product lines, with strongest product growth. There has to be a fundamental reason for the lack of production, and it could be a connection between 'Kiwi' availability, and 'beverages', for the drop in quarterly operating revenue.
The company is stating they've had fierce competition from on-line sales, they've also lost a sizable order from an associated supermarket. (It could be that the supermarket has been suffering fierce competition from on-line sales, as larger supermarket chains use EDI automated ordering, but also the product has to be available for them to buy it). In 2014 Kiwi was an expanding market with higher resale prices and lower costs. The new market seems to be a reasonable explanation, in my opinion, with participants fully taking up positions in the Kiwi market and distribution centre by summer 2016, ready for the Fall harvest.
Supplier Agreements
A further issue highlighted was a supplier contract issue, found to not be legally binding for the company in terms of financial support implications, but it isn't clear whether or not this situation also had an impact on the supply of fruit during the early 2016 season, and if those fruit suppliers have already been replaced.
| | |
| --- | --- |
| (2) | Concentration of suppliers |

Two suppliers accounted for 97% and 13% of our purchases for the three months ended March 31, 2016 and March 31, 2015, respectively. Our top supplier accounted for 96% of our purchases for the three months ended March 31, 2016, and there was no other single supplier that accounted for over 10% of our purchases for the three months ended March 31, 2015.
2016/7 International Fruit Export Market Will Expand
For 2016/7 the industry appears to be headed for improved apple supply from Shaanxi Province, improved export volumes from China, continuous excess demand from Europe, (world trade is up overall), possibly similar export prices, but with the potential for SP to benefit from foreign exchange, (assuming prices quoted in foreign currency against a delivery in a weakening yuan). Apple tree plantings have been increased to offset poor weather conditions. Pear appears more stable, but with slightly higher wholesale prices than 2015. The 2016 Kiwi harvest started in September 2016 with the new national market now fully occupied. SPU filing:
The Chinese market drives our fruit beverage sales most beverages are sold through provincial, city and county-level agents. We also sell directly to hotels, supermarkets and similar outlets in smaller quantities. The fruit beverage sales are carried out by a team of 45 employees. Historically, we have only sold our fruit beverages regionally in Shaanxi Province and some neighboring cities in the PRC. One of our strategies is to broaden the geographic presence of our brand-named fruit beverages and expand production and sales of higher margin fruit beverages in the PRC.

Our kiwifruit products are targeted at the European, Southeast Asian, South Korean, Japanese, Middle Eastern, Mainland Chinese and Taiwanese markets. The growth of our kiwifruit concentrate and kiwifruit beverages has exceeded the growth rate of any other product we offer.
(According to New Zealands Zespri, Chinas Kiwi export market, is about a decade behind apple and pear).
Q1 Cash Flow Still Positive
Despite the decline in fruit juice turnover in 2015/6, SPU still managed to produce a profit in Q1. Positive cash flow is as important as profit, (more so when the company is also expanding and realigning its business). Positive cash flow was achieved from:
A) Financing, (some debt which had been on the books for years has been effectively lost, while the same exercise created cash), although the owned percentage of the juice company has reduced.
B) The exchange rate for exports
Issued and Outstanding Shares
According to recent releases the amount of issued shares has increased from that reported by many US web sites. An eight for one reverse split during the summer has created confusion, with some web sites still very much behind the ball, quoting a very old analyst price target which was based on pre-split stock supply.
2015 10k
Common stock, $0.001 par value; 66,666,666 shares authorized; 27,161,499* shares issued and outstanding as of December 31, 2015 and 2014, respectively
2016 Q1 (reflects 8:1)
| | | | | | | | | |
| --- | --- | --- | --- | --- | --- | --- | --- | --- |
| Weighted average number of shares outstanding | | | | | | | | |
| Basic and diluted | | | 3,548,183* | | | | 26,661,499 | |
* The public float is less the volume of shares held by insiders which reduces available shares considerably.
In a 2015 release, Sky People Management notified shareholders that they intend creating a second listing for common shares in China, equivalent to the US bulletin board. They provided several successful examples, and advised that they had already authorized the process. Any expansion of outstanding shares is likely to be in China, hopefully as part of a financing exercise, and not expected to change the small US float:
As an example, on April 3, 2015, SynTheAll Pharmaceutical Co. Ltd ("STA"), the wholly owned subsidiary of WuXi PharmaTech (Cayman) Inc. ("WuXi"), listed on the NEEQ successfully. WuXi is listed on the NYSE (stock symbol: WX). STA created a model for overseas-listed Chinese companies to enter the PRC capital markets. SkyPeople believes that it is widely accepted that the method adopted by STA could enable more companies to take advantages of PRC and overseas capital markets, thus opening a new channel for broadening companies' sources of financing.
Opportunities
The questions that I have about production, also relate to opportunity.
One apple factory has closed, yet the company wants to expand into other Chinese states with their higher margin beverages, is any of that reliant on further apple capacity?.
How much capacity is remaining, before SP need to reconsider the (recently closed) apple factory, or is apple just becoming too competitive, so alternative products are now warranted.
Is there another product, using an earlier or later season for harvesting which could create better margins from smaller fruit quantities, while costing less to refurbish? What are the

company's plans for new products?

What's happening about the factory which is on hold, is that waiting on financing from a China listing and shares offering, the sale of 51 percent of the Kiwi market, or does the already cash rich position of the

company mean there are other issues involved.
Hedetang Farm Products Trading Market (Mei County) Co Ltd ("HDTM") was due to pilot in 2014, but eventually that was delayed until the first half of 2015, but Kiwi and beverage was noticeably absent for Q1 2016. Whether or not this was about weather conditions, the market being operational (but not adequately so, i.e. still at pilot level) remains to be seen, but new premises seem most likely, with developing competition from on-line sales, (supermarkets able to source automatically from suppliers as products leave their shelves). Sky People alluded to the Kiwi market being 'operational' in the 2015 10k, and circulated a very optimistic press release in mid 2016 when it became fully occupied. With another harvest soon behind us, investors are waiting with bated breath!
The sale of 51% of the Kiwi market was expected to close by the 15th December but the company are now negotiating a cancelled agreement process with the other party, the sale is still valid and possible until June 15.
On June 15, 2016, Hedetang Holdings Co., Ltd. (the "Hedetang"), a wholly owned subsidiary of SkyPeople Fruit Juice, Inc. (the "company"), entered into a Share Transfer Agreement (the "Agreement") with Shaanxi New Silk Road Kiwifruit Group Inc. ( the "NSR"), a limited liability corporation registered in China.

Pursuant to the Agreement, NSR will acquire 51% of the equity shares of Shaanxi Guoweiduomei Beverage Co, Limited, a wholly owned subsidiary of Hedetang (the "Shares"). The tentative total transfer price for the Shares is 300 million RMB (approximately $46 million) and is subject to and will be settled according to the final price in the valuation report to be issued by an appraisal firm jointly engaged by both parties. NSR shall pay the total transfer price to Hedetang within six months of the effective date of the Agreement. If NSR fails to pay the total transfer price within six months due to the delay of the approval process from the local authority, NSR can receive a payment extension for up to twelve months from the effective date of the Agreement upon the negotiation and agreement by the parties. Because NSR is a state-owned enterprise in China and its investment needs to be approved by a higher level administrative authority in China, NSR has the right to terminate the Agreement unilaterally if it fails to receive the approval from such administrative authority within twelve months from the date of this Agreement. As of the date of this report, the local authority has not approved this transaction, and we have not yet received payment from NSR. The company is now negotiating with NSR the potential terms to terminate this Agreement.
The delay also means retaining 100% of market revenues. Kiwi (the Chinese Gooseberry) is their fastest growing product line. The company has a book/asset and cash value well in excess of $25/share. Confirmation of independent valuation of the new Kiwi market is still outstanding; presumably from this summer, (before the deal was agreed), which should also add significantly to the bottom line for shareholder value.
Book value is the amount of available assets a company has to sell in a worst case scenario, so a company with rising profits but no asset value, minimal cash and high debt, is in a far riskier position than one with book value of over $25/share, and debt below cash. SPU filing:
We currently market our Hedetang brand fruit beverages in only certain regions of the PRC. We plan to expand the market presence of Hedetang over a broader geographic area in the PRC.

In particular, we plan to expand our glass bottle production line to produce higher margin portable fruit juice beverages targeting consumers in more populated Chinese cities. Currently we produce six flavors of fruit beverages in 280 ml glass bottles, 418 ml glass and 500 ml glass bottles and BIB packages, including apple juice, pear juice, kiwifruit juice, mulberry juice, peach juice and pomegranate juice.

We currently sell our fruit beverages to over 100 distributors and more than 20,000 retail stores in approximately 20 provinces....We plan to continue to focus on creating new products with high margins to supplement our current product offering.
This article from Farmers Weekly New Zealand discusses Zespris (NZ) Kiwi exports to China. Their current focus is on two major cities. 2016 is a good season for Kiwi, and several producing companies will be using Sky Peoples new market, from which in addition to their ordinary activities, they will earn a small percentage from each transaction. Limmer said:
Zespri was investing $40 million into developing the Chinese market this year and that included establishing personnel presence in two cities far west of the eastern seaboard, in Xi'an and Chongqing.

The cities had a combined population of 14 million and would take staff numbers on the ground in China to more than 50. Estimates were for China to earn Zespri $500m this season, selling 40m of the estimated 140m trays now being harvested.

Limmer believed it was becoming an easier country to do business in. "The Chinese are on a pathway to reducing corruption and making business processes simpler."The Chinese themselves grew 1.5m tonnes of kiwifruit, once known as Chinese gooseberries, a year, or three times NZ's production and represented both potential competition and collaborative opportunities for NZ"

(11,000 tons = 3.2 million trays Kiwi fruit)

Sky People's filing Shows they are already supplying supermarkets in Vanguard in Xi'an, Carrefour in Chongqing

They raise the issue of direct internet sales on line versus distribution channels, but are already selling direct to supermarkets, and have an advanced IT operation in Kiwi.

Investors will be interested to hear more about their channel position, and how they plan to advance sales to major cities.
According to Ibizworld
Annual per capita consumption of juice in China is less than one kilo, almost one-tenth of the world average and just 2.5% of the level in developed countries. If per capita juice consumption in China reaches the world average level of about eight kilos per year, the market volume in China should be 91 million tons. This shows that there is still large potential for future industry growth.
Sentiment
Bullish SPU traders have been suffering an emotional grinding down from various Nasdaq delisting threats, which should finish by the end of this month. There's still a significant short position in the stock which has a comparatively small US float (which creates trading volatility). With a change in sentiment, (turn around of adequate pear supply, and a productive Kiwi market), along with rising export sales, full recovery of shareholder value is feasible, even in a short term time frame.
Much of the concern behind the reason for the share price failure in 2015-6 (which resulted in a split reversal) was the outcome of the company restructure which is now in place.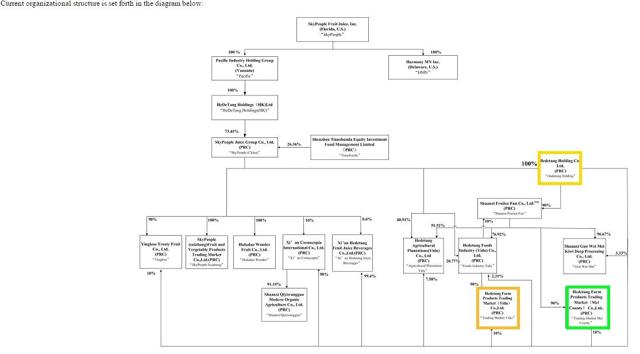 We can see where the cash proceeds of the 51 percent sale/asset revaluation, would materialize in the structure (green), and also that the Yidu organization structure includes a market which presumably will be similar to Kiwi, and so warrant an asset revaluation too. The market looks forward, there's no reason why the share price value shouldn't begin to correct an extreme under valuation based on both operations, and based on current season data as it emerges.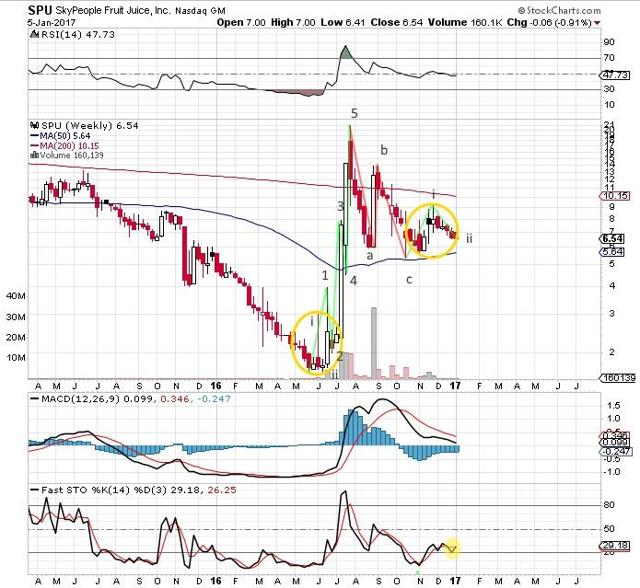 The recent weekly chart of SPU shows a bullish pennant or flag pattern, which is formed from five rising green waves (the pole), followed by a typical ABC, three wave correction. The correction bounced from the 50 ma on the low, and found short term selling resistance on the 200ma.
The rise into November and subsequent correction is the equivalent of minor wave i, ii, as labeled for May and the early June low 2016. There's no reason why this current pattern should duplicate the first exactly, normally another series is at least 38 percent greater than the last.
The fast stochastic at the bottom shows positive volume picking up from the end of the year despite the share price falling, this is known as positive divergence, and highlights the positive advance from the MACD November low.
Summary
Investors are just seeing the results of operations last year, despite cash flow being accommodative. Current negative sentiment could swing quickly as reports about the current season arrive, and others recognized developing value. There are a number of fundamental reasons for a potential rise in share value through 2017:
1- Improved harvests in 2016/7 leading to increased sales
2- Unrealized profit from the new Kiwi market which only became fully occupied the summer of 2016, also translating into beverage sales
3- A book value appreciation, due to a- Kiwi market, b- Orange market, c- cash from operations
4- SP have confirmed they will be fully filing compliant by the end January 2017, with the 2016 10k normally filed by the end of March, more releases will follow soon.
5- Ongoing sale of 51 percent of the Kiwi market for over $40m
6- Poor sentiment (traders affected by former trading halts, deadlines and worries about filings), but the stock is still relatively stable. The US float is very small, so any improvement in profit is likely to have a major impact on share value - and should. SPU is highly undervalued, and this change in business model and structure is creating a buying opportunity
7- The Shanghai stock market is bullish. A second listing in China would support the share price for SPU, improve general investor sentiment and hopefully add further to US investor value.
8- Manufacturing in China is still recovering, food inflation eased off into the middle of the year, an improved environment to develop juice sales.
Disclosure: I am/we are long SPU.
I wrote this article myself, and it expresses my own opinions. I am not receiving compensation for it (other than from Seeking Alpha). I have no business relationship with any company whose stock is mentioned in this article.
Editor's Note: This article covers one or more stocks trading at less than $1 per share and/or with less than a $100 million market cap. Please be aware of the risks associated with these stocks.