Opening
The biotech group was not only one of the worst-performing sectors in 2016, but it was no better in 2015 either. The iShares Nasdaq Biotechnology ETF (NASDAQ:IBB) is down nearly 30% from its all-time high in July of 2015. Things couldn't look bleaker for the sector going into 2017, as President-Elect Trump has said he wanted to take on drug pricing. Unfortunately, one of the biggest mysteries is just how he plans to go about doing this? Does it come in the form regulation, price caps, or patent law? How do you go about taking on drug prices by solving the problem without stripping the sector of its incentive to spend millions and sometimes billion of dollars to develop some of these new life-saving drugs?
From listening to the soon to be president and his viewpoints on health insurance and even the Lockheed Martin (NYSE:LMT) F-35 project, it would seem he likes to spur on competition. I think that is how he goes about handling the drug pricing problem. He is going to incentivize companies to develop new drugs faster and perhaps somehow shorten the duration it takes to get them approved. It may not solve the problem short term. However, it may solve the problem over the longer term. At this point, this seems like an option that is better than some potential alternatives. There is no doubt that part of the reason why the sector has performed so poorly over the past year and a half is because of the drug pricing overhang and the political risks it carries. However, I can't imagine the government would want to stop the development of new medicines that help people live longer and healthier lives.
S&P 500, Sectors and The Dollar
The S&P 500 (NYSEARCA:SPY) is trading down slightly today and is hovering still around the 2,270 level, which it has been at now since the middle of December. The S&P had its giant run post-election and had seemingly stalled out. There haven't been any catalysts at all for the investors to get excited about recently. Likewise, there hasn't been many reasons to feel discouraged either. We still do not know enough about new political policies likely to be set by the new Trump Administration and we are waiting on corporate earnings to start rolling out.
The thing I'm watching for the most during the upcoming earnings season is the dollar's impact on many of theses multinationals. The Dollar Index had rallied sharply since the middle of August when it was around 94. Today, the Dollar Index sits around 102, a near 9% rally since then. Although the dollar strengthening has slowed in recent days, I do not expect it to be over due to the current expectation of interest rate policy here in the US. The dollar strength will likely have an impact on many companies' profits this quarter. More important than how will these same companies report it is how they guide for the upcoming quarters. Remember, it isn't just that the exchange rate hurts the companies when they convert their revenues back to dollars, it also makes US products more expensive to consumers overseas. In some cases, it can have inflationary pressures as well, which is one reason why I think emerging markets (NYSEARCA:EEM) could struggle in 2017.
The one sector I'm following the closest is biotech currently. I perceive this group to be the risk-on sector of the equity market. I think nothing could be more bullish for the market than a strong biotech group. In fact, the IBB and SPDR S&P Biotech ETF (NYSEARCA:XBI) are showing signs of breaking out. In this chart of the IBB, I circled three areas in blue I think that hold the most significance. It would appear that the IBB formed a triple bottom back from February through July of 2016. We can see from the red horizontal line around the $277 area that it has been an area of support and resistance. It would also seem that from a period of early December through late December, the IBB put another shorter-term double bottom in place. Just Friday, the IBB broke above the support/resistance level at the $277 area.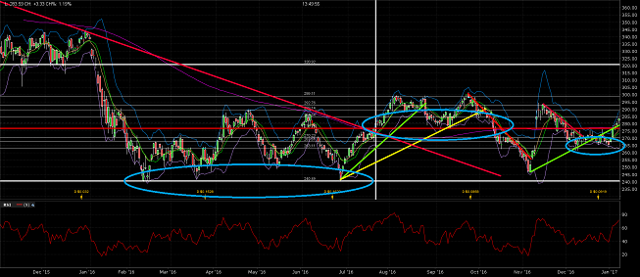 (Interactive Brokers, LLC)
To me, this seems very bullish for the group which could also be an excellent sign for the equity markets in general. Adding to my conviction is this chart below of the XBI. I drew this out awhile back and today when I checked, I noticed the XBI quite easily broke above the long-term resistance trend line.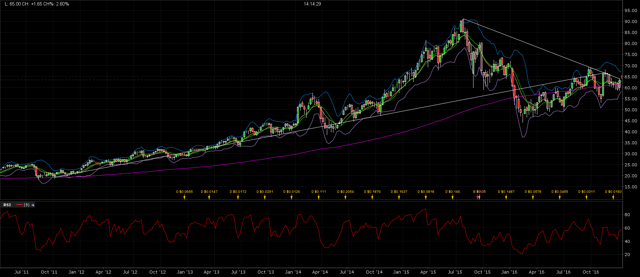 (Interactive Brokers, LLC)
When it comes to technicals, I have found it is more of an art than science. Over my 20 years of doing this, I concluded that keeping a history of old levels helps me to predict future direction. Some may disagree with the way I do this, or dislike my charts, but this is what works for me.
Summary
If indeed we can get solid earnings, with the dollar having not caused too much damage, in conjunction with some sound political policy, things could be looking for equity prices. If the biotech group is any indication, then perhaps the market and biotechs may just be getting warmed up.
Today's article style is different, I know. I just felt like mixing things up a bit. Doing the same thing every day gets boring. Besides, if your failing to try to do new things, then you just aren't trying hard enough to come up with new things to try.
In this video, we discuss three stocks for 2017. ACADIA Pharmacueticals (NASDAQ:ACAD), Tesla (NASDAQ:TSLA) and Netflix (NASDAQ:NFLX).
Remember in our research area we offer video market commentaries and track market themes and trends. If you'd like to get a full listing of the different items we currently have a rating or view on, you can find a list in our research area. Remember, if you like reading these commentaries, make sure you follow us with that little "+" button at the top of the page next to our name.
Disclosure: I am/we are long ACAD, TSLA, NFLX.
I wrote this article myself, and it expresses my own opinions. I am not receiving compensation for it (other than from Seeking Alpha). I have no business relationship with any company whose stock is mentioned in this article.
Additional disclosure: Additional disclosure: Disclosure: Mott Capital Management, LLC is a registered investment adviser. Information presented is for educational purposes only and does not intend to make an offer or solicitation for the sale or purchase of any specific securities, investments, or investment strategies. Investments involve risk and unless otherwise stated, are not guaranteed. Be sure to first consult with a qualified financial adviser and/or tax professional before implementing any strategy discussed herein. Upon request the advisor will provide a list of all recommendation made during the past twelve months. Past performance is not indicative of future performance.