Last time, as part of its periodic focus on small caps (NYSEARCA:IWM), Celeritas Investments chose US Murphy (NYSE:MUSA) as one of its small cap picks. CI had a price target of $76. Weeks later, the stock jumped from $60 to $71 per share before returning to the low 60s level. Celeritas is still bullish on the stock with the same price target, since no fundamental change happened to MUSA since the publication of the research 2 months ago.
This time, CI chose another small cap with very low downside risk and decent upside potential.
The pick is AV Homes (NASDAQ:AVHI).
The company, as its name suggests, is a house-building company with operations in Florida, Arizona, and the Carolinas. The company's enterprise value is currently $636 million. Its closest competitors are Beazer Homes USA (NYSE:BZH), Cavco Industries (NASDAQ:CVCO), LGI Homes (NASDAQ:LGIH), M/I Homes (NYSE:MHO) with the following enterprise values: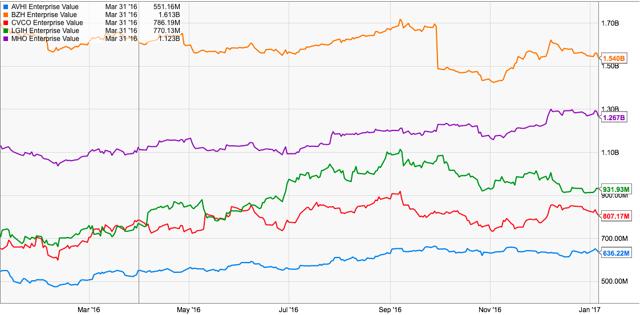 (Source: YCharts)
AV Homes' main market is Florida. In the first three quarters of 2016 it closed 1657 units, 904 units of them are in Florida (54.5%) while 413 and 340 of them are in Carolina (25%) and Arizona (20.5%) respectively.
As a result, the company's operations in Florida have the highest gross and operating margins. In the last nine months (LNM), the gross and operating margins were as the following.
| | | | |
| --- | --- | --- | --- |
| Market | Homebuilding Revenues | Gross Margin | Operating Margin |
| Florida | $252 M | 22.8% | 9% |
| Carolina | $152 M | 14.4% | 3.8% |
| Arizona | $104 M | 14% | 5.6% |
In Florida, AV Homes was able to take advantage of economies of scale and drive gross and operating margins to high levels. I expect that the company will be able to do the same, especially in Carolina. AV Homes' entry into Carolina State was driven by the successful acquisition of Bonterra Buildings in mid 2015, and the results are promising. Take a look.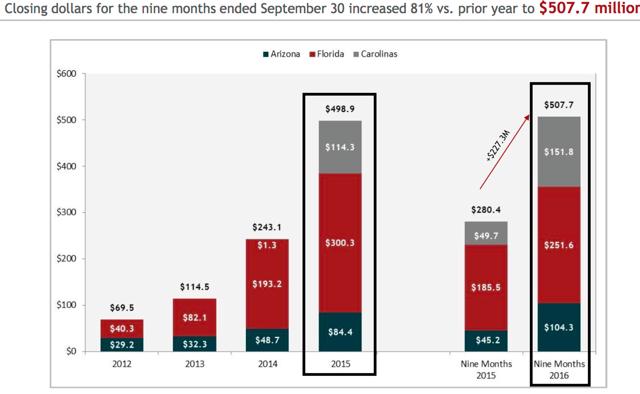 (Source: AV Homes' Presentation)
In 2015 (when the full consolidation with Bonterra Buildings happened), Carolina's revenue was $114.3 million. In the LNM of 2016, the revenue increased to $151.8 million, a 33% increase in just nine months (!) that is simply impressive. In Carolina and Arizona, AV Homes have the ability to achieve higher gross and operating margins as a result of expected growth in these states.
Another reason I'm excited about the Carolina market is the average price per unit sold and AV's ability to control prices there. AV Homes operates in Charlotte Metro and Raleigh-Durham Metro.
According to Zillow (NASDAQ:Z) (which CI shorted last week), Charlotte Metro is a seller's hot market with an APU of ~$265,000. A sellers' market means that the sellers control the price due to low supply and high demand. A hot market means that prices are increasing in a much higher rate than other places. That will be more exciting when you know that AV Homes is having an APU of $368,000 in an already hot market (still significantly higher when adjusting for the 20% average difference between new and used homes, which in our case is $318,000 instead of $265,000 for the Zillow APU).
So, all of Bonterra Buildings' assets, which are now under the umbrella of AV Homes, are undervalued when compared to 2015 prices. Add to that the better margins that will be achieved under the sellers' price control (house prices increase faster than input prices).
Carolina is where I believe the growth engine will be for AV Homes for years to come. In addition, Florida and Arizona are still very important markets for AV Homes but not for the high growth side.
Valuation
Housebuilders' most important metric is price to book value. That's because most of the companies' assets include either lands or houses under construction, which have the lowest price variation in a healthy market.
AV Homes have the privilege of being one of the most undervalued companies among its peers (stated above).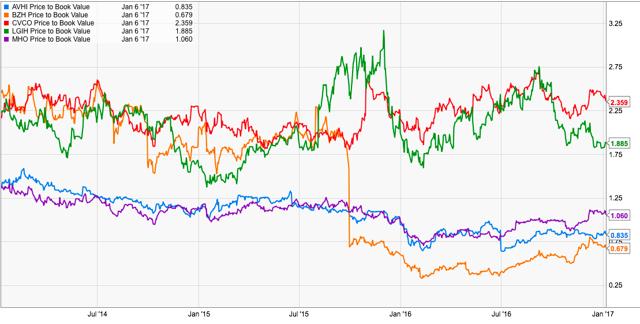 AV homes trades at 17% discount to book value. All of the other competitors trade above their book value with the exception of Beazer Homes USA, which has high debt and very low interest coverage ratio.
Another aspect of undervaluation for AV Homes is enterprise value to revenue. I find it ridiculous that a company which had a revenue growth of 65% from Q1 2016 to Q3 2016 (I didn't choose qoq as a comparison since the Bonterra Buildings acquisition happened in the first month of Q3 2015) is being valued at just 85% of its revenues.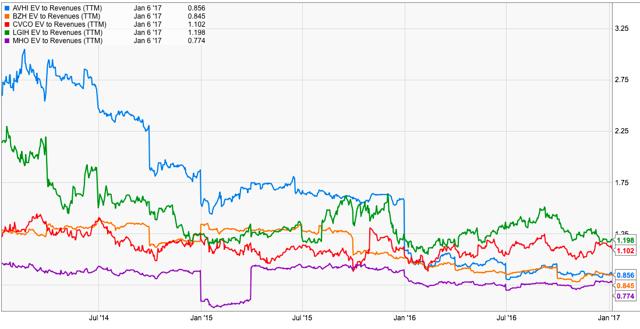 M/I Homes, beside the troubled Beazer Homes USA, is also undervalued on this front. And I believe that the company is also a good investment, but I prefer owning housing companies that are undervalued on the P/B front, where M/I Homes is trading at 106% (there are plenty of articles here on SA about M/I Homes which you can read about).
Last but not least, AV Homes is trading at a conservative debt-to-equity ratio. It has one of the lowest leverage ratios among the group, beside Cavco Industries which is trading at 235% of book value.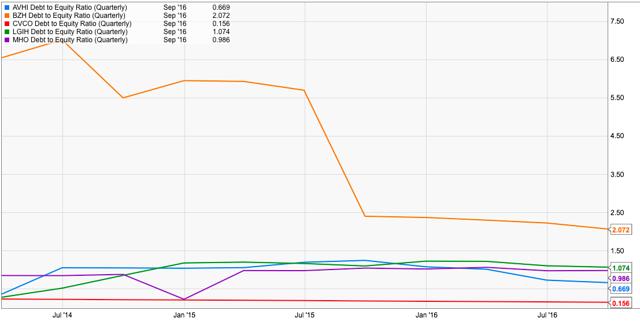 AV Homes is one of the few safe-growing investments. The company has the combination of being undervalued on EV/R, and P/B with a low leverage ratio. In addition, the company is having a TTM earnings yield of 35%, much higher than its peers. However, that yield is expected to decline next year to the ~8% level, which is on the average of its peers.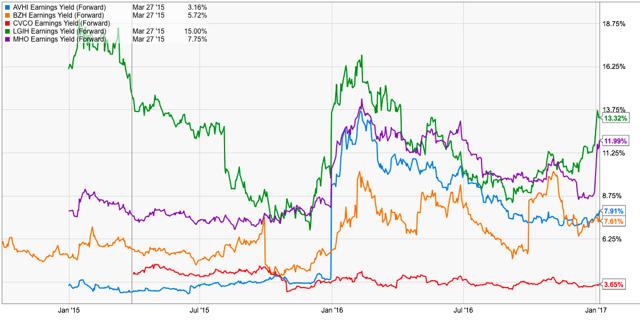 The Carolina market will fuel more growth in the next years for the company. In that state, sellers control the market due to low supply and high demand. In addition, the company was able to have an average unit price well above the already-high average in Charlotte Metro. This means that the company's homes are preferred by buyers in the state. Margins will also expand in Arizona and Carolina once the company establish a higher presence there. The company's low valuation makes it a probable choice for acquisition. Companies prefer buying another company with low valuation and having strong assets than buying the assets directly. Also, the company's backlog of $347 million in Q3 2016, which is expected to close in 2017 (houses under construction takes on average 8 months to be completed), will help in achieving strong revenues for 2017.
Concluding, I recommend buying AV Homes stock with a minimum expected upside of 17%, based on a P/B ratio of 1. Also, the company deserves a higher valuation on the EV/R spot due to its impressive growth rate.
With these cheap valuations and good fundamentals, I find no company-specific factor altering a stock a decline. The only risk, in my view, lies in unexpected changes in the housing market in general, which till now has shown no signs of serious weakening.
Disclosure: I am/we are long AVHI.
I wrote this article myself, and it expresses my own opinions. I am not receiving compensation for it (other than from Seeking Alpha). I have no business relationship with any company whose stock is mentioned in this article.
Additional disclosure: Celeritous Investments will publish occasional researches on small cap stocks. The stocks which offers the biggest upside potential with the lowest risks for investors. If you are interested in receiving these kinds of research, please follow us.