As more and more smart value investors turn to deep value investing and net net stocks in particular, I thought it would be worthwhile highlighting our approach to stock selection at Net Net Hunter.
Graham was a huge proponent of net net stock investing up until his death in 1976 and even Warren Buffett glows when talking about his younger years buying these firms.
"My cigar-butt strategy worked very well while I was managing small sums. Many dozens of free puffs I obtained in the 1950s made that decade by far the best of my life for both relative and absolute investment performance."
- Warren Buffett, Berkshire Hathaway's (NYSE:BRK.A) (NYSE:BRK.B) 2014 Annual Letter
But, both Buffett and Graham were well aware of the pitfalls of blindly investing in net net stocks, favoring additional filtering criteria when making their selections. Walter Schloss was no different, and would overweight his best picks while owning bits and pieces of everything else.
The difference in returns between the best sorts of net nets and the worst is sizable. Fail to nail down the basics of a high performance net net stock strategy and you could struggle to beat the market for years. But, adopt a framework that incorporates best practices and you can easily outperform many of the well respected fund managers in business today. I have.
Net net stock investing is not difficult, but it can be time consuming. We've created our own investment checklist, our Core7 Scorecard, to take a systematic approach to cutting the wheat from the chaff… the great net nets from the also-rans. The Core7 Scorecard grounds our selection process in academic studies or industry white papers and incorporates timeless principles from Ben Graham, Warren Buffett, or Peter Lynch. This scorecard has helped us avoid the flat returns of American net nets over the last 5 years and produced beautiful returns that anybody can copy.
One final note about this analysis before moving on to the stock. Our focus is on selecting stocks based on a mechanical list of filters and then fitting them into a decently diversified portfolio of high performance net net stocks. We do not intend you to buy this or any other net net as a stand alone investment. Our selections are intended to work out on the group-level. This is a major difference from modern day Buffett-growth investing. Buying only a few net nets is a serious mistake that I constantly advise new deep value investors against. Ensure reasonable diversification for the best returns.
Our company today is InfoSonics (NASDAQ:IFON) and we're presenting it the same style of the analyses on our site. If you own InfoSonics or are considering it for a purchase, you'll definitely want to read through to the end. You won't get this take on a deep value stock anywhere else.
Note: Values Are Presented In USD
Name: InfoSonics Corporation
Country: USA
Symbol: IFON
Market Cap: $5.52 Million
Analysis Type: Core7 Scorecard (2017)
Shares Outstanding: 14.4 Million
Share Price: $0.39
Net Current Asset Value (NCAV)/Share: $0.713
Current Discount: 45.3%
Net Cash per Share: N/A (Negative)
Price/Net Cash: N/A (Negative)
Debt to Equity: 5.96%
Current Ratio: 2.79x
Burn Rate QoQ: -10.09%
Burn Rate YoY: -31.12%
Business
InfoSonics Corporation is a US-based provider of mobile phones, mainly to Latin America. Its products include a wide range of GSM feature phones and Android smartphones.
Prior to 2012, it was just a distributor, primarily of Samsung, but then concentrated efforts on their own verykool products. These were first designed in-house but the firm later began working with independent designers and original design manufacturers (ODMs). InfoSonics currently has ODMs design and manufacture the phones which it then rebrands distributes under its own label. For 2015, Revenue stood at $47.8 Million.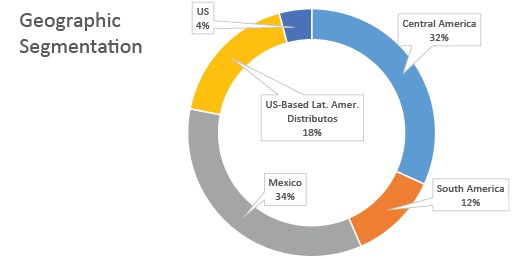 Graph shows $9M 2016 Net Sales Geographic Segmentation.
(Source: Q3 2016 SEC Filing Tables.)
The business faces stiff competition, as the barriers to entry are very low and competition is primarily about price rather than differentiation. Thus, Gross Margins are historically very weak, suppressing profitability and hurting the share price.
InfoSonics' corporate headquarters is located at 3636 Nobel Drive, Suite 325, San Diego, CA 92122, in the USA.
Net Net Hunter Core7 Scorecard Core Criteria
The company must pass this set of criteria to even be considered as an investment. Failing here means passing on the stock.
Not Majority Chinese - Pass
China has come under the lens of major forensic investors such as Muddy Water Research due to the country's tendency to produce fraudulent firms and then selling those firms to unsuspecting western investors. Not all Chinese firms are fraudulent, but auditors have been lax and investors have lost hundreds of millions buying what seemed like great firms. Particularly relevant to net net stock investing is the fact that beaten down Chinese reverse merger companies have a staggeringly high bankruptcy rate. Since almost all net nets are beaten down in price, we simply avoid Chinese firms to sidestep the danger.
The source of the phones manufactured by ODMs (Original Design Manufacturers) is China. So, the company maintains some personnel in China to monitor the performance of suppliers and conduct quality control. Nevertheless, InfoSonics is a US company mainly selling in Latin America and major operations are not taking place in China. The firm gets a pass.
Low Price to NCAV - Pass
The stock trades at $0.40, while NCAV came in at $0.71 per share for Q3 2016. This means that the stock trades at just 56% of NCAV, or a 44% discount to NCAV. This is enough to pass this crucial core criterion and the size of InfoSonics' discount provides both a strong margin of safety and large upside prospects.
Low Debt to Equity - Pass
According to the company's Q3 2016 SEC filing, debt was only $0.64 Million compared to $10.73 Million in Equity. Consequently, the Debt to Equity ratio comes in at 5.96%. That low debt level, lower than 25% threshold, means a broader margin of safety for the company and a pass.
Assessing debt is crucial. Firms trading below NCAV are troubled companies facing major business problems. In these situations, it's important that the company does not have the burden of debt since debt could easily cause the company to slip into bankruptcy. An absence of debt also increases the likelihood of a takeover and frees up operating and investment flexibility. Management is more able to take the steps needed to turn the business around and buy back stock.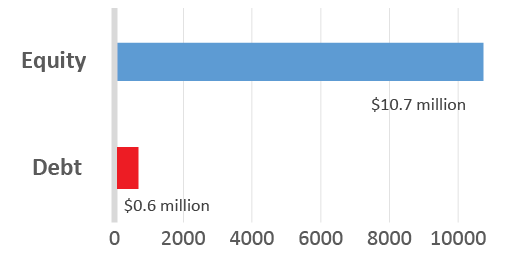 (Source: InfoSonic's Q3 SEC Filing Tables)
Adequate Past Earnings or Catalyst - Fail
Going back six years, we see that Net Profit Margins were always negative, except in 2014. Even then, a marginal profit of $261,000 brought a Net Profit Margin of just 0.5%. A Net Profit less than 5% is not large enough to show us that the company is/was capable of producing a decent return on its operations.
Ben Graham recommended that net net stock investors focus on firms that had large earnings previous to stumbling into whatever pushed them into sub-liquidation value territory.
Furthermore, there doesn't appear to be a catalyst on the horizon that could correct the firm's discount to intrinsic value, so this is a company that Graham would have likely passed on. For our analysis, this stock fails this criterion and therefore does not meet our Core7 standards. It is not suited for a more concentrated portfolio of great quality net nets.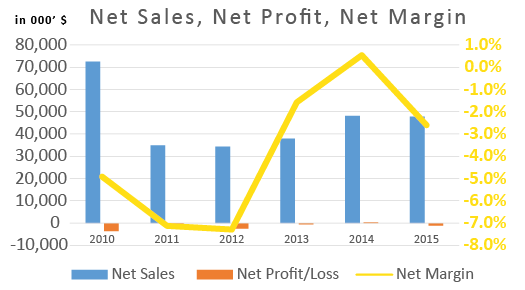 (Source: InfoSonic's Annual Reports)
Past Price Above NCAV - Pass
As seen in graph below, in Mar 2014, the stock price reached $4.5 per share. According to the 2014 Annual Report, that year's NCAV was around $1.10 per share. The chart below also suggests that InfoSonics' stock price could really take off if a bit of good news comes out regarding the company, as happened in 2014. The firm passes this test.
The fact that the stock traded above the firm's NCAV per share value shows that InfoSonics is definitely not a perennial net net. We avoid firms that have traded under NCAV for too long, since firms that have always traded below NCAV could remain undervalued for much longer.

InfoSonic's stock since 2011 (source: ft.com)
Existing Operations or Liquidation - Pass
While the company's losing money and the situation is getting worse with both Revenue decreasing and the company's loss widening, we do not consider these reasons to avoid investment. More important is the firm's current operational status and InfoSonics definitely has an operating business. Sales are $9 Million in the last quarter.
It is important to avoid firms that are both not operating as businesses and not liquidating. Net nets are deep value stocks and like most value stocks we want management to overcome whatever business problem is now plaguing the company and return the company to former levels of profitability. It's tough to turn operations around that don't actually exist. In cases like these, a liquidation would be an adequate solution since investors could expect a redistribution of capital through asset sales.
InfoSonics has significant operations, so passes this criterion.
Not Selling Shares - Pass
The firm's share count is almost stable at around 14.4 Million Shares Outstanding and the company so far has not sold shares in a way that could severely dilute shareholders, destroying value at this sizable discount to NCAV. So, the company passes on the criterion.
Despite the pass, investors should bear in mind that in May 2015 a Form S-3 was filed that allows management to issue stocks up to $25 Million. We think that there's a high probability that the company will issue shares in the near term due to management's Q3 statement:
"Given the losses we have sustained over the last four quarters, these resources, combined with our existing working capital, may not continue or be sufficient to adequately fund our operations for the coming year." They also state that: "It may also be necessary for us to seek other debt, equity or equity-based financing."
The company passes because it has not issued shares in the past below NCAV, but the above is a very bad sign. These actions will dilute shareholder value and possibly eliminate its net net status. In our assessment, the likelihood of a profitable outcome for investors is fading fast.
Small Market Capitalization - Pass
InfoSonic's Market Cap comes in at $5.7 Million. This is a very small firm, much smaller than out $100 Million cut-off. Backtesting has shown that smaller firms trading as net nets perform much better than larger firms. We like the fact that the company passes this criterion.
Not a Financial, Regulated, ADR, Real Estate, or Resource Firm, or Closed Fund - Pass
The truth about net net stock investing is that some types of firms make for better net net stocks than others do. The categories listed above have either been avoided by academic net net stock studies or, as in the case of Resource Exploration companies have been shown to produce terrible returns. The difference in returns can be as high as 30% per year long term, so it really pays to know what you're doing when it comes to net net stock investing. InfoSonics is a provider of mobile phones and does not fit any of the above categories. It's a clear pass.
Burn Rate Low or Positive - Fail
NCAV has declined 10% quarter over quarter (QoQ) and suffered a huge 31% drop year over year (YoY). We consider the QoQ numbers adequate but the YoY figure is much larger than we'd like.
This is very bad for the company and investors. Graham recommended that investors avoid firms that had a rapidly shrinking NCAV. If a stock has a lot of Net Current Assets but these assets are evaporating, less and less value is going to be left for shareholders, which shrinks your margin of safety and profit potential. In addition, the viability of the business will be at question. Management says that InfoSonics' Q4 won't be better. Thus, this is the second core criterion fail, excluding our extreme worry over share issuance, highlighting how ill-suited the company is for a high performance net net stock portfolio.
InfoSonics does not meet all of our Core Criteria, failing to pass basic inspection. The company is cheap, but has not posed adequate past earnings and has a high Burn Rate. While this company is almost certainly to be passed on, let's see how it fares in terms of Ranking Criteria.
Ranking Criteria
This criteria shows how the stock compares to alternative investments. Even passing a couple of the following criteria is a strong positive.
Company is Buying Back Stock - Fail
As mentioned before, InfoSonics' share count is stable, so there have been no buybacks. It would have been nice if the company was cash rich and had been repurchasing shares. This would have helped driven the stock price higher and creating value for shareholders. This would have been nice, but hasn't been the reality for InfoSonics. It fails on this criterion.
Low Price to Net Cash - Fail
InfoSonics does not have Net Cash. Net Cash is simply Cash and Equivalents less all obligations prior to the common. Having Net Cash is always a positive since the value of cash is certain ($1 is always worth $1), strengthening the quality of assets on the firm's Balance Sheet, and because it gives the company operating & reinvestment flexibility. As the company does not have Net Cash it's a definite fail on this criterion.
Large Current Ratio - Pass
In Q3 2016, Current Assets were about $16 Million, while Current Liabilities were $5.7 Million. Thus, the Current Ratio comes in at 2.79x, more than passing this criterion's 1.5x threshold. A large spread between Current Assets and Current Liabilities, as in the case of InfoSonics, acts as a buffer ensuring that the NCAV of the company isn't easily significantly impaired. It also acts as a margin of safety for investors since Current Assets can be further impaired during a liquidation event before an investor's principle is put in danger. InfoSonics gets a pass.
Insider Ownership - Pass
Warren Buffett loves managers who eat their own cooking by investing alongside shareholders. This aligns management's interest with the interest of shareholders. But, InfoSonics is proof that strong insider ownership does not necessarily mean great stock returns. Joseph Ram, who is director, founder, President, and Chief Executive Officer, owns 4.425 Million shares, for a 30.28% stake. This gives him a powerful incentive to make shareholder friendly decisions and is a bright spot for this investment and an easy pass.
Insider Buys Vs. Sells - Fail
A pass here would require more buys than sells, a sign that those who better know the company believe in its future. When considering the two, counter intuitively, insider buying is always a plus but insider selling is not always a negative. An insider will sell for any number of reasons (he wants to diversify, put down money on a new house, pay for his children's education, donate to charity, or because he sees a rough patch ahead for the firm); but an insider will almost always buy for one reason: to profit through investment. There were neither insiders buys nor sells in 2016 - another fail to add to InfoSonics' growing list of failure.
Catalyst - Fail
Catalysts are events that surface which rapidly close the gap between price and value. Catalysts are varied but are often found in the firm's qualitative story. We put little stock in the qualitative side of things because quantitative investing is so profitable but we do look for select qualitative features of an investment.
According to our research and the information available, no catalyst appears to be on the horizon. In addition, InfoSonics' operations and business model are simple and we do not expect any unanticipated evolution similar to those that tech companies can stumble into. Again a fail.
Insider Pay - Fail
For 2015, Joseph Ram and CFO Vernon A. LoForti were paid $480.514 and $264,70, respectively. Taking into account the low Gross Margins of the business, its eroding Revenue, and the losses produced over the last few years, I consider $745,214 for the pair excessive. A lower salary might help push InfoSonics into profitability and, of course, would show more respect for shareholders. This is the last of many fails for InfoSonics.
InfoSonics makes a decent, but not strong, showing on our Ranking Criteria. The investment has managed to nail 2 of the 7 checks we employ. Remember, meeting any of these criteria is a strong positive for the stock. These two passes here, however, do not make up for failing our core criteria.
Business Problem or Reason for Undervaluation
InfoSonics is operating in a very competitive business without a moat. Low Gross Margins have led to years of losses, 2014 being the exception. Even then, profitability was very poor.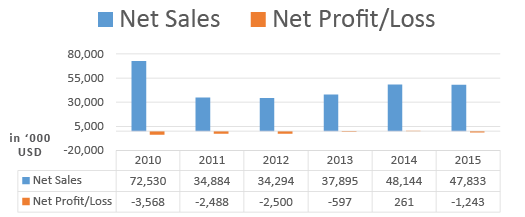 (Source: Annual Report's Tables)
Consecutive losses are eroding Equity, NCAV, and all other measures of shareholders value. In the first nine months of 2016, the situation deteriorated with Net Sales down to $30.5 Million from $37.6M in the previous year. The firm has shown a steeper Net Loss of -$2.9 Million compared with -$0.3 the previous year. As calculated before, the YoY Burn Rate comes in at a scary -31%. The company admits in Q3 SEC Filing that: "While we are working to expand our customer base to regain and maintain profitability, if we do not succeed, our business may not be sustainable in the future."
Note that it is very common for firms trading as net nets to suffer biblical drops in Revenue, market value, and to be losing money - what matters in these situations most of all is Balance Sheet stability. Unfortunately, InfoSonics does not show the Balance Sheet stability required to meet our rigorous standards and possible share sales are expected to further hurt shareholders. Strong evidence of the company's inability to produce adequate profit is particularly concerning. We look at share buybacks and insider buys as management as strong indicators of great returns ahead but in this case management is desperate for cash and has warned investors that the business may not be viable.
To top it off, InfoSonics ceased offering its products in the United States after declining Sales and after a patent litigation. Hopes were high for the company a few years ago when it struck a strategic partnership to sell in the US. These hopes have been completely dashed and this exit has already hit the firm's financials. Investor pessimism is very understandable.
Adding to this one, two, three punch to investor sentiment is management's fat pay package and the firm's risky markets. Investors do not like firms where insiders are earning excessive salaries while stockholders lose money. The company just so happens to be doing so in Latin America, a region that faces high political and economic risk.
Attempts to Address the Problem and Other Factors
According to management, the firm's current troubles are caused by the combination of continued pricing pressure and increasing costs from Chinese manufacturers. But, they also state that this has started to change as these burdens have lead to significant business failures and loss of production capacity throughout the industry. Conditions may improve, leading to (let's hope) improved top line and Net Profit Margins in 2017.
On the cost side, the company has already taken steps to reduce operating expenses, cutting $309,000, or 15%, of fat in the first 9 months of 2016. This was accomplished through decreases in wages, benefits, marketing, travel and sales commissions. Additionally, the exit from the US market has hit Sales, but may also be a good "stop loss" for the company.
Finally, while InfoSonics mainly competes on price, management believes that it can differentiate it from the competition through attractive design, a compelling combination of software and hardware, plus low failure rates. They're currently strategically introducing a constant stream of new verykool models to keep the line fresh and appealing. Sourcing phones from 21 different manufacturers and distributing to about 60 different customers certainly aids in this strategy. The biggest manufacturer and the biggest customer represent no more than 20% of the company's total.
Valuation
Share currently trade at $0.40 while NCAV per share comes in at $0.71, for a discount to NCAV of 44%.
Current Assets: $15.99M
Less Total Liabilities: $5.73M
Equals Net Current Asset Value (NCAV): $10.26M
NCAV: $10.26M
Divided By Shares Outstanding: 14.4M
Equals NCAV Per Share: $0.713
NCAV Per Share: $0.713
Less Price: $0.39
Difference: $0.323
Difference: $0.323
Divided By NCAV Per Share: $0.713
Equals Discount to Intrinsic Value: 45.3%
Difference: $0.323
Divided By Share Price: $0.39
Equals Upside Potential: 82.8%
The company is currently trading at a large 45.3% discount to NCAV, which means that the stock would have to rise 82.8% before it reached NCAV. The stock is cheap valued indeed, but for serious reasons.
Conclusion
InfoSonics is very cheap relative to NCAV, tiny, and has minimal debt. Unfortunately, its high -31% Burn Rate may destroy the stock's margin of safety and upside potential.
InfoSonics' stock price may very well reach back up to its current NCAV per share level or beyond. But, we aim to invest in the net net stocks that have the highest probability of producing great returns and InfoSonics does not seem to fit this mold. The company's Burn Rate and likely stock sale will hold back the type of returns that we expect our net net stock picks to have. Therefore, while you may want to include this company in a well diversified list of net nets selected purely on a simple mechanical filter, InfoSonics is best avoided if you want the best net net stock returns possible and it's certainly not fit for a more concentrated portfolio of high quality net net stocks.
In this author's opinion, there's much better net net stocks available both in the US and globally - such as the stock we sent out last year on our Free net Net Hunter Newsletter, P V Crystalox; or I-O Data Devices. For a better understanding of why we advise against InfoSonics, read the complete breakdown on what made PV Crystalox such a great buy by clicking here.
Net net stocks produce fantastic long term returns - exceeding the market's return by 15% on average for a 25%+ CAGR. But, you can't select them blindly. There's a significant difference in return based on the sorts of net nets you select. While there's still the chance that the stock could produce good returns, the probabilities are not in your favor. InfoSonics is best avoided.
Disclosure: I/we have no positions in any stocks mentioned, and no plans to initiate any positions within the next 72 hours.
I wrote this article myself, and it expresses my own opinions. I am not receiving compensation for it (other than from Seeking Alpha). I have no business relationship with any company whose stock is mentioned in this article.
Editor's Note: This article covers one or more stocks trading at less than $1 per share and/or with less than a $100 million market cap. Please be aware of the risks associated with these stocks.