My Victory Formation system continues to highlight a handful of global pharmaceutical equities as sell ideas. For the first time in years, four drug stocks are near the top of the sell sorting done by my computers. Each is a major manufacturer/marketer of patented drugs worldwide. Allergan (NYSE:AGN), Amgen (NASDAQ:AMGN), Eli Lilly (NYSE:LLY) and Novartis (NYSE:NVS) may be due for both short-term pullbacks and longer-term large percentage declines in 2017.
As you can see below, each has witnessed underperformance of the S&P 500 large stock index, plus comparables in the Health Care Sector SPDR ETF (NYSEARCA:XLV) and high growth iShares Biotechnology ETF (NASDAQ:IBB) over the last 3-6 months. Sluggish trading performance, especially by the On Balance Volume [OBV] indicator in all but Amgen is particularly worrisome. Downward sloping lines are indicating a real lack of buyer conviction and dollar purchasing volume the last year. (Be sure to look at the charts under each company presentation to find the OBV line.)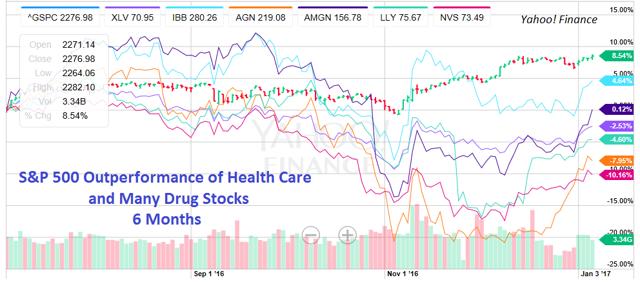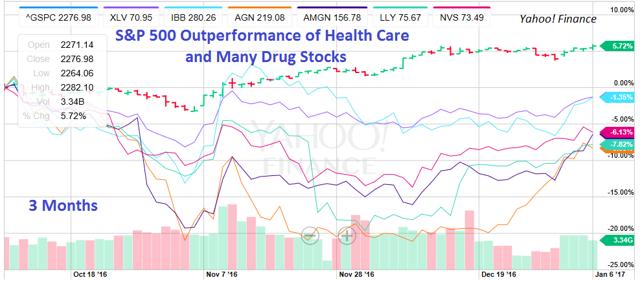 Allergan plc
Allergan is a conglomerate of acquisitions and takeovers completed during the last 5 years. Roughly the current company was formed in 2015 with the merger of Actavis and Allergan assets. Based in Ireland, the corporation's global brands include Botox, Restasis and many eye care products, to name just a few. The equity capitalization is $82 billion at a stock price of $219.
While the company has witnessed some organic product growth the last few years, its amalgamation of assets and acquisitions at high prices has left Allergan with a truly leveraged balance sheet. Only $34 billion in tangible assets were accounted for at the end of September 2016 vs. $54 billion in total debts and liabilities. With strong cash flow projected by Wall Street consensus of $10 billion annually in 2017-18, it would theoretically take a good 2-3 years to get back to breakeven underlying "tangible" shareholder worth, assuming no major liability lawsuits, no stock buybacks or dividends, and NO reinvestment of cash flow back into the operating business. The odds of all the above taking place simultaneously are next to zero, as the company is returning money to shareholders through a huge $15 billion stock buyback program and new 2017 dividend payout, while constantly reinvesting large sums into R&D and acquisitions to replace drugs coming off patent. It's safe to say the company will have no underlying liquidation value for at least five years outside of Wall Street's appraisal of regular cash flow generation worth.
The 2017 cash flow generation target of $9-$10 billion is the rosy number investors will focus on. However, actual operating cash flow reported during 2015-16 was closer to $5 billion annually, when shifting asset losses/write-downs are included. An open question for 2017 is whether the company ends up with $5 billion or $10 billion in actual cash flow during the coming 12 months.
Another positive for Allergan is the organization has a large early stage drug pipeline. The company is reinvesting cash flow into research & development. Part of this effort revolves around the acquisition of promising drug inventions now in clinical trials. Investors are banking on new revenues 3-5 years into the future from the drug pipeline.
Earnings and revenues disappointed vs. high expectations most all of 2016, and the company itself has been the largest purchaser of ownership units. Allergan started a monster stock buyback using funds from its divestiture of the generic drug unit to Teva (NYSE:TEVA). If you take out the buybacks from total volume (representing about 8% of all buy orders the last 12 months), the stock price would surely be much lower today.
Allergan's biggest valuation issue is its premium price vs. existing sales of $15 billion in 2016-17, which is basically the same revenue level as 2015. At 5.5x sales the operating business appears to be more than fairly valued when not growing much. Historically the last 20 years, it has been difficult for any large pharmaceutical company to remain priced above 6x sales, without a Wall Street expectation of significant business growth on the horizon. I am drawing up a fair value for Allergan during 2017 of 4x sales, combining the 4.5x 10-year average of the legacy Allergan before the 2015 merger, and similar Actavis asset valuation average of 2.0x sales over 10 years.
The wildcard for drug companies is President Trump. Will he meddle in the pricing of existing prescription drugs, the same as he wants to dictate how U.S. corporations with overseas manufacturing operate? In the days after he was elected, Wall Street remained hopeful he would not interfere in the free market pricing of individual drugs. However, several tweets and a Time magazine article have quoted him as saying drug prices are too high. If Trump demands pharmaceutical companies cut prices, especially when sold through Medicare, revenues and earnings from this sector could fall well short of expectations by investors. Stock prices could be hit 30%-50% under a Trump gone wild scenario.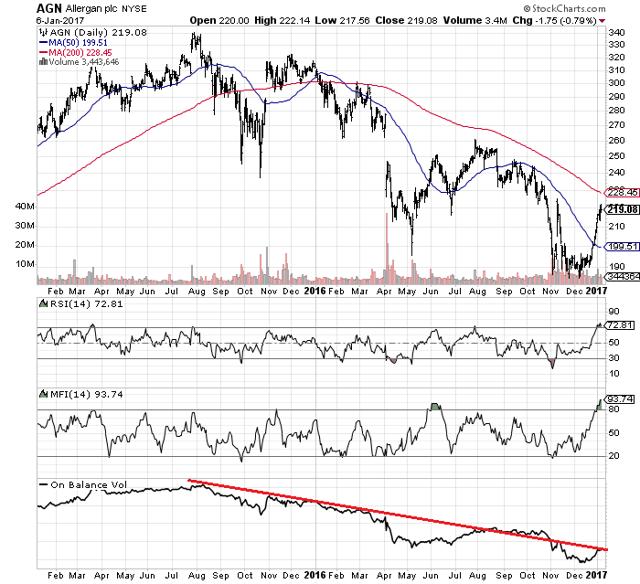 Amgen, Inc.
Amgen is based in California and manufactures patented drugs like Enbrel, Epogen, Repatha, Neupogen alongside many others. It is a leader and innovator in the biotechnology development field. Amgen has $116 billion in equity market capitalization at a $157 stock price.
I wrote an Amgen article here a few weeks ago, and recommended a straddle option strategy to play expected volatility in the stock price. Basically, an investor would have purchased both a call and put option at the same $145 strike price with a June expiration. The total cost for both positions was around $20. Since the story was written, Amgen has jumped about 10% in price. I again suggested in the comment section of the article on Friday that an investor could sell the call option side of the equation for nearly the entire $20 total of invested capital. Keeping the put option gives an investor plenty of ways to profit from any significant decline in Amgen between now and June.
Selling Amgen may be a difficult decision for value investors. The company has a better than typical valuation profile today in the biotechnology sector, as smaller competitors have been chased higher in price by investors year after year. While trading near its 10-year average price to trailing book value multiple of 3x and annual cash flow generation of 11x, Amgen's 3.0% dividend yield today is well above historical averages. The upside catalyst remains its large cash holdings. Investors are getting about $50 in cash backing on the balance sheet for each common share, ending the September 2016 quarter.
When you subtract out Amgen's massive cash position not necessary to run the business day to day, the $107 leftover price for the operating business looks cheap. In a takeover or business combination situation, a buyer could pocket the cash and purchase the operating assets for around 7x cash flow and 8x earnings per share estimated for 2017 by Wall Street consensus. Amgen's future drug pipeline can be acquired for next to nothing, after you simply pocket Wall Street "projected" cash flow totals the next 5-10 years.
Therein lies the rub for Amgen investors. Amgen's drug pipeline is something of a gamble, and Wall Street analyst long-term "projections" tend to be on the optimistic side, especially for speculative drug introductions. Plus, ample risk still exists for shareholders if unexpected issues appear for drugs already on the market.
My momentum system is saying sell Amgen, despite decent underlying asset valuations. Something isn't quite right according to my technical work. More sellers appear to be concerned with its ongoing business future and the potential for drug price tampering by the new Trump administration in Washington. Amgen would be hurt tremendously if drug price reductions are ordered by the new U.S. government.
The company has a super-high net profit margin of 37%, after taxes, on total revenues estimated for 2017. This number is double the level of other well-run, large conglomerate drug companies historically, and not sustainable. Again like Allergan on trailing four quarter results, with little revenue growth projected in 2017-18, Amgen is selling for an extraordinary 5.2x sales. With a 10-year high of 7x sales in 2007 when new drugs were being introduced, a 3x low reading in 2008 during a recession, and a 4x ratio as a 10-year average, Amgen has real downside potential on disappointing results or guidance.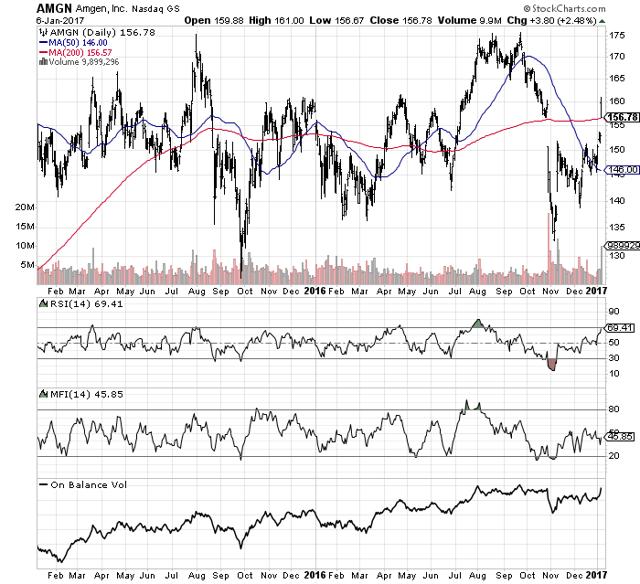 Eli Lilly & Co.
Eli Lilly is based in Indiana and produces such drugs as Cialis, Prozac, Cymbalta and others. It has $79 billion in stock market capitalization at a $76 stock price. Lilly retains a strong balance sheet with current (short-term) liquid assets like cash and inventories about equal to its $14 billion in total liabilities. A decent 2.8% dividend yield is another reason to consider a long position. So what is the logic to sell?
The largest pitfall of a drug growth pipeline can be the fallout to investor expectations when a promising clinical trial fails. Lilly had such a failure in 2016 with its phase III trial of Alzheimer drug Solanezumab. The share price fell 10% in late November when Lilly announced it was dropping its development of the drug.
Lilly started 2016 with major institutional and hedge fund ownership. As a head of the class growth story, based almost entirely on optimistic prospects for its drug pipeline, Lilly is discounting a number of things going according to plan. However, if drugs in development do not make it to FDA approval, the stock remains richly priced. You can read about Lilly's high hopes for future revenues that may not materialize in this Seeking Alpha article by Khojinur Usmonov.
At 20x annual cash flow, Lilly is trading for double its 10-year average calculation of 10x trailing annual cash generation. Lilly's stock is today priced at 4x trailing revenues per share. Against a 4.5x multiple 2007 high, 1.5x 2009 low, and 2.5x 10-year average, the stock appears to have little room for additional setbacks in the operating business.
The latest bump higher in price during December-January may be an excellent point to sell or short the stock. The On Balance Volume, red line pictured below is particularly weak of the four in this article. The price is bumping against its 200-day moving average and it filled the price gap from the failed Alzheimer drug announcement in November.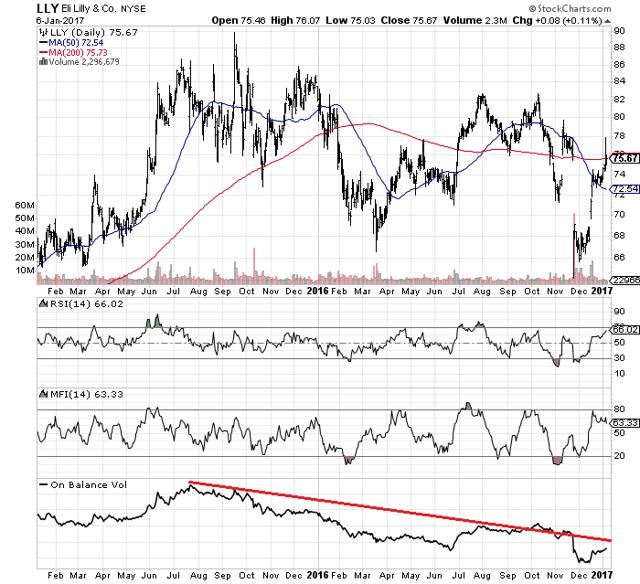 Novartis AG
Novartis is based in Switzerland and manufactures prescription drugs like Ritalin, Gleevec, Gilenya, plus Sandoz generics, Alcon eye products and others. At a $74 stock price the equity market capitalization is $178 billion. The company pays an attractive 3.7% dividend yield annually at present pricing.
I mentioned Novartis as a sell candidate during December in another Seeking Alpha article. A weak Euro currency vs. the U.S. Dollar is one reason the company's shares may have a difficult time in 2017, when priced in America. The article also discusses the negative impact of rising interest rates globally on higher dividend yield, income plays like Novartis.
The company is one of the largest and most diversified drug suppliers in the world, but its valuation is quite high against little projected underlying business growth by Wall Street analyst consensus. Overall sales have stagnated around $49 billion when converted to U.S. Dollars, 2015-17. Net income margins on sales have been steady for a good 15 years in the 17%-20% range. You would expect, all else being equal, an average to below normal stock valuation of the business versus sales.
However, today's 3.6x multiple of stock price to revenues per share is well above the 10-year average of 2.5x. With a 4.0x ratio high in 2014-15 and 2.0x low during the 2009 great recession and bear market in stocks generally, a long-term investor needs to question what one is getting for their investment capital currently.
A frank discussion of company specific Novartis headwinds for 2016-17 is found in this solid Seeking Alpha piece written by HealthBlogger.
From a macroeconomic perspective, if the U.S. Dollar exchange resumes its uptrend in 2017, interest rates climb even higher, Trump interferes in the pricing of existing drugs sold in America, and/or global economic growth stalls, plenty of downside price action could be about to hit Novartis shares.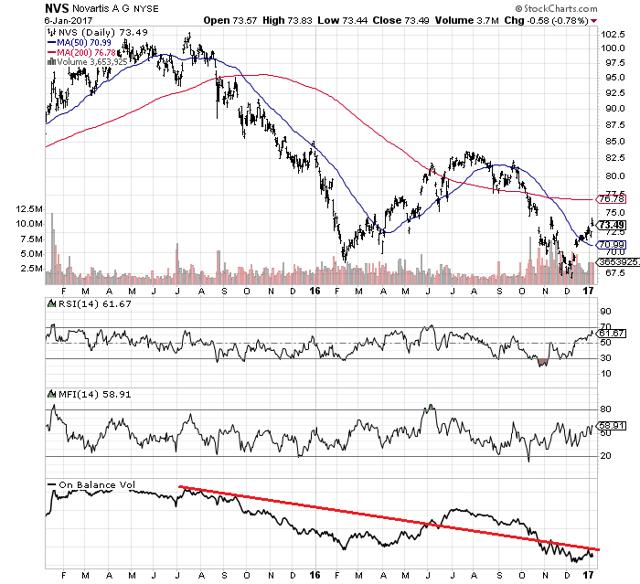 Final Thoughts
Of the four mentioned in this article, Amgen may have the best long-term value and most constructive trading data the last 3-6 months. I would expect downside to be smaller than the others as a result. Lilly may hold the greatest fundamental overvaluation vs. historical sales and cash flow. In combination with the weakest momentum trading data, selling or shorting this stock may prove a good risk-adjusted idea. Allergan and Novartis look like they face too many headwinds to grow substantially in 2017-18, while their stock valuations are discounting better times that may not materialize.
If you can initiate a short position inside a larger hedged portfolio design vs. a stand alone profit/loss position, the likelihood of underperformance of the general stock market by the four stocks will work to your benefit in 2017. The biggest risk to shorting any of the four names is a takeover or business combination of their assets in a transformational merger. Like every short position in pharmaceuticals, a major drug discovery could spike the price also. As always, engage in your own due diligence and research before entering an investment position.
Disclosure: I/we have no positions in any stocks mentioned, but may initiate a short position in AGN, AMGN, LLY, NVS over the next 72 hours.
I wrote this article myself, and it expresses my own opinions. I am not receiving compensation for it (other than from Seeking Alpha). I have no business relationship with any company whose stock is mentioned in this article.