In spite of being the best-performing EU Pharma in 2016, GlaxoSmithKline (NYSE:GSK) is still attractively valued, trading at a discount vs. the sector average EV/EBITDA.
I like the company's long-term strategy and diversification approach, with exposure to Pharmaceuticals (e.g. Respiratory), HIV (joint venture with Pfizer (NYSE:PFE) and Shionogi (OTCPK:SGIOY)), Vaccines and Consumer Healthcare, and I think GSK is strongly poised to outperform from the current valuation of 9.5x 2017 EV/EBITDA for the following reasons:
1. The worst is behind GSK's Respiratory Division. GSK suffered in 2014 and 2015 from a terrific pricing pressure on their respiratory lead asset, Advair, given increasing rebates requested from the PBM to maintain GSK's product on their formularies. Looking forward, GSK's respiratory portfolio is more diversified and it will have the benefit to offer to the patients a full range of products on the same device, called Ellipta.
In particular, the biggest growth drivers of the respiratory division in 2017 will be Breo (LABA/ICS), Anoro (LAMA/LABA) and Incruse (LAMA), which will compensate the pressure on Advair from the launch of two substitutable generics (see point 2). In addition to that, GSK has launched in late 2016 a new treatment for severe asthma, called Nucala, which could give further momentum to this division.
Lastly, GSK has recently filed in the US a new treatment for COPD, a triple combo LAMA/LABA/ICS, which offers a further treatment option for the patients and will help to reinvigorate the franchise. In a few words, GSK is poised to maintain a leading position in the respiratory space, because despite increasing competition on Advair, they will have in 2017 a more diversified portfolio of products in this therapeutic area, with some new products as Nucala and the triple combo, which offers attractive and unique options for the patients.
2. In 2017, Advair will suffer from the launch of the first two substitutable generics, with the GDUFA for Mylan's (NASDAQ:MYL) generic on 28th March 2017 and a likely further Hikma's substitutable generic approved on 10th May 2017. I see a key upside for GSK in 2017 from two potential sources of delay related to Advair:
a) FDA bioequivalence guidelines for making generics in the respiratory field are a high hurdle.
b) It is not certain that Mylan and Hikma will have the manufacturing capacities to serve the full COPD market, even if the FDA will approve their generics in early 2017.
3. Investors are worried about a new Gilead's (NASDAQ:GILD) integrase inhibitor, called Bictegravir, which will report PIII study in mid-2017. This new drug could threaten the leadership of GSK in the HIV market, where Triumeq and Tivicay are currently the best choices for the patients, given the superior efficacy and the good resistance profile vs. GILD's products. Despite it's possible that Bictegravir would have an attractive profile vs. Triumeq, with a potential improved tolerability for the superior Gilead's backbone compared to the GSK's one, I think market is underestimating the innovation that GSK is putting behind their HIV franchise.
In fact, some weeks ago, GSK reported very strong data from the PIII SWORD trial investigating a two-drug regimen in HIV vs. the 3-drug standard of care (e.g. Triumeq or Bictegravir). The SWORD trial met the primary endpoint with the two-drug regimen of Tivicay plus Edurant/Rilpivirine (from J&J (NYSE:JNJ)) reporting non - inferiority vs. standard of care in maintaining viral suppression at week 48.
Waiting for the full data presentation in 2017, this study is really encouraging about the strategy pursued by GSK and it gives a positive read-through for a second dual - therapy regimen under investigation, Tivicay+3TC (own by GSK) that will report PIII data at end-2017. GSK has also another shot in the HIV pipeline, with an injectable drug (Cabotegravir) that will report PIII data in 2018 and that potentially offers a new therapeutic approach to HIV patients.
4. I believe there is upside for the long-term Operating Margin in the Vaccines and the Consumer Healthcare Divisions. GSK will likely report about 16% margin in CHC in 2016 vs. a target of 20% in 2020 and around 28/29% in Vaccines in 2016 vs. a target of 30% in 2020. Both targets don't seem ambitious, especially in the Vaccines division where in 2017, GSK will launch a new treatment for herpes zoster, called Shingrix, with a blockbuster potential. As showed in the PIII trial, Shingrix has a better efficacy profile vs. Zostavax, that is the only vaccine approved for this therapeutic indication and that will generate around $700M of sales in 2016.
5. GSK has been a big beneficiary from the pound devaluation, with an estimated FX benefit of more than 15% in 2016 and a likely further tailwind of at least 10% in 2017. This benefit has alleviated the market concern about GSK's abilities to afford the dividend payment in the future.
6. At 9.5x 2017E EV/EBITDA, shares trade at a 20% discount vs. the diversified biopharma group, despite high visibility on the key growth drivers and less exposure to US pricing risk dynamics given that 40% of sales will be generated from Vaccines and Consumer Healthcare in 2017. However, the current valuation is in line with the 10-year historical absolute one, as shown by the following analysis.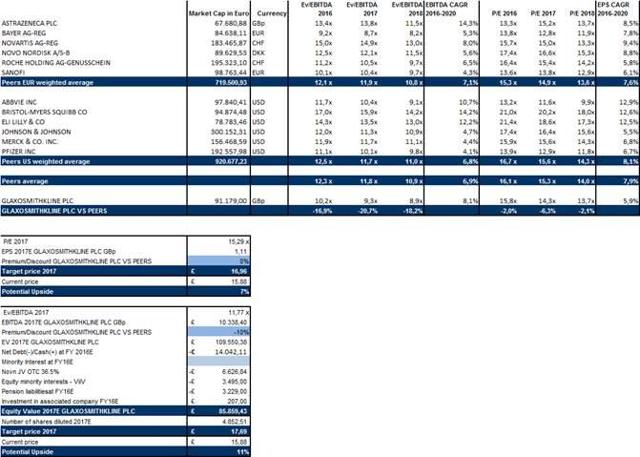 Source: Own Valuation Model, data from Bloomberg Terminal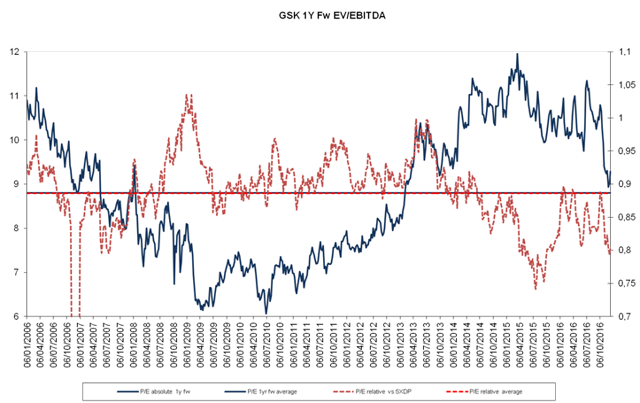 Source: Own Valuation Model, data from Bloomberg Terminal
Lastly, in terms of valuation, I think the market is still underestimating the value of the Vaccines and of the Consumer Healthcare Units for GSK. These two businesses are the key pillars of GSK's strategy in the future and they will continue to benefit from steady growth in the future, without reliance on pricing increase and limited pressure from the patent cliff.
I would show now what multiple is implied in the current 9.5x EV/EBITDA 2017 valuation of GSK for these two Units, using a SOTP based on the four key segments:
- Pharma ex-HIV, assuming a valuation of 10.5x EV/EBITDA, at a discount to the Pharma peers given a weak pipeline.
- HIV, assuming a valuation of 13x EV/EBITDA, at a premium to the peers given stronger growth prospective.
- Vaccines, assuming a valuation of 12.5x EV/EBITDA, in line with the peers' valuation.
- Consumer Healthcare, assuming a valuation of 14x EV/EBITDA, in line with Staples' multiple.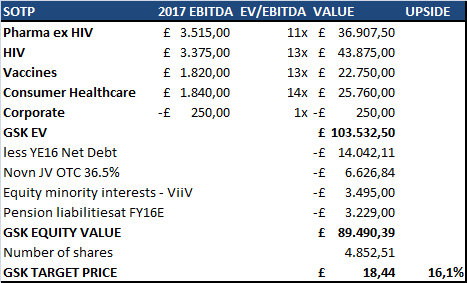 Source: Own Valuation Model
This analysis shows that, even assuming a depressed 10.5x EV/EVITDA valuation for the legacy assets in Pharma and a valuation of 13x EV/EVITDA for the HIV business, the market is totally missing the quality of Vaccines and of Consumer Healthcare Units, which should trade at a premium to Pharma peers and more in line with Staples' peers.
In summary, with solid management execution and some potential source of earnings upside expected in 2017, I believe GSK could close the valuation gap with peers during 2017 and strongly outperform.
Disclosure: I/we have no positions in any stocks mentioned, and no plans to initiate any positions within the next 72 hours.
I wrote this article myself, and it expresses my own opinions. I am not receiving compensation for it (other than from Seeking Alpha). I have no business relationship with any company whose stock is mentioned in this article.
Additional disclosure: Not investment advice. I am not an investment adviser.