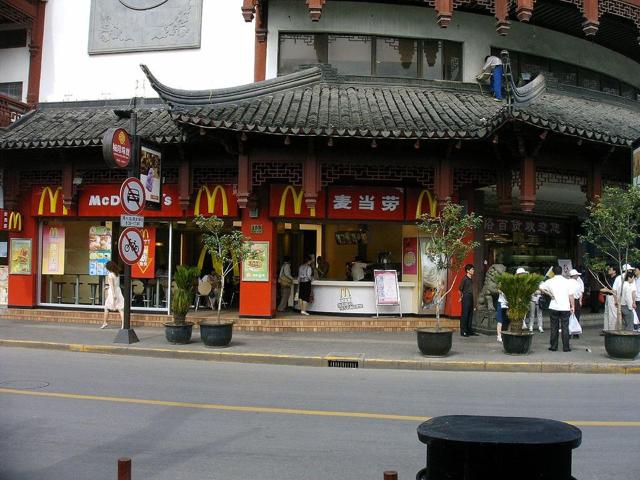 (Source)
McDonald's (NYSE:MCD) is selling off the majority of its Chinese business for around $1.7 billion. Bloomberg explains:
McDonald's CEO Steve Easterbrook is pursuing a turnaround plan to revive the company as it faces the fourth consecutive year of traffic declines in the U.S., its largest market. The China deal combines McDonald's with partners "who have an unmatched understanding of the local markets and bring enhanced capabilities and new partnerships," the CEO said in the statement.

The new partnership will also focus on areas such as menu innovation, retail digital leadership and delivery, the statement said.
Just to be clear, McDonald's turnaround plan involves selling off much of its foreign upside so it can concentrate more heavily on selling unhealthy food in developed markets where its products are increasingly out of fashion.
It may turn out to be the sound business move - China is indeed a tough market to crack - but it reads to me more like a management team focused on making short-term numbers and not getting their pay cut.
Reminder: You Need International Exposure
Many US investors own few or no foreign stocks/ETFs. The explanation for this is usually some variation of the idea that we don't need foreign holdings since we get all that through our US multinationals. A substantial minority of the S&P 500's revenues do in fact come from overseas.
So then, why bother with investing abroad? There are foreign markets, different legal systems, withholding taxes, language issues, and so on that are hurdles to investing outside of the US, particularly in individual stocks. I understand that.
However, the benefits of owning foreign companies, in general, outweigh these concerns. And there are very low cost broadly-diversified foreign ETFs for those who don't want to take the time to figure out international companies overseas.
The reason why we need exposure overseas is simple. Many, if not most, of the strongest businesses in a given market will be homegrown, rather than US-based. If you wanted to invest in the US, for example, you could buy Nestle (OTCPK:NSRGY), Airbus (OTCPK:EADSY) (OTCPK:EADSF), Adidas AG (OTCQX:ADDYY), Diageo (NYSE:DEO), and other foreign firms that generate significant portions of their revenues from the US. But why would you? It would be an odd way to structure your American exposure.
Similarly, relying on McDonald's to give you China and other international markets dilutes your upside. You mostly get a shrinking or at best stagnant US and developed markets business with some possibility of an international upside option. However, management, whenever it feels the whim, may jettison your international business for paltry sum ($2 billion is nothing much compared to McDonald's market cap), leaving you out of the China picture.
A US multinational will only have success abroad if it invests significantly and with a long time horizon toward building its brand in each local market. However, many US firms are now so focused on quarter to quarter results that they don't have the patience to play the long game. They'll get eaten alive competing against homegrown overseas brands that can think more strategically.
Speaking of this, McDonald's has done this very thing before. Anyone remember Arcos Dorados (NYSE:ARCO), McDonald's Latin American play? Here's MarketWatch with the refresher:
[In 2007], McDonald's sold almost all of its 1,600 restaurants in [Latin America] to Woods Staton, former president of McDonald's Latin America South division, as well as a group of investors for $700 million. They assumed ownership of about 1,100 McDonald's-owned restaurants and became the franchiser for 500 others.

McDonald's outlets have been steady performers during the economic downturn as consumers "trade down" from pricier restaurant fare. The company also has been aggressively adding new items to its menus, many with local flavors, while expanding hours and benefiting from reduced pressure on labor costs.
Supposedly, the new company would be able to grow more quickly with South American businessmen at the helm and more operational freedom away from US headquarters' orders. The same story McDonald's is now serving to investors with this China deal now. Anyways, how'd that Arcos Dorados work out?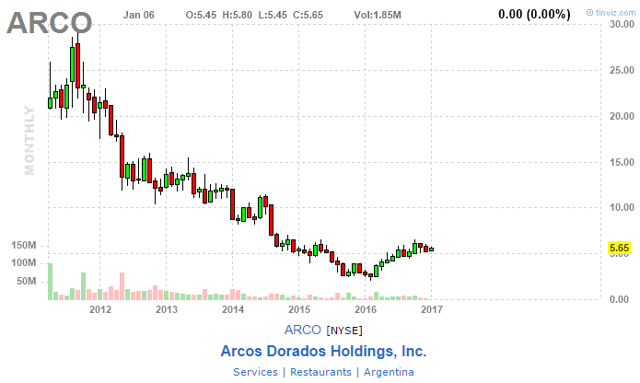 While there was a stage of globalization where American businesses found success overseas simply due to the status appeal of buying Hollywood-popularized brands, we appear to be well past that point.
In China specifically, both McDonald's and Yum China (NYSE:YUMC) seem to be struggling against rapidly growing domestic competitors. It's a lot harder for a business to grow itself in a foreign market than at home; the issues we face as private investors going abroad are multiplied a thousand-fold when management teams try to set up shop internationally.
How's Amazon China (NASDAQ:AMZN) doing in that market? Badly. You need to buy a Chinese retailer if you want exposure there. Target (NYSE:TGT) couldn't even figure out how to run its stores successfully in that exotic land known as Canada.
McDonald's deal is yet another reminder that US multinationals tend to be more successful in their home markets than overseas. McDonald's may be an iconic brand, but it appears unable to figure out how to make that work in various international markets. And if McDonald's can't, what of the other lesser-known US firms? Sure, international upside is a nice option factor with many of these multinationals. But don't bank on it. If you want exposure overseas, buy overseas.
Disclosure: I am/we are long DEO.
I wrote this article myself, and it expresses my own opinions. I am not receiving compensation for it (other than from Seeking Alpha). I have no business relationship with any company whose stock is mentioned in this article.