(Editor's note: There is much greater liquidity on the Singapore exchange under the ticker CAO).
Summary
As the largest physical jet fuel trader in Asia Pacific and the only supplier of imported jet fuel in Chinese airports, China Aviation Oil Singapore Corp. Ltd. (OTC:CAOLF) offers investors a strong proxy to the rapidly growing Chinese aviation/tourism industry. The company currently trades at a steep discount to its peers, which we opine is unwarranted owing to its favorable growth profile and entrenched market position. With an estimated FY16E EPS of S$0.135 and assuming a PE range of 12.1x to 16.2x, we obtain an estimated price range of S$1.63 to S$2.17 (potential upside of 13% to 51%). Key catalysts would include announcements of higher dividend payouts and deployment of US$233M cash to fund value-accretive M&As/investments.
Company Description
Listed on the Singapore Stock Exchange and traded over the US OTC markets, CAOLF is the largest physical jet fuel trader in Asia Pacific and the only supplier of imported jet fuel in Chinese airports. CAOLF supplies jet fuel at 17 international airports across China (e.g. Beijing Capital International Airport, Shanghai Pudong and Hongqiao International Airports).
CAOLF's also engages in Aviation Marketing, supplying jet fuel to airlines at 42 international airports globally. As per CAOLF's Jun-16 results briefing, international clients include blue-chip airlines such as Emirates, Japan Airlines, KLM, AirFrance and Lufthansa.
As part of its diversification strategy, CAOLF has engaged in the trading of other oil and gas products, mainly fuel oil, gas oil and aviation gas. Per the Jun-16 results briefing, the company has identified the demand growth from China for these products going forward and hence it has positioned itself to cater to the expected growth.
Besides trading, CAOLF also has minority equity stakes in complementary businesses, ranging from storage, pipelines and airport refueling facilities. Profit contributions from these associates comprise 76% of CAOLF's LTM Sep-16 net income.
The minority equity investments include:
33% stake in Shanghai Pudong International Airport Aviation Fuel Supply Company ("SPIA"). SPIA is the exclusive jet fuel supplier at Shanghai Pudong International Airport. It owns and operates all the refueling facilities at the airport, including the refueling stations, pipelines, storage facilities and others.
49% stake in China National Aviation Fuel TSN-PEK Pipeline Transportation Corporation ("TSN-PEKCL"). TSN-PEKCL owns a pipeline that transports the majority of the jet fuel requirements of Beijing International Airport and Tianjin International Airport. Transported volumes increased 10% in 2015 (due to higher air traffic turnover) and drove higher profits.
39% stake in China Aviation Oil Xinyuan Petrochemicals ("Xinyuan") owns a 75,000 m3 storage tank near Shuidong harbor in the Guangdong Province.
26% stake in Oilhub Korea Yeosu ("OKY"). OKY is CAOLF's joint investment with six other companies to develop and operate a oil storage facility, with a 1.3 million m3 capacity. Utilization rate is high and the associate is profitable.
39% stake in CNAF Hong Kong Refueling ("CNAFHKR"). CNAFHKR provides into-plane fuelling services at Hong Kong International Airport. It is the third licensed refueller to provide intoplane fuelling services at HKIA. CNAFHKR commenced operations on 1 August 2015 and is still currently loss-making.
CAOLF's dominant presence in the Chinese jet fuel refueling space is primarily supported by its parent company, China National Aviation Fuel Group Corporation ("CNAF"). As a State-Owned Enterprise, CNAF is the largest aviation transportation logistics services provider in China, providing aviation logistics services at over 190 airports in China.
Besides CNAF, BP is also a strategic investor in the company, holding a 20% stake. BP's investment and sharing of risk management best practices have benefited CAOLF greatly.
Thesis
Entrenched and dominant player in the growing Chinese aviation fuel industry
Jet fuel consumption in China is expected to experience strong growth in the next few years, driven by the increasing volumes in inbound and outbound air traffic. Leveraging on its status as the largest physical jet fuel trader in Asia Pacific as well as its strong parentage, CAOLF enjoys strong relationships with Chinese airlines and is expected to benefit from the strong growth of the Chinese aviation industry.
A. Inbound Air Traffic into China
Inbound passengers to/from China has enjoyed stellar growth in the past few years. In 2015, the growth in international passengers was the same as the previous three years combined.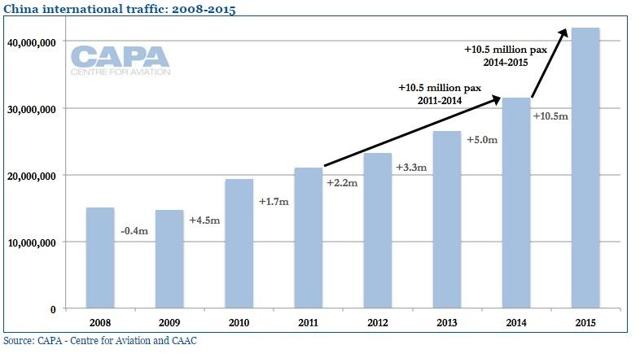 With the five-year tourism plan (2016-2020) in place, investments in the Chinese tourism industry is expected to grow to CNY 2 trillion. Inbound tourism will benefit from this increased investment as more diverse tours are added to attract overseas tourists. The end product would be higher inbound tourist traffic.
B. Outbound Air Traffic from China
Adopting a conservative estimate, outbound Chinese visits are expected to grow by 33 million to 150 million by 2020. With less than 6% of the Chinese population having a passport, the growth potential of outbound tourism is immense. Recognizing the massive potential market available, leading Chinese airlines (e.g. China Southern Airlines) are expanding aggressively (via active aircraft procurement) to cater to the growing demand. We do note that the newer aircraft may be more fuel efficient and also the fact that aircraft may be retired but we expect the overall increase in aircraft volumes to drive jet fuel consumption growth.
China Southern Airlines (#1 Chinese Airline) Aircraft Order Pipeline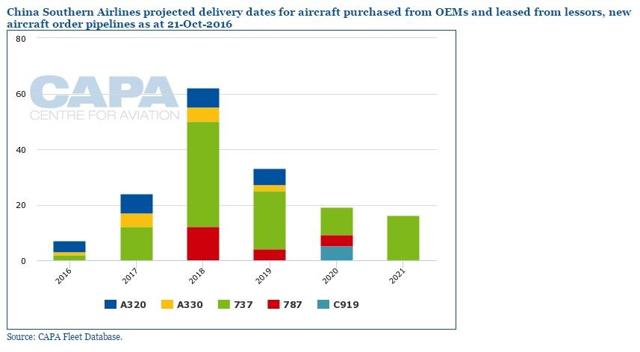 China Eastern Airlines (#2 Chinese Airline) Aircraft Order Pipeline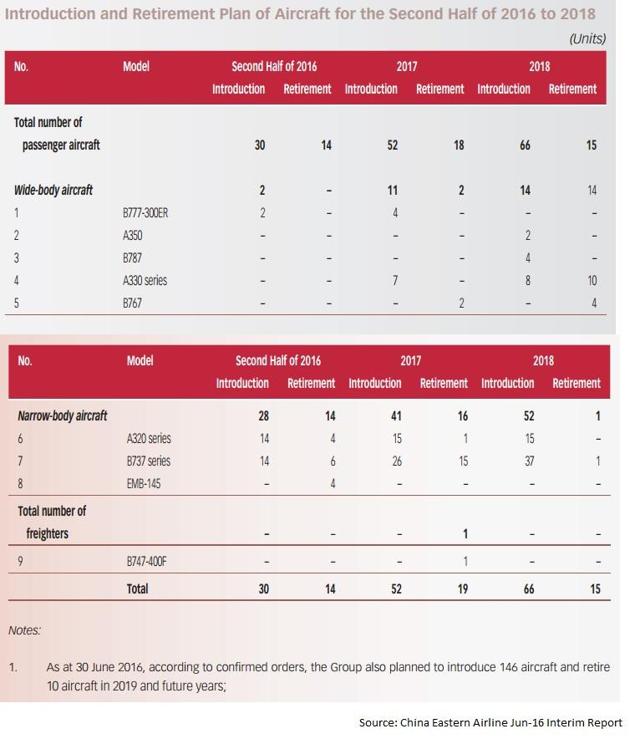 Air China (#3 Chinese Airline) Fleet and Aircraft Order Pipeline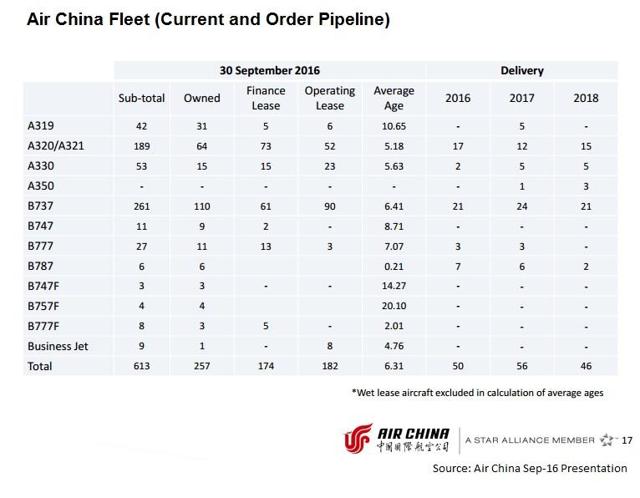 The expansion plans are also supported by various bilateral agreements signed to increase flights numbers. In Oct-16, China and the UK agreed to expand the weekly passenger flights from each country from 40 to 100. This was followed up by the agreements between the Chinese and Australian governments to remove passenger capacity restrictions in Dec-16. Codeshare regulations and traffic rights have also been liberalized.
Beneficiary of growing jet fuel exports
Driven by the rapid growth of the Chinese teapot refineries, jet fuel exports from China have strengthened as the teapot refineries are producing more jet fuel and gasoline to maximise margins. Correspondingly, we opine that CAOLF will benefit as the teapot refineries turn to it to sell their products. We believe that this could be another growth area for CAOLF, as the company have commenced jet fuel exports to new markets such as the Philippines, Vietnam and Taiwan, as indicated by their Jun-16 results presentation. In addition, we also note that CAOLF has expanded its trading operations as they strengthened their jet fuel exports to the US West Coast, the #2 export destination for Chinese jet fuel exports.
Strong prospects and net profit contributions expected from SPIA
SPIA is a key net profit contributor, accounting for 67% of CAOLF's LTM Sep-16 net income. It is the only jet fuel supplier for Shanghai Pudong International Airport (Pudong Airport), the second largest airport in China, providing refueling services for both domestic and foreign airlines. SPIA operates all supply and refueling facilities at Pudong Airport and charges a fixed mark-up of jet fuel prices to its customers.
Passenger traffic across Pudong Airport has grown at a CAGR of 10%, from 41 million in 2011 to 60 million in 2015. The strong momentum is expected to continue in 2016, with passengers count across Shanghai's 2 airports hitting a record 100 million in Dec-16. Construction of an additional terminal, with an envisaged capacity of 38 million, has commenced and is expected to cater to the growing passenger traffic, driven by the increasing tourism flows to/from Shanghai.
Rising passenger traffic in Pudong Airport will translate to higher refueling volumes for SPIA. Given that SPIA charges a fixed mark-up of jet fuel prices and sells it to customers, rising volumes will increase its net profit contribution to CAOLF.
In addition, we would highlight that SPIA pays out most of its profits as dividends to its shareholders and this has contributed to CAOLF's consistent and growing dividend payouts.
Oil price contango further enhancing profits and margins
With oil markets currently in contango, opportunities arises for CAOLF to buy oil products (e.g. jet fuel, fuel oil, gas oil) at low prices and deliver it to its customers later at a higher price. Such macro developments will boost CAOLF's net income.
Valuation
Considering its unique position of holding a monopoly on the Chinese jet fuel import industry, we would highlight that there is no direct comparable to CAOLF.
The closest peers which we have considered are World Fuel Services (NYSE:INT), a global aviation, marine and land fuel provider, and Bangkok Aviation Fuel (OTC:BKARF), which provides aircraft refueling services at Thai airports.
CAOLF currently trades at 10.4x LTM PE, while INT and BKARF trade at 18.2x and 22.1x LTM PE, respectively. We opine that CAOLF should not trade at such a significant discount, considering its dominant and entrenched market position in the rapidly growing Chinese aviation fuel industry, strong balance sheet with US$233 million cash and consistently growing dividend.
With an estimated FY16E EPS of S$0.135 and assuming a 20% to 40% discount to the average LTM PE of 20.2x (average of INT and BKARF), we obtain an estimated price range of S$1.63 to S$2.17, representing a potential upside of 13% to 51%.
Time frame and catalysts
We are taking a 6 months to 12 months time frame as the market would need confirmation of higher dividend payouts from CAOLF before any potential re-rating can take place.
With a cash balance of US$233 million as of Sep-16 and the company's revised dividend policy of paying 30% of net profit dividends, announcements of increasing net income and more importantly higher dividend payouts is likely to catalyze CAOLF's share price.
In addition, we opine that CAOLF's deployment of its cash to fund accretive M&As/equity investments could be viewed favorably as the company had not engaged in any major acquisitions in the last few years.
Risk to Investment Thesis
Liberalization of China's jet fuel industry
As the Chinese jet fuel market is the core foundation of CAOLF's profits, liberalization of jet fuel supply in China will be disastrous for the company. During a broker-conducted roadshow conducted in Aug-16, CAOLF's management had communicated their view that the company will not lose its monopoly in the foreseeable future as aviation fuel supply would be one of the last sectors to be reformed, if at all.
Weak travelers' demand
Considering the direct correlation between jet fuel demand and air travel, events that discourage traveling (e.g. terrorism, diseases outbreak) pose a direct threat to CAOLF's trading and refueling operations.
Non-cash mark-to-market losses for SPIA and CNAFHKR
As part of their business operations, SPIA and CNAFHKR hold inventories of fifteen days and seven days, respectively, and thus these inventories have to be marked to market. Adverse oil price developments would translate to paper losses for the associates and negatively affect CAOLF's net income.
Disclosure: I/we have no positions in any stocks mentioned, but may initiate a long position in CAOLF over the next 72 hours. I wrote this article myself, and it expresses my own opinions. I am not receiving compensation for it (other than from Seeking Alpha). I have no business relationship with any company whose stock is mentioned in this article.
Additional disclosure: I may initiate a long position on the SGX listed China Aviation Oil. This article is intended to provide information to interested parties. As I have no knowledge of individual investor circumstances, goals, and/or portfolio concentration or diversification, readers are expected to complete their own due diligence before purchasing any stocks or other securities mentioned or recommended. This post is illustrative and educational and is not a specific recommendation or an offer of products or services. Past performance is not an indicator of future performance.
Editor's Note: This article discusses one or more securities that do not trade on a major U.S. exchange. Please be aware of the risks associated with these stocks.