Portola Pharmaceuticals (NASDAQ:PTLA) was one of the year's most hotly anticipated biotech IPOs when it was brought public by Morgan Stanley and Credit Suisse in May 2013 at $14.50/share. Shares quickly rose to the mid-$20s, but then did little afterwards for the next 18 months.
Since that time though, Portola has taken shareholders on a ludicrous ride and now the story has truly gotten ridiculous! So a quick recap of events...
Recent History
Shares in Portola began to shoot higher in early 2015 after the company announced in Jan. 2015 that one of its lead candidates had met its primary end-point with high statistical significance in a Phase 3 study.
That molecule was a Factor Xa inhibitor antidote known as Andexanet Alfa ("AndexXa"). It was subsequently designated with Orphan status by the FDA in Feb. 2015, a complement to the Breakthrough designation it had already received more than a year earlier.
On the back of that good news, the company raised an additional $100m of equity in Mar. 2015, successfully pricing a secondary deal at $40/share.
It continued to announce positive indications from trial studies and by mid-year 2015 shares were sizzling at roughly $50/share. It completed another equity raise in Dec. 2015, just before submitting its application to the FDA...
Bad News Betrixaban
But then as is often the case in the land of biotech... bad news struck.
Portola's second lead candidate, a heparin replacement known as Betrixaban, failed to meet its primary end-point in a Phase 3 study.
This remains a point of serious contention. The study's Cohort 1 "did not meet the threshold" for statistical significance in superiority against Lovenox after achieving a p-value of 0.054. Cohort 1 had followed an enrichment strategy targeted at people with elevated levels of D-dimer, a small protein fragment released from the degradation of a blood clot; and the threshold of <0.05 had been set for no better reason than R.A. Fisher said it should be so in 1925.
So the "failure" in that context is somewhat an understanding of misunderstanding, the details of which were covered by David Grainger (@sciencescanner) in a brilliant article for Forbes.
However, for purposes of this article... a failure is a failure. And that was certainly the case from the market's perspective as the announcement sent shares reeling. This cracked investors' enthusiasm and shares quickly retrenched back to the mid-$20s level.

And Here Comes AndexXa
The next blow came a few months later. Shares found a bottom by the time Portola reported Q2 results as investors had shifted their focus to the upcoming PDUFA date for AndexXa. This was around the time my fund first started looking into the stock as management seemed confident that the data it had submitted to the FDA could support approval...
"It's an exciting time for Portola as we continue to prepare for the anticipated US approval and commercial launch of AndexXa. Our PDUFA date is August 17. AndexXa, if approved, will become the first universal antidote for Factor Xa inhibitors [...].

So [...] with respect to our upcoming PDUFA date, we will not speculate upon FDA's final decision. However, we can say we're confident that we met the obligations on the accelerated approval pathway and we're confident in the data that we have submitted to support its approval."

-- CEO Bill Lis - Portola Q2'16 Conference Call
But it didn't.
Those of us on East coast standard time had to wait up until nearly midnight for the company to announce that it received a complete response letter ('CRL') from the FDA. Shooting without a script, the company held a conference call the next morning. The issue at risk primarily related to its manufacturing plan under agreements with CMC Biologics and Lonza (OTCPK:LZAGY), which dropped the stock to under $20/share.
Portola's stock continued to drift lower into the company's Q3 release, wherein management indicated that the company would be in a position to resubmit AndexXa in H1'17. This further pushed back the timeline for many investors that had held out hope for a faster turnaround before the end of the year.
And just like that... like a critically-ill patient stuck on some unknown anticoagulant that has meandered into an emergency room in need of surgery... Portola's stock was bleeding out.
Nothing It Can't Fix
At least until a few weeks ago that is. That was when it stemmed the bleeding with an announcement that it received a $50m unsecured loan agreement with Pfizer (NYSE:PFE) and Bristol-Myers (NYSE:BMY) to be paid back through future royalties. So at least someone seems to expect the drug's eventual approval.
It then cauterized the stock higher a few days later after announcing that the FDA accepted its new drug application ('NDA') on Betrixaban for priority review with a PDUFA date of June 24, 2017.
While not the focus of this article, that announcement is important because it provides potential for the drug's FDA approval without an additional Phase III trial, which would be both costly and time consuming.
The company is now scheduled to present this week at the JP Morgan Healthcare Conference where it will hopefully outline a constructive timeline on expectations for various regulatory approvals.
Investors have rejoiced.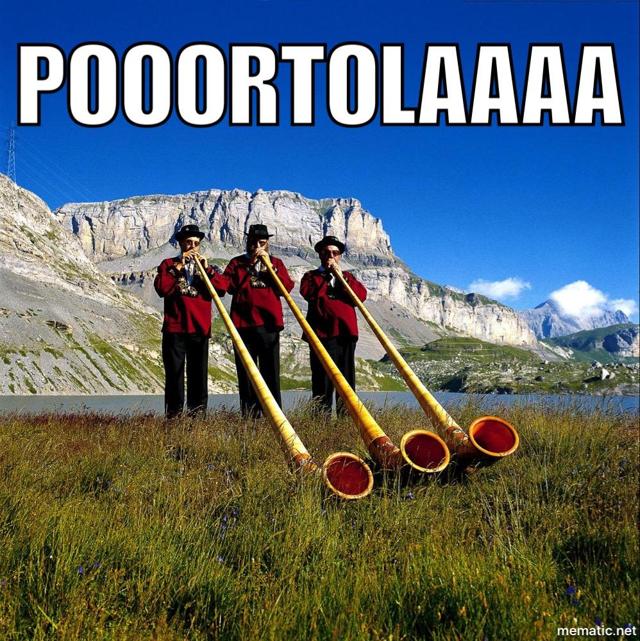 But to really understand where the company could go from here, it is important to look at the bigger picture of the global market for anticoagulants.
Anticoagulants
The market for anticoagulants (i.e. blood thinners) means big business!
While the total addressable market is often broken up into a handful of sections and estimates on its size can vary, sources peg it as high as $30b on a worldwide basis.
So what is driving such enormous demand? Put simply, our terrible lifestyle choices. We eat too much, stress too often, and age too quickly.
These activities can threaten our health in many ways. It will often lead to the hardening of arterial plaque in our arteries through a chronic, cumulative, and slowly progressive (but asymptomatic) process known atherosclerosis. That can thicken arterial walls which as the vessel gradually narrows would restrict blood flow and put someone at greater risk for all sorts of problems like an embolism, aneurysm, vascular occlusion, etc.
Being sedentary and old (or just simply unlucky) can also cause a build up of clotting in the veins. This can lead to a condition known as deep vein thrombosis (DVT), which can be deadly if it leads to a pulmonary embolism.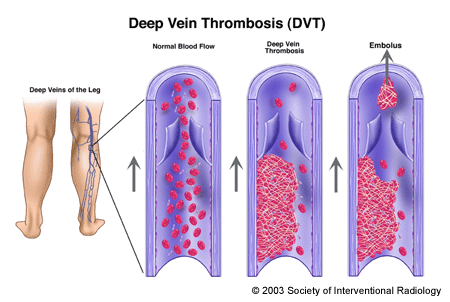 Obesity, excessive alcohol consumption, sleep apnea and rough genetics are also linked to a condition known as atrial fibrillation. This can often be treated with medication to help slow the heart rate, but depending on the risk of stroke additional measures may be needed.
Blood thinners are one way to help lower those risks. Or rather, they are the easy way. Because it is hard to make the body's natural "pipelines" bigger, stronger, and cleaner through diet and exercise. So at least anticoagulants provide people with some way to make the contents less sludgy to avoid a blockage.
There are many different substances a person can take to reduce various types of blood coagulation and these can work through differing mechanisms of action. Some are natural like garlic and ginger, while others are synthetic like coumarins, heparins, direct Xa inhibitors, direct thrombin inhibitors, etc.
But for a patient in need of a relatively potent solution, particularly in the case of DVT and AF, synthetics will remain the primary option.
Warfarin - The Original Synthetic
Coumarin was first synthesized in 1868. This led to a number of derivatives including Warfarin, which became the most prominent member of the coumarin class. Developed by Bristol-Myers in the 1950s, Warfarin was approved by the FDA on June 8, 1954.
The drug was originally marketed under the trade name Coumadin, although it has long since gone generic and is now commonly just referred to by its active ingredient. Despite being more than 60 years old, Warfarin is still considered the "standard of care" and is the most widely prescribed anticoagulant in the U.S.
That is a shame because for all its good, Warfarin still has a lot of issues with side effects and unique characteristics that negatively affect medical outcomes, patient care, and the total cost to the healthcare system.
Many of these stem from the compound's mechanism of action. Warfarin is considered to be a vitamin K antagonist, although that is not exactly accurate.
The drug actually antagonizes the vitamin K recycling process, rather than the vitamin itself; and it is this shutdown of the renewal process which eventually helps to deplete the active level of vitamin K stored in the body. This prevents the liver from being able to use it to produce vitamin-dependent clotting proteins known as factors, which will ultimately reduce the blood's ability to clot.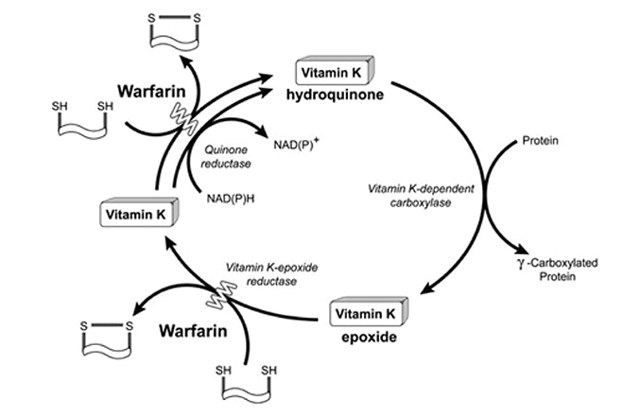 Kickstarting this process is not immediate; and neither is reversing it. It can also be interfered with by foods that contain high levels of vitamin K such as spinach, etc. So besides creating dietary restrictions on patients, it also necessitates regular monitoring by healthcare professionals, which can be extremely costly to the overall system.
These issues have been known to the medical community for many, many years. Yet despite its drawbacks, it has still remained the "drug of choice" to a patient population of around 30 million people worldwide.
More recently though, a new class of second-generation anticoagulants has been quickly rising to prominence.
Novel Oral Anticoagulants - The New Class
The drawbacks of warfarin have led to the rise of a whole new class of drugs that are collectively known as novel/new oral anticoagulants, or NOACs for short.
NOACs benefit from a more rapid onset, fewer dietary restrictions, less potential for adverse drug-to-drug interactions, and perhaps most importantly less/no routine monitoring of coagulation levels.
The NOACs class includes direct Xa inhibitors, as well as direct IIa inhibitors.
Factor Xa inhibitors work by directly acting upon Factor X ('Factor Ten') to interrupt thrombosis. The group primarily refers to the commercialized molecules such as rivaroxaban, apixaban, and edoxaban - and perhaps may soon also include Portola's betrixaban!
Similarly, thrombin inhibitors act directly on Factor II ('Factor Two'). That group primarily consists of just Boehringer's dabigatran as the only approved version.
Clinical trials have shown these second-generation molecules to be therapeutically superior to warfarin with less serious side effects. So perhaps it is no surprise that they have continued to grow rapidly over the past few years and are expected to eclipse 35% of the entire anticoagulant market by 2020.
As Portola noted in a press release from Nov. 2016:
"According to IMS Health, worldwide sales of oral Factor Xa inhibitors were $9.5 billion in the 12 months ending June 2016"
That means some serious blockbusters.
So beyond just improving medical outcomes, NOACs means big, big business; and indeed Factor Xa inhibitors such as Rivaroxaban & Apixaban represent some of the largest commercialized products to some of the most important pharmaceutical companies in the world.
Rivaroxaban
Rivaroxaban was initially developed by Janssen, a subsidiary of Johnson & Johnson (NYSE:JNJ). It later entered an agreement with Bayer (OTCPK:BAYRY) to jointly complete the development process in 2005.
The molecule received European approval in 2008; and was later approved by the FDA in July 2011. The drug is now marketed under the trade name Xarelto. Johnson & Johnson retained marketing rights to the U.S., while Bayer took the rest of the world.
Xarelto is the "most broadly indicated NOAC" - which in this new-age of blood thinners essentially just means that it is one of the most highly subscribed options available. A fact that can't be lost on its two mega-cap owners.
Johnson & Johnson
Xarelto is certainly meaningful to Johnson & Johnson and its $315b market cap. The Dow-Jones stalwart generates revenue of about $18b per quarter, equating to roughly $70b-$75b for the full year. Pharmaceutical segment sales represent approximately 45%-50% of the total business.
Aside from Remicade, Xarelto is the #2 selling drug in the entire domestic portfolio with sales on track to handily eclipse the $2b mark for the full year. The drug represents more than 10% of U.S. pharma sales and over 6.5% of the total segment.
It is also still growing at a rate of 15%-25% yr-yr. So with Remicade set to face some major challenges from biosimilars, it could become an even more important part of the portfolio.
Bayer AG
Xarelto is even more important over at Bayer.
Obviously, this will change quite a bit if it is able to complete the planned acquisition of Monsanto (NYSE:MON), but for now, the company generates revenue of just over €11bn per quarter, equivalent to about €45bn for the full year.
Pharmaceutical sales of more than €4bn per quarter represent roughly 35% of total sales; and an even larger percentage of corporate profits.
Xarelto achieved sales of nearly €2.1bn in the 9-months YTD; and generating over €770m of revenue in Q3'16, it represented more than 18.5% of total segment sales in the latest period. So it comes as no surprise that of the company's "Best-Selling Pharmaceutical Products," which represent almost 75% of division sales, Xarelto is the single largest contributor.
And it is still growing at a remarkable 25%-35% clip.
Apixaban
Apixaban was jointly developed in a venture between Bristol-Myers and Pfizer. It was approved by the FDA in Aug. 2014 and is now marketed under the trade name Eliquis.
And similar to the dynamic for Xarelto, it would appear very important to its owners.
Bristol-Myers
Bristol-Myers, for example, mentioned the drug in the very first sentence of its FY'15 year-end release. That was because during the 3 months ended Dec. 2015, Eliquis generated over $600m in sales, making it the single highest grossing drug in BMY's entire portfolio.
Despite starting last year from a "snail's pace," it was able to achieve full-year sales of over $1.8b for the full year - a mark it nearly eclipsed through only 6 months of FY'16!
The drug continued to see phenomenal growth throughout the year, with rates topping out at almost 90% yr-yr! While it will actually come in slightly behind Bristol's new oncology drug Opdivo for the full year since that drug has been on an even more torrid growth trajectory, Eliquis remains the company's #2 highest grossing product. On track to surpass $3b in worldwide annual sales, it represents between 15%-20% of total sales for the $100b company.
Perhaps that unsecured loan agreement with Portola is starting to make a little more sense now?
Pfizer
Pfizer has also been riding the Eliquis growth train, although not quite to the same extent.
The company is much more diversified and the drug is included as part of Internal Medicine, which is reported as a sub-segment to the Innovative Health division... which makes it a lot more complicated to isolate the specific impact.
But rest assured, it is still significant; and the company continues to highlight it as a key driver in nearly every quarterly release.
The Tradeoff
Okay, well that's all well and good for those companies... but what the heck does it have to do with Portola?
Portola fits into the story because Factor Xa inhibitors all share a common drawback in that they lack having a specific reversal agent. i.e.: No antidote.
Millions of patients take anticoagulants to lower the risk of heart attack, stroke, etc. But for every benefit, there is a medical tradeoff. With blood thinners that tradeoff is fairly obvious: hemorrhaging (i.e. bleeding).
There are many instances in which a person still needs to clot; and those patients being treated with blood thinners are at risk of bleeding complications. Besides being medically difficult to manage, these complications can also be an enormous burden to the overall healthcare system.
So going back to warfarin for just a moment, despite its many drawbacks, one thing it does have going for it is a very specific reversal agent. An antidote known as Kcentra which provides a big 'ole boost of vitamin K - not to be confused with the element [K] potassium like that mined by Intrepid Potash (NYSE:IPI), another investment for my fund discussed in two previous articles, Betting on Bob! and Betting on Joc!
That is not the case for Factor Xa inhibitors though. Currently, there is no reversal. And so with popularity of NOACs beginning to soar, articles such as this one from MedPage Today began to speculate on that very point as early as 2014. The lack of an antidote is seen as one of the major bottlenecks keeping doctors from prescribing these new drugs over warfarin, but even under restricted use the patient populations already number in the millions.
This is why the FDA has stated there is an urgent clinical need for a reversal agent. And that is exactly what Portola is attempting to bring to the market through AndexXa.
Think about that for a moment.
Bayer, Bristol-Myers, Johnson & Johnson, and Pfizer.
Four of the largest pharmaceutical companies in the world, representing almost three-quarters of a trillion dollars in public equity... and one of the major potential bottlenecks to their success could be in having a universal antidote for Factor Xa inhibitors.
That is an incredibly powerful endorsement!
The Science Behind AndexXa
The mechanism of action for Portola's AndexXa seems pretty ingenious. It is a recombinant Factor Xa derivative that lacks any membrane-binding domain. This essentially positions it to function as a "decoy" Factor Xa molecule.
That causes the direct Factor Xa inhibitor to bind with the AndexXa molecule with a high affinity, therefore sequestering and rapidly neutralizing the effect of the inhibitor. This should allow the real Factor Xa to start doing its job again (i.e. assembling with Factor Va to convert prothrombin to thrombin).
Results published to the New England Journal of Medicine have appeared impressive; and the CRL was never really about efficacy in the first place.
Financial Expectations
While it is still early from a financial modeling perspective. Putting numbers around the story, there are a handful of ways to go about analyzing the financial expectations of AndexXa.
Previously the company had estimated that between 1%-4% of Factor Xa inhibitor users will experience a hospitalization. This was somewhat validated/reiterated in the NEJM write-up which states: "In clinical trials involving patients with atrial fibrillation who were receiving a factor Xa inhibitor, major bleeding was found to occur at an annualized rate of 2.1 to 3.5%, and clinical experience has been consistent with these results."
In its Aug. 2016 press release, the company provided a more precise figure stating that over 80,000 patients in the U.S. being treated with an oral Factor Xa Inhibitor were admitted to the hospital due to bleeding in 2015. This would bump up closer to 100,000 when including Lovenox (or eventually Betrixaban).
That patient population begins to outline a significant domestic/global sales potential. And it is one with substantial room for growth in the ensuing years as the NOICs themselves continue to gain additional indications and market adoption in place of warfarin.
So depending on the pricing of the treatment, there are a number of credible scenarios that would validate expectations for AndexXa to develop into a $1b+ annual market by 2020.
Those expectations have been previously outlined by certain sell-side analysts, as well as various other financial authors. In particular, I very much admire the work by SeekingAlpha contributor DoctoRx and found this article from Aug. 2016 to be especially useful.
Summary
Portola represents an extremely unique risk/reward scenario. While it remains nearly impossible to consider it as a "core" investment prior to the company securing approval on either of its lead molecules, it continues to feel as though approval is more just a matter of time. Particularly in AndexXa's case given the enormous amount riding on it for the overall industry.
Approval of either drug would turn the company into an obvious acquisition candidate - but I am more concerned about what the business could be worth as Portola in the long run. The way I see it, although this article primarily focused on AndexXa, the company is building towards two significant franchises that both have potential to be $1b+ revenue markets.
That won't necessarily mean the sky's the limit... at least not in the short term with the company already sporting a $1.5b market cap. But it does probably mean that the company is safe from bleeding out.
And that for right now might be just as important in providing confidence to jump on board. My fund maintains an investment in the company and I am excited to see where it can go from here.
POOOOORTOLAAA!
Disclosure: I am/we are long PTLA, IPI.
I wrote this article myself, and it expresses my own opinions. I am not receiving compensation for it (other than from Seeking Alpha). I have no business relationship with any company whose stock is mentioned in this article.
Editor's Note: This article discusses one or more securities that do not trade on a major U.S. exchange. Please be aware of the risks associated with these stocks.