Shares of Nike (NYSE:NKE) have had a sharp run-up since Christmas Day 2016, and we think that run still has lots of fuel left. Connecting the dots between our online channel checks, investment bank's Black Friday channel checks, macro retail reports, and what big retailers like Macy's (NYSE:M), Kohl's (NYSE:KSS) and J.C. Penney (NYSE:JCP) have told us about the Holiday season, we think Nike did extraordinarily well in November and December. Macroscopically, it looks like footwear and cold wear were bright spots for apparel this holiday season, and Nike appears to have excelled in both categories. We continue to like the stock here and believe the valuation has room to expand if the company can successfully meet or exceed its high-single digit revenue growth target for the year.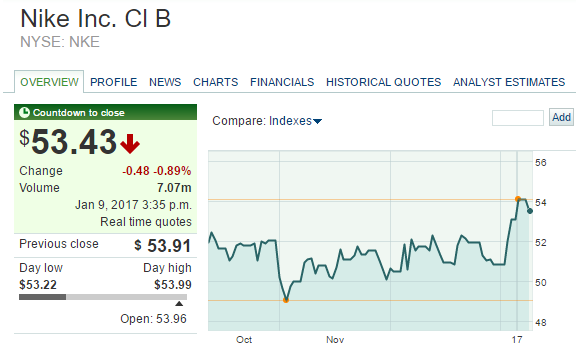 (Source: MarketWatch)
We have observed the following highlights of Nike regarding the Holiday 2016 shopping environment.
It is important to note that these bullish signals are mostly on the wholesale side of Nike's business, which has quickly turned into the low-growth component. If DTC growth remains on track due to new store openings plus e-comm build out and couples with revamped growth in the wholesale business, Nike could have big upside to their current revenue growth targets for both Q3 and the full year. In such a scenario, we think this stock has tremendous upside from current levels.
Disclosure: I am/we are long NKE.
I wrote this article myself, and it expresses my own opinions. I am not receiving compensation for it (other than from Seeking Alpha). I have no business relationship with any company whose stock is mentioned in this article.