By Pain Capital
Note: Daily Pain is a premium daily series available only to premium subscribers. This Daily Pain was originally published on Jan. 4. If you are interested, you can sign up here.
Today is a better day to this write-up because of several observations I've made over the last two days. This year is already starting off more exciting than usual, particularly in the foreign exchange domain. Oil prices rose to $55 early yesterday before plunging below $52.50, only to finish today above $53. Isn't oil exciting?
If you thought oil was exciting, the movement in natural gas prices nearly made me sick to my stomach yesterday. The overnight decline was 25 cents as I wrote on Monday, but the price action immediately following the open resembled a sort of liquidation move. Looking at the move, I think short-sellers who were eager to pile in yesterday did, and probably piled in a bit more today.
I won't comment too much on natural gas here as I think the team already updated you earlier. Rather, I want to comment on some other observations in the market and some of the positions we all collectively own.
First, I want to go over Gear Energy (OTCPK:GENGF), which saw a nice dip today after a monstrous rally. Keep in mind that Gear was flat yesterday despite oil selling off, so the two-day move is more of a catch-up as illustrated in the chart below: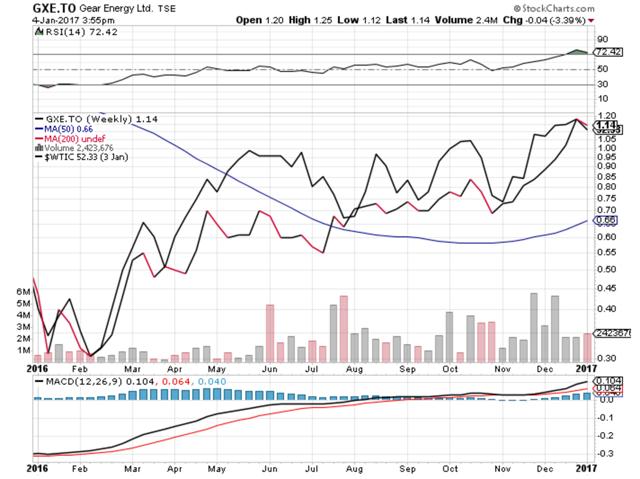 Ever since the team discovered this chart, it has not failed us once. Gear manages to always catch up. If WTI hits $60, Gear shares can touch C$2, according to this. Wouldn't that be nice?
Next, let's move onto to Bellatrix (NYSE:BXE). The chart is looking more and more positive for this one. The start of the new year was bullish for BXE as its peers were in a decline from the natural gas sell-off and it escaped unscathed.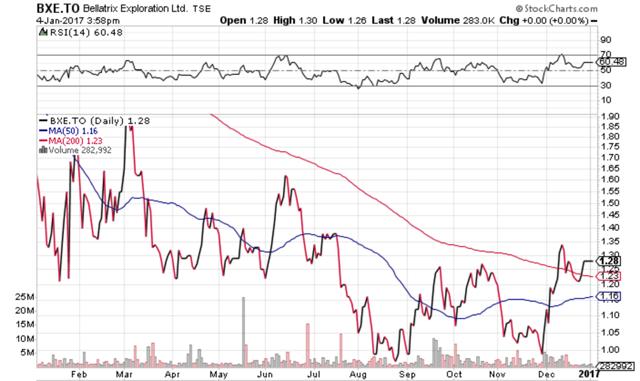 This is not a bad-looking chart. By my estimate, BXE's 50-day will move above the 200-day by the end of January and that signals a nice juicy golden cross. I remain stubbornly in the belief that BXE's turnaround year is this year, and it could be the best-performing stock in the TSX. (Fair warning: There's lots of confirmation bias and overconfidence here.)
Third, Resolute Energy (NYSE:REN) is looking very nice, chart-wise.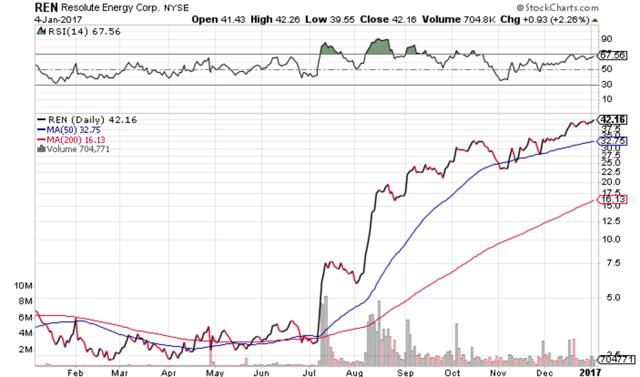 This chart is a combination of momentum plus value - value in the sense that REN's intrinsic value is around $100 per share and momentum from the dramatic rise we saw last year. Fundamentals now support the share price, so we should see REN moving up more throughout this year. The team has been a bit behind on the write-up on REN, but the intrinsic value calculation has not changed.
Fourth, U.S. natural gas producer charts look hideous. This includes Cabot (NYSE:COG), Range Resources (NYSE:RRC), Antero (NYSE:AR), and Southwestern (NYSE:SWN). They all look very terrible from a technical standpoint.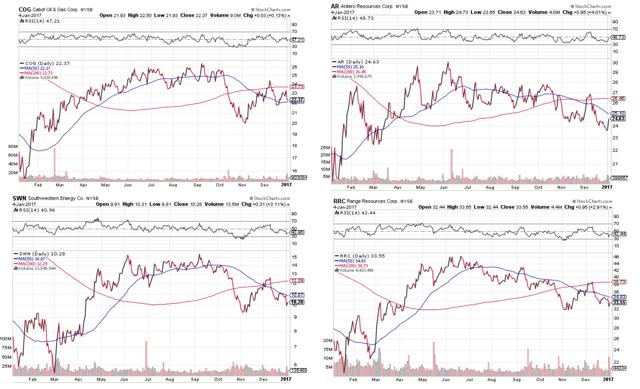 All of them show a death cross (200-day MA above 50-day MA) and other than COG, all of them trade below the 50-day moving average. I think we could see a bit more of a sell-off just purely from a technical standpoint, and I think it's better to wait for the share price to stabilize before considering taking a position.
Lastly, foreign exchange moves today were very surprising. I tweeted and asked what the most consensus trade this year is, and the overwhelming answer was:
Long USD, short EM currencies.
China will devalue.
Well, last night didn't turn out to be that scenario and CNY strengthened on the back of the USD selling off. The Canadian dollar took a nice tumble today, which benefited all of my positions. I think the FX moves are worth paying attention to. The euro also strengthened against the USD today, despite FOMC minutes indicating more hikes this year.
The market might have gotten ahead of itself with the USD trade, and we could see a bit of unwinding going on over the next several months. The consensus also seems to be very bullish on the U.S. stock market vs. the rest of the world, and this makes me rather scared. I prefer to be a lone wolf when it comes to investing and consensus scares me. So that's something to watch out for over the next several weeks.
Other than that, nothing else really came to mind; I'll report back with anything I find intriguing. I especially like this daily exercise as it forces me to write down my observations and it allows me to review them in the future to see just how accurate they were. I hope you all find these observations interesting.
Disclosure: I am/we are long GXE.TO, GENGF, BXE, REN.
I wrote this article myself, and it expresses my own opinions. I am not receiving compensation for it (other than from Seeking Alpha). I have no business relationship with any company whose stock is mentioned in this article.
Editor's Note: This article covers one or more stocks trading at less than $1 per share and/or with less than a $100 million market cap. Please be aware of the risks associated with these stocks.