Over the weekend, there was an interesting report out regarding Apple (NASDAQ:AAPL) and the 2017 refresh of the iPad. Analyst Ming-Chi Kuo, a veteran at Apple product predictions, discussed how three new tablets may be coming to market in the coming months. While the analyst seems to believe Apple's tablet business is reaching an inflection point, I'm not sure if there is a strategy currently that will work for investors. Here's Kuo's main thesis:
The new models will come in 12.9", 10-10.5" and 9.7" versions. We note the 12.9" model will be the second generation of the existing 12.9" iPad Pro, the 10-10.5" model will be the high-end model equipped with a narrow bezel design, and the 9.7" model will be the low-priced option. The former two models will have an A10X chip manufactured by TSMC (2330 TT, NT$183.5, N), while the latter comes with an A9 chip made by Samsung LSI. Although we estimate iPad shipments in 2017 will drop again YoY to 35-37mn units, we expect the decline to narrow to 10% from 2016's roughly 20%, given that the 10-10.5" model may see more demand from commercial/enterprises and tender markets, while the low-priced 9.7" model may have a greater shipment contribution and likely account for 50-60% of total shipments of new iPads.
Kuo believes that a rise in average selling prices from the new, more expensive models will offset some of the unit sales decline, meaning total iPad revenues won't fall off as much. At this point, I'm not sure if that's really meaningful given the tablet business is essentially in fourth place for Apple, behind the iPhone, Mac, and services business as a whole. As I discussed previously, the iPad has lost a tremendous amount of luster, with the possibility that another year or two of unit sales declines could put the iPad down 50% from its all-time best year.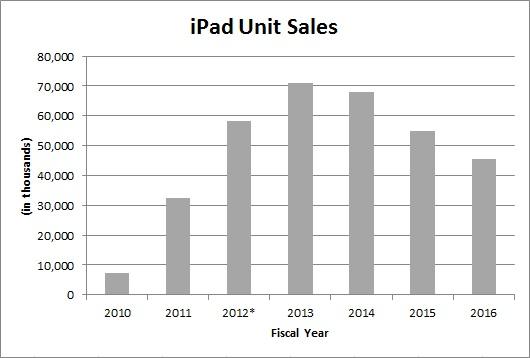 (Source: Apple 10-K filings; *53-week fiscal year)
My question involving strategy has to do with screen size. From the report above, Apple may have a 9.7 inch model along with a 10-10.5 inch one, with the larger one with better tech specs and thus being more expensive. At that point, why even have the 9.7 inch? If consumers want a cheaper model, they'll go with the 7.9 inch iPad mini that costs a lot less. The table below shows the last time each of these models was updated.

Apple would be giving an update to the two "Pro" models, which happen to also be the two models that were updated most recently. If the company does not launch a Mini in the next few months, it most likely will not have a small tablet upgrade until September or October, meaning a two-year cycle for upgrades. That will not help slow a unit sales decline. In terms of the mini, I'm still not even sure why Apple has the 2 on sale. That model will likely be discontinued if the company is going towards a "cheap" 9.7 inch version.
In the end, Apple needs to figure out what its strategy with the iPad truly is. Right now, it seems as if it is a ship that has no course, and the latest report suggesting screen sizes doesn't seem to change my opinion in that regard. I personally believe that Apple should have a lineup focused just on screen sizes, not trying to squeeze different screen sizes and price points into one big mess. Go with simplicity, like we have with the iPhone (SE, regular, Plus). For the iPad, a lineup of 7.9 inch, 9.7-10.5 inch, and 12.9 inch would seem to work. Stick to a consistent upgrade cycle, and discount older models when they are a year old. One Silicon Valley veteran, who formerly worked at Apple, sums it up best regarding the debacle over the Mac Pro:
Apple, from all indications I've seen over the last year and with the configurations they've shipped with these new laptops, has forgotten this, and the product configurations seem designed by what will fit the biggest part of the user base with the fewest configuration options. They've chopped off the edges of the bell curve-and big chunks of their key users with them.
If in doubt, Apple should just remember the acronym KISS - Keep It Simple Stupid. Don't try to fit all consumers into one box, or you will end up losing those "edges of the bell curve". Across all of Apple's lineup, that's billions of dollars in revenues, and potential profit, that is lost. You won't return to growth that way.
Disclosure: I/we have no positions in any stocks mentioned, and no plans to initiate any positions within the next 72 hours.
I wrote this article myself, and it expresses my own opinions. I am not receiving compensation for it (other than from Seeking Alpha). I have no business relationship with any company whose stock is mentioned in this article.
Additional disclosure: Investors are always reminded that before making any investment, you should do your own proper due diligence on any name directly or indirectly mentioned in this article. Investors should also consider seeking advice from a broker or financial adviser before making any investment decisions. Any material in this article should be considered general information, and not relied on as a formal investment recommendation.