Vodafone (NASDAQ:VOD) stock has been moving downward for over 21 months. Disappointing half-year results caused the stock to continue this downward trend. However, I believe this punishment is too severe and the end of the downtrend is in sight. Due to heavy investing in restructuring and cost efficiency, the company might surprise investors this year.
Connectivity problems
Vodafone seemed one of the only companies that could not profit from the Brexit-surge in the stock markets. Instead of going up with the rest of the market, the company took a beating because of its British roots, yet mostly European revenue. On the bright side, the eventual Brexit will likely have no repercussions for Vodafone as the company only books about 9% of its revenue in the U.K. and more than 57% in the European Union. This also is the reason why Vodafone Group reported its half-year results in euro for the first time.
Vodafone stock took (another) beating after the Group published its half-year results in November last year. The company more than doubled the previous loss. Most of this number however, could be explained by an extra impairment loss in 2016. This impairment loss was caused by the company devaluing its Indian operations for about $5 billion due to heavy competition and lower market expectations.
These factors caused the stock to be down and stay down, where I believe it does not belong. Vodafone is still strong and has large growth potential ahead.
Reasons for growth to come
#1: Heavy investments
Vodafone is planning on 3% to 6% growth this year due to having invested $24.2 billion into its Indian infrastructure and network between March 2014 and 2016. Now the investments have come to an end, Vodafone can now slowly start picking the fruits of these capital injections. This can allow for a fast reduction of costs and short-term liabilities.
#2: Cost efficiencies
Vodafone is focusing on being as cost efficient as possible due to the increasing threat of competitors. These cost efficiencies come forth out of the heavy investments previously mentioned. As a result, EBITDA margins were up for all markets.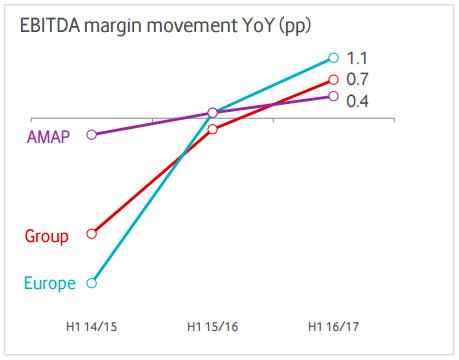 Source: Vodafone investor presentation
To prove Vodafone trusts in its own cost structure, it increased its interim dividend for fiscal year 16/17 with 1.9% up to 4.74 cents per share.
#3: Foreign exchange advantages
Vodafone also suffers from an exchange rates problem. The organization reports in euro, which is relatively weak against both Indian Rupee and the U.S. Dollar. Once the euro picks up momentum again, it may correct upward. This would be very beneficial for Vodafone's results.
#4: Focus on new trends
Lastly, Vodafone is constantly modernizing. Continuing with the latest trend, the company is fully operative in the digitization game. Thereby, the company is bundling up a lot of its products to increase sales. A good example of this bundling strategy is Vodafone's joint venture with Ziggo in the Netherlands. Together, the two companies will offer packages containing calling solutions, digital television and internet. Vodafone undertook the joint venture to increase revenue growth in the Netherlands.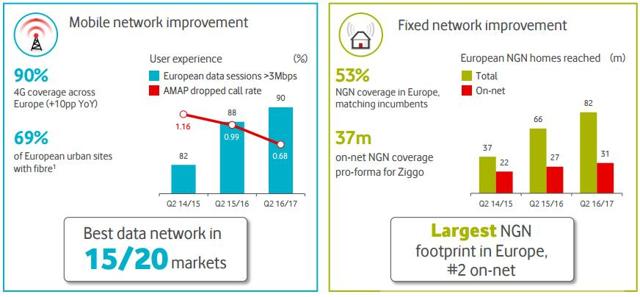 Source: Vodafone Investor Presentation
Furthermore, the company is planning on improving its 4G+/5G network and cloud technology. Also adaptation of the internet of things have caught the company's eye.
Conclusion
Vodafone has been in a rut for a long time now, trading practically horizontally for even the last 15 years. However, there are several indications that show that the company is doing its best to get out of this rut. The company is getting financially stronger and is doing its best to get growth going by cutting costs and investing in the future. Vodafone has a strong growth potential, and I believe it might amaze investors in 2017.
Disclosure: I/we have no positions in any stocks mentioned, and no plans to initiate any positions within the next 72 hours.
I wrote this article myself, and it expresses my own opinions. I am not receiving compensation for it (other than from Seeking Alpha). I have no business relationship with any company whose stock is mentioned in this article.