Synergy Pharmaceuticals (NASDAQ:SGYP) recently reported positive Phase 3 results from two IBS-C trials, which should support Plecanatide's label expansion in 2018. The PDUFA date for the CIC indication is in late January and represents the most important near-term catalyst for the company. Approval is almost certain, considering Plecanatide's efficacy and safety, and I think a CRL could occur only on some technicality (a CMC issue for example, we've seen a lot of those lately). I continue to believe that the company is an attractive takeover target and that if/once Plecanatide is approved, that there is a high likelihood of a buyout. CEO Jacob is highly incentivized to sell the company for at least $2 billion, which translates to a share price of at least $8.50. If there is no buyout, I think an equity or debt raise will be necessary since Synergy's cash balance will probably be in the $50-60 million range at the end of Q1 2017. In this article, I take another look at Plecanatide's market potential and at Linzess' growth since launch to get an idea about Plecanatide's potential uptake in 2017 and beyond.
Plecanatide's Phase 3 trial results in IBS-C pave the way for expanded label in 2018
Synergy announced positive results from two Phase 3 trials of Plecanatide in IBS-C in December:
The first trial showed 21.5% of overall responders in 3mg and 24% in 6mg dose groups, compared to 14.2% in the placebo group. The most common adverse event was diarrhea - 3.2% of patients in 3mg and 3.7% of patients in the 6mg dose groups compared to 1.3% in the placebo group.
The second trial showed 30.2% of overall responders in 3mg and 29.5% in 6mg dose groups compared to 17.8% in placebo. Diarrhea was once again the most common adverse event, and occurred in 5.4% of patients in 3mg and 4.3% of patients in 6mg dose groups compared to 0.6% of placebo-treated patients.
An overall responder, as defined by the FDA, is "a patient who fulfills both ≥ 30% reduction in worst abdominal pain and an increase of ≥ 1 complete spontaneous bowel movement (CSBM) from baseline, in the same week, for at least 50% of the 12 treatment weeks." The diarrhea rates are even better (lower) than in the CIC trials (5.9% for the 3mg dose and 5.5% for the 6mg dose) and plecanatide once again demonstrated a better safety profile than Linzess (16% diarrhea rate in CIC and 20% in IBS-C, according to the product's label) and provides further confirmation of Plecanatide being a potentially best in class product on the market (if approved). I am still not aware of Allergan/Ironwood providing information on the diarrhea rates for the lower 72mcg dose (they've been keeping it a secret for competitive reasons), but I doubt they came down to Plecanatide's - if that were the case, I am sure they would have bragged about it.
New entrants in the CIC/IBS-C market are not cannibalizing existing products
There was an interesting slide at Synergy's latest investor presentation. The slide showed that new market entrants (Amitiza and Linzess) are not cannibalizing existing products. Prescriptions of other products have grown over the last couple of years despite Linzess' strong growth. So, I think there is plenty of room for Linzess, Amitiza and Plecanatide to grow well into the future.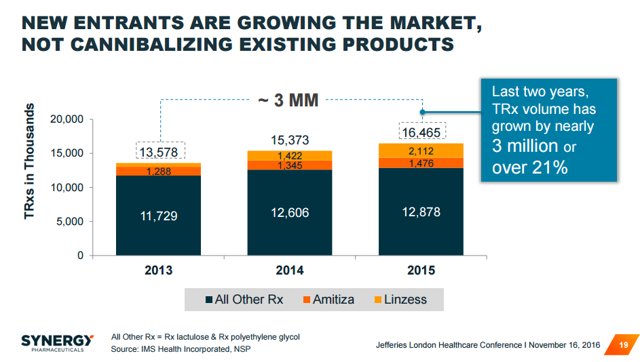 Source: Synergy investor presentation
The dollar value of the CIC/IBS-C market has doubled from $642 million in 2013 to $1.26 billion in 2015.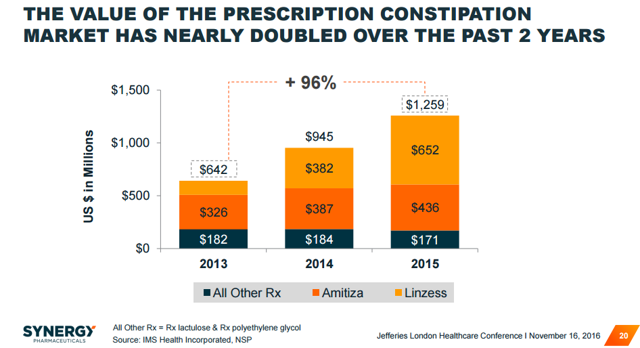 Source: Synergy investor presentation
The branded Rx market is still serving just 5% of patients receiving treatment and there is still plenty of room to grow in this market since around 45 million adults in the U.S. suffer from CIC/IBS-C. Growth drivers include increasing awareness about new solutions, DTC campaigns (Allergan has been pretty active on this front, doing some of the legwork for Plecanatide), increasing awareness of the importance of "gut health" and an aging population.
Assuming similar net pricing to Linzess (around $300 per script), and average time on therapy of six months per patient, getting 1% of all patients (45 million) on Plecanatide a year would translate to around $800 million in annual sales. Linzess will probably reach this run rate in 2017, or five full years after launch (Linzess launched in December 2012). I believe this is a large enough market for both Linzess and Plecanatide to become blockbusters. I would give Plecanatide an advantage over Linzess if it were in the hands of a larger pharma company, but think Synergy should do well on its own. The first year or two as a standalone company will probably be difficult, but once the company starts generating free cash flow, it will be able to build out a more robust sales team and increase awareness through DTC campaigns.
Linzess' launch is a good analog for Plecanatide
I believe that Linzess' uptake over the last three years is a good indicator of Plecanatide's growth potential through 2020. However, since Linzess was approved for both CIC/IBS-C immediately, I think Plecanatide's progress in 2017 should be slower. And while I believe Allergan is significantly stronger commercially, I believe Plecanatide could do as well as Linzess from year two (IBS-C indication should be approved in early 2018) when we take a better safety profile into account and when we subtract Synergy's inferior sales force. I also think that once Synergy starts generating positive cash flow that growth can accelerate - probably sometime in 2018, helped by both the IBS-C approval and a stronger sales and marketing push. When all of this is taken into account, I believe Plecanatide should generate between $700 million and $1 billion in sales by 2022 and between $1.5 billion and $2 billion by mid-2020s.
Linzess Sales ($M)
Plecanatide Sales ($M)
Period
Sales
Period
Conservative
Base
Bullish
2013
119
2017
30
40
50
2014
297
2018
150
220
300
2015
455
2019
300
380
450
2016e
625
2020
420
550
625
2021
550
700
800
2022
700
850
1,000
Source: Ironwood earnings reports, author's estimates and calculations
All three scenarios assume Synergy will stay independent and do not take into account international expansion, so I believe that the company is still attractively priced when we take international contribution into account and the fact that Synergy is an attractive takeover target.
And how much can the company fetch in a buyout scenario? A SEC filing in late December, which amended the terms of CEO Jacob's employment agreement, states that Mr. Jacob is entitled to receive 4.5% of EV if the company is acquired for at least $2 billion. This means that Mr. Jacob is incentivized to sell the company for at least $2 billion. Based on the fully-diluted share count (238 million shares), this translates into $8.50 per share. I continue to believe that an acquirer would be willing to pay between $2.5 billion and $3 billion, which translates into a $10.50-12.50 per share range. This is down from my last year's estimate ($15 per share at the high end) due to cash burn and dilution.
Oppenheimer initiates Synergy with a buy rating, $10 price target
Oppenheimer initiated Synergy with a buy rating and a $10 price target. The firm is positive on Synergy's commercial strategy and believes it's "a fast & cost-efficient way to launch Plecanatide given the company's limited resources." The firm also thinks the company is an attractive takeover target and that the takeout price in such a case would be in the $13-14 range or higher if Plecanatide is a blockbuster. The analyst price target range is rather wide ($6.50-$17) while the average price target is $10.80. My price target remains $11.50.
Conclusion
Synergy remains attractively priced at current levels, and the approval of Plecanatide in late January is the most important catalyst for the company. I believe there are no efficacy/safety issues and that Plecanatide will be approved unless there are manufacturing or other technical problems, which would be the main near-term risk for the stock. The other two important risks are financing/dilution (the company will need to raise cash over the next few months assuming there is no buyout) and execution (assuming Plecanatide is approved).
Author's note: Growth Stock Forum subscribers had an early look at this article, and have access to regular exclusive updates on every stock I am covering. Readers are invited to take a two-week free trial in the Seeking Alpha Marketplace.
Disclosure: I/we have no positions in any stocks mentioned, but may initiate a long position in SGYP over the next 72 hours.
I wrote this article myself, and it expresses my own opinions. I am not receiving compensation for it (other than from Seeking Alpha). I have no business relationship with any company whose stock is mentioned in this article.
Additional disclosure: This article reflects the author's personal opinion and should not be regarded as a buy or sell recommendation or investment advice in any way.